Champions & #1 contenders
Summer Splash interest in Natasha Loclear?
Mon Apr 09, 2018 11:30 pm by daemongirl
Well my girl hasn't missed a summer splash yet, would anyone be interested in a match with her? Open to just about anything match wise, just pm me!
Comments: 1
Been Out with the Flu
Sun Apr 22, 2018 7:47 pm by daemongirl
Just letting those I have threads with know I've been out with the flu since early last week, but I will be back to posting tomorrow.
Comments: 0
The Austrailian Mudslide is Back.
Sat Apr 21, 2018 6:20 am by Softsquad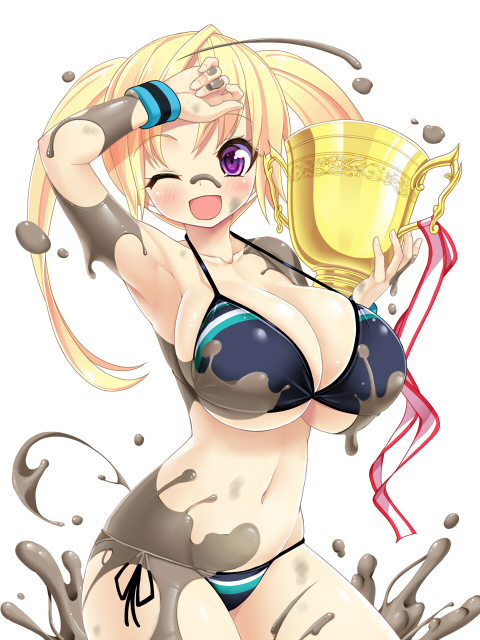 Granted that most of you won't know me or remember me, but I've had a few matches here and there some time ago. Well I think its time to become a regular around here and try to have some fun again, but at the same time keep coming back. Anyway I think its time to jump into some matches with Zoe Taylor, my mud wrestling character from Australia and get her back into the squared circle. Furthermore I will update my characters as I think some proper changes need to happen.
So if anyone would …
[
Full reading
]
Comments: 0
Page 1 of 4 • 1, 2, 3, 4


Talia carefully put her maroon t-shirt on. She slid it down her body slowly, stopping as it got to her bandages. She hissed with every minor tug as she pulled it over her highly bruised ribs and abdomen. The doctor said any further punishment could have broken her lower ribs. Fortunately, Chigusa stopped when she did. Talia didn't think she could say the same about herself. She had left the match so quickly because of her injuries. Though she had managed to hurt the idol rather significantly in her legs, she felt as if her abs were about to break inward and fled.

Now it was two days later. The match was history, and Talia's hospital visit had come to an end. Though she wasn't cleared to wrestle for a little time, there wasn't any permanent damage. The only thing she really could do was take pain killers and wait for her injuries to heal on their own. She put a thick black jacket over the shirt and put the hood up over her brown hair. She then wrapped a red scarf around her neck and made her way out of the hospital. Every few steps, she noticeably limped and stopped. Her legs were fine, but everytime she stretched her bruised abdomen it made her hiss in discomfort. The victory had come at quite a cost.

Talia stopped in the lobby of the hospital. She needed to catch a train back to Kyoto, but it didn't leave for another three hours. The girl could take her time in the safety of this hospital where no one could see here. She'd hate to run into some other AFW commuter at the train station while waiting. So she sat down very carefully and tilted her head back. "God..." she muttered. Why did that Chigusa hit so hard?
Having spent the past two days recovering from her brutal match with the new wrestler Dark Angel, Chigusa Yuuki was getting really antsy and bored. She couldn't move around very much because of the damage her legs took, but now finally the doctors said her muscles recovered enough that she could walk around with crutches. It wasn't an elegant sight, but to the trapped Chigusa it was a huge improvement over the hospital bed. They released her as well, saying that she could finish her recovery at home, and just come in for physical therapy every few days to make sure her legs recovered correctly.

Chigusa's legs were covered in bandages still, pressing in various medicines to ease the pain and the swelling. The worst had passed already, and Angel didn't do any lasting damage to her tendons or her joints, which was the important part. Her legs were bruised up, but that would go away in two weeks at most. Still, to be put out of commission by some newbie, and lose to her on top of that, wasn't something Chigusa planned on happening. The idol was extremely sour about it, and even though she knew her opponent cheated to get the win, it still stung. But today was a good day for the idol, as she was getting released.

She hobbled into the lobby on her crutches, going there to wait for Megumi to come pick her up with their car. There weren't many people in the lobby. As Chigusa scanned the crowd, she suddenly noticed something that looked familiar. "That hair..." Chigusa murmured. She knew Angel was in the same hospital and purposefully avoided her, but not it seemed they would finally meet. Chigusa hobbled over, approaching from behind. She wanted to see this girl's face.

"Hey! Dark Angel!" Chigusa called out once she was close. She narrowed her eyes. If this was Angel, she would turn around, and Chigusa would know who it was that did this to her. And she cold pay her back tenfold.
Talia was wearing a black jacket with a hood the drooped down over her eyes. Her scarf had slipped a little bit so her nose and eyes were visible. The stress of always having to be incognito was starting to get to her. As much as she didn't want some people to know who she was, it was starting to wear her down. Besides, it wasn't like this was the AFW, it was a hospital. There shouldn't have been anyone here that would recognize her. Then she heard a voice call her name.

Instinctively, Talia jumped to her feet and turn around but that was quickly regretted. "Mmm..." she muffled a moan of pain. It was still hurting so much to stretch her abdomen. Both her hands hugged over her torso and she bent over slightly. Her scarf slid a little bit down her face when she did this, showing her mouth. When she looked back up and realized it was Chigusa, though, one of her arms reached up to pull the scarf back into position. She even tugged down on her hood just to make sure it was already in place. When the insecurities of her appearance were appeased, Talia ground her teeth and glared at the idol.

"What do you want?" she yelled, clearly annoyed that the girl caught her off guard. "Can't stomach the fact that you lost to me?"
When the girl turned around after Chigusa called her out, the idol noticed that she still had her face hidden. Only this time she had a hood on pulled low to hide her eyes, and a scarf covered most of the rest of her face. All Chigusa could really see was the glare the girl gave to her as she approached. The idol was a little off put, but she wasn't afraid. She narrowed her eyes and kept on moving forward, hobbling closer on her crutches until she was right up next to Angel, looking down at the girl.

"I don't care much about that," Chigusa replied, even though she did care, "I was actually hoping to see your face. But you're still hiding." She let her disappointment seep out, obviously annoyed. "Oh well. I guess if you want to hide so badly I can't really stop you. Not unless we start a fight." Angel's body seemed to still be battered, and the girl was still in a lot of pain, Chigusa noted with satisfaction, "I'm sure neither of us want that."

Chigusa slowly lowered herself down, sitting on the seat next to Angel. It was strange, considering they were enemies, to be sitting together like this. "So, what are you waiting for?" Chigusa asked, "If you want to take a swing at me, I can't run away."
Angel initially thought Chigusa had come to fight. When it became rather blatantly clear that the idol was in no condition to do such a thing, though, she didn't let her guard down. Their fight wasn't exactly clean, and it took a lot out of both of them. Even if neither of them had any grudges before the match, the tension between them was still strong. That was a nature of their career, though it really didn't help that the two were brutal to one another. They gave the crowd a good show, though now they both had to face the consequences of it.

She wasn't entirely sure what Chigusa meant with her statement of wanting to see her face. It's not like the idol knew who she was under the mask anyways. Well, not entirely, Angel imagined Chigusa didn't entirely appreciate it when she hit the idol in the back of the head with the steel chair. That gave her reason enough to continue wanting to hide herself from Chigusa. But even then, she was still surprised that the hobbling girl then sat in the seat next to hers. Why... Angel stared at Chigusa for a second as the girl asked why she hadn't hit her yet. Good question.

"Don't tempt me..." she stated simply before carefully sitting back down next to her. Her caution wasn't because of who she was sitting next to, but rather to the fact that she was sitting. She hissed as she sat down and then looked beside her at the crutches in Chigusa's hand. Clearly, Angel had done quite a number on her, maybe more than Chigusa had done on her. She sighed. It was far more satisfying when there was no pain at all to experience. Now that the two sat injured, Angel felt almost empty. This is what it felt like to be on the receiving ends of one of her beatings. And it wasn't like Chigusa was even her enemy. It was what the idol stood for that made her dislike her. But even then, the girl Angel fought in the ring wasn't a diva or anything of the sort. She was a real fighter, just like herself.

Angel sighed again, then leaned back into the seat slowly. She looked up at Chigusa with her purple eyes and asked, "But I could ask you the same thing. Why not use those crutches as a weapon? I'm sure they'd hurt quite a bit."
Chigusa could sense the tension Angel exuded the moment she sat down. The girl was wound tight and ready to snap the second Chigusa tried to make any aggressive move. Which was why the idol made no such moves at all. Even if she would like nothing more than to beat this little cheater's face in, after finding out who she was first, Chigusa and Angel were both in no condition to fight. Well, Angel especially. Chigusa was pretty sure she beat her stomach up to the point that she would be tender for weeks, and the slightest tap would make her scream.

"Woah, aren't you scary," Chigusa said in response to Angel's threats, "Oh come on, you really think I want to start a fight with you here? Swing my crutches around like some kind of lunatic? Please." The idol sat back and scoffed, putting her hands behind her head and leaning back as if she was just relaxing. "First off, I don't fight that way. If you want to settle things, we'll do it in the ring, fair and square. Second, we're both in no condition to fight. I don't want to be crippled, and I'm sure you don't want to die. So lets just leave it off and try to not kill each other."

Chigusa turned her head, her dark hair bobbing behind her head. "You know, I kinda respect you for that fight," Chigusa said, "Sure it was dirty and rough, but I haven't gotten to beat someone up this bad since high school! You really let me vent Angel, and to win after taking that beating..." Chigusa shook her head, scoffing a little bit. "I'm surprised I don't actually know you, since you said you're actually not a new wrestler. You would've obviously made a name for yourself."
Dark Angel was a little irritated by Chigusa's sarcasm. It wasn't even that she mocked her threat, it was that she dissected her whole sentence. I could've figured that out on my own. Regardless, in hindsight the girl had every right to. They weren't in a ring, or even in an AFW building. As much as Angel wanted to believe everything was personal in the business, it really wasted. Maybe for others such as Cassie or Akashi she was justified, but not for Chigusa. If anything, it should have been personal for the idol and not vice versa. But that was only if she knew who she was. Fortunately, she didn't for now.

Angel did smile when Chigusa commented her on the fight. She didn't need the idol's respect. She didn't even want it. But admittedly, she did like it. "It was...rough..." that was really the only way she could describe the match. "You didn't give up no matter what I put you in," even when you should have. Ironically, it was that same resilience that resulted in the two wrestlers sitting in the hospital next to each other. But Angel bit her lip when Chigusa said she didn't know her. Of course she didn't want to tell her the truth, but it was always a difficult thing to live a lie. But by now, she had practice.

"Times were tougher for me then. In fact...my...win over you now means I have more wins since returning than I ever had total back before." Angel was careful with the words she chose. She didn't emphasize the fact that she had left for some time before making a triumphant return. "I was a nobody then..." she continued on in an uncharacteristically somber tone as she tilted her head back and sighed. "But it taught me a lot on how to take a beating."
Chigusa turned to her former opponent and shrugged. "Winning is nice," she agreed, "It's always really discouraging to keep on losing. But don't think it's everything." She turned to Angel, looking over at the girl's covered face. "You know, I feel like I met you before," she said, "I kinda felt it when we were in the ring, but after the fight started that all disappeared. But now..." The idol frowned, looking curiously at the girl before her. Angel was actually smaller than she was, not in terms of weight but in her general frame. To think this girl could hit so hard, while being so naturally disadvantaged, was quite impressive. Chigusa wondered if she could be like that, if she really wanted to hurt her opponent.

That suddenly brought up another thought Chigusa had, a question that was really bothering her. "Hey, why did you want to beat me up anyways?" Chigusa asked, "I mean, I have no idea who you are, so I don't know if I deserve it or not." She gave Angel a rather wry smile. "So I'd like to know."
Angel looked away when Chigusa looked at her. It was uncomfortable to be inspected, even though the idol had every right to want to know who she was. She had put herself in this difficult position by being so rough in the ring. But she was slowly starting to realize she wouldn't be able to keep her identity a secret forever. As much as she wanted to believe Chigusa deserved to be hurt, she really didn't. It was the idea of her that made Talia so jealous. She was this attractive, popular, and successful wrestler. And Talia was...well...Talia.

In fact, had Chigusa actually said her thoughts out loud it would have complimented the girl greatly. Even though she had gotten stronger, Talia still had never gotten a positive compliment her whole wrestling career. It was probably the main reason she was so distant and bitter with everyone. But for some reason, she didn't feel this way with Chigusa anymore. Even after all Talia had done, the idol was still kind and honest. And she wanted to be the same way. "You...really didn't deserve any of that..." she muttered as she turned back to look at Chigusa. "I guess I just kinda...lost control..." she continued as she pulled the scarf off her neck. "I'm...I'm sorry about leaving you like this..." she added once more as she pulled her hood back revealing her eyes. "I think you know of me...at least enough to know to not like me..."
Last edited by 9943 on Wed Jan 30, 2013 3:03 pm; edited 1 time in total
Seeing Angel shifting around uncomfortably made Chigusa a little nervous, since she didn't know why the girl was feeling so uncomfortable. Knowing their history, Chigusa fully expected the girl to lash out or something. But instead Angel began to pull down her scarf and pull back her hood. Chigusa saw a delicate looking face, quite pretty with big purple colored eyes that seemed to sparkle, but much less brightly than they once did. She recognized the girl. Chigusa's eyes widened with surprise, then she frowned in confusion.

"W-wha? You!" Chigusa said, unsure of what to say. She certainly didn't expect Talia to be Dark Angel. Though they hadn't really met in the past, Chigusa knew the girl through Taylor, and from how she gave her a concussion after that brutal cage match. But she wasn't surprised because of that. No, she remembered Talia as a weak little jobber, and now she was back and brutally beating girls up. It was a complete 180.

"Ehhh... who would've thought Dark Angel was actually Talia-chan!" Chigusa said. Her frown dissolved and she gave Talia a small smile. "Well, considering what we've done to each other, I'd say we're about even. Just don't hit me from behind anymore."
Page 1 of 4 • 1, 2, 3, 4



Similar topics
---
Permissions in this forum:
You
cannot
reply to topics in this forum