Who is online?
In total there are
62
users online :: 23 Registered, 2 Hidden and 37 Guests :: 2 Bots
321Shazam
,
anime_hentaifighter
,
CybeastGregarX
,
Deus001
,
DizzyKnight
,
dragonswill
,
Gator_Tooth
,
HighFly
,
Jaystar
,
JohnnyFlash
,
killcarrion
,
KillerV
,
LARIATO
,
Liesmith
,
LunarWolf
,
Person
,
shanecawf
,
starvalentine
,
Submissive Girl
,
TheRacker
,
Winner3
,
wrestleryu
,
Zithpith
Most users ever online was
155
on Sun Oct 09, 2016 8:33 am
Champions & #1 contenders
Belated Apologies
Sun Mar 26, 2017 9:58 am by Clobber Jobber
So, I'm not super fond of doing non-match threads because it messes with my organization, but I feel I owe everyone an apology. I just kind of up and dissapeared for, what, a few months? With the exception of one wave of posts, I've been super quiet, and a lot of threads have been held back because of me. So, I'm sorry to everyone about that, and I'm going to at least get another wave in.
To explain myself a bit, I've had a few things going on that slowed me down. For the first couple months, …
[
Full reading
]
Comments: 0
Looking for debut matches/RP's/microphone exchanges/Gym sessions/What have you
Sun Mar 26, 2017 6:14 am by JohnnyFlash
Hey gang!
According to our wonderful administrator
Person
I am happy to report that both
Buzzy Armstrong
and
Johnny Flash
have been deemed acceptable. Woohoo!
Logically, the next step would be to get their proverbial balls rolling with their respective debuts. I am interested in any kind of
match
,
promo segment
,
gym meetings
,
backstage
elbow rubbings, or whatever else have you with either of the two boys. I could always just do an open promo but I am up for ideas and story building with …
[
Full reading
]
Comments: 2
i am sorry
Sat Mar 25, 2017 2:51 pm by xalex
Hey guys
I won't talk much about it just wanted to put it out here
I need to step back from are dramatically because of stress in the uni and some problems of mine
I will keep working on the ppv matches I am in and maybe one or two more but to the rest I need to say sorry
Thanks for understanding
Comments: 4
Page 1 of 2 • 1, 2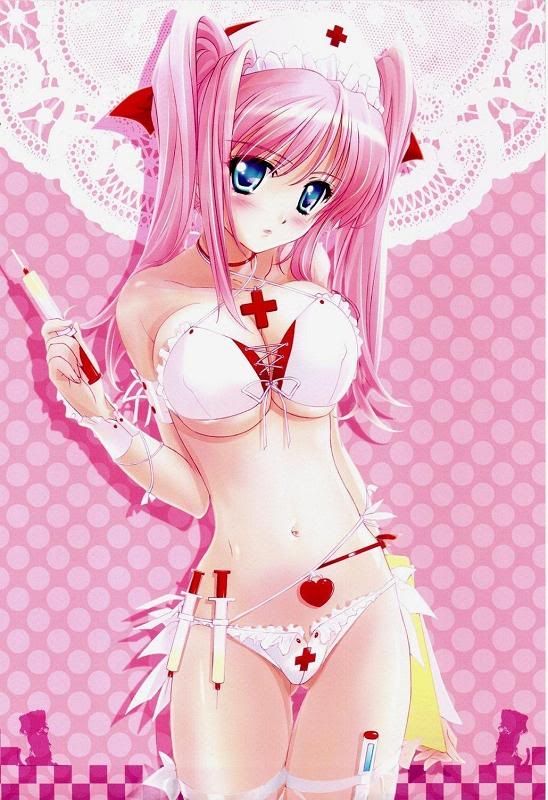 It was a pretty standard day at the Friction's medical wing. There were a few patients many with minor cuts and bruises and the occasional check-up. However there was one bed in the wing that Joy the pink haired nurse was standing over holding a clipboard "Hmmm What do we have here. Oh My looks like someone has taken quite a beating recently." Joy then looked down at the unconscious Amy who was delivered to the medical wing after her most recent match "I think i may have to take extra special care of you."
Joy would then place the clipboard next to a nightstand by the bed before heading over to a nearby counter where she grabbed a few needles and some gloves "I think i should give her an injection to help her forget about all the pain she went through." Joy then smiled to herself as she moved over to Amy and placed a hand on the girls head before lightly slapping her on the cheek to try and wake her "Wakey, wakey i have a few questions for you."

_________________
Characters

The Den
Amy groans softly, still in her ring attire. She felt a light slap on her cheek as she was coming to, letting out a little grunt in response to the swat, and slowly opened her eyes.

"Mnnnhh..." She groans, opening her eyes, and looked up at the ceiling. Her head was heavy from the stunner she took.

"Whereami..." She mumbles, and turns her head to see... woah. She was not ready for the sight she had just beheld, looking at the pink haired girl in a nurse's.. bikini. She never had interest in any girls as far as she could recall, but even so, the girl's revealing attire was causing her to blush.

"Uh.. q...questions??" Amy blinked, not sure if she was still dreaming or if she was actually awake. This.. girl couldn't be professionally trained, could she??
Joy smiled down at the form of Amy "Ah yes just a few standard medical questions to see how you feel?" Joy said as she looked at her clipboard "Are you ready?" Joy would ask as she sat down on a chair next to Amy "By the way i'm Joy. I am a nurse here at the AFW." Joy said as she waited for Amy to respond.

_________________
Characters

The Den
Amy still stared at her outfit as she pulled out her clipboard, and sat next to her. "Um.. I guess.." She said, still sounding a little lost as the girl was about to ask her some questions.

Then she heard her name. "Oh jeez..." She said, giggling a little. "I bet you got picked on that a lot in high school, didn't you?" She asked, trying a little humor.
Joy just smiled at Amy as she asked her that question "Well mabye alittle but is wasn't such a big deal." Joy would say before she began to question Amy "Now answer these to the best of your ability ok." Joy said with a smile "What is your name? What is your sexual orientation? Are you a virgin? Are you an alcoholic? Do you use any type of drugs, legal or otherwise? And lastly Do you remember why you are in the hospital?" Joy finished asking her questions and waited for Amy to reply.

_________________
Characters

The Den
Amy nods a little. "That's good." She replied, then blinks at the questions. "Umm.. Amy Walker... wait.. are these questions really necessary for a medical examination??" She blushes at the second and third questions, then shakes her head. "But no, I don't drink or use drugs, and um... yeah.. I lost my last match to Purin, if I remember right.. She did a number on my head.." She groaned.
Joy looked at her clipboard and made some notes on it as Amy answered the questions "Well all these questions are necessary but if you don't want to answer then you don't have to." Joy said as she set the clipboard down "Well if we are done with the questions i would like to give you an injection before i run some test to make sure nothing is wrong with you." Joy would say as she held up a needle filled with liquid.

_________________
Characters

The Den
"I-injection??" Amy exclaimed. "Um.. I uh.. I'm suddenly feeling a lot better.. thanks.. I uh.. I don't.. I don't need a needle.. thanks!" She said, trying to climb out of bed.
Joy was taken by surprise as Amy tried to climb out of her bed "Now calm down ita just a little anesthesia." Joy said as she tried to push Amy back down onto the bed "It will make you feel better and you cannot leave until i am done with your examination." Joy said trying to calm Amy down.

_________________
Characters

The Den
Amy meeps as Joy pushes her back down by the shoulders. She starts to panic a little bit, trying to push her off. "I.. I really don't want a needle.. please don't.." She whimpers, squirming against her. "I don't like needles.. I don't like needles!" She protests, starting to struggle harder against her.
Page 1 of 2 • 1, 2

---
Permissions in this forum:
You
cannot
reply to topics in this forum