Champions & #1 contenders
Highfly Flying Out Of Town
Tue May 22, 2018 1:31 am by HighFly
Hello everyone, I just wanted to inform all I have threads with that I will be gone from this coming Wednesday through Sunday. I won't be able to post consistently if at all during this time, but I will try to make up for it next week! I am sorry for the inconvenience to everyone.
Comments: 7
The Austrailian Mudslide is Back.
Sat Apr 21, 2018 6:20 am by Softsquad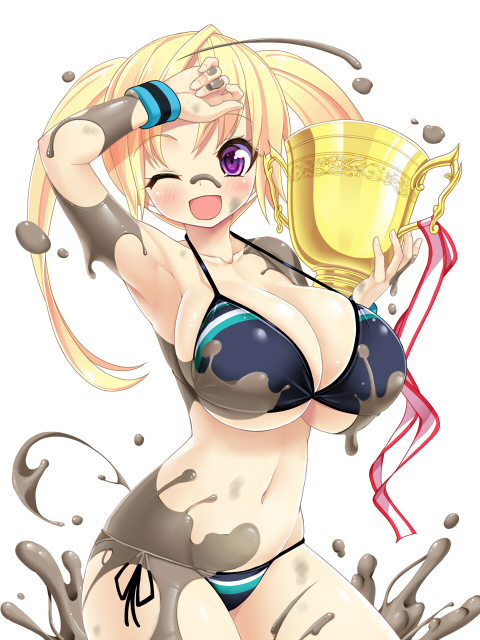 Granted that most of you won't know me or remember me, but I've had a few matches here and there some time ago. Well I think its time to become a regular around here and try to have some fun again, but at the same time keep coming back. Anyway I think its time to jump into some matches with Zoe Taylor, my mud wrestling character from Australia and get her back into the squared circle. Furthermore I will update my characters as I think some proper changes need to happen.
So if anyone would …
[
Full reading
]
Comments: 5
Page 5 of 9 •

1, 2, 3, 4, 5, 6, 7, 8, 9


Sophie continued to hack out as many coughs as she can, before she finally started to take a huge breath in. Now, she was panting rapidly, trying to catch as much oxygen as she can and get it back into her empty lungs. She could feel Cecilia breathing against her sweaty and tanned skin. Her body was completely drenched in sweat. The rubbing against her sex didn't help her at all. It made her moaned out loud, causing a delay in her much needed pants. Her cheeks were flaring with the redness of a rose. Suddenly, she found her head pulled in underneath one of her opponent's armpits in a front face lock, but even then, she could do nothing in her current state.

Then, Sophie felt Cecilia invading her bottomed-covered sex, and then came the fingering. "Aaahhhnnn!..." She let out in the form of a sexy moan as her body started trembling and shivering in pleasure. Soon, she would be lifted upwards, letting out a mixture of a groan and a moan as she was lifted up. Her body would be suspended in mid-air upside down, the blood rushing into her head. She would let out continuous groans and moans, and even a mixture of the two, as the champion expertly moved her fingers within her confines of her sex that created so much of a pleasureful feeling.

Sooner or later, Sophie finally let out a loud gasp as Cecilia removed her fingers from her sex, which was by now, damp and wet, soaking her white bikini bottoms and leaving a dark spot on there. Feeling her hips grabbed, the Vietnamese girl could not get a clear thinking process going, still desperately panting for air. Then, she was thrown down. "GAHH!!" The girl cried out loudly as her mid-section impacted against the top ropes, which shook under her weight, her spittle flying out of her mouth as her eyes widened. The landing was so perfectly balanced that Sophie's body was on the top ropes evenly spread out; her limbs were limp at the moment, causing her arms and legs to be dangling in mid-air on either side of the ropes as those ropes stopped shaking. Her head was also dangling down, letting out a groan in response, followed by a couple of coughs, and then a rapid pacing of breathing.
Last edited by 553 on Mon Jun 25, 2012 5:16 pm; edited 2 times in total
Cecilia smirked to herself as she had managed to put on a pretty sexy and dominating display for the crowd, as she toyed a bit with her opponent, even though the Hardcore Queen was hurt and tired. The fans was rather surprised what they saw their favorite wrestler fight back against Sophie and even seemed to be able to teach the girl a bit of a lesson. ( A sexy lesson.) With Cecilia now finished with her fingering and even as she went for her attack which was dropping Sophie down hard on the ropes, the fans shouted and screamed as Cecilia cam back into the match and showed Sophie why she was their favorite.

Cecilia smirked a bit as she stumbled back a step or two, she was tired and hurt, so carrying Sophie like that hadn't been the best thing she could do, but there wasn't any better way she saw that she could assert some dominance over Sophie, not only to Sophie but to the crowd as well. Cecilia took a breather, taking in a few deep breaths before she began to walk over towards Sophie's body that hung over the top ropes. Cecilia had a plan, but she didn't want to go through with it yet, she wanted to show off Sophie's goods now, to give the crowd a bit of a full eyes on view on Sophie Nguyen.

Cecilia would move up to her opponent and attempt to grab onto her bikin top, and slowly try and remove it from Sophie's mighty chest. To expose the mighty dark haired beauty's rack to the entire AFW crowd. After she took it off, Cecilia would spin it around in the air and then fling it towards the crowd. The Hardcore Queen would then move her hand over to Sophie's face and cup the girls chin between her thumb and her index finger, and slowly tilt Sophie's head up so that the girl could look into Cecilia's eyes.

" Try not to lose too badly now...won't be any fun if you do." The Hardcore Queen said as she would then start to work her plan into motion, by attempting to move over to Sophie's side and grab one of the girls arms with one hand and one of her braided twin tails with the other, the twin tail would be the one on the opposite side of the arm she held, and she would pull it up so it went along the strong girls back. Cecilia would try and use Sophie's long braids against her, by attempting to twist the braid around Sophie's wrist and then tie a knot, attempting to tie Sophie up with her own hair.
Sophie was exhausted and was still short of air. The recovery she needed will take a while, but that unfortunately gives Cecilia quite some time to put her plan into action. She felt her white bikini tube top being grabbed, slightly soaked in her own sweat, before it would be slowly and sexyfully removed from her chest, revealing her rack and her slightly hardened nipples. She let out a groan in response, still groggy to even react to her opponent's actions. Her chin would then be cupped, her head tilted up to look at her foe. Her eyes were half-narrowed and dazed, letting out another groan as her vision was slightly blurred at the moment.

Her view wouldn't last long though, as Cecilia would instead move to her side, letting Sophie's head drop down once more. She could feel one of her arms grabbed, as well as one of her braided twin tails, the twin tail on the opposite side of the arm the champion grabbed. Then, that braided tail would be pulled up along her strong and sweaty back, before it would be guided towards her held arm. The Vietnamese girl could feel her own braided tail being wrapped around her held arm's wrist and tied into a knot, effectively restraining her arm. Even so, she was not fully aware of what is happening.
Cecilia's tired body couldn't help but shiver a bit, fans where still taking pictures...only now it wasn't of her being dominated, but of her dominating the new girl. Cecilia was able to guide Sophie's hand and do as she wished to the girl right now, and the Hardcore Queen wouldn't have it any other way, especially now that she had finally taken control of the match. Cecilia after tying that knot around Sophie's hand with the girl's own hair, would aim to do the same with her other hand and other braid.

Cecilia would slide her fingers from Sophie's arm all the way up her to her shoulder and then across her upper back, and follow it to her shoulder and let it lead her down along Sophie's other arm. When there Cecilia would reach with her other hand for the far off braid of Sophie's and pull it towards the girl's arm and once there she would tie a knot around her wrist again. The Hardcore Queen's goal was to lock up some of Sophie's movement, and once that was done she could go and kick the girl's ass without any problems at all.

Cecilia would then attempt and grab onto Sophie's chin again, cupping it in between her index finger and thumb, before tilting her head up so that she could stare into Sophie's eyes. " You shouldn't have tried to humiliate me like that...cause now, you won't ever forget the humiliation that YOU will suffer. " Cecilia spoke to Sophie as she would then start to climb with her feet up to the second ropes, and stand there. The blond beauty would reach with her arms for the black haired beauty's bikini bottoms and then attempt to give them a tight pull up, trying to give her a nasty wedgie before moving her other hand up into the air....and then attempt to bring it down hard and fast..also aiming for Sophie's sexy rear.

Cecilia would keep the wedgie going throughout her attempts to spank Sophie as hard as she could on the black haired beauty's shapely rear.
At this point, Sophie had probably regain most of her breathing, her panting starting to finally cease. However, her other arm would be held up, before her other, opposite braid would be tied around her wrist like how Cecilia did with her other arm. Now her two arms are beside her sides, her twin braids crossing in a X behind her back to effectively restrain her movements. Her head would be tilted up once more, but her eyes now wide awake. She gritted her teeth, trying to move her arms, but her eyes slightly widened as she realized that moving it would yank on her own hair, bringing a small painful cringe to her face.

"D-Damn you..." Sophie growled beneath her breath as Cecilia moved to stand on the second ropes. Then came the wedgie, and she let out a gasp, her eyes widening as she bit her lower lips. But what's worse was the hard spank. "AHH!!" The Vietnamese girl cried out, and would continue to do so as the champion continued the relentless spanking. Her body was drenched in sweat, and her breathing became more husky as the sheer pain literally took the breath out of her.
Cecilia got a lot of cheers from the crowd as she gave Sophie that sexy wedgie and the hard spank, with it she continued spanking the girl and showing both her and the crowd that she wasn't one that anyone should take lightly. She was the Hardcore Champion for a reason after all, and that was why she had to teach Sophie a lesson.

Cecilia's palm slapped and smacked against Sophie's shapely rear over and over again, and after about 6 spanks, she stopped and let go of the girl's bikini bottoms, she followed that up with by stepping of the ropes and moving down towards the girl's head and with a grab of it and a harsh yank, she attempted to just pull her off the ropes and down onto the mat, in such a way that she would spin and land on her back instead of her front.

Cecilia would place her hands on her hips and walk confidently around Sophie's body after that, and get into position to grab a hold of Sophie's white bikini bottoms, and with a few motions of her hand, attempt to grab onto her bottoms and slowly slide then down Sophie's legs and free her from those restraints. Cecilia shook her head a bit and stumbled, she had taken a bit of damage from her mighty opponent and not only that but she was getting tired. The Hardcore Queen knew that she had to finish this quickly, but not before another crowd pleaser.

Cecilia would spin Sophie's bottoms around before tossing it towards the crowd, which of course lead to a fight breaking out between some of the fans over the material.

Cecilia would then attempt to move towards Sophie's side and grab a hold of the girl and then try to just shoot her knee up into Sophie's knee to stun her and double the sexy girl over. Now since Cecilia's breasts weren't being restrained by her bikini top, they shook from such a sudden move that caused her to shoot her leg upwards, sweat flew off in several directions of the beautiful blond, as she was getting Sophie ready for a finishing move, by attempting to push the girl's head in between her strong and sweaty thighs.
Sophie couldn't handle these rough spankings she was receiving, and when it finally stopped, she started panting heavily, relived that this painful experience was over. Her white bikini bottoms would be wedged deep into her asscrack, most of her now red asscheeks being revealed to the crowd. Her head would be grabbed, and with a very tough yank, the girl cried out as she was spun over and thrown onto the mat, landing on her back. The Vietnamese girl let out a breathless gasp as she landed on her back, her large and exposed breasts wobbling, before resuming her panting. Now matter how hard she tried to move her arms, it was all for naught.

Then, Sophie would be helpless as Cecilia grabbed her bikini bottoms before the latter would slowly pull them off her legs, revealing her moist sex and emphasizing her toned legs. She growled beneath her breath, gritting her teeth against each other. No sooner or later, the champion would pull the challenger up to her feet, before the devastating knee came to her stomach. "GAH!!" She cried out as she doubled over with ease, sweat flying off of her own skin too from the powerful impact, eyes shut tight as she coughed out a couple of times. Her head would then be shoved in between her opponent's equally strong thighs, her arms still restrained without any power in them as she braced for the worse.
Last edited by 553 on Mon Jul 02, 2012 4:53 am; edited 1 time in total
Cecilia looked out on towards the crowd after she had taken control of the match again and made Sophie as submissive as the girl could be it, at least so it seemed. Cecilia smirked a bit as the crowd began to cheer, most where for Cecilia but some were for Sophie as well. The fans were getting an amazing fight at least, as these two sweaty combatants fought each other with all their might, in this battle between powerhouses.

Cecilia had the girl now in between her legs and would speak to Sophie as she had such a control over her. " I would sex you up...but I am having to much fun dominating you like this! I guess now you know why I'm the Hardcore champion." Cecilia said to the girl as she would attempt to bend down and wrap her arms around Sophie's waist, she would press her sweaty rack against Sophie's sweaty back and then attempt to lift and roll the girl up onto her shoulders. Cecilia was tired but she was still very strong, and she wanted to dominate the girl sexually as well.

So Cecilia would attempt to invade Sophie's sex with her tongue and start to twirl it around, drinking a bit of the sexy girl's juices as she did that, as well as she tried to show the crowd that she was the one that she was the one that was the dominant one in this match. Her tongue would twirl around and try and sex her up.
Sophie growled in frustration due to the fact that her arms are being restrained by her own twin braided ponytails. No matter how hard she tried, she would only hurt herself much more in an effort to escape her bondage. Feeling Cecilia's arms wrapping around her toned waist and her rack pressing up against her lower back, she would let out a grunt as she was rolled up onto the girl's shoulders. She tensed her muscles in anticipation of a powerbomb, but she was half-wrong.

"Oohhnnnn!!..." Sophie suddenly moaned out as she felt Cecilia's tongue assaulting her already damp sex. Her juices being absorbed into the champion's mouth, the Vietnamese girl tilted her head up with eyes softly closed, a rose red blush on her cheeks as the pleasure starting taking over her. Her muscles started to soften, her body falling under control to the pleasures that it desire. It was the same finisher that she used against the Hardcore Queen, and now, she is going to receive the same finisher soon enough, husking deeply for breath as she was being easily dominated.
Cecilia kept lapping at Sophie's sex and she played with the much like she had been played with, the two of them were truly a match for one another, as it seemed that the longer the match went on, they went even more back and forth, although Cecilia might have put a stop to that with her tying up Sophie's arms by her hair, and since this finisher felt so good before and did so much damage to her before, she just had to try it out on Sophie.

Now that she was playing fully with Sophie's sex and that she was tasting her sweet juices she had to admit that not only was the girl hot and strong, but she was also tasty. Cecilia soon felt that she had sexed Sophie up enough and decided that she had to finish this first round. Cecilia would attempt to slam Sophie down hard onto the mat. After that Cecilia would attempt to mimic Sophie's earlier pin. As she would attempt and lie down on top of Sophie's sexy body, so that her breasts were resting on Sophie's neck and her lower breasts touched against Sophie's. Each of her legs were over her opponent and she held her down pretty well. She also used one of her arms to press it against Sophie's cheek and place herself in a very sexy position on top of the girl, almost identical to how Sophie had pinned Cecilia earlier.
Page 5 of 9 •

1, 2, 3, 4, 5, 6, 7, 8, 9


---
Permissions in this forum:
You
cannot
reply to topics in this forum