Champions & #1 contenders
Moonhearts Promo intro thread is O p e n.
Mon May 21, 2018 4:21 am by XSirenX
Feeling brave?, lost?, or without a thread to post in?, hit up the newest Moonheart if any of those apply!
CLICK HERE
What Moon has to offer?, many things...:
Comments: 0
The Austrailian Mudslide is Back.
Sat Apr 21, 2018 6:20 am by Softsquad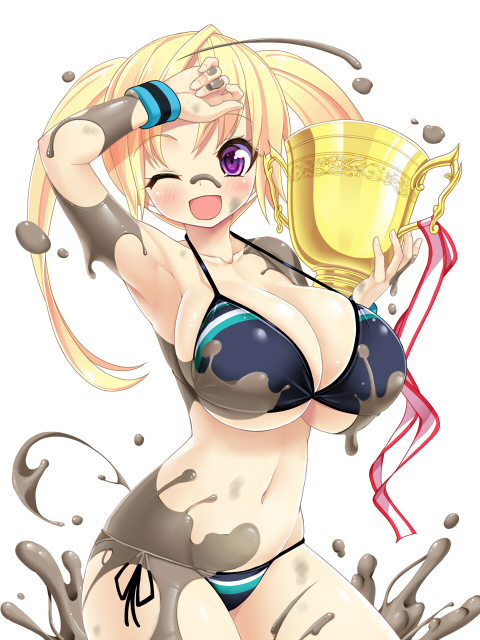 Granted that most of you won't know me or remember me, but I've had a few matches here and there some time ago. Well I think its time to become a regular around here and try to have some fun again, but at the same time keep coming back. Anyway I think its time to jump into some matches with Zoe Taylor, my mud wrestling character from Australia and get her back into the squared circle. Furthermore I will update my characters as I think some proper changes need to happen.
So if anyone would …
[
Full reading
]
Comments: 4
Page 2 of 7 •

1, 2, 3, 4, 5, 6, 7


"I'm good for a few things..." Taylor said, sort of under her breath. That remark actually did irk her a little bit.

She shook it off. "Hey, how about instead of telling the professional dude here what to do, you tell me what to do. Ya know, since I'm painfully rookie-ish." She looked over Natalia and sized her up with a skeptical look. "And I think I look pretty good, a'right? Better that you. You look like when famous people go out in public and they wear big sunglasses to hide from the paparazzi, but it doesn't work because all the magazines at the grocery store are full up with pictures of them in their disguises, and they always look too skinny and miserable with really expensive clothes that don't even look so great."

She realized by the end that the comparison probably sounded harsher than she intended, but whatever, Natalia deserved it. "Should I pose for all these pictures on my back? Show my underwear? Is that how it's done? C'mon, gimme some pointers, here." She said, going after Natalia a little. She stopped when she realized she was a little irritated, and put on a disingenuous grin and looked away.

"Whatever. Sorry, what did you want?" She asked the photographer, who had seen plenty of cattiness in his time working with the AFW, but seemed pretty interested in Natalia and Taylor's spat nonetheless.
"..Better than m...HAHAHAAHAH!" Natalia exploded in one honest heartfelt, and poisonous, laughter. It helped the tears that were forming on her eyes go out, and gave her a good excuse to take off her sunglasses and clean them with her fingers. "Ok ok... I concede. You are good for brawling...and making me laugh..." Natalia said, if there was something about which Natalia wasn't insecure was her beauty. Insults aimed there simply bounced off her ego. But after all the laughter Natalia felt she was being way too mean, specially since she was being a bitch during Taylor's photo shoot, so she tried to be a bit more friendly if just to compensate, although she couldn't avoid the cattiness or animosity she felt for Taylor.

"Ok ok... I will help you....rookie" Natalia said with a smile as she blinked repeatedly to make the teary eyes go away. First.... don't look at me, don't look at the camera. Chose a point in the room and look at IT. Second... you shouldn't have starved yourself before this shoot. This is going to take hours and it will show if you are hungry, believe me." Natalia explained, munching a rice cracker loudly. After having eaten it she continue. "You need to relax. Although in your kicks it is ok to look focused, obvious concentration can distract and ruin a good photograph. Don't hold your breathe for a pose; you need to appear at ease..." Natalia left her plate of food on the side and got up from her chair walking to the set. The photographer took a step back, apparently amused with the situation, to let Natalia approach Taylor.

"Straighten the back and push your shoulders up. This isn't a fight, keep the shoulders up and the back a bit arched, push your heels up, even if you are pretending you are in a fight DO NOT assume a fighting position." Natalia crossed her arms in front of her chest as she walked around Taylor, and stopped right behind the girl. Her hand's reached for the belt of Taylor's skirt and pushed it up. "Are you a nun? show some legs...you have nice legs"

Natalia, using Taylor's belt as a handle, pulled the punky girl's hips to the left side. "Symmetry is officially OUT of the modeling world. Make sure to differentiate your arms and legs with asymmetrical poses... even if it means being off balance. This is not a fight... you don't need balance."

"Oh and don't think that poses laying on your back is the time to slack off. In fact, those are the hardest poses. You need to keep your muscle tone, put your weight on one thigh, don't distribute it all over your body as if you were actually laying down. Natalia added with a smirk as she moved to the front of Taylor. She grabbed Taylor's shirt and pushed it up a bit. "... when leaning forward, either brings your arms together at your waist, keep your arms straight at the elbows and clasp your hands together below your waist, or simply cross your arms. That would help your compensate your... you average.....cleavage..." Natalia couldn't hold back a snicker.

Natalia then walked back to her chair. "You have a pretty smile, but don't use it on every pic or it gets boring. Try a bratty bout, should be easy, or a friendly laugh... and edgy scowl... or that cute frown you have now!"
"Goddamn right..." Taylor mumbled. She could fight and she could make people laugh, which were two things Natalia wasn't so great at. She scowled, and the photographer paused his work while Natalia got involved.

Taylor nodded along with Natalia, half amused and half attentive. "I didn't starve myself, dude, you just interrupted me, and... I was busy." Taylor was usually ravenously hungry after training, and this morning she didn't have time to go home and eat like she usually did.

Her eyes widened when Natalia pulled up her already tiny skirt. "Dude!" She protested and reached to pull it back down a little. "I'm not a nun just because you can't see my underwear while we're having a conversation, damn."

She took a deep breath and stretched her neck and shook out her arms and legs to try to loosen up. Of course Taylor wasn't a professional model. She never claimed to be. She didn't want to be. But... at least she could do what she did without being self conscious before Natalia showed up. Still, it was worth a shot. If there was anyone she knew who would know about that sort of thing, it was Natalia.

She watched Natalia walk back to her seat and wondered what exactly she was doing. She definitely didn't seem very friendly when she showed up, so Taylor couldn't imagine that she was just doing Taylor a favor. Maybe she just wanted to feel superior, that sounded more like her. That was probably it. Taylor made eye contact with Natalia when she turned to sit down, unaware of the intensity in her stare. Natalia could say whatever she wanted about her, anyone could, but it didn't matter. All that really mattered in their line of work was what happened when she set foot in the ring, and while it would be nice if everyone liked her, she wasn't counting on it.

Still with her eyes locked on Natalia, Taylor spread her feet apart with her legs straight, gave her hips a flirty angle, put her shoulders back and arched her back, cocked her head to the side and gave a little, confident, almost cocky half smile. She lifted her arms and beckoned with both hands.

You're mine, she thought, not about Natalia but everyone like her. Bring it on.

"Oi, oi! Great! Perfect!" The photographer went to work snapping long strings of pictures. Taylor slid a hand down to the hem of her skirt, and dragged it up to the black string of her underwear over her hip. Her smirk spread into a devilish grin.
"Hey! not bad... you may be good for a third thing after all" Natalia said giggling as she continued staring at Taylor. There was certainly something between them, a kind of electricity that, if it wasn't because there were people in here, Natalia would have probably already jumped to Taylor with the objective of beating her to pulp. Natalia began to take deep breathes, trying to not look to obvious, she needed to calm down. It had been so long since someone made her feel this violent. And she didn't wanted to feel like that. She hated feeling like that.

Natalia closed her eyes and leaned back, letting out a soft sigh as she relaxed. She couldn't tell why she didn't felt awesome when she had all the reasons to feel awesome...and she couldn't tell why Taylor drove her so mad. Taylor certainly had a reputation for driving people mad, but Natalia didn't cared. The punky girl shouldn't be able to get her so mad... not this kind of hateful mad at least. After a few more seconds Natalia opened her blue eyes and looked at Taylor smiling almost friendly now, determined to not let her emotions get the best of her. "don't look at me, Taylor-chan"
Taylor didn't miss a beat. "It's a free photo shoot." She said, being demonstrative with her hands. "And it's MY photo shoot, so if you don't like it, why don't you just make like a tree, and shut the fuck up."

She struck another pose, the photographer took more pictures. "Wait, what if I just did what Natalia does?" She said, and then arched her back and stuck out her butt and pushed her breasts up and put on a dopey, stupid face, as if confused and distracted and a little nervous about everything. She stuck out her tongue and put a finger to her chin as if trying hard to think of something, then she turned around and looked back at the photographer over her shoulder and pointed to her butt. "Everyone lookit my butt. I'm in a movie now so everyone wants to see my butt, especially that my giant fake boobs are all saggy from never wearing a bra."

She gave Natalia a look, knowing full well that the starlet didn't like being made fun of, and she deliberately was being as idiotic and juvenile about it as possible. Taylor was having fun with her. The temptation to mess with her was too much.
Last edited by 1167 on Fri May 25, 2012 3:26 am; edited 1 time in total
"yes yes... it is your photo shoot...." Natalia said trying to remain calm. "Only because I allow it" she said smiling with gritted teeth. Natalia took it as a personal challenge to endure Taylor's taunting, and as a penitence to deal with the guilt she felt for messing with Taylor during the girls photo shoot.

"You can't do what I do Taylor-chan" Natalia said with a twisted smile. She had a lot of fun when people accused her of having fake tits. It only proved in her mind how perfect her tits were. Still the intention was what mattered and Taylor's intention was to annoy Natalia. The blue-eyed girl leaned to her side resting her head on her hand and her elbow on the arm rest of the chair. "I wear bras... I have my own designer collection of them. ...but unlike you I don't need them" Natalia said...and immediately bit her tongue as if punishing herself for falling for that. "don't look at me Taylor-chan!" Natalia repeated. The photographer seemed to be loving all the unleashed silliness Taylor was giving and kept firing his camera over and over.
"Why, what are you going to do about it?" Taylor retorted, undaunted by Natalia's restrained cattiness.

She struck another loose, confident post and held up both of her middle fingers at Natalia, still without breaking eye contact. "Nothing, that's what. You can mess with me all you want, fucking throw me into a match against everyone in the world that hates me at once and I'll still come out on top. It doesn't matter. Do whatever you want, you've got nothing on me, except a shit-ton of bad reviews from movie critics."

She shifted her posture back to a relaxed fighting stance with her hands low and knees bent, and the photographer finally had to intervene. "Thank you, Taylor, I think we've got enough. Great job."

"Thanks." She said, without taking her eyes off of Natalia. It had taken time to get people to stop calling her silliness like Parker-san. "Do you guys need any shots of Natalia looking like she might flip out and rage on someone and start bawling? Now's your chance."
ò_ó. Natalia frowned cutely as she looked into Taylor's eyes without blinking in what seemed like a staring contest. Each word the blue-haired spitted only made Natalia's frown more pronounced. She bit a rice cracker and loudly snapped it with her hand to munch it, much wishing it was one of Taylor's bones cracking and not just a rice cookie. She masticated the cracker, grind it with her teeth viciously as if doing it helped her let out some steam. Her lovely face had caught quite a blush from the anger. She swallowed the cracker and her fury, gulping loudly.

"I doubt we can put all the people that hate you in a standard size ring..." Natalia said coldly as she kept her eyes locked with Taylor.
Taylor tilted her head to the side and scowled at Natalia and breathed a heavy side before finally looking away. What was her problem, anyway?

"Well, you still tried your best. Too bad Adrian's too crazy to finish a match." She said, and walked off the set to find her sweatshirt in the other room. She pulled it on, a lightweight, dark gray, hoodie, and zipped it up. She paused, and then turned back to face Natalia.

"Why didn't you say anything after... I made a total ass of myself in front of everyone?" She asked, referring to her promo after Avalanche where she'd tried to reach out to Natalia only to be ignored. She didn't know what she expected to happen, if anything, but she felt stupid for having done it. "I mean, I... uh... Whatever, I don't even care."
"That wasn't my best... not by far...and STOP MESSING WITH ADRIAN!!! she needs help, not you tormenting her!" Natalia said barely resisting the urge to stand up. No, it was better to remain sited. She didn't wanted to start a fight, not here at least. She followed Taylor with her eyes. Then Taylor turned around and apparently reprimanded the blue-eyed cutie. Natalia blinked, surprised, she had no idea what Taylor talked about.

"Say anything?" she asked puzzled, not understanding why after bitching her Taylor was apparently demanding her something. "Say anything about what?"
Page 2 of 7 •

1, 2, 3, 4, 5, 6, 7


---
Permissions in this forum:
You
cannot
reply to topics in this forum