Champions & #1 contenders
Apologies to those I have threads with.
Sat Apr 22, 2017 5:11 pm by Iron Soldier
The last few of weeks have been difficult Irl, and left me with neither the time nor the mental energy to Roleplay. 
That said, things appear to have eased up and I should be all caught up by tomorrow. Looking forward to continuing with my current RP partners and meeting new ones going forward.
Comments: 6
Holy not dead moly.
Tue Apr 18, 2017 12:17 am by Fluffy Tail
Not sure how long it's been but it's fair to say I have not been back here in a long time.
To cut a long story short after a trip to the docs office I found out my life was in serious potential danger and I ended up disappearing for a long time. But after treatment was successful and I ended up not being dead I decided to come back. Big sorry if I left anybody dead in the water but my main focus was getting better. Hope there is not too many hard feelings as now that I am better I want to …
[
Full reading
]
Comments: 6
Two matches need for two new characters
Fri Apr 21, 2017 8:04 pm by LunarOcean
Hey there, looking for two matches for each of two of my new characters Laurukka and Tatsuta. Both will be submission/hentai/knockout and will likely feature quite a bit of submissions and lewd. I had one for Laurukka but it's DOA right now and I figure I might as well get another up. Laurukka is very tall but for a heavyweight has a more technical, cunning style as opposed to raw power while Tatsuta is kind of like Linh and Jiayi although she's more face-leaning as a whole and practical.
My …
[
Full reading
]
Comments: 0
Attire:
OR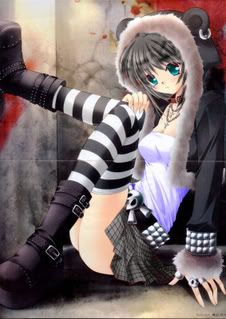 OR
Name: Jasmine "Jazzie"
Sex: Female
Age: 16
Eyes: Red
Hair: Purple
Height: 4'11"
Weight: 95 lbs
Nationality: Japanese
Favoured Matches: Bedroom Hentai, Ring ( Facesit Pins )
Favoured moves: Kicks, Facesits, Hentai
Finishing move/s: "Suigetsu, Give Me Strength!" - Jasmine randomly performs one of the following finishing moves but much more tragic & violent due to Suigetsu's influence. *Panda Mode*
Suigetsu:
"Take A Good Look" - Jasmine gives her opponent a kick to the face doubling them over to the corner or on their backs. She then flips her mini skirt up revealing either her fishnet panties or no panties at all ( only wears Panda Panties on special occasion ) and spreads her ass cheeks, then either applies a long stinkface or a facesit
- *Panda Mode* - instead of one kick, she gives her opponent a barrage of kicks to the face while on her back with her legs up then stinkfaces or facesits the opponent while rubbing vigorously until their face smells of her ass
Hentai finishers:
"Panda Pussy" ( Bedroom matches ) - Jasmine straddles a downed opponents face and then rubs & grinds her pussy on their lips until she cums onto their face
- *Panda Mode* - turns around and straddles their face with her ass rubbing her cum into their face
"Panda Pussy" ( Ring matches ) - Jasmine kicks her opponent in the stomach into the corner then straddles their face with her legs resting on the ropes and then shoves her pussy into their face & rubs it all over until she cums
- *Panda Mode* - releases into their mouth to gag them
*This move can only be performed in Panda Mode* - "Sinister Intent" - Jasmine goes into panda mode & stares down her opponent with her evil eyes while slowly backing them to the corner. She then grabs their face and throws them to the mat face-up & if they are still up on their knees then she violently kicks them square in the face. She then proceeds to facesit her opponent ( forward facesit ) for a long hour.
Entrance music: "Closed Eyes Still Look Forward" - Chiodos
Endurance:★★
Strength:★★
Speed:★★★★★
Defense:★★★★
Technique:★★★★
Personality: Jasmine is a nice girl at heart sometimes but she often cares for little around her. She attempts to make friends but if it should occur that the fails then she punishes them. She is as ruthless as she is cunning. She knows just where to hit someone where it hurts the most ( both physically and emotionally ). Due to all her loneliness, she often daydreams about ways to harm & get back at people who hurt them. She even has an imaginary panda friend "Suigetsu." He is the manifestation of her sinister intent. Her personality seems to shift between a nice little girl to an unstable sadistic persona.
Fun Facts:
- Her favorite color is purple
- Pandas are her favorite animal
- She loves rice pudding
- She loves the feeling of her butt on someones face
- She barely wears panties but when she does she wears her favorite "Purple Panda Edition" silk panties or fishnet panties. ( she never wears her Panda Panties in a match unless its special )
- She despises skunks
- Can't stand girls that fart
- Her favorite food is Linguini Clams
- She has never broken a bone in her life
- Jasmine without her panda hoodie
Last edited by 1171 on Sat May 28, 2011 2:55 pm; edited 3 times in total

_________________
My Characters
[url=http://afwrpg.informe.com/forum/friction-roster-f10/kelly-the-facial-lafferty-t2418.html#p58987:3knr33j1]Kelly Lafferty[/url:3knr33j1]
[url=http://afwrpg.informe.com/forum/friction-roster-f10/lillian-lafferty-t3360.html#p81388:3knr33j1]Lillian Lafferty[/url:3knr33j1]
[url=http://afwrpg.informe.com/forum/kawaii-league-f27/jasmine-the-purple-panda-t3855.html:3knr33j1]Jasmine the Purple Panda[/url:3knr33j1]
[url=http://afwrpg.informe.com/forum/friction-roster-f10/katie-aoi-the-graceful-swimmer-t3716.html#p88435:3knr33j1]Katie Aoi[/url:3knr33j1]
[url=http://afwrpg.informe.com/forum/friction-roster-f10/natalie-vink-t3951.html:3knr33j1]Natalie Vink[/url:3knr33j1]
[url=http://afwrpg.informe.com/forum/friction-roster-f10/aubrey-t4416.html#p104828:3knr33j1][Aubrey[/url:3knr33j1]



Posts

: 79


Join date

: 2010-10-21



I love this how about match after Molly and them

_________________
RULER OF YOUR LIFE!!!



Posts

: 38


Join date

: 2010-07-17




Similar topics
---
Permissions in this forum:
You
cannot
reply to topics in this forum