Who is online?
In total there are
32
users online :: 13 Registered, 0 Hidden and 19 Guests :: 1 Bot
Chaos
,
GreatForce
,
Jaystar
,
kerflubble
,
LunarWolf
,
M.J.Caboose14
,
Maxy
,
Mechassault Man
,
Mystery Dragon
,
Panda
,
ReikoH
,
WrestleMind
,
wrestleryu
Most users ever online was
390
on Tue Jan 02, 2018 2:02 pm
Champions & #1 contenders
ReikoH looking for opponents!
Fri Mar 22, 2019 5:29 pm by ReikoH
Hi there. I figured I'd do one of these to put my name out there. I kinda-sorta promised a match to one person in particular but thought I'd put both my characters here for consideration. I might make a third today at some point to help have two characters doing stuff at a time (probably not all three to avoid overbooking).
My characters are in my sig now! Should be working, but a quick summary.
Reiko Hisashi
, a highly skilled technical wrestler with a hint of speed and physicality, making …
[
Full reading
]
Comments: 1
Finally getting into this.
Tue Mar 19, 2019 6:48 pm by GreatForce
Alright guess I should start to actually rp and get into the game!
So
Shibita
is pretty much ready and roaring to go for her first match if anyone is interested.
As for
Kogeki
my sumo girl! I kind of want to introduce her more gradually to the AFW. Instead of just throwing her into a match right off the bat. Maybe a backstage or gym rp showing her the ropes around the AFW and maybe even gaining a friend or enemy!
Hit me up with a PM if your
[
Full reading
]
Comments: 1
A new fighter has emerged...
Fri Mar 15, 2019 8:51 pm by Cicilia
Heya! I'm looking for people interested in fighting my newest character Raul! His character profile is at the bottom of my signature AND, just a note, he does not do hentai. regular wrestling is on da table though x3
Comments: 9

Name: Marina Hazuki
Age: 18
Eyes: Grey/Blue
Hair: Black
Height: 5 feet 9 inches
Weight: 152 lbs
Sexual Preference: What insolence! *Huffs*
Alignment: Face (although she can lean to tweener if angry)
Nationality: Japanese
(Main) Entrance Music: Hironobu Kageyama- Fire Wars
Wrestling Information
Strategy: Power fighter/Hard Hitter
Preferred Matches: None in particular
Style: Strict older sister/Student Council President
Wrestling Stats
Striking: 3/5 - She isn´t very technical, but makes up for it in strength and aggression
Throwing: 5/5 - She is extremely strong, and can usually lift and slam opponent with ease.
Submissions: 2/5 - She is not very experienced and this her technique is not really great
Defence: 2/5 - She tends to get overly enthusiastic in the attacks and trust in her physical qualities, which tends to lead her to leave openings.
Endurance: 4/5 - She can take it almost as good as she can dish it.
Signature Moves:
Sinking Heike: Basically, a Death Valley Driver
The Fall of Honnoji: Basically, a Full Nelson Slam
Izanagi´s Descent: Basically, a Reverse Powerbomb
Finishing Move:
Kusanagi Sky Cleave: She will lift her opponent into a Gorilla Press, raise her eyes up to the ceiling, and stand looking intensely for some seconds. She will them step forward as he drops the opponent, then quickly spin in place, throwing an European Uppercut that will hit her opponent in the face as she drops (Basically, a Gorilla Press Drop followed by an European Uppercut). She then will kneel by her opponent, join palms in prayer and then place both palms on their chest for the pinfall.
Appearance
Ringside Clothes:
- She will remove the tracksuit jacket to fight.
Promo/Advertising/Event Clothes: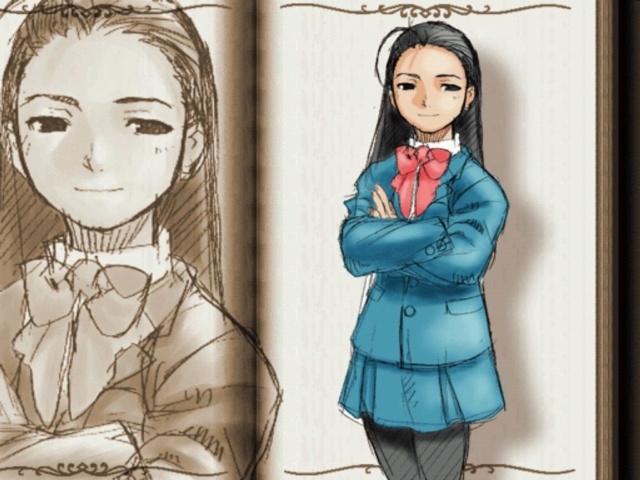 Personality
Calm, polite, composed and irradiating a calm but firm aura of perfect sense of duty, Marina is the embodiment of the strict, studious mentor- the School Council member, the experienced senpai, the reliable friend- the kind of girl others go to for advice or ask for help almost naturally. While she is indeed open, helpful and empathetic and generally tries to help other people out, deep down she is someone starting to get worn out by all the expectations placed on her, and can be rather emotional and clingy if he feels overwhelmed, seeking out others and showing an almost childlike side of hers.
In the ring, however, while she keeps her proper and composed "school chairman" persona, she fights with a sense of freedom of joy. Win or lose, you can tell she is enjoying what she does, which tends to ingratiate her with fans and fighters alike.
History
Marina is one of those rare persons who just seem to have the best genes. Highly intelligent, industrious and suited for academic life, she is also in excellent physical condition, and possesses immense strength and resilience despite being not being especially big.
Having caught the eye of educators and her family, Marina was promptly enrolled in an elite school and groomed pretty extensively, like most other people believed to be especially gifted. Allowed to develop her interests and encouraged to spend as much time in them as possible, the naturally curious and competitive Marina took up to both her studies and sports- soccer, tennis, swimming, volleyball, softball... she wasn't exceptional on any- or even especially good. But she didn't really want to, preferring to try new things and getting an extremely intense and complete workout of it.
Her life went on without issue until the last years of high school. As the time for the famed "Exam Hell" draw near, she started to show strange signs on her body and behaviour. She lost weight and was often lethargic, distracted and had trouble breathing or sleeping. She lost her appetite and her notes started dropping due to errors. Some visits to the school psychologist gave a prompt answer- she was suffering from stress-related personality disorder.
Realising they might have allowed their daughter to put too much on her shoulders, her parents decided to place her on a regular high school, amongst less demanding peers. And there she was where she made friends with Suzu-chan.
Suzuka (Suzu-chan) was a fairly unremarkable high school student that had been following the AFW for years and was completely nuts for anything and everything wrestling-related. Despite Marina´s lack of knowledge of the sport and initial reluctance, the relentless enthusiasm of Suzuka managed to get her to go to one of the Kawaii match nights with her.
She went through a rollercoster that night. From baffled incredulity and the over-the-top presentation, to horror at the first blow exchange, to an intense, fascinated curiosity as Suzu-chan enthusistically explained the ins and outs- the staging, the story, the science of the spectacle...
Marina, usually forced to be reserved, composed and "proper" due to her role, was fascinated by the show. Here, there was a world were people insulted the public or each other, risked their health for show and could be as loud and rash as they wanted... and IT WAS ALL RIGHT! It was part of the game. It felt like heaven.
As soon as she could, she got enrolled in one of the AFW´s training camps, where the trainers quickly put her superb physical condition to good use, making the comparatively plain, mid-built girl into a veritable powerhouse, able to throw down with the best and perform some of the hardest-hitting throws in the game. Marina went into it hook, line and sinker, and trained with enthusiasm, soon starting to be in matches and loving every second of them. To her, it is kind of a game- a way to relieve her stress and live a life less demanding. But she is getting better and better, and who knows. She might actually be cut for this.



Posts

: 4


Join date

: 2019-02-17



Your character has been approved, you may RP as you wish.



Posts

: 4019


Join date

: 2013-04-14


Age

: 31





Similar topics
---
Permissions in this forum:
You
cannot
reply to topics in this forum