Champions & #1 contenders
The Austrailian Mudslide is Back.
Sat Apr 21, 2018 6:20 am by Softsquad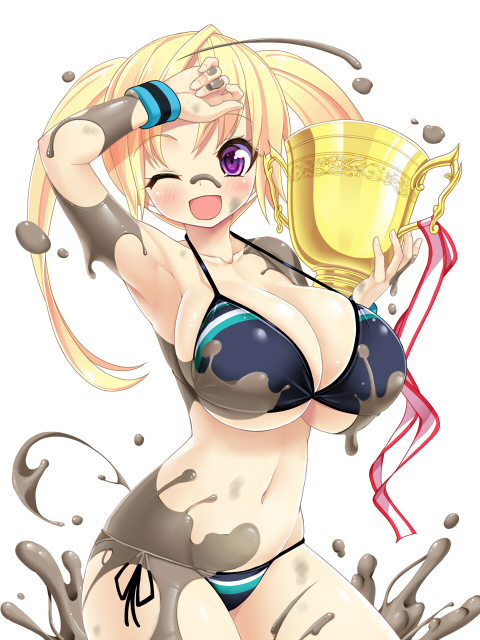 Granted that most of you won't know me or remember me, but I've had a few matches here and there some time ago. Well I think its time to become a regular around here and try to have some fun again, but at the same time keep coming back. Anyway I think its time to jump into some matches with Zoe Taylor, my mud wrestling character from Australia and get her back into the squared circle. Furthermore I will update my characters as I think some proper changes need to happen.
So if anyone would …
[
Full reading
]
Comments: 4
Looking for debut thread.
Sat May 12, 2018 9:28 pm by Hedgehawk
Hello All.
I am looking for a debut for my girl Trinity (http://www.afwrpg.com/t18107-trinity-cordova#495678).
This doesn't have to be a match, it could be a gym battle, interview or anything else. I just want something to help get Trinity off the ground. If you wanna plot feel free to reply to this message or fire me a PM.
Many thanks in advance and thank you for reading my message,
Hedge
Comments: 0
Page 1 of 6 • 1, 2, 3, 4, 5, 6


Standard Match


Rules: Standard
Victory Condition: Pinfall, Submission or K.O
Spoiler:
It was a new day for Belinda Northman, or rather a new night, as she now stood at the gorilla position like she had done so many times now. Here in AFW she had already been in well over twenty matches and there was no signs that the rising star was planning on slowing down. After all....she had a goal she wanted to reach, a dream to obtain and she wasn't going to slow down until she did. No matter what kind of bumps or walls she came up to there was never going to be anything that would stop her. She carried the Northman spirit after all.
Tonight she was apparently going to be wrestling a debuting young girl by the name of Denice, she didn't exactly know much about the girl except she hoped that she wasn't going to have to suffer another annoying bitch of a heel in the ring. She much enjoyed those matches she had against fellow usually mostly kind-hearted young women in the ring who shared or at least respected her fair spirit, over the rather cheating and bitchy kind of opponents who looked down on her. Still, that was a big part of wrestling, it attracted all kinds of people and the Swede couldn't overtly fault those kind of fighters for their style, that didn't mean she had to like it though.
The Swede bounced on her feet and pulled her hood up over her head, as her music soon enough started to blast out of the speakers. The sound of her theme sent the crowd into cheers, the rapidly growing fan-base she was acquiring was without a doubt a great boost to her confidence. Was it anything compared to Cecilia's ? Probably not, but it was without a doubt started to form...
Belinda took of running after she jumped out onto the ramp and started to charge off towards the ring at full speed. Jumping up as she reached the ring in mid run and dove through the middle and bottom ropes into a roll....where she got up onto her feet in a smooth manner before taking off towards the far off corner and jumping up to the middle ropes with both arms raised, a quick wave of those arms was all she did before jumping and turning around to lean up against her corner. The Shooting Star was in, and it was time to wrestle! All that was left was for the Swede to wait for tonights opponent.
Denice was incredibly anxious as she waited in guerilla position, the Buccaneer was from a somewhat well known wrestling family in Italy. The redhead wasn't just someone who treated wrestling as a hobby, to her it was a lifestyle and all that the 3rd generation wrestler had to her person. While Denice was against cheating or unneccesary cheap shots she still wasn't the most outwardly friendly wrestler, she loved a competitive match but nothing was more Important to the serious redhead as winning, especially since it was far too early in her AFW career for her to tarnish the Rossi name.

Denice had made some preperations for the match, through her research she knew that her opponent also had a legacy to defend, unlike Denice though she wasn't the only wrestler currently carrying that legacy and she wasn't playing in the away field. The buccaneers name likely meant little to the fans of the AFW which just inspired her more to win against the more established Belinda Northman, Who's name was well known due to her own rising popularity and her sister's achievements.

After Belinda's enterence was complete Denice would reveal herself to the crowd as " Misery business " blasted through-out the arena, admitidely the theme didn't fit Denice as much as it did her fellow Buccaneers members, but she shared their theme to show unity in her group, vanity meant precious little to the Italian wonan. Denice's walk to the ring would be quick and uneventful, then her roll into the ring under the bottom ropes would be equally dull. Denice was intending just to get right Into the wrestling as quickly as possible.

As soon as the Buccaneer entered the ring she would walk right up to Belinda and put her hand out for a handshake, staring Belinda down with a serious expression as she started to get through the pre-match greetings. "My name is Denice Rossi, let's have a dignified match " The buccaneer would sternly state, her lips slightly moving to form what could be seen as a smile.
It seemed as if Belinda's opponent tonight was practically debuting against her, which only meant that Belinda wanted to give her as good a match as she could. To welcome her to friction and maybe AFW as well....when the woman started to march down the ramp with her music blasting out of the speakers, the Swede would start to walk out of the corner. 

Starting off by removing her hood as she looked on at the Italian woman who walked right up into the ring and made her way right towards Belinda, offering the Swede a handshake and gave her that serious expression. Belinda would offer one back and answer Denice with a firm handshake of her own as she would respond with a slightly serious tone as well. " Belinda Northman. I'm looking forward to seeing what you've got. Denice Rossi." Belinda said as a slight smile of her own formed upon the Swede's lips. 

After the handshake, the Swede would take a few steps back, giving Denice a few feet of distance as when the bell rang she would start to try and circle the brunette...looking for an opening, before she decided it might be better to start this match off with a lock up. Moving forward a bit, slightly bent over with her arms ready and gesturing for a collar and elbow lock up towards the Italian.
After a quick exchange with her opponent the redhead would walk back to her corner and wait until the bell rang, the AFW newbie being excited for her first match as it seemed her opponent was confident and polite, which was a rare combination and in Italian's mind a fair indicator that Belinda was skillful and fair. After a short wait Denice would hear the bell ring and would eagerly pace out of her corner, wanting to get the action underway as quickly as possible and prove herself to her opponent and the AFW.

Belinda then proceeded to show even more of a sportsmanship attitude, going for the classic lock up at the middle of the ring, causing Denice to flash a quick smile before approaching her opponent and slowly linking arms before then increasing her grip as she started to push and quickly increased the strength of her push until she was trying to overwhelm Belinda with all her might. Denice was glad that her first match would have a clean beginning, but would try to keep her mind on winning even from the start, going with the strategy of a test of strength so she could feel out her opponent and decide how to go forward with the match.

" You're strong, actually you're probably stronger than me. Guess I shouldn't try to use my power to much then huh?" Denice would say, truthfully she wasn't the strongest of wrestlers but she was certainly selling herself a bit short. Denice's main goal right now was to gather as much information as possible in a short time frame, of course Denice wasn't actually sure who was stronger from just this exchange alone, but either way there was no harm in having a little bit of banter that could result in some valuable information about her opponent being leaked.

If Denice managed to overpower her opponent then she would try to push Belinda back towards the corner, although considering that speed was the Italian's main strength she didn't expect to get that far and would brace herself to either stop a counterattack or minimise the damage as much as possible, she just had to hope that her opponent's skills didn't far outweigh her own otherwise she would be in quite the bad situation. If that was successful then Annette would follow through by searching through her boot before pulling out handcuffs, smiling with glee as she observed her rare catch. The pink haired wrestler would then waste little time in trying to drag Ele the short distance towards the corner from where she had entered the ring, before attempting to handcuff one of the larger wrestler's hands to the middle rope right next to the turnbuckle.
Last edited by RJD on Thu May 11, 2017 3:28 am; edited 1 time in total
Belinda was kind of happy that her opponent seemed to be a fair and nice sort of wrestler, which would probably make this whole match be a fun and enjoyable match for the two of them. Well that would have to wait to be found out but Belinda had a good feeling about her Italian opponent. She seemed like the good sort and since she was brand new she only had her gut feeling to go on for how good of a wrestler Denice Rossi was...but she had a good feeling about her. 

Now that the two of them moved closer and then locked up with each other. Denice words caused the Swede to chuckle softly as the two of them stood locked up and tested out each other's strength. " Heh, you won't know unless you try." Belinda let out as she felt Denice start to push more and more, the Swede try and use her strong legs to keep herself at bay. Looking to stop any advancement that the redhead was trying to achieve. 

Soon though the blond would attempt to take a step forward, pushing into Denice, then another and another, trying to show off a bit of her own Northman strength. Nowhere near the level of her older sister but still damn strong enough for her size. She'd look to try and force Denice backwards a few steps, trying to make her Italian opponent back up toward the ropes.
Denice appreciated her opponent's humble response, but now that she had more time competing with Belinda in the test of strength the Italian realised her joke was actually quite bound in reality. The brunette just couldn't get Belinda to budge, and would actually start to slowly be forced backwards as her opponent increased her strength and continued to push forward, advancing towards the ropes, despite Rossi's desire not to be stuck against the ropes.

Eventually Denice would find herself getting closer to the ropes, prompting the Italian woman to try and launch a counter offence as to not lose the first exchange. As Belinda pushed forward the brunette would try to time her counter just right, waiting until she felt a particularly strong push from Belinda before then attempting to pull the blonde towards her, and trying to quickly side step behind Belinda and try to wrap her arms around the back of Belinda.

If Denice's move was successful then she would proceed by attempting to trap Belinda's arms with her own, before then putting her interlocked arms at the back of her opponent's head to catch her in a master lock. The Italian woman's movements would be swift, but even someone who focused on technique such as the pirate herself was struggling to twist her opponent the way she wanted to this early in the match. Denice's idea was a good one, but in reality it was probably far to early to try and lock in a submission hold, although at least Denice wouldn't be stuck in the test of strength anymore if her idea worked.
Belinda was slowly but surely starting to over-power Denice little by little as the seconds rolled on by. The Swede started to ramp up more power with each passing second making the task of pushing back the Italian go a bit faster the longer that this lock up went on. However as she started to near the ropes with her foe the Italian soon enough slipped right out of the Swede's grasp on her and slipped right on past her. The blond stumbled a step or two forward before those arms came up in under her armpit. 

Hands clasped against the back of Belinda's head. Causing the Swede to gasp out in surprise as she was soon enough pulled right into a full nelson hold, the chest of Denice pressing up against her back as the Swede started to try and struggle from left and right. Gritting her teeth as her neck and head was being pushed down. " Nnh..." She winced out as she tried to think of something she could do to try and get out of this hold....

The thought soon came when she felt Denice's groin press against her rear. The Swede would try and take a step forward, leaning her lower frame forward to then try an send it back hard against Denice's midsection, attempt to smack her butt right into the woman's abs, over and over to try and weaken the hold so she could try and slip out of the full-nelson....if it was successful then Belinda would try and keep one arm hooked up with the woman and try and swing her forward, trying to toss her down onto the mat with a hiptoss!
Denice was glad to get a submission on so soon, she really wanted to ware down tougher competitors as soon as possibly to give herself more chance, and in her mind this was probably the best start possible. Thing's wouldn't stay as successful for the pirate though as her opponent used the one part of her body the redhead was least likely to account for, resulting in Denice being taking by surprise when Belinda leaned forward before firing her rear back against Denice's crotch, causing the redhead to let out a pained cry and blush before attempting to tighten her arms around the back of her opponent's arms. Denice would prove to be a bit too stubborn to try and maintain the hold though, paying for her mistake by receiving another hard hip check into her crotch, resulting in one o Denice's arms slipping out from where it's meant to be and the other arm awkwardly wrapped around one of Belinda's as the pirate's submission fell apart.

The pirate wasn't even out of the water yet though, as Belinda took advantage of the still hooked arm and grasped it firmly before then throwing Denice by her and to the side in a hip toss, resulting in the redhead letting out a loud groan as she hit the mat. The redhead could take lots of damage, but that was only due to her wrestling background and being from a wrestling household, despite probably being the toughest member of the Buccaneers for taking hits she also was the most sensitive to blows. Denice had an odd mix of nature and nurture in regards to her toughness where everything still hurt like hell, but she was able to push by it and keep on going.

Despite having control just a minute ago Denice now found herself back first on the mat, breathing heavily for a second before then moving into a sitting position and getting ready to get to her feet. However it was incredibly likely that Belinda would get a free hit in, since the redhead was surprisingly slow to get up, truthfully Denice knew that if she stood up entirely she would likely not see whatever was coming her way, the Rossi's latest wrestling heir would decide to employ damage control by keeping Belinda in her line of sight upon sitting up.
Belinda was without a doubt rather surprised at how quick and skilled Denice was for a newcomer to this league. The Swede however was quick to handle that by driving her rear into her redheaded foe, not once, not twice...but three times. It made this a fairly good situation as all but one arm was now gone which she used to toss the woman off of her and down onto the mat with a quick hip toss. 

Getting Denice down onto her back made it so that Belinda could take a step back, release a light huff of air and when Denice started to push herself up to a seated position the blond would try and send her left leg forward in an attempt to shoot a quick kick right into the woman's chest to try and bring her down onto her back before she could get fully up onto her feet or even knees! 

If the kick connected and sent Denice down onto her back, the Swede would try and quickly move to step over her opponents body and run towards the nearest ropes. Looking to bounce off of them and come running back towards Denice, as she'd try and run forward and then attempt to flip over and come crashing down onto Denice midsection with a running flipping senton!
After being flipped onto the mat Denice would try to shrug it off after a second, quickly pushing off the mat into a crouching position to get up but finding herself being met with one of Belinda's sharp kicks, hitting the redhead in the chest and causing her to cry out again before falling back onto her back. The Italian woman had planned to take the offence to her opponent right at the start of the match, but by the look of things she was going to need to get into the defensive. As well as just having slightly less experience in wrestling overall than her opponent, Denice hadn't even been to the AFW and the lights and crowd were slightly hard to get used to, learning to work in a new environment was always difficult for her, but if she had to pick a new environment to get used to it would certainly be the ever so popular AFW.

Denice was powerless against the kick, but when Belinda stepped over her body and ran off the ropes the Italian woman got the time she needed to get back into the match. As Belinda bounced back towards her Denice would place her hands on the mat and try to position herself almost in a grounded pouncing position, although as soon as Belinda was about 15 inches way from her before quickly getting into a crouching position and break into a run, trying to duck so that any potential attacks to her head or chest would be likely to miss.

If the Italian's run was successful then she would rebound off the same ropes her opponent just did, before running back towards Belinda before jumping off the mat, although she would cover much more distance than she did speed, Denice would then reveal her intention by attempting to land a low dropkick against one of her opponent's ankles with both of the Italian woman's legs. The redhead hoped to use the momentum she had built up to send Belinda into the mat, due to her experience Denice had a few strategies and moves that weren't seen all that often and decided it would be better to get the advantage at the beginning of the match with them. Since it would be harder to hit more orthodox moves when both woman are fresh, meanwhile more unexpected moves would have a bigger chance of working out well either way.
Page 1 of 6 • 1, 2, 3, 4, 5, 6


---
Permissions in this forum:
You
cannot
reply to topics in this forum