Who is online?
In total there are
36
users online :: 4 Registered, 0 Hidden and 32 Guests :: 1 Bot
acuya
,
Daaharu
,
RadiantKarna332
,
Teenwrestler
Most users ever online was
390
on Tue Jan 02, 2018 2:02 pm
Champions & #1 contenders
Match for Takeichi
Tue Jun 12, 2018 6:13 am by GrandAkumaShogun
So with my other two guys having their own matches I figure I should do something with my first character on here, Takeichi Mori. If anyone is interested feel free to post here or get in touch through a pm so we can plan it out. I can either have Takeichi remain a jobber or begin to work him towards being a more serious competitor.
Comments: 1
Kawaii Opportunities
Sun Jun 17, 2018 3:04 pm by Daaharu
Hey, guys!
With the kawaii title match at Avalanche taking on an interesting wrinkle with the interruption by the Brat Pack, we are moving forward with the overall kawaii storyline, and at this point I'd just like to take stock of what kawaiis are out there that are interested in participating in a cohesive storyline.
Can't make any promises about titles or what exactly each girl's given role would be. We can talk a little more about the specifics of where the story is going soon, but I …
[
Full reading
]
Comments: 2
Match or RP?
Wed Jun 13, 2018 3:48 pm by Lotuswarrior
I'm just looking to do something while I wait for match replies. Really want to get some characters cemented a bit with a rival or some interactions with other characters here.
If anyone wants to do something hit me up.
Comments: 0
Page 1 of 11 • 1, 2, 3 ... 9, 10, 11


Selynda got ready backstage for her match next match. Selynda got word that her opponent was not only a rookie, but also 18 year old. "I don't want this match to be a blow out. Where's the fun in that? I'll see how strong the girl is, and then I'll have my fun with her." Selynda thought to herself as her put on her standard skimpy ring attire, her see through mesh top, and her silver panties. She then waited backstage for the announcer to introduce her.

Announcer: "
Ladies and Gentlemen, the following contest is a 2 out of 3 Hentai Falls POW Match. The only way to win is to force your opponent to orgasm twice, and the loser will be the winner's Prisoner of War. Introducing first from Hollywood, California please give an AFW welcome to Selynda 'The Wonder Babe' Star!!!
Selynda's theme blasted throughout the AFW Arena, and Selynda would do some sexy/provocative poses for the cameras before she began to sprint down to the ring. Her breasts would bounce wonderfully as she sprinted down to the ring, before she jumped onto the ring apron. Then Selynda would blow a kiss to the audience, before she would go into the ring partially through the middle rope. Before she fully entered the ring she pointed at her ass, and began to wiggle it for the camera as the AFW crowd roared/cheered in approval.
Then Selynda entered the ring blew a few more kisses to the audience, before she went to her corner. Once Selynda was in her corner waiting for her opponent to make her entrance, Selynda would do a few provocative stretches to loosen her body up for the match and give the audience a show.
Last edited by 321Shazam on Mon May 16, 2016 4:47 pm; edited 1 time in total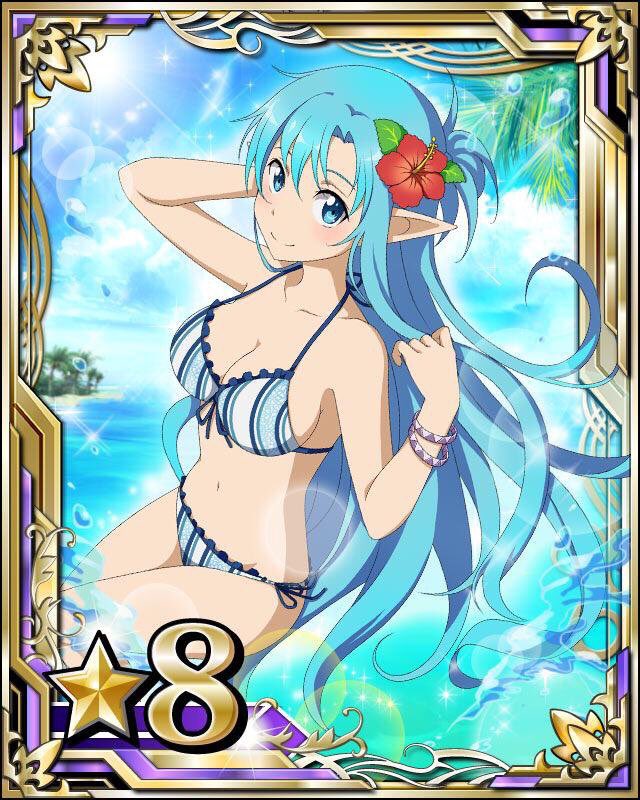 Aqua was in the back doing some stretches that she learned from Chelsea during their last training session. Smiling, Aqua was ready her first time in front of a huge audience! The 18 year old was quite scared, she was a virgin and she was about to compete in a hentai match on live television in front of hundreds of people! Aqua had been infront of this many people a few times, when she was doing a few songs or being interviewed, but she had never been infront of a rowdy crowd like this, let alone naked! At least she wasn't Naked to start with, she had a small blue striped bikini on to start with.
She made her way to the entrance to where the crowd was and got a huge ovation. People were wooting and hollering, cheering for her, and she heard a certain chant start up.
"Lets go Lynne!!! *CLAP CLAP CLAP* Lets go Lynne! *CLAP CLAP CLAP*"
Aqua blushed that she had so many fans here, Jade told her that there would be some, but Aqua wasn't aware that there would be this many! The person that they were referring to was a fictional character by the name of Lynne Neve. She was from a video game called
Elven Wars
and was loved by a lot of people. The reason why they were cheering this at her was because Aqua's likeness was used to create Lynne in the game. While she was quite happy she already had a fan base in AFW, she was also super freaked out by the fact that so many of her fans would come to an event like this.
Aqua made her way to the ring, waving at her fans as she went down. She didn't run to the ring, but she knew that the crowd wanted to see the two of them get started, and as such didn't waste anytime getting to the ring. Aqua would climb the stairs and go in between the bottom rope and middle rope to get in the ring before she saw her opponent. The woman was much larger than her, had massive breast, and a see through top that showed her breast. Aqua blushed, she was quite beautiful and powerful looking. She looked like the perfect female wrestler. Compared to Aqua, she looked like a Goddess. She was doing some stretches, letting the audience get a good luck at her body. Aqua would blush and offer a hand out.
"H...Hi.... My name is Lyn... Aqua! Aqua was so nervous she almost introduced herself as Lynne, while she was proud of that role she did, the voice actress hated it more than anything when someone didn't know her real name and only called her by that name."L...lets have..... a.... fun.... match!"
Selynda saw her opponent make her way to the ring. Selynda smiled as she heard the AFW crowd chant for her opponent. Selynda definitely thought that this girl was cute, and she was looking forward to this match. Selynda would see her opponent extend her hand out and greet her. Selynda would respond by saying. "Hi Aqua, I'm Selynda." Selynda said as she smiled at her would be opponent before she shook her hand. While shaking her hand Selynda could tell that she could end this match quickly, but where's the fun in that Selynda wanted to have fun and make her opponent feel comfortable. "Don't be so nervous, babe. Just have fun, after all it's not everyday you see a voice actress wrestle a former Hollywood star." Selynda would say to Aqua to encourage her to have a great match.

The referee then called both women to the center of the ring to explain the rules.
Referee:"Alright, ladies this is a 2 out of 3 Hentai Falls POW match. The only way to win is to gain 2 hentai falls before your opponent. After a hentai fall is achieved both wrestlers must return to their respective corners before I say the match can continue. Finally the winner gets to have her way with the loser. Do you both understand?" The ref asked both women. "Understood, let's have a great match." Selynda said as she winked at Aqua. After Aqua's response to the rules, the ref would ring the bell to start the match. Selynda would signal for a Test of Strength to start the match to properly gauge her opponent's ability.
Aqua would smile a bit as the Hollywood star would give her a warm welcoming, perhaps this match wasn't going to be as bad as Aqua thought!

Aqua break the hand shake and hear the rules. Win by two hentai falls! Winner has way with the loser! Aqua's eyes was to big for her body, why did she agree to this match! She would nod though and return to her corner and look at Selynda, who winked at her. Aqua hoped that meant she would be easy on the virgin, but honestly, Aqua doubted that.

Selynda made a signal, and it took Aqua A second to remember what it meant, what did Chelsea say that was meant to mean? Oh yeah, a test of strength! Aqua would put up her hands and meet her 26 year old opponent in the center of the ring for the gauge.
The crowd would cheer as the bell rang to start the match. Now both women were in the center of the ring, and Selynda would enter the test of strength with Aqua. Selynda held back her strength, see how hard Aqua would push back, but Selynda was clearly the stronger woman. Selynda would hear the crowd split down the middle cheering both women on. "SELYNDA!!LET'S GO LYNNE!!SELYNDA!!LET'S GO LYNNE!!SELYNDA!!" Hearing this Selynda knew she had to put on a show for the crowd, it's a good thing she was an actor before she became a wrestler.

Rather than force Aqua down to her knees, Selynda would transition Aqua into a sideheadlock to force Aqua's face next to her right breast. Selynda would apply some pressure, but she wouldn't put all her strength behind it. Selynda knew that this was one of Aqua first matches in front of an AFW crowd, so Selynda wanted Aqua to learn as well as show off her skills to the AFW fans. "Do you like being by my breast? Come on, babe show me what you got." Selynda encouraged Aqua to fight back as she kept the side-headlock in place.
Aqua would struggle against the blondes hold. She panicked a bit because this wasn't anything that Chelsea had taught her how to counter! At the same time though she was able to keep clam and thing, both of her hands were free and for the most part her legs were free to try to sweep her opponent's legs.

Aqua thought for a second and decided it would be a good idea to try to swing a couple of punches at her opponent's stomach, trying to soften it up like Chelsea had done to herself so many times before. After a few, Aqua would try to sweep her opponents legs with her own and try to pull her head out while she was slightly off balance.
The AFW would cheer as Aqua would begin swinging at Selynda's stomach. In all honesty the punches didn't hurt that much, but Selynda would act like these punches were strong enough to wind her. "Ugh...Ooofph!...Ahh!!" Selynda grunted as Aqua's punches nailed her hard abs. Then Aqua would try to sweep Selynda's leg with a few well placed kicks to Selynda's hamstrings. This caused Selynda to get caught off balance as Aqua escaped her side-headlock. Also because of that leg sweep Selynda went down on one knee. Selynda would try to recover, as Aqua was about to take advantage of the situation.
Aqua took a moment to catch her breath and take in what happened, Wow! She had never thought she would be able to do that to a powerful woman such as Selynda!

She quickly snapped out of it though knowing that the match was still going on and tried a front kick right into Selynda's face in an attempt to drop her. If that worked, she would run back toward the ropes and use it as a boost like Chelsea thought her to and try a baseball slide kick right to the side of Chelsea.
Aqua didn't waste any time, as she nailed Selynda in the face with a front kick grounding Selynda. The boot stung a bit as Selynda held her face. Before long Aqua would use the ropes behind for momentum to rush toward the grounded Selynda to nailed her in the side with an effective Baseball Slide. The hit made Selynda roll toward the nearest corner to sit and recover. Selynda would see the crowd get into the match, as more and more of them cheered Aqua on with the "LET'S GO LYNNE!!!" Selynda would take some deep breathes as she sat in the corner. It seemed that she was quite the actress after all, as the AFW crowd, and Aqua didn't suspect a thing.
Aqua was absolutely amazed that she was doing so well against her opponent! She knew she had gotten better than Jade, but to be dominating Selynda Star this much? That was totally impossible!

She saw her opponent in pain, and start to go over to comfort her, but then stopped, she was in a match, a match where if aqua wanted to remain a virgin, she would have to win in a dominating fashion. If it wasn't for that Aqua probably would try to go back and help her opponent, but she wasn't going to take any chances.

Aqua would back up to the the other coroner and charge and attempt a running drop kick to her opponent's breast.
Page 1 of 11 • 1, 2, 3 ... 9, 10, 11


---
Permissions in this forum:
You
cannot
reply to topics in this forum