Champions & #1 contenders
Serious apologies to everyone....
Mon Mar 19, 2018 1:59 am by Cy_Man
To those who I RP with, I just want to say that I am terribly sorry for all my delays that I constantly do. I just have been SO unbelievably busy as of late that I hardly have any free time to be able to attempt to make posts to our threads. I really needed to get his off my chest badly, and it makes me feel like a complete piece of shit for doing this all the time. If you don't want to RP with me, I completely understand, there should be no reason or excuse for me to have to keep you waiting …
[
Full reading
]
Comments: 1
Explanations and Apologies
Sun Mar 18, 2018 10:02 pm by acuya
Okay, so.
As some of you may have noticed, the Entropy Title Match from last year's Summer Splash has come to an abrupt conclusion.
The reason for this is because my match with Lies was taking too long, and with the next Summer Splash coming up, the Entropy Belt needed to be put in play for this year.
I won't get into the specifics of WHY that happened, suffice to say it ultimately comes down to my fault, I think. For those who haven't been here long, back in the day, I had a problem with …
[
Full reading
]
Comments: 1
A match for Takeichi
Mon Mar 12, 2018 7:31 am by GrandAkumaShogun
Since both Imai and Takeshi are currently involved in matches I was wondering if anyone is interested in taking on my first wrestler I made for here, Takeichi Mori. His profile says he's a jobber but I intend to change that and hoping a match can help with that. Anyone interested please get in touch with me on here in a pm.
Comments: 1
Page 1 of 4 • 1, 2, 3, 4


Standard MatchWin by Pin, Submission or KO
"Oh you gonna take me home tonight
Oh down beside that red fire light
Oh you gonna let it all hang out
Fat bottomed girls you make the rocking world go round"
The familar sound of "Queen - Fat Bottom Girls" rang out over the arena PA igniting the crowd into a frenzy of cheering and applause. It was Jenny Madision's first match here in the AFW. She had always wanted to become a wrestler ever since seeing stars like Betsy Ruth and the Bristish Wrestler Klondkye Kate. It was something she found her size helped and was celebrated by her fans as opposed to the skinny girls who tormented her at school.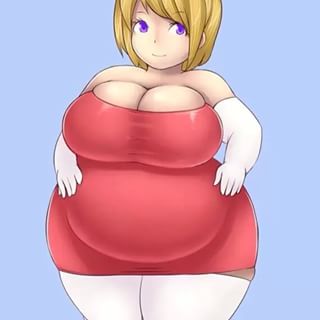 Jenny made her way to the ring wearing her usual red bikini, matching boots and white forearm length silk gloves. At 5'3 and tipping the scales 245ibs she was not to be messed with. Her skill lay in simply getting a rival on the mat and squashing them. As simple as it was, it worked.
Entering the ring Jenny moved to the corner and waitied her rival. She gave a light bounce which made her large chest and tummy flop, and the ring bounce even more. It was good to know it was strong enough to take her weight
Hiroko bounced cheerily into the arena as her theme began. She smiled and waved to the fans, glad that she was still getting some cheers even after losing her first match.
Spoiler:
As she climbed onto the apron she surveyed her opponent. Although they were roughly the same height, the difference in weight was massive. This big and beautiful girl must outweigh her by at least 100lbs! Hiroko would definitely be in real trouble if her massive opponent could get her hands on her. She could only hope that her speed and training were enough to pull her through the match.
Her eyes not leaving her opponent she went to her corner, flashing her a friendly smile and bowing to her.
Jenny smiled at her rival as she entered the ring. "I hope you enjoy this match as much as I will." She noted that although she was much smaller, she seemed quick and that may pose a problem With the bell rung DING DING the match was on. Jenny moved out of her corner and held her hands up wondering if her smaller rival would be silly enough to take up the challenge of a grapple.

"Lets see how strong you are Hiroko"

Jenny continued to circle and could hear the anticipation of the crowd
Hiroko smiled nervously. She wasn't sure if her opponent was threatening her or being earnest. Still, she didn't want to seem unpleasant.

"I think I will. Good luck, Jenny!" she said warmly, as she walked toward her opponent. Then Jenny tried to coax her into a test of strength and that left her with a dilemma. If Hiroko declined, she could use her speed to it's full advantage but it would make her look like a coward; if she accepted her challenge she might save face but she seriously doubted she was stronger than her opponent and Hiroko had no doubt Jenny would take full advantage of the situation.

Taking a deep breath, she decided to compromise. She would try and cautiously reach one hand toward one of Jenny's. If she could get a good grip she would try and twist the arm and quickly go behind her opponent, locking her arm in a chickenwing.
The grapple didnt go according to plan for Jenny, with a blur of speed the big girl found herself with her arm locked to her back causing her to bend over slightly so her big behind pushed into her rival. Stepping left and right Jenny was trying to figure a way out of this, when it dawned on her.

Her speed was a weak point, but her size wasnt. She stepped back rapidly trying to back Hiroko to the corner where she could use her weight to squash Hiroko against the turnbuckles in an attempt to get out of the hold.
Hiroko felt a jolt of elation as her plan worked. She pulled Jenny's arm up against her back, trying to weaken the limbs so she could maybe whittle down her opponent and get a submission out of her. The added pressure bent Jenny over a little and her considerable rear pushed against Hiroko, leaving her a little unbalanced. Unfortunately, that was all Jenny needed to turn the tables.

Hiroko grimaced as her foe began to push her back. She knew what was coming and tried to brace herself for the impact against the turnbuckle, letting go of Jenny's arm so she could try and push against her to slow her down. It wasn't enough though, and Jenny had no trouble squishing her against the corner, forcing a gasp out of Hiroko as the air was squashed out of her. Stunned, Hiroko slumped forward, her chest pressing against Jenny's back.
The move had worked and Jenny felt proud of herself. She had actually outwrestled a rival instead of getting beaten by speed. The big girl took a moment to unfold her arm and shake it a little, all the time with Hiroko squashed up against her back and rear.

Jenny turns around to face her rival and grabs a handful of hair taking some steps back to the centre of the ring, Once there she bends and wraps her arms around Hiroko's tiny waist and slaps on a big bearhug, picking Hiroko up a little and squueeeeeezing hard.

The crowd cheer as the big girl starts to show that her size really does pay off. "Don't tap out or pass out, at least not yet... that comes when you guess my weight" said Jenny referring to her finisher.


Hiroko tried to rally and get herself back in the game only for Jenny pull hair by the hair and into the middle of the ring. She blushed a little as Jenny bent forwards, pressing herself against Hiroko only for her to wrap her arms around her and heaving her up into a tight bearhug. Hiroko cursed herself: this was exactly the kind of thing she had wanted to avoid! The hold nullified her speed advantage and allowed Jenny to exercise her strength advantage.

And what an overwhelming advantage it was. Clearly all that extra weight wasn't for show: Jenny was effortlessly squeezing the life out of Hiroko. She could already feel herself flagging and yet the match had barely even started.  She winced in pain as she desperately tried to force herself loose from the hold but no amount prying or pushing could even budge her opponents powerful, bulky arms an inch.

"T-tap out? No way! You're gonna have to do... Mngh! Better than that!" Hiroko gasped, trying show her foe that she wasn't afraid of her but in truth she was already shaken: the crowd were definitely behind Jenny, clearly enjoying watching big girl literally crush the opposition.
Jenny squeezed and brought her smaller rival close to her big body. She felt Hiroko squirming and smiled as the crowd were loving the her planned attack. Hearing her words Jenny grunted, "You want better than this? OK" and with that she jolted Hiroko close and stomped down with her left foot so she could turn and wheel around

Jenny used the momentum to fall forward and now the pair were heading to the canvas fast, with Hiroko on the bottom and Jenny on top there was only one realistic outcome

WHAM! Jenny slammed her rival down under her big body, her blonde hair now slightly lank from the sweat hung down and after the impact, Jenny smiled at her rival. "And now I think its time to pin you"

Jenny shuffled up her body on Hiroko and buried the smaller girls face between her large pillowy breasts for a full body pin. At this point, Jenny was just toying with the girl, she had no intention of getting the three count, she was becoming excited with the feeling of squashing the girl.

The ref dropped and slapped the mat. "ONE!"

Hiroko gave a wordless cry when Jenny jolted her, pressing their bodies together even tighter than before. The draining pressure left her limp in Jenny's arms with no way to counter as she was slammed down hard, groaning as 245 lbs of humanity flattened her into the mat, leaving her gasping for breath.

Hiroko shook her head when Jenny threatened to pin her and was shocked when she forced her head between her massive breasts, smothering her while at the same time pinning her for the win.  

"Mmph!" Hiroko squirmed and writhed beneath her opponent, desperately trying to free herself and raise her shoulder so she could keep herself in the match. She would attempt to push against Jenny's breasts to free her head from the fleshy prison, squeezing them slightly as she tried to save herself from being smothered by her massive foe.
Page 1 of 4 • 1, 2, 3, 4



Similar topics
---
Permissions in this forum:
You
cannot
reply to topics in this forum