Who is online?
In total there are
29
users online :: 2 Registered, 0 Hidden and 27 Guests :: 3 Bots
killcarrion
,
KillerV
Most users ever online was
418
on Tue Jul 30, 2019 9:51 am
Champions & #1 contenders
Looking for fun Fights
Tue Sep 27, 2022 5:34 am by Leon564
Hello folks! Putting it out that I'm available to discuss matches for either James or Melanie.
If you are trying to find their profiles you can use the character search and type in the following;
James Elforn
Melanie L'belle
------
If it's for an author of my name tag then that's me! You're free as well to throw me a friend request on Discord since I'm not in the Discord server at this time.
Leon564#4514 (Discord)
Thanks for your read and have a great
[
Full reading
]
Comments: 0
Page 3 of 4 •
1, 2, 3, 4
Hathiya looked at Eros, then found herself staring at the ground. The next part she said, she found herself almost hiding her face in her knees in shame.

"Be.....b.....b...b...b..e...beca....because I'm a queen."

Her whole body went stiff as she said it. Then it eased up, as she said, "I...I'm a queen. I was chased out."

_________________
Dat ARS
"A…Queen?"

Okay, that was new.

The Bakeneko cupped her chin in thought. While Tsubar and Gaia was a land ruled by the Overseer, that did not mean royalty from other realms were nonexistent. Truthfully, even certain regions of Gaia had their own leadership that followed a monarchy. But those were far and few between, and were rarely seen without some sort of fanfare. But part of what made Hathiya so unique was the fact that her species were relatively unknown. Few people in Gaia knew what her culture was like, as the elephant people seemed rather close knit. Weary of outsiders and the Overseer, who had ordered his Warden's to leave them be. For Hathiya to claim to be a queen was not impossible, but highly unlikely. Not that Eros would let her disbelief show on her face, though she let that awkward silence hang between them for a moment.

"I'm sure you wouldn't insult my intelligence by telling me such a stupid lie…" The Warden decided, "At least, that's what I'll choose to believe for right now, in respect for your recent efforts. But I'm sure you know I'm going to ask why you were chased out?"

Tarantulust




Posts

: 1610


Join date

: 2018-04-18



Hathiya's face knit into a frown.

"Why would I lie to you at a time like this?" she let her shoulders slump as she explained,

"I...I was chased out because...I was usurped."

He trunk coiled itself up as her whole body started fidgeting. Then it calmed down as her trunk uncoiled.

"M..my court...they did not approve of my father...naming me his successor." Her eyes quivered. "I....he had faith in me, he taught me himse..-self on how to rule, how to understand the crowds, how to...you get the idea."

She leaned back a bit and forward again.

"I..tried. I did what I could. The kingdom was a land of various folks. It's not here on Gaia, it's a different world. We don't actually...have electronic amenities yet before the Waygates, even!" she said with a small chuckle, "The Waygates opened so much potential and growth, and..."

She paused, then said, "I went off topic, apologies."

_________________
Dat ARS
"Alright. So, you're a queen who was usurped by her court and was forced to escape into the Waygates. I can certainly see why that would make you feel endangered or a target of an assassination attempt. After all, with you alive and well, whomever is ruling in your place will always have to worry about you coming back to claim your throne."

Of course Eros was still skeptical of the story, but decided to play along for now. Hathiya could have made up a better lie, and she certainly knew how to win over a crowd, if her debut match was anything to go by. And if there really was an assassin roaming around Gaia, Eros would want them captured sooner rather than later. So, the Warden listened to Hathiya tell her story.

"But, if you came here…why join the SRW? Do Queen's learn about combat where you're from, or were you simply in need of employment?"

If Hathiya had any allies in Gaia, they would have already tried to help her…which made Eros wonder just what the Earthshaker was going to ask of her at the end of this.

Tarantulust




Posts

: 1610


Join date

: 2018-04-18



Hathiya simply shook her head.

"I...came to the SRW because..." She locked eyes with Eros again, "because I was always...enamored by the sport." She ran a hand through her hair, continuing, "My father was a patron for the sport itself back home, and....I often begged him if I could also do it." She shrugged her shoulders. "I guess i loved...the power it had. Showing what one can do with their body. So beautiful and built and...powerful! Those... wrestling circuits weren't anywhere as big as SRW, but people knew them and attended those. My father... actually hired a champion from one of them to be my trainer." At that a rather humourous and lighthearted voice came into her tone. "It was a crocodilian! Not Croo-El's kind, a different breed. He was...a great instructor and master. Oh, if you were there," she said, seeming to daydream a bit, "you would've seen how he earned his title, the Worldbreaker!"

Then a sombre tone returned.

"But...it was not long after my father's passing, that...the court, led by one of the higher ministers, turned on me." She paused for a bit.

"I.... remember them having me at a table, it was supposed to be a dinner for my father's death anniversary, and...." she paused.

"That......thing....came fro...." Hathiya's eyes were no longer looking at Eros, but seemingly through her. A thousand yards stare penetrating through.

"I....I..." she seemed at a loss for words. "The guards tried....tried...to help me..it...that...creature..." she stopped and continued just staring, then blinked.

"I....ran. I had to run. I ran as far as I could. I...can't remember." She looked away, breaking the disturbing stare. "All I remember is...meeting a monk who helped me to the Waygates, and..." She looked back at Eros. "I...guess you could say I drifted around Gaia, and the monk, god bless his soul, helped me learn the languages of Gaia. Even helped me change my appearance." She pointed at her eyes. "My eyes aren't actually orange, you know? And... I found Tsubar. That was where we parted ways, and I eventually found this storehouse to live in," she looked up at the roof, "renting it from the owner, and I promised I'd work here, working off the rent. Until I found the SRW, which one of the co-workers told me about. He was more jesting but, honestly, I am so glad he told me."

Her eyes seemed to calm again, "I figured that, perhaps the best place to hide would be in plain sight. And...well, I'm not the first Ganeeshay to use the Waygates. And, I...suppose I could remake myself into...someone new. A new life...."

Then she looked to the roof again.

"But....I never...could shake off the feeling....even now, after so long....I still....feel that gaze...of that.... creature...that assassin....I don't know where they...found it...but I..."

She then raised a hand to cover her eyes. "I...I always fear that he's still after me. Perhaps they stopped, or maybe they want me dead. I don't know, I don't want to to back anymore. Not with....that...thing out there. And.. honestly, even if I came back, are people going to greet me with open arms? The Queen who abandoned her people just to save her own skin. Other queens of old would have stood their ground. I..." Hathiyas voice cracked.

"...I think I've talked enough."

_________________
Dat ARS
Eros could tell when she was being lied to. No matter the species, everyone gave off a tell when they were lying. Almost everything that came through the Waygates had either a sense of guilt or a drive for self preservation. Which meant that when someone was speaking to an authority figure that could legally imprison someone and throw away the key like Eros could, their survival instincts kicked in and made their lies that much easier to spot. They couldn't keep up their story, missed crucial details or even just simply had a twitch that gave them away. It was incredibly hard to lie to the Head Warden's face, because no one but the Overseer knew exactly how much Eros knew about them. But Hathiya wasn't exuding any of the tells that she was lying. The Earthshaker was certainly getting emotional, but in the short time Eros had known her, it was clear that Hathiya followed her heart more so than anything else.

Eros waited for Hathiya to finish before thinking things through. If anyone had come through from Hathiya's original home, Eros would have already been notified simply due to how rare her species was, even in Gaia. Warden's were ordered to notify Hathiya's species of the nearest village or settlement they could go to in order to find more of their kind if they wished. Hathiya herself is one of only about a handful that stayed in Tsubar, much less joined the SRW.

But what Eros really needed to learn about was the assassin. Which Hathiya provided shockingly little in her story. Eros wasn't really one to comfort people, not when she was interrogating them. But, she softened her tone a bit, deciding to lure flies with honey rather than vinegar.

"Alright, so ultimately, you have something after you…what is it? Species, physical description, abilities? If you want my help, then I'll need to know what it is." Eros muttered, looking around the shack, "And do you have anything here that could identify you as the Queen? A sigil, crest, even a stamp?"

Eros actually hoped she didn't. Having something that would so blatantly give her away in her home was a great way to find trouble. But if she was going to help Hathiya, then she wanted to be through.

"And you haven't asked me what you want in return for this history of yours…are you asking me to find this assassin? Reclaim your home? Or help you find a life here? Or something else entirely?"

Tarantulust




Posts

: 1610


Join date

: 2018-04-18



Hathiya looked at Eros and her voice was shaky.

"H-how do I even describe it! I had never seen such a creature before! I thought it was some kind of d-demon, because it had a demonic aura to it, but...I...I'm not sure what kind of demon. It's not any I was familiar with." She then thought of something.

"That..thing you gave me, the screen. Can I draw on it? When I do that, then I'll tell you what I want."

_________________
Dat ARS
A demon? A part of Eros hesitated, the thought to tell Hathiya that there were a few demon's here in Gaia that wandered around the Waygates a bit frequently. Mostly lesser demons, but a few named creatures were either locked up in the dungeon or roaming the outside lands of Gaia, out of Warden jurisdiction. Heck, in some cases Eros herself was considered a demon. Not that she advertised that fact. But, perhaps this was simply a new species described as a demon. Either way, Hathiya lacked the words to describe what she saw, and so asked to draw on the tablet Eros had brought along. Eros stared at her for a moment…but ultimately summoned the purple smog again.

Reaching into the smog, Eros easily pulled out another, larger tablet that seemed to be made exclusively for drawing. Meanwhile, Eros began moving about the shed. Digging into things like the fridge and bunk.

"Please be careful with that tablet…it's not mine. Borrowed it from an intern's desk and I don't want to hear him whine."

Tarantulust




Posts

: 1610


Join date

: 2018-04-18



Hathiya carefully took it in her palm, and carefully tapped it with her trunk. It took her a while, her trunk lightly tapping and tapping. It gave Eros ample time to look around.
Hathiya's eyes seemed to widen as she stared at the screen, and stopped tapping for a moment. The palm itself quivered and shook, like as if she was feeling a panic attack incoming.
She took a deep breathe, and Eros could hear her muttering "Its just a picture..."
She resumed tapping on the screen with her trunk, and was done 5 minutes later.
She let Eros take the tablet.
The tablet had this face on it.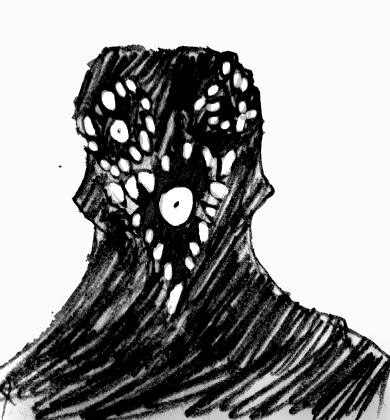 _________________
Dat ARS
While Hathiya drew on the tablet, Eros took her time to weigh the pros and cons of the situation. On one hand, Hathiya was currently a hot commodity that people clearly wanted to see more of. She could handle herself in a match, pump up the crowd in unique ways, and had enough brains to know who to turn to or who to hide from when she was in trouble. On the other hand, the story made her past sound like trouble and work. Much more work than most people would be willing to put up with. Eros could already see whoever was running the FNF federation before simply showing Hathiya the door or reporting her situation to the authorities. If Hathiya wanted subtlety, there were few more so than Eros, ironically enough.

When Harhiya finished, she tentatively handed the picture back to the Head Warden. Eros peered at the picture. She blinked her yellow eyes, clearly looking it over more than a few times. The Bakeneko didn't seem frightened by the creature…or, at least the drawing of it. Whether that was comforting for Hathiya or not, Eros didn't seem to notice. Truthfully, Eros dealt with weird things all the time, and while she couldn't tell what species this creature was, she had certainly seen things similar to it. The Sand Devil in Gaia's Deserts had a somewhat similar appearance for example…and that was several stories tall.

"Well…I wouldn't want to wake up with it by my bedside." seemed to be all Eros could muster. She understood why a creature like that would frighten someone, especially if it was a killer. But Eros seemed remarkably calm. "But it's far from the ugliest thing I've seen. Well…I suppose imagine since it's just a picture. But a face like that is sure to stand out in a crowd, don't you think?"

Tarantulust




Posts

: 1610


Join date

: 2018-04-18



Page 3 of 4 •
1, 2, 3, 4
---
Permissions in this forum:
You
cannot
reply to topics in this forum