Who is online?
In total there are
43
users online :: 1 Registered, 0 Hidden and 42 Guests :: 1 Bot
Cosmos
Most users ever online was
418
on Tue Jul 30, 2019 9:51 am
Champions & #1 contenders
Looking for a tag team match up.
Mon Dec 04, 2023 7:38 pm by Moriarty
Comments: 0
Tension Match for Melanie~
Tue Nov 28, 2023 12:56 pm by Leon564
Comments: 9
Howdy strangers.
Wed Nov 29, 2023 1:25 am by Yori
Just a small hello from an old face. I will be coming around for a bit soon and figured I would pop in. To anymore I have an unfinished thread with, if you have a desire to continue it with me just let me know and shoot me a link. While I am open to fielding ideas for new threads, I will be very selective with taking anything while I gauge my activity capability and trim/update my roster.
Toodles.
Comments: 4
Name :
Shizuku Himuro
Alias: The Girl Guided By Destiny, Submission Queen, The Clairvoyant, Big Booty Bandit
Sex: F
Age:  24
Eyes: Red
Hair: Dark Slate Gray
Height: 5'7"
Weight: 140
Nationality: Japanese
Alignment: Neutral, Tweener
================================[Combat Information]===============================Current Entrance Music
- Wheel Of Fortune
1st Entrance Theme - Naraku no Hana
Strategy and Style
– Her extensive repertoire of joint twisting submissions has always been Shizuku's greatest asset. It had even gotten to the point where she was once regarded as the new Submission Queen of Wrestle Angels after having usurped Toshimi Minami from that throne by making her tap out and by trading wins with Chisato Sakurai, another submission prodigy. Though what most fans may not be aware of are the mind games she plays on her opponents during the match to get them off their game, using her fortune reading and clairvoyant gifts to supposedly predict the future and give cryptic hints that she may know her opponent's deepest secrets.
Aside from her bread and butter of grounded submissions, Shizuku also has a rudimentary knowledge of slams and strikes to soften her opponent up first. A particular favorite technique of hers is using that smooth backside of hers for cheeky hip attacks. Humiliating and demoralizing her opponents while reminding them why she's considered one of the "Four Beautiful Butt Devas" of Wrestle Angel~…
Preferred Matches
– Most any. Possibly available for Tension.
Endurance:★★★
Strength:★★★
Speed:★★★★
Defense:★★★
Technique:★★★★
Strikes: ★★★
Submissions: ★★★★★
Powerhouse: ★★★
Aerial: ★★
Counters: ★★★
Favored Moves
: Boston Crab, Abdominal Stretch, Camel Clutch, Butt drop, Face sits, Various armbars, Ankle Lock, Crotch Bomb, Bow And Arrow, Dragon Sleeper, Headscissors, Scorpion Death Lock, Kneebar, Chicken wing, Stepover toehold sleeper, Key lock, Kimura Lock, Triangle Choke, Saito Suplex, Cattle Mutilation.
Signature Moves
:
1) The Chariot – With her opponent already downed and on the canvas, Shizuku will lift their legs and intertwine them with her own while folding them into the shape of four to apply her trademark Figure Four submission. Along with applying intense pressure on their knee and shin, Shizuku may change it up if her opponent has really earned it by ticking her off.  By either twisting her opponent's ankle in a semi-ankle lock, thrusting their legs up and slamming them back down to the canvas, or just plain old taunting.
Spoiler:
2) The Fool – After climbing to the top ropes with her opponent groggily getting back to their feet, Shizuku will turn her back to them and propel herself backward to smack her plump rear against their face. Considering the momentum and how much "mass" Shizuku has back there, most opponents are knocked loopy and left flattened if it connects.
Finishing Moves
:
1)
The Empress –
After positioning her opponent to be on their side, Shizuku seats her rump down on top of them and clasps her thighs around their arm while twisting it around in a mounted scissored armbar. It applys pressure not just to their arm, but their overly stressed shoulder joint as well from Shizuku's hefty weight.
Spoiler:
2)
The Hanged Man –
By firstly stuffing her opponent's head between her thighs, Shizuku will wrap her arms around their waist and hoist them up as if going for a power bomb but instead flips them onto her back. After grabbing onto their chin behind her and positioning their head over her shoulder, Shizuku will drop down to a seated position for a devastating Widow's Peak.
Spoiler:
Critical Finishing Moves:
1)
The Fortune Rock
- The submission finisher that Shizuku is both renowned and feared for by having even gotten mainstream stars of the vaunted Wrestle Angels federation tapping out in screaming submission. Shizu applies an inverted facelock with their head tucked underneath her armpit, and than positions her far leg between the opponent's legs and pushes her other leg's knee against the opponent's back.  
Shizuku than pulls the opponent's head backwards while weighing herself down on them, contorting their body in several directions until they accept their terrible misfortune.
Spoiler:
====================================[Biography]===================================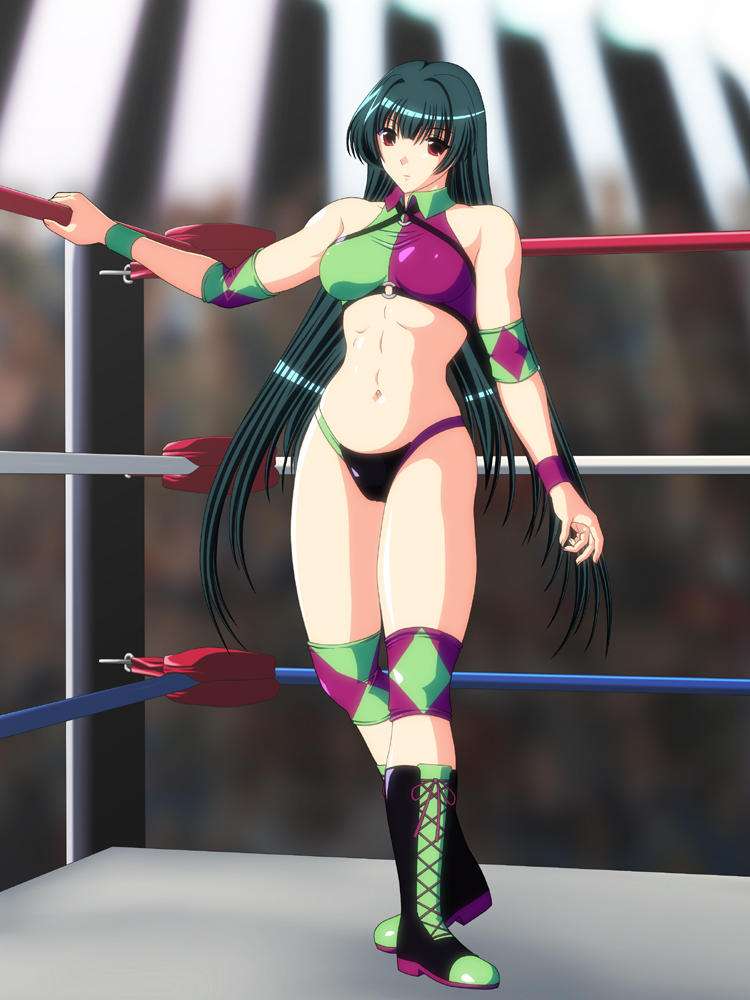 It should come as no surprise as to why Shizuku is seen as a fan favorite among the Wrestle Angel roster.
Spoiler:
Performing a Tarot card reading.
Spoiler:
Her proudest moment in her brief stint as Wrestle Angel Champion...
Spoiler:
...and other moments she would rather just forget.
Spoiler:
Personality:
Shizuku can be considered quite cold and subdued from your first impressions of her. Distant, aloof, and sometimes even detached towards her fellow Wrestle Angels. Being a tarot card reader and clairvoyant fortune teller has had the unfortunate side effect of giving Shizuku a mask of superiority she flaunts over others she deems to be unenlightened, which people can find obviously rather obnoxious.
Her reserved nature takes a backseat to that condescending and conceited attitude once she gets in the ring, thanks in large part to all of her upset wins over the aforementioned W.A. elite. Her monotone voice never going above certain octaves in polite conversation, though in spite of all this she does indeed have a kinder and gentler side for those who make the time to weave through her barriers. Earning a win over her tends to put her in her place, and make her more susceptible to opening up...not that that's an easy thing to do.
Past/History:
Shizuku's parents were more than a little concerned for their daughter at an early age. Which is to be expected when Shizuku would swear she sees ghosts, and began casually predicting events seconds before they would happen. Like when Shizuku's father almost had a dinner plate fall on his head from the kitchen cupboard were it not for her shoving him to the side. Numerous abnormal occurrences such as these were what caused Shizuku's parents to eventually contact a psychic medium named Evelyn Lenormand. After spending time with her, Evelyn reassured her parents that there was nothing to be worried about, and Shizuku was simply...gifted.
Years of tutoring Shizuku helped her harness and understand her clairvoyant abilities rather than be controlled by them, her gifts having already alienated her from kids her own age who only saw her as bizarre and even kinda scary. Evelyn's teachings not only helped Suzuku control her clairvoyance but taught her to accept herself and know that her abilities were a unique gift, and not a dreaded curse. At ten years of age Shizuku received her very first tarot card deck from Evelyn before departing back home to Europe. The psychic feeling like there was nothing more to teach her now...
Shizuku started small by offering disturbingly accurate tarot card readings to any who would let her. She eventually branched out into studying crystal energy and spiritual healing arts to broaden her horizons, while also keeping herself physically fit to sharpen her body
and
her mind.
One day during gym class in high school, Shizuku had her nose in her favorite book when the loudmouthed showboating of one of the wrestling team superstars thrashing all comers started distracting her. Shizuku accepted the next open challenge and demonstrated an innate talent for the sport that had her opponent tapping out in the end. At the suggestion of her few friends, once high school was over Shizuku tried her hand at Wrestle Angel after taking in some personal training. Which was all meant to be a side hobby where she could earn extra money on the side. At least that was the plan, before her star rocketed into the night sky and she became a submission expert/fan favorite in no time.
As bizarre as it was to suddenly be a wrestling prodigy, Shizuku refined her wrestling skills just as she did her psychic prowess. She ended up developing a bitter rivalry with name-brand talent like Chisato Sakurai while even earning the main title belt in what was regrettably a woefully short title reign. Feeling all those eyes on her with hundreds of people applauding her was a welcome change of pace over having been shunned for her other gifts.
Once W.A. shuttered it's doors for good, Shizuku learned that her saved up money wasn't quite enough to safely invest in opening her own store for Tarot card readings and other mystical commodities. She earned menial money in various side jobs, but once she learned of AFW having snatched up so much W.A. talent, she decided to play her hand at wrestling once more to earn the capital she needed. All she has to do is play her cards right, and fate would guide her from there...
Likes:
-Tarot Card Readings
-David Blaine
-Milkshakes
-Good Books
-Ginseng Tea
Dislikes:
-Loud Motorcycles
-Winter...she's more of an Autumn
-Tilapia
-Nonbelievers
-Metal music
Fun Facts:
1) If you somehow really charm her and by some means become close friends, she'll not only read you you're future, but give you subtle hints towards avoiding any grave misfortunes.
2) In a bizarre online ranking poll that saw more ardent critiquing and voter participation than anticipated, fans considered Shizuku Himuro's rear to be one of the four most "bountiful" in the federation. Along with those of Lucky Uchida, Freya Kagami, and Chisato Sakurai. This led to the four of them being dubbed the "Beautiful Butt Four Devas" by fans, a popular grouping that was briefly considered by management to become a new stable despite several members not being particularly proud of their induction.
Spoiler:
3) Shizuku still keeps in touch with Evelyn through Skype, and is one of the few people aside from her parents whom Shizuku greets with a warm smile every time.
4) Boys in high school flirted with Shizuku in hopes of getting into a cozy relationship with her, but Shizuku would always shoot them down after having predicted with her psychic abilities that it wouldn't work out between them...mostly because they were jerks.
5) Her nickname, the "Big Booty Bandit" was given to her from a blogger named RyonaKing who called her his nemesis since every time he fought her in the Wrestle Angels Survivor games, he always lost to her. This is a true story by the way.
6) If Shizuku was a Pokemon, she would be...
Spoiler:

Tsareena~
AFW Information:
Record
Wins: 0
Losses: 3
Draws: 0
Timeline:
1)Megumi Mutoh vs. Shizuku Himuro - Beyond the Boundary - Shizu broadens her mind and re-enters the ring.
2)Turn Of The Tide - Shizuko tries to perform a card reading in the locker-room, but the only fortune she comes across is misfortune.
3)
Shizuko vs. Suzumi: Tarot Card Incident Battle
- Shizu hopes to curtail her losing streak and hope to understand why Fate brought them together.
4)
Shizuko Himuro vs. Sachiko Kanda - GOD's And Monsters
- Shizu tests her submission techniques against those whose striking skills had earned her a rather ominous nickname.
Championships/Accomplishments:
1)
Friends:
Allies: Chisato Sakurai
Rivals: Chisato Sakurai, Freya Kagami
Enemies:
Crushes:
Massive thanks to Killcarrion for allowing me to adopt this beauty.

Ringropes98




Posts

: 1258


Join date

: 2020-05-24



Similar topics
---
Permissions in this forum:
You
cannot
reply to topics in this forum