Who is online?
In total there are
48
users online :: 2 Registered, 0 Hidden and 46 Guests :: 2 Bots
Cleomori
,
Yori
Most users ever online was
418
on Tue Jul 30, 2019 9:51 am
Champions & #1 contenders
Looking for a tag team match up.
Mon Dec 04, 2023 7:38 pm by Moriarty
Comments: 0
Tension Match for Melanie~
Tue Nov 28, 2023 12:56 pm by Leon564
Comments: 9
Howdy strangers.
Wed Nov 29, 2023 1:25 am by Yori
Just a small hello from an old face. I will be coming around for a bit soon and figured I would pop in. To anymore I have an unfinished thread with, if you have a desire to continue it with me just let me know and shoot me a link. While I am open to fielding ideas for new threads, I will be very selective with taking anything while I gauge my activity capability and trim/update my roster.
Toodles.
Comments: 4
================================[Personal Information]===============================
Name :
Mika Murasame
Alias: M&M, MoMo, Mall Rat, The A.V. Idol, Milky Bunny, Pop-Teen Princess, Gucci Gal
Sex: F
Age: 20
Eyes: Auburn Brown
Hair: Dyed Blonde (Naturally Auburn)
Height: 5'11"
Weight: 138
Nationality: Japanese
================================[Combat Information]===============================Alignment
: Queen Of Gyaru – Materialistic and vanity driven to the nth degree, the price of her friendship (or rather,
"companionship"
) does not come cheap and is typically spent on Gucci belts, Chanel shoes, and Louis Vuitton handbags. A hard partying and frivolous juvenile delinquent/social influencer who loves the night life and is obsessed with glitterati and even occasionally sprinkles in glitter with her excessive smattering of makeup as well. A street tough bully who routinely reminds these other bitches …
Talk shit, get hit.
Entrance Music
– "THE BADDEST"
Strategy and Style
– Whatever strategy there is in bitchy catfighting, one would consider Mika a veritable expert at it. Along with her intermediate wrestling training, scrappy hair-pulling, blinding eye rakes, and iron-clawed crotch grabs are what one has to look forward to when pitted against her. She's gotten in more late-night club brawls with two-timing boyfriends and skanks eyeing her man than she can count, and is just as much of a spiteful firecracker in the wrestling ring. Putting on a show of embarrassing her opponent and making them look like a joke takes a close second place to actually winning the match for her, whether through hateful banter or toying with downed adversaries to her snarking glee.
Endurance:
Strength:
Speed:
Defense:
Technique:
Strikes:
Submissions:
Powerhouse:
Aerial:
Counters:
Favored Moves
: Eye Rake, Crotch Claw, Fish hook, Low Blow, Surfboard Stretch, Brainbuster, Rope Hung Neckbreaker, Yakuza Kick, Full Nelson, Hip Attack, Surprise Makeouts, Leg Drop Bulldog, Atomic Drop, Double Knee Facebreaker, Hurricanrana, Monkey Flip, Diving Stomp, Crossface.
Signature Moves
:
1)
The Love Hotel -
Mika having earned more than her fair share of fat stacks by luring gullible marks to such wholesome and ethical establishments, and now she shows her adversary a damn good time by firstly positioning them seated while hanging against the ropes. That's when they have their world rocked via Mika riding their face against her crotch with undulating thrusts that shows why she always gets top dollah for her
"services."
Spoiler:
2)
Million Dollar Makeover -
No need to spend any money on a makeover when the mallrat is here to offer her services free of charge. It's just a pity she primarily decorates with black and blue coloring. A floored adversary expecting more conventional wrestling techniques will instead find their necks mounted between her thighs and have their face mercilessly pummeled.  
Spoiler:
3)
Shibuya 109 -
Named after the department store Mika frequents the most for all of her hairstyling and designer brand needs. After having their heads stuffed between the tanned thighs of the scrappy fashionista, her opponent's world would turn upside down after being pitched overhead until their spine rested over her shoulder before being dumped face first in a sitout inverted front powerslam.
Spoiler:
4)
Sugar Daddy -
Mika lets these dweebs in one of the sweetest smooches they'd probably ever had in their mediocre lives, but not without being duly compensated for her services. Much like how Mika engages in what's appropriately called
"compensated dating"
where she let's older gents get some action for the right price, the
Gyaru Gal
gets paid for the makeout in the form of winning the match by hooking her arm behind their heads and tucking them down into a surprise small package pin.
Spoiler:
5)
Leg Spreader -
Named after the cocktail that Mika can attest to being perfectly named, the tanned mallrat takes a fallen opponent's legs and crosses them over the other before weighing them down beneath her own shin. An excruciating strain felt on her foe's inner thighs as Mika shoves down on the sides of their knees. Taking brattish glee in making her shamefully spread their legs with barbed jabs and air kisses.
Spoiler:
Finishing Moves
:
1)
Vodka Twist -
Exactly what Mika starts out drinking every time she goes out clubbing with her girlfriends, and the name of her Octopus Hold finisher that if implemented right will leave her opponent's with nowhere to go accept to the back of the line. At first the mallrat applies a typical abdominal stretch that works over the midsection and allows for Mika's roaming hands to do her thang. All before intertwining her leg around theirs and slings her other tanned thigh over the back of their neck for the full torturous application.
Spoiler:
2)
PopTeen Package -
A submission finisher that even Mika's glamour obsessed mind can remember and actually implement to a truly excruciating degree. The mallrat situates herself atop a fallen foe and positions their upper half as if it was a camel clutch, but adding her own twisted spice to it by tucking their ankles underneath Mika's arms as well. Contorting their spine for a tap-out victory and making her adversary look like a Grade A loser in the process~…
Spoiler:
3)
Blacklights Out -
A little something she made up after remembering some of her old high-school cheerleader days. Mika snatches some hair and yanks them backward into a dragon sleeper position, perhaps playing to the audience with some trash talking before vaulting herself up and over into a standing somersault stunner.
Spoiler:
Critical Finishing Moves:
1)
D.T.F.
- Heralded by some hipful sashaying and obnoxious insistence that
"This bitch is 'bout to get smoked!!!"
, Mika proceeds to make good on her prediction by snatching her adversary by the hair and hauling atop her shoulders in a fireman's carry position. She hauls their sorry ass to the middle of the ring before extending her arms to hoist them high into the air for a split second. A swift descent taken by them into a cranium rattling overhead kick that kayos opponent's faster than a shot of X after a bitchin rave.  
Spoiler:
====================================[Biography]===================================Wrestling Attire: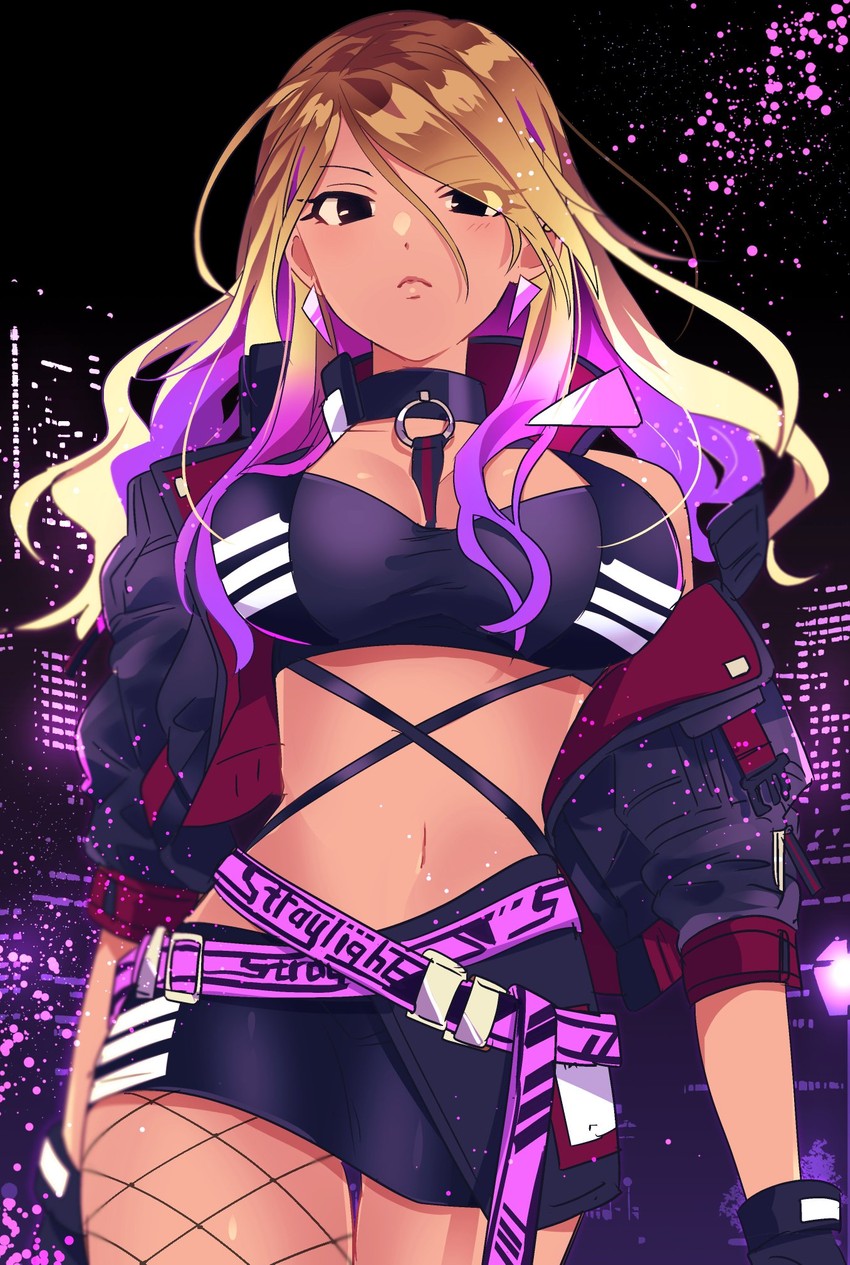 Wrestling Attire Pics…
Spoiler:
Swimsuit…
Spoiler:
Street Clothes...
Spoiler:
"When My Hand Goes Up Your Bitch Ass Mouths Go Shut!!!"…
Spoiler:
School Girl Attire…
Spoiler:
OMG, Exactly What She Told Him She Wanted~...
Spoiler:
Modeling Pics For Her Portfolio~...
Spoiler:
Personality:
A vapid and fashion obsessed Japanese delinquent who wears her pretentious attitude like a fucking badge of honor. In fact she wears it just as proudly as she does all of her makeup and designer accessories. Spoiled rotten thanks to a charade of being Daddy's little girl, but was in fact a vainglorious nightmare of a rumor spreading bully to anyone outside of her social clique in high-school. She lives for being the center of attention and only flirts with the boys who can pony up enough cash to sustain her materialistic lifestyle. Although she may be…alright,
IS
living breathing evidence that popularity can taint anyone into becoming a pretentious bitch, Mika nevertheless loves flaunting her sense of superiority and the wild ride that comes satiating all of her wild urges. Be they partying, fashion, or fucking.
Past/History:
Nigh everyone who imagines themselves back in high-school can remember the cliques and social groups everyone was sectioned off to. Whether they were your Jocks, Geeks, Goth, Prep, Tomboys, Cheerleaders, or the superficial
Mean Girls
who obsess over fashion magazines and constantly beautifying themselves while cackling and tearing down other girls who can't afford the luxuries they revel in.
The vanity driven brats
who needle girls about the slightest imperfection in their outward appearance, and by doing so irrevocably harm that person's self-esteem.
The makeup painted dolls
who wear press on fingernails, miniskirts, false eyelashes, lipstick and spend all the time and money needed to get the perfect golden tan.
The vapid party girls
who gossip and spend half their day fixated on their cellphones while mastering the act of being a sensual flirt and being the object of men's desire while not giving them the time of day. Gleefully breaking the hearts of any poor saps who asked them out without even having the scratch to afford having them as a girlfriend.
…Mika would have given anything to go back to these glory days. Now her pops is hassling her about getting a job or some bullshit almost every other day, not even when she's trying to enjoy the peace and tranquility of lazing by her mansions swimming pool. She simply, could NOT roll her eyes any more emphatically whenever she was given the third degree from her lawyer stepfather. But it was around the time he threatened to cut off her credit cards and driving privileges that she figured it was time to begin exploring some ventures anyway. Being a perpetual club-hopper meant making some connections that got her into modeling like it was nothing, along with a stretch in a subpar idol group that somehow resulted in a not so subpar stretch in the
"Adult Entertainment"
business. Fame and some level of infamy resulting from such a hot shotted career from one side of the entertainment dollar to the next.
So of course, Mika spent her newfound wealth the only way she knew how~…getting shitfaced with her friends and basking in the nightlife like never before. Pulsating J-pop being the
music
with champagne rooms and underground street races being the
background
to what would become a night like all the rest. That is until Mika would get into a slugging catfight with some hotshot wrestler bitch eyeing her boo at the time. To everyone's surprise except her own, Mika would floor the skank with a maneuver she wouldn't even know the name of until an AFW producer told her a few days later. The producer offered her a contract along with several months of wrestling training since Japanese social media was ablaze with clips of the drunken brawl gone viral. As for her ultimate answer, well, is it not obvious by now that Mika always goes where the money is?
Likes:
- Gabbing On The Phone For Hours
- The Gram
- Cosmos, Strawberry Daiquiri, Sex on the Beach, Pina Colada, Mai Tai...
- Street Races
- Fashions Mags
Dislikes:
- Being Broke
- Conformity
- Breaking Her Nails
- Hangovers
- Getting Sunburnt
Fun Facts:
1) Mika has an adorable Chihuahua named
"GoGo"
whom she delights in carrying along in her leopard spotted handbag~...She cares for her as best she can despite initially inheriting him just a fetching accessory to with purse.
2) Mika frequently streams herself playing video games Twitch (Primarily Horror Games and Rocket League) and makes some decent scratch charging for cosplaying pictures as well, although she's had her accounts suspended several times for violating the site's terms and conditions.
3) Losing to Mika may come with a primo makeover afterward. Drab wrestlers getting lip gloss, face powder, and bronzer makeup applied until their practically caked in it with what Mika considers to be her calling card that's gleefully applied whenever she gets the opportunity.
4) If Mika was a Pokemon, she would be...
Spoiler:

Houndoom~...
AFW Information:
Record
Wins:
Losses:
Draws:
Timeline:
1)
Dinner With a Feud (for Killcarrion)
- Mika can't even enjoy her meal in peace without getting hassled by some country bumpkin.
2)
Class Warfare - Mika Murasame (D) v Leonie Bowen (D) - Apartment Catfight
- Mika and Leonie get to trask talkin and slap-fightin.
3)
Morgan vs Mika | It's not over until...
- Mika attempts to close the curtains on this magicians magic act.
4)
New Beginnings...
- And now there's this one.
5)
Alizeh Midori vs Mika Murasame: Climbing the Ranks
- Next generation talent do what they do best.
Championships/Accomplishments:
Friends:
Allies:
Rivals:
Enemies:
Crushes: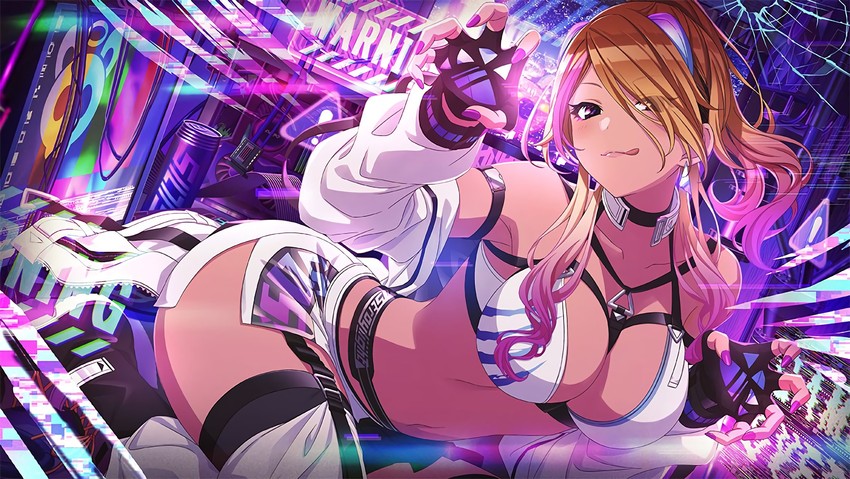 killcarrion




Posts

: 6106


Join date

: 2013-04-14


Age

: 36



Similar topics
---
Permissions in this forum:
You
cannot
reply to topics in this forum