Who is online?
In total there are
30
users online :: 3 Registered, 0 Hidden and 27 Guests :: 2 Bots
Diesel_Electric_Razor
,
Panda
,
Teenwrestler
Most users ever online was
418
on Tue Jul 30, 2019 9:51 am
Champions & #1 contenders
Looking for matches
Fri Nov 25, 2022 8:50 pm by Void Effect
Comments: 0
Looking for fun Fights
Wed Nov 23, 2022 1:55 pm by Leon564
Hi hiiiii
Hope you are well my fellows! Happy holidays to those that celebrate. Though some of you may indeed be busy, some of you might be bored and alone. Well I'm here as well bored and alone
So same boat. But not always the same tastes.
Anywhoooooo I've got my two characters available for some battles. James is decently flexible on whom he fights. But Melanie is strictly for the men. She can't get enough of'em
Take a gander at them and hit me up either with a …
[
Full reading
]
Comments: 0
Free Face Claim
Thu Nov 17, 2022 6:11 pm by Void Effect
Three of my character is getting Axed, just ya guys want em, just let me know in DM
https://www.afwrpg.com/t20236-ellie-haise-kaneki#543253
https://www.afwrpg.com/t20341-satella-the-witch-of-envy
https://www.afwrpg.com/t20571-eveline-lector-the-cruel-rabbit
Spoiler:
Spoiler:
Spoiler:
[
Full reading
]
Comments: 0
Page 3 of 3 •
1, 2, 3
A blaze of passion filled the ring, the air of sportsmanship had sailed off to new lands as Rachel turned a night of tussling with the occasional grope into a blushing, kissing mess where nothing but love was made. The model couldn't turn off this desire. The desire to conquer, the desire to have. It all compiled into a mass of pure, untouched need that neither of them could quench in their current predicament but the German would very well try. Her hands lightly squeeze the Brits rump, reaffirming her herself this wasn't a dream. In truth, Rachel wasn't sure if Ellie was biding her time but it didn't matter, nothing mattered more then Ellie and the wants that followed. 
Between those cute moans came adorable giggles, talk about a heart stopper, this woman was a killer with cute noises. It made Rachel want to try harder to hear them again and again. The slight sound of creaking metal and leather filled the arena as she pressed the smaller woman's back into the turnbuckle. She wasn't looking to smush the girl but to have a way to keep her upright with her grip. The model's free leg, slid up looking to capture the crook of their knee, in an attempt to lift it up as her shoe settled on the bottom rope. If she managed t move that far her right hand would be free to roam. 
Just as she being to nip closer and closer to their center throat, she heard the soft whisper of her name, the light mellow tone that slipped from a weak girls lips. It made her cheeks flush with red as her hand began to lightly trace the Brits stomach, slowly, slowly slipping down their frame towards their nethers. "Ellie…" she whispers. She wanted to please them, to hear them gasp her name again. The model was consumed by the thought of taking Ellie's wants as her own and giving them all the affection and attention they could ever want. She stopped her descent, she had almost forgotten the rules, forbidding her from traversing there. She cursed AFW for holding her back but she could do something else instead. 
With a her real intent out on hold, her hand ascends back up their center, taking its time to make her new intentions known, as her finger tips roll over the mound of flesh, her palm now pressed against her lovers bust. She began to work her wrist, lightky rolling her palm to grope the Ashen lavender haired woman's mound. Her stationed leg, sneakily bends, lightly rubbing their core, even if she couldn't do it in the open, she could at least attempt to "nonchalantly act". Her teeth, needy for an actual mark, sank into their sensitive skin. Rachel wouldn't bite hard enough to cause them pain but just enough that people would know she was here. As she palms their breast, her lips dances so close to their ear. "I can't take this…I need you so much." she states, her tone anything but a joke as she softly kisses her mark. "My place- later…mm. What do you say?" She asks, her words laced with need and passion as she kissed up their throat, making her way back to those precious lips of theirs. 
_________________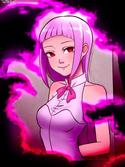 LilyStar




Posts

: 894


Join date

: 2018-02-27


Age

: 26


Location

: Your heart



In the back, Lyla stared on with a simple sense of wonder at the hanging monitors displaying the video feed from the arena. Who was this woman wedged tightly into the corner, a mewling mess of a girl who didn't even appear to be attempting to fight back? It certainly wasn't Eleanor St. James, one of the biggest prudes she had ever known to whom she shared an apartment. It was interesting to watch her unravel, this delightfully uptight woman she fell to pieces at even the hint of a misplaced touch or the threat of intimacy. In truth, she was a twinge jealous. She had tried for years to coax Ellie to mess around with her only to be rebuffed time and again. She wondered if this was a new development or something that had just been mounting for being so high strung and professional for all those years… she was just happy this was being DVRed so she could watch it again later in her bedroom.

Ellie's weight shifted as Rachel's leg crept up between her thighs, inhaling sharply as it nestled up against her covered nethers and secured a foothold on the bottom rope, becoming her new seat. She could feel those fingers tracing her body, sinking lower and lower, shuddering with anticipation. She wanted to feel her touch so bad it ached, needed to feel that sudden coolness of the night air as Rachel pulled back her leotard, hungered for her to slip inside and take her. Her imagination was running wild with everything that could be when the German stopped herself short, having a far better grasp of the match at hand than Ellie did at this point.

"Nnngh…" Ellie gave a small unintentional bucked as Rachel's hand found her chest, fingers gliding across her sensitive breasts, teasing at the perked nipple beneath. She could help it, her head drifting down to rest on Rachel's shoulder, cooing gently and moaning as her more fierce kisses. Her form rocked lightly along with Rachel,'s leg, keeping with the rules as they were presented while spitting in the face of their intention as the referee saw nothing illegal being done.

Ellie grew tense like a coiled spring, so overwhelmed with the pleasurable sensation that she was nearly ready to burst without ever needing to be disrobed or invaded. Reduced to a whining moaning mess she had nothing left to give and when Rachel spoke to her, asked her to her place there was no question what that meant. Sex. This wasn't who she was, not some depraved woman seeking carnal pleasures. She was a consummate professional, a competitive wrestler.  So when she responded "Y-yes" in a blind fit of passion against all her instincts to run far from this proposal it even shocked herself. She couldn't find the will to resist the chance for more though, her desire to be ravaged behind closed doors and under tossed sheets by this beautiful woman so engrossed in her.

"Eugh… mmm!" As her mind flooded with all the things she wanted from a late-night reunion, she let out a shuddered gasp. Eyelids fluttering, her body was rocked with a sudden quake as the tension broke. She felt herself shamelessly bucking against Rachel's leg as her leotard dampened with her inability to hold out against all of the German's affections. Despite not even being a hentai match, the model had brought the rookie to a dominating climax. With a low whimpered moan she slumped into Rachel's caresses and kissing, shaking slightly as basked in the afterglow of her own downfall, smiling all the while.

Yori




Posts

: 4566


Join date

: 2017-11-19



Nothing prepared her for tonight. She didn't expect someone who had such a professional record and aura to allow herself this carnal desire. If anything, Rachel fully expected to have to fight for every chance she had to just to tease them bit by bit before they broke but no. Not even a smidge of those expectations remained as she locked the woman in the corner, feed her every ounce of affection she could possibly muster without "breaking" the rules. Ellie seemed to understand what she was doing, the Brits hips did exactly she she anticipated and ground their womanhood along their new found seat. 
All the while, the model never once let up. She was aggressive, carnal with her needs and the guidance of her inner goddess. She masterfully brought about those adorable moans that slipped from its masters lips. The German could only feel jealous for Ellie as she stood their giving into her desire with no real relief but the thoughts of possibilities. The ones that kept one up at night with dreams of what could be or more accurately would be. She figured her invitation would be shot down so that the panting go mess in her care could recover but to her surprise, she heard yes. She vowed in her heart to treat them right. To offer them more of this sweet tender care they had come to revel in. 
With her palm working it's magic, kneading their perked breast, she could suddenly feel their wave. A sudden quake against their knee as they let loose their final moan. Her heart began to melt again, as they rode the wave of pleasure to exhaustion. The model, lightky pecked at their lips as she slipped her hand under the crook of their knee, picking them up to cradle against her body as they rested. She grinned ear to ear as she pulled away from the corner, her job all but done. "My, my. I think you and I are going to get along nicely." She claims, stepping back from the corner post she'd begin to head to the center. "As much as I hate to do this after all the fun we had, we have to end this. I promise I won't hurt you. It'll be over before you know it." She whispers, slowly descending to her knees to meet the canvas and set the exhausted Ellie down onto the mat.
God she looked so cute like this, Rachel should've demanded that she be allowed to have her way but who cares now? There was more fun to be had back at home. Crawling over top of her new found lover, Rachel settled her bust against them, her right hand reaches down to hook up their leg and bring it up along side her as she playfully flattened them against the canvas. "I'll be waiting for you at home, it'll be a nice little set up. Rose petals on the sheets, dinner on the table. I'll make sure to treat you so well, Ellie." She promised. Leaning down to kiss them one final time as the referee slid in to do her part.
"One!" The slap of the mat shook the pair of the lightly. She was excited. Excited not with just having a guest in her home but, getting the chance to treat such a cutie gave her a night to remember. 
_________________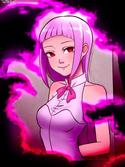 LilyStar




Posts

: 894


Join date

: 2018-02-27


Age

: 26


Location

: Your heart



Ellie lay within the cradle on Rachel's arms, breathing softly through barely parted lips as her head rested along the German's shoulders. Her arms and legs dangled lifelessly as she was gripped with an overwhelming want for closeness with the woman holding her. As the two traversed the ring she did not attempt to break away, no move to stop what everyone here knew what was about to happen. Within minutes Rachel had left Ellie drained and powerless with her kisses until sealing the deal in a way no one had been expecting. It seemed as though the rookie was done.

Laid down gently across the canvas her limp arms and legs unfurled to leave her sprawled out with a rosy blush on her cheeks still visible. In defeat, she managed to look even more gorgeous with her hair tousled and attire clinging to her every curve. She was all Rachel's now, thoroughly conquered with surprising ease from someone who had shown themself to be a capable competitor.

Ellie let out a small purr as Rachel slowly climbed on top of her, hooking her leg. She loved the feeling of this woman's weight on top of her and how powerless she felt in the moment to stop it. Her hooked leg gave a light kick, a farce of a struggle as she allowed the woman to nestle herself down across her body. As their lips met again, Ellie used the last of her strength not to raise a shoulder to buck for freedom, but to instead crane her neck slightly to return the kiss, surrendering herself over to the loss while in her lovesick haze.

"Two!"

The count might as well not exist as she concerned herself only with Rachel,'s lips, ignoring an outcry from her fans who foolishly urged her on to kick out and still win the match.

"Three!"

The bell sounded, Ellie had lost without throwing a single punch. A performance like this wouldn't go unnoticed as those in the back more accustomed to the lewder side of AFW took note of a new girl to add to their list to bolster their records… something Ellie had tried so hard to avoid just this by keeping her last match with Rose a secret but it was too late now. The damage had been done.

Yori




Posts

: 4566


Join date

: 2017-11-19



First thoughts of Ellie: Guarded, serious, strong. Her thoughts now? Cute, Adorable, and still strong. Rachel could feel her body tingling with the the thoughts of tonight's events, what had happened and perhaps what will happen. After all of that though she felt…guilty. She took the fight out of them, she fully intended to wrestle with everything she had but she lost sight of that when they kissed and ended up locked in the corner. Each passing moment, each movement the Brit made to show her submission, it only drove Rachel to want more, have more. Her dominant personality perked at the chance to read its head and it took it without a second thought. 
Still although she felt she owed them a sincere apology later, she had to admit, she loved this look. Laid down on the mat, cheek flushed with a rosey color. Hair tousled and messy and her attire clinging to her present curves. She'd pay them back in kind, whatever they would ask of her, she'd give it willingly. The German slowly crawled onto her lover, pulling up their leg beside them as she smushed the woman who purred with delight. Could they be any cuter? She had to wonder, a question she asked herself earlier in the match. 
The light she felt was a tease in itself. For a moment she truly thought they were trying to break free but the look they have made her giggle. "Youre such a tease. You had me." She states, locking lips intently as they crane their neck for a better angle. To make this one different from all the others, her tongue would invade, pushing past the barrier of their teeth to illustrate one last show of passion or perhaps what to expect. 
With the sound of two, Rachel paid them no mind, she clung to that leg like her life depended on it, despite Ellie spent. She felt it was only right to show how serious she was about this. Despite it all, she did care for the Brit. After three, she laid the leg down gently pulling herself away, she looked down with her cyan pearls, awestruck by the smaller woman. She was fully invested in making the rest of the night memorable or if not today perhaps another. Her thumb brushes their cheek as the red lifts her arm in victory. She wasn't concerned with that, her focus still trained on Ellie.
With the final ring of the bell, she'd first grab her Lycra pants she kicked away, then headed back for the Brit, she'd bend down to help them at least sit up and if they accepted her silent offer she'd lift them up to stand and leave together with. "Ill be waiting fräulein. 9:30, sharp. Don't be late if you can come~" She whispers. 
_________________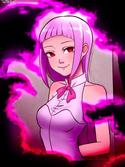 LilyStar




Posts

: 894


Join date

: 2018-02-27


Age

: 26


Location

: Your heart



When their lips audibly popped one last time, her head gently drifted back to the mat as the crowd around the ring let out their collective thoughts in a few jeers but mostly cheers for the match they had just witnessed. The rookie watched Rachel climb off of her, that glazed lovestruck look still in her eyes as the other woman stood victories over her. A little voice in the back of her mind kept asking why she had let this happen and how she could have enjoyed it… but she didn't know the answer. She wasn't sure any preparation or planning would have changed the outcome, she just had no defenses for matches like these.
She found herself staring at the sway of Rachel's hips as the woman casually stepped away to collect her pants. Hardly phased, barely having broken a sweat. There was embarrassment on her cheeks, a glowing red that never left them, but she felt regret for what had happened or how it did, only that she had lost. When Rachel came back to her, there was a giddy pitter-patter in her heart but no movement of her exhausted body.
She had little strength to lend, but would not turn down the model's help to sit and rise, leaning herself up against the other woman with one of the greatest perks to being defeated by her. Once the two had left the ring she would close her eyes and simply let Rachel lead her away, avoiding catching any looks from confused fans or new ones she had gained from her lackluster competitive showing. "I'll be there." She whispered softly in return, sheepishly. She could already feel doubt creeping into her mind as it started to clear. She intended to keep her word… though she was unsure if that was because of her sense of honor or the desire to let Rachel have her again without restraint.
Winner via Pinfall: Rachel Nova!

Yori




Posts

: 4566


Join date

: 2017-11-19



Page 3 of 3 •
1, 2, 3
---
Permissions in this forum:
You
cannot
reply to topics in this forum