Who is online?
In total there are
26
users online :: 3 Registered, 0 Hidden and 23 Guests :: 3 Bots
skip-stop
,
Teenwrestler
,
USLMAN
Most users ever online was
418
on Tue Jul 30, 2019 9:51 am
Champions & #1 contenders
Looking for matches
Fri Nov 25, 2022 8:50 pm by Void Effect
Comments: 0
Looking for fun Fights
Wed Nov 23, 2022 1:55 pm by Leon564
Hi hiiiii
Hope you are well my fellows! Happy holidays to those that celebrate. Though some of you may indeed be busy, some of you might be bored and alone. Well I'm here as well bored and alone
So same boat. But not always the same tastes.
Anywhoooooo I've got my two characters available for some battles. James is decently flexible on whom he fights. But Melanie is strictly for the men. She can't get enough of'em
Take a gander at them and hit me up either with a …
[
Full reading
]
Comments: 0
Free Face Claim
Thu Nov 17, 2022 6:11 pm by Void Effect
Three of my character is getting Axed, just ya guys want em, just let me know in DM
https://www.afwrpg.com/t20236-ellie-haise-kaneki#543253
https://www.afwrpg.com/t20341-satella-the-witch-of-envy
https://www.afwrpg.com/t20571-eveline-lector-the-cruel-rabbit
Spoiler:
Spoiler:
Spoiler:
[
Full reading
]
Comments: 0
Page 2 of 3 •
1, 2, 3
Managing to push back Ellie was a task easier said then done, she had to actually work for it. Surprisingly, despite the drastic change with her rival, Rachel reclaimed her territory and perhaps then some. It was all about settling in her headlock now that would put the icing on the cake to close out the first round. With a wide step, she'd throw her weight, dragging them with her as her hand at their collar snaked around to catch her neck, pulling it in close against her chest and bicep. She wouldn't wrench them in this position but her hold was anything but light.

The Ash Lavender haired woman struggles, grabbing her hip the other places against her back as they attempted to break free. Their angle was awkward due to her height but that didn't mean keeping them in her iron vice was anything but easy. She grunts softly as she bends her knees to keep herself steady, her fingers locked tightly to avoid being pryed apart. "Nope, sorry. You didn't say the magic word." She replies.

She needed to think, keeping them locked her forever wouldn't get her anywhere nor would it get her any closer to winning the match either. The model had to consider her next move, and fast before Ellie got any bright ideas. Besides, she wanted to get back to the good part where they were kissing again.

Suddenly a plan came to mind, it eas risky and definitely could go anywhere but her way but she didn't have much of a choice at the moment. Reaching down to grab the hand at her wrist, the German locks her fingers along their wrists. Quickly dropping the headlock, she takes another wide step, aiming for the corner post, she'd follow through her step to send Ellie dashing toward the corner with an attempt at an Irish whip, to get things rolling again.
_________________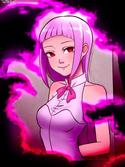 LilyStar




Posts

: 894


Join date

: 2018-02-27


Age

: 26


Location

: Your heart



Every attempt at freedom, each tug of squirm had her cheek grinding up exactly where she didn't it want to be. The worst part was she didn't even think this was Rachel intentionally doing this to get to her, just doing what was a reasonably simple and effective starting move. Letting out a soft frustrated huff at the model teasing her for not saying please.  Her backside perked into the air as she was bent further forward, fighting to keep steady before having to bend at her knees as well. The last thing she needed was to be lectured right now and it only made her more determined to not ask again more politely and fight her way free. She'd pay her back for that later, or try at least.

Suddenly she felt like she was making progress, yanking her head back hard only to find the hold no longer cinched fully, because Rachel had shifted gears to grab her by the arm. With a surprising grasp as she was forward and sent off towards the corner, stumbling over her feet from the initial momentum she managed to find a pace and start to slow, turning at the last minute to collide with the turnbuckles with a hard grunt, facing towards Rachel again.

Yori




Posts

: 4566


Join date

: 2017-11-19



So far so good. Everything seemed to go off without a hitch, although she expected Ellie to crash into the corner, she could appreciate them facing her head on. The German liked that look in their eye, it had fire in it, showing that she wouldn't be pushed around despite the current events. Rachel loved it, she wanted to embrace them again, forget about the match and just enjoy Brit. Her steps were casual but confident, she held herself high, not to mock them, no, but to show she was in control.
The German approached rather quickly closing the distance between them. Giving them a moment to recover and counter wasn't the best idea but it did give her a chance at another moment of lip contact. Her dominant goddess reared its head at the opportunity to play and enact her will. As she closed in, her hands outreaches to embarce the woman again, wanting to act on her want and need. Her aim this time wouldn't be to attack but, this also left her completely open.
Ellie didn't seem to out of breath or weakened by a simple headlock and whip but she did look a bit winded. Rachel's hands would instantly try to pin them in the corner, mashing her body against the cool tethered layers of leather and padding. Her leg looking to lightly glide along their thigh as she looked over them, perhaps the only thing her height actually made worth while, besides wrestling of course. If Ellie didn't take advantage of her unguarded frame, she'd lean down, pursing her lip to kiss them intently. No matter how hard she felt she could hold back, she didn't last long without another kiss if she went unhindered. 
_________________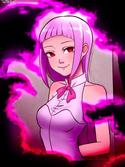 LilyStar




Posts

: 894


Join date

: 2018-02-27


Age

: 26


Location

: Your heart



The jolt of the turnbuckle ramming into her back even as she had slowed was enough to slow her, slumped for a moment with her arms draped over the ropes. She gave her head a small shake, catching Rachel's gaze as the woman hurried over, looking to follow up on the work she had already done. Leaning out of the corner Ellie steps up to meet her but found outstretched arms to meet her, shoving her back into the corner, arching her back against the padded covers. The model pushed herself up against the rookie, their leotards leaving very little to the imagination as she pinned her in with a grind. Ellie winced, starting to push back until she felt Rachel's leg slip between hers, brushing up along the inside of her thighs. She let out a shuddered to exhale as her legs quivers, blushing fiercely as she looked into the other woman's eyes with a fiery determination to free herself.

As Rachel's lips met Ellie's the rookie went wide-eyed. That spark of resistance was still there but there was a softness to it now dulling the edge. It would have been easy for her to pull back or throw her head to the side to stop it, but she didn't, allowing Rachel to not only take her kiss but command it. She hadn't been able to hide it away for more than a minute before the model had already pulled her to pieces… the embarrassment welling up inside her as she let this happen was held back by the moment. As that smoldering flame in her eyes was snuffed to embers and she closed her eyes, tilting her chin slightly to the side, giving Rachel all she could want from her lips at a more convenient angle, shamelessly granting her continued access with a whimpered moan.

Yori




Posts

: 4566


Join date

: 2017-11-19



The model expected everything to turn on its head, she truly thought Ellie was about to come out of the corner swinging but, she didn't. Instead when they clashed, there was a slight struggle and then hardly any resistance. Another wave of good fortune, Rachel couldn't bring herself to question it. Their bodies mash against the padded corner, her hands now enveloping the Brit, as her leg interjects itself between her own. A soft pant leaves her lips as she gives in to her goddess' demands, locking lips with the cause of her needed attention. 
As they kissed, her mind could only focus on the sole objective: Getting more kisses. Her fingers dig into Ellie's leotard as they grind and mince together. Her need for thier touch completely overwhelmed her, the only reason their lips would part would be to breathe. The German noticed another change, the angle she found herself lunging into was more acceptable, it didn't feel awkward or forced but more so…given.
Her cyan's lightky open, staring intently at the pair of closed eyelids, in front of her. We're they enjoying this too? Was this really okay? She didn't know those answers but a part of her didn't want to know. She could only think about acting. Her right and left hands both run down Elies back, slowly creeping up in the small of their back until her middle finger tips tainted going further. Lightky threatening to travel further down as Rachel pressed her again for another round of intense kisses. 
She broke away again, her need for those lips, this touch commanded that she give her being too it. "E-Ellie-…" She whispers, pressing on for a quick peck. "Are you-enjoying this?" The German softly asks, her leg lightly rising and falling against their thigh highs. God, she wanted to stay like this forever. Forget the crowd, she needed this
_________________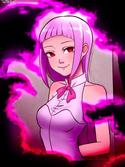 LilyStar




Posts

: 894


Join date

: 2018-02-27


Age

: 26


Location

: Your heart



While it was possible she might hate herself later for this, in the moment Ellie couldn't bring herself to care. Her back weakly arched pressing herself up against Rachel's pleasing figure held for but a moment until the tension slipped away. She relaxed into the corner, weakly lifting her arms not to lush Rachel away, but lay them across the top rope to hell hold her herself upright. Each heated exchange of their lips may have well been a bodyslam, laying her out over and over, stealing away her will to fight and energy to resist. She couldn't make sense of it all as she drowned in Rachel's affections… Was she this susceptible to this sort of thing or was Rachel just…. A really good kisser. It wasn't as if Ellie had much experience which certainly didn't help her to ward off such an attack.

She felt those fingers caress her curves, playing at venturing to more sacred places by lingering along the outskirts. The rules she had hated earlier became vexing for a whole new reason now as her mind was dragged into her own desires to be taken. When their lips parted she let out a heavy pant as if she had been running a marathon this whole time, head lolling slightly to the side. It wasn't until Rachel spoke that Ellie opened her eyes slightly. They had a slight sheen to them almost as if they had been glazed over with infatuation, a rosy blush had never left her heated cheeks. Her lips moved to speak but Rachel's leg drifting up her thighs made her buckle and shudder before words formed anything but a moan, leaving her only to nod her head in response. Had the model shared her wants to stay like this, it didn't seem as though Ellie would likely complain… nor were the fans who were far more happy with the current makeout session they were being treated to over an actual match.


Yori




Posts

: 4566


Join date

: 2017-11-19



Lust seemed to be the only thing driving her, or maybe it was both, in the moments that lead up to their make out session. No matter how she pushed or expressed her desire for dominance, Ellie seemed to concede for the time being; relaxing into the corner, tilting her neck to allow a better angle. The model wouldn't deny her or herself this, perhaps deep down what they both needed was some affection and if that was the case, she had every intention of giving it. 
With their brief moment of pause, she got her answer. Rachel and Ellie seemed to be on the same page, luckily for them too, the crowd wasn't demanding they go at each other's throats. This match had been nothing but good fortune so far, maybe she ought to try to lottery after this but what would she need that for anyway? The German lips begin to trail down along the Brits jaw, her left presses up against the small of their back again while her right rubs down their hip, rounding their thigh. Her kisses begin to trail along their throat, slowly marking her rival or in this instance, her lover. 
Her lips continued to press against their soft skin, Ellie must have a seriously killer routine to get these sorts of results and Rachel was all for it. Her mind demanded that she do more, take them for the more intimate sort of display but this one time, it was absolutely off the table. For now. "Ellie~.." she whispers between soft labored breathes cascading over their bare neck as she made an attempt to breathe. "You know you can touch me too, I won't stop you." She urged, picking herself up to land another intense kiss. 
_________________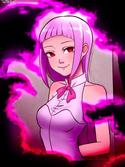 LilyStar




Posts

: 894


Join date

: 2018-02-27


Age

: 26


Location

: Your heart



Ellie succumbed to each kiss placed upon her lips, savoring each with a soft hum of contentment. It had not taken Rachel to win the rookie over from their rocky beginnings to now have her practically eating out of the palm of the German's hand. The match didn't matter anymore, her pride was of no consequence, this was what she wanted now and Rachel wanted her to. That was perhaps what she enjoyed most, how passionate and gentle her "opponent" was being, she couldn't help but fall for her.

As their lips parted and Rachel's lips ventured along her jawline, Ellie sucked in her lower lip, biting down at each tingling sensation left by those savory lips along her jawline. When they parted she longed for more, weakly following those retreating lips in a dreamy haze only to have them dance across her chin. A pleasant tingle as each exploratory kiss moved across her body, just as happy with this as she had been to meet them with her own. Ellie drew in her lower lip, biting down gently with a soft moan as Rachel ventured along her neck, the rookie even leaning her head to the side to give the other woman all the space she needed to ravish her completely.

"Yes?" Ellie found herself whispering as Rachel spoke her name, eager to please if it meant more of this. The feeling of the German's heated and heavy breaths along her neck was enough to make her melt, squirming under the weight of the taller woman's body against hers. She didn't respond at first to the permission she had just been given, not until their lips met again. It muffled a small moan as her arms slipped away from the ropes to instead drape themselves over Rachel's shoulders. Her hands slipped hesitantly up along the back of her neck, fingers combing through Rachel's silky hair. She enjoyed the touch, the feel of it all.

Arching her back she pushed back against Rachel's full figure, a slight bump of their hips before she shifted, purposely sliding herself up the length of Rachel's thigh, shuddering as her body burned with want. Such things were apparent as their breasts heaved against one another with an unmistakable perked stiffness poking through her leotard. She remained subdued with her efforts, leaving no doubt that Rachel was the ringleader between them.


Yori




Posts

: 4566


Join date

: 2017-11-19



Warm sensations began to bubble up from her center as she rained down kisses along Ellie's neck, making her way back to her true mark. Although they were supposed to be grappling, throwing each other to the ground and fight for supremacy, Rachel rather enjoyed this patch of heaven compared to what awaited them. Each second she stayed in the corner, infatuated with the Brit, the lord she felt it would be harder and harder to pull herself away or even stop. She couldn't bear the thought of that, not when her mind demanded she give them her everything.
The soft, mellow moans of the Brit filled her burning need that much more, her inner Goddess was running this show now and nothing seemed potent enough to make her slumber. If she had known things would turn out like this she would've demanded a hentai match but she was still happy enough as it is with what she was able to do now. Besides that thought, there wasn't anything telling her she couldn't invite them over sometime or perhaps tonight if they were still feeling the same after.
Rachel breath hitched for a second as she felt their soft hands run over her shoulders before she felt the light, fleeting feeling of their fingers combing through her hair. It was a soft and gentle move that made her heart beat faster then she could've thought possible. Her finger tips dig into the woman's leotard again, her heart hungry for more contact and to anchor herself to this reality. The German was rather impressed with Ellie's sudden bold move, the bump of their hips and push into her figure made the model perk with excitement. Her body shuddering in turn as she felt them slide up her thigh, her hands instantly went to run under the woman's rump to hold her up as she they moved. Her leotard felt tight in the chest, the same perkiness Ellie felt worked it's way onto the model.
With her hands elevating the shirt, she pressed them back into the corner, cementing her role. She returned to kiss those lips again, a bit more sloppy this time around, she softly pants as she stares into their violets. What was next for them? What was the plan? Her inner goddess interjected and forced her conscious to settle as she took over again, kissing up their angled neck, lightly nipping at her rival turned lover. 
_________________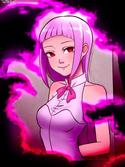 LilyStar




Posts

: 894


Join date

: 2018-02-27


Age

: 26


Location

: Your heart



Ellie drew in a sharp breath as Rachel's hand slipped along her backside, settling to take hold of her. She didn't feel as if she were slipping anymore, not with the model cradling her so close. She loved the feeling of the model's strength to hold onto her so closely, marveling at just how much more powerful she felt now than moments before in their grappling. Her own strength has been dwindling, broken down, and drained from all the tender affection. Rachel's ability to control her only made her swoon harder. She loved that, wanted that.

When their lips met again there was less technique as passion fueled each touch. Ellie found herself unable to hold back a delighted little giggle between her moans, seemingly smitten with this more ravenous approach. She felt as if Rachel was laying claim to her, conquering her, and at this moment that was all she wanted as her submissive side began to shine through more fully. Her body shook against the creaking turnbuckles when Rachel returned to her throat, something new added to her kisses. She felt the pinch of teeth on her tender skin and found a thrill to something she had hardly ever experienced before.

Her head lolled forward feeling so heavy now as Rachel roamed her neck, finding it hard to keep herself upright now more than ever. Weakly she nuzzled her cheek against the top of Rachel's hair, drawing in a sharp inhale of her fresh hair. "Rachel..." The name slipped from her lips without a thought in a low desperate moan, having it all but wanting more. Another light bump of their hips as Ellie rubbed herself up against the model's pleasurable thighs, seeking her own form of release knowing full well this match wouldn't allow Rachel's nimble fingers or sweet lips to traverse where she wanted them more right now.

Yori




Posts

: 4566


Join date

: 2017-11-19



Page 2 of 3 •
1, 2, 3
---
Permissions in this forum:
You
cannot
reply to topics in this forum