Champions & #1 contenders
Looking for matches
Fri Nov 25, 2022 8:50 pm by Void Effect
Comments: 0
Looking for fun Fights
Wed Nov 23, 2022 1:55 pm by Leon564
Hi hiiiii
Hope you are well my fellows! Happy holidays to those that celebrate. Though some of you may indeed be busy, some of you might be bored and alone. Well I'm here as well bored and alone
So same boat. But not always the same tastes.
Anywhoooooo I've got my two characters available for some battles. James is decently flexible on whom he fights. But Melanie is strictly for the men. She can't get enough of'em
Take a gander at them and hit me up either with a …
[
Full reading
]
Comments: 0
Free Face Claim
Thu Nov 17, 2022 6:11 pm by Void Effect
Three of my character is getting Axed, just ya guys want em, just let me know in DM
https://www.afwrpg.com/t20236-ellie-haise-kaneki#543253
https://www.afwrpg.com/t20341-satella-the-witch-of-envy
https://www.afwrpg.com/t20571-eveline-lector-the-cruel-rabbit
Spoiler:
Spoiler:
Spoiler:
[
Full reading
]
Comments: 0
Page 1 of 3 • 1, 2, 3
Vs.
Standard Match
Victory can be obtained by Pinfall, Submissian, or by Disqualification. Light hentai tactics are allowed, however heavy tactics are forbidden in this match.
————————————————————————————————————
Rachel, lightly swayed in the mirror as she donned her new attire. It felt different not just in the style but the aura of it too, like she was donning a suit of armor that was obtained by mythical means kind of different. Probably not to that extent but it was the vibe she felt looking at it more thoroughly. It was so simple, a black leotard, black lycra pants her manager insisted she wear, and shoes more comfortable then she could have ever dreamed of. The model was rather enthused with her appearance, she supposed for tonight she'd rock with it as she had with her previous attire. Nothing like changing out the old for the new, even it had its characteristics befitting her form. Besides, she may end up surprising her opponent with it.
Ellie St. James, a rather new name to the German but all the same, she had taken a liking to it. The name alone rolled off the tongue and it held a certain tone to it too, like she was nobility or of the higher class sort of type. Neither of which could possibly be true but she could let her imagination run wild every now and again. Rachel didn't want to look at her opponent as she reread the rules for the match tonight. She liked the surprise. Much to her amusement, the model always found herself up against the attractive types, of course Rachel didn't mind that one bit. Both Yayuuki and Patrice were adorable in her eyes and fun to play with, she could only hope that Ellie would be too. It made her squirm just thinking about her opponent resisting or playing along, the light kisses they'd share, the subtle touches. It made her heart swoon as she strongly hugged herself to bring herself back down to earth.
The thing that stood out to her the most was the light hentai tactics, highlighted, underlined, and subsequently in bold. She had to wonder if this was a jab at her or perhaps at someone else but she still felt called out. She was the hands on type, she wouldn't think about doing that sort of thing in public. In her mind, anything of that nature was for only her to see, although she did see some of the appeal. It made her wonder if she ought to try her luck in the hentai league before shaking her head, that was a thought for another night. One where she was very sober and with a voice of reason to guide her.
The sound of rollcall pulled her from her daze, ready as she would ever be, Rachel flicks her red stained hair, locks of red and black entertaining as her fingers run through; exiting the locker room. She walked with vigor at the chance for another match, the chance to raise her reputation. A strong foundation in AFW was her main goal but she wanted to play with every opponent she encountered. Teasing, taunting, encasing, she loved every single one of those moments, Ellie would either hate her or tolerate her after their bout.
Spoiler:
As she reached the curtain, her music began to blast on the speakers. The model steps out with fire in her eyes as stage crowd rises in delight for another match. As the guitar slowly brings out its melody, Rachel's hips move with the beat of the drum. Her finger rubbing up through her mane as she spins slowly with each sway of her hips, leaving much to be desired. Her cyan pearls glossing over the crowd before turning to face the ramp once again. With a light jump start, she makes her way down to the ring, blowing kisses toward her fans from her wrestling career and her modeling career alike. It wa she'd duty to shower them with her affection but of course she couldn't let them have it all. Climbing those steel steps, she'd slip through the ropes before heading to the center stage, rolling her hips to her music one last time before facing the ramp and curtain.
Her pearls peeled for her opponent. She was excited to meet them, excited to wrestle more. This life of hers was heating up and she couldn't let the opportunities slip her by. Win or lose, Tachel would make the most of this match.
_________________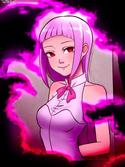 LilyStar




Posts

: 894


Join date

: 2018-02-27


Age

: 26


Location

: Your heart



"What do these stipulations even mean?" Ellie made a face, eyes narrowed, lips pursed tightly and slightly to the side. This was the ninth or ten times she had read over the match card tonight… on the printout she had made.
"Sounds like something I am going to enjoy watching." Lyla let out a long exaggerated yawn, rocking on the back legs of her chair. Unlike her tag partner, she was dressed in street clothes. She wasn't performing tonight but was normally on hand for Ellie, just in case. You could never be too careful if someone decided to jump the poor girl and if she wasn't here to come to her aid not only would she get a mouthful, but she might feel a bit bad.
"It's so vague… how am I supposed to plan around not knowing the extent of the rules?" Ellie waved the printout in front of Lyla who was choosing to ignore it still.
"Probably means they are going to get handsy but your clothes get to stay on." She gave a light shrug.
"W-what?" Ellie circled to the other side of Lyla, a heated blush already forming on her cheeks.
"
Relaaaaaax
... Light hentai reads to me as groping and stuff. It will be fine. You could do with a bit more fondling... Besides, you're cute when you are flustered." The pink-haired girl flashed a wink.
"I am not!" Ellie's cheeks puffed up a bit, a rosy red hue as she stomped the ground with a boot.
"Case in point." Lyla motioned with a gesture, a sly smirk painted across her face.
"Ugh! Whatever. You are insufferable and I have a match. I will see you after." Ellie folded the printout up neatly, slapping it down on the table beside Lyla. With a huff, she made her way to gorilla position.
Theme:
Ellie St. James:
Ellie stepped through the curtains, head held high, a big smile on her face. Tonight was a strange mixture of worry and relief. It was her first televised singles match with Friction. While she had a win to her name in the books already, try as they might no one would be able to find it. Her private session with Rose had, as the redhead promised, been kept very much a secret in all ways save for her statistics. That put some pressure on her now that she was back in front of a crowd and the strange stipulations on the match had only made everything seem that much more troubling. She would have to be on her guard… determined eyes staring down into the ring, fixated on the woman who was to be her opponent.
The relief came in knowing that there was only one opponent, and she wouldn't need to worry about Lyla's antics in the ring. While she valued her partner's input and loved working with her on Bangarang, sometimes it felt as though she was fighting three against one in some matches with just how lightly her partner took things. It was like herding cats to get her to focus and stop flirting or make smart calls. Now it was just herself she had to worry about.
Making her way down the ramp she gave a few waves, even reached out to give a high five or two. While not a fan favorite compared to other big names here in AFW, Bangarang's performance against the veteran team of Sonic Boom had been a huge boon to getting eyes on them. It had been a close match, close enough to give some of the other teams in the back a kick in the pants for sleeping on just how effective the roomie duo could be. Ellie jigged up the steel steps, making her way up onto the apron. Grabbing hold of the top ropes, she hopped up, swinging her legs over to land lightly in the ring with a bounce, eyeing Rachel wearily.
"Let's have a good match." She called out from an awkward distance, seemingly unwilling to get closer. The rookie notably had to raid her voice to even be heard well enough. While normally not so standoffish, she wasn't sure what to make of Rachel or this match and was being more cautious than anything. The last thing she needed was some dirty trick before the bell or some form of mind game. She was here to wrestle after all and that was exactly what she intended to do.

Yori




Posts

: 4566


Join date

: 2017-11-19



Her opponents theme came blaring on the stages speakers, the acoustic guitar through her sense through a loop before the elctiric took its place. Her foot lightly tapped the canvas with the rhythm, her cyan pools locked onto the curtain as they suddenly appeared. The model was thoroughly enthralled as Ellie stepped out of the curtains. That dusty lavender hair of theirs bounced as with her energy, Rachel liked their enthusiasm, but in a weird way she could sense something in the woman's walk. It was something she picked up after years of observing, but what wa sit eaxcatky? Anxiousness? Doubt? Unfortunately, she couldn't pinpoint it for sure but there was something.

Jogging up the steel steps, her opponent grabbed hold of the top rope and masterfully jumped clear over the obstacle of ropes landing lightly. She'd clap with slight excitement seeing the show of acrobatics, knowing full well she could never do something so dangerous or perhaps embarrassing. Knowing her luck, her foot would've caught the top rope and made her lose balance, making her fall fight in her face. She eyes Ellie's as their violets lock onto her, there was caution in their gaze. Mentally the model shrugged, she supposed she did give off an awkward vibe to people. Rachel wondered if they thought she looked like a heel standing here now but that couldn't be far from the truth!

She smiled, a courteous smile, hoping to convey she didn't mean any harm to them with a little pre match banter. "Hey, come on. You don't have to be so far away, you know. I won't bite, not yet at least." She makes a bold attempt at humor before stepping closer, cautiously approaching them to ease whatever feeling they had. "I also hope we have a good match. I guess lucky me I get to wrestle another cutie." She adds, continuing to step closer. The closer she got the more she realized how cute and adorable they came off. She could just hug them so tight but maybe that wasn't a good idea just yet.

Rachel stood center ring, her hands on her hips as she took another look at her opponent. She liked the gear. The colors seemed to match Ellie quite nicely, not to mention the sight of those well trained legs. She wanted to reach out and touch them but maybe save that for when the bell rang. "Anyway.. It's nice to meet you, Ellie isn't it? I'm Rachel but uh, suppose you knew that." the model was getting a sense of anxiousness of her own, it was usually easy to go off with how the other was feeling, but the vibe she felt from Ellie was a bit hard to work with. She couldn't come off as a total creep nor did she want to make their interaction feel so stand offish.

She extends her hand, wanting to shake, hoping to show she means no harm and that she's no the underhanded type. If Ellie decided to take a shake her hand, that would be enough for her. She'd retreat back to her own corner before the start of the match. Her next line of thoughts brought a cheeky smile to her face. Maybe she ought to do it now, her nerves were jumping, urging her to play along, she didn't expect a harsh reaction from Ellie but why not even the playing field a little?

Her thumbs slip into the waist band of her Lycra pants, her cheeky smile present as she pushed down. Most seemed to think it was a connected, single article of clothing but to anyone who couldn't spot the material change it was actually two. Her pants slid down her thighs and along her calves, exposing her rather long legs. She steps out from the article of clothing, kicking it to the side to revel in a black leotard. "Sorry for the sudden change. I thought I should play fair, show off a little skin. Ready?" She asks, lowering into a battle-ready stance as the bell sounds.
_________________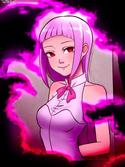 LilyStar




Posts

: 894


Join date

: 2018-02-27


Age

: 26


Location

: Your heart



While Rachel may have only been trying to lighten the mood with a bit of humor, Ellie seemed to take it a bit differently. In her eyes, there was no joke to be made, just confirmation that what Lyla assumed about her opponent was likely right. The young British woman lofted a brow, continuing to watch the other woman dubiously at a distance. Even as Rachel stepped closer, she was content to remain in her corner, far from the womanly wiles of this would-be temptress. There was no telling just how familiar the model had become with Ellie's body of work and the last thing she wanted was to give her an opportunity to exploit her weaknesses. While she had certainly blossomed with her time with Rose, it was still a glaring vulnerability in her wrestling with how… scandalous some people her in AFW were. She was already counting Rachel among them.

Her gaze broke off briefly, a faint rosy hue brightening her cheeks at the small compliment, trying not to snap back about being called cute. Her intention was to not let the other woman know it bothered her, though her unintentional reaction might have hinted at how she felt. So when the model continued on with introductions, Ellie was quick to jump aboard that instead and move past whatever flirtatious things Rachel had to slide her way.

"Eleanor." She corrected, perhaps a bit coldly. It made her wince at her own words, immediately feeling guilty for being a bit too hostile with someone who seemed to just be opening up a friendly dialogue. She closed her eyes for a moment and took a breath. Regardless of the stipulations or the opponent, Rachel was still a coworker. She hadn't done anything to warrant the sort of disrespect she was being shown… time to step back a bit.

She gave a slight nod, tone audibly softening. "But I go by Ellie mostly… yeah." She hadn't been very fond of the shorthand for her name growing up. Her full name sounded so mature, so dignified… Lyla had been one of the first people to lambast her for using it so prominently. She had said it was a "grandma name", whatever that meant… but it had been enough for her to mostly go by Ellie these days. It was short and sweet and seemed to resonate with people more. She could still recall when she had conceded the name point to Lyla, who then promptly started calling her " El '' instead, further shortening it. It was one of the last times she had compromised something about herself to her tag partner.

There was hesitation in her eyes when she noticed a hand extended to her in waiting. She was safe here in her corner, far from the possible prematch dangers that Rachel could enact on her. The spirit of good sportsmanship though demanded she do right by her opponent though. With a soft sigh, she made her way to the center of the ring and clasped her hand with Rachel's, giving a firm professional handshake. It was a bit daunting peering up at her now that they were this close, the difference in their height was that much more. "Pleasure to meet you Rachel."

When the shake went off without a hitch, it had put Ellie slightly at ease. Perhaps Rachel wasn't what she had thought. With a small smile, she took a half step back and waited for the bell as Rachel moved off to her corner. She tapped the toes of her boots to the mat and rolled her shoulders idly, waiting when she caught a cheeky look Rachel was giving. Tilting her head, she watched wordlessly as Rachel shimmied out of her pants and kicked them aside. In truth, this shouldn't have really been a big deal. After all, Ellie herself used a leotard in the ring as well. It had everything to do with the act of undressing and the way Rachel make a performance of it that had Ellie's face turning red.

"Uh…" her brain was slow to answer Rachel's simple question, though the officials didn't seem to care. She hardly even realized the bell had sounded as she was caught wholly unprepared to kick the match off, practically just standing there dumbstruck.

Yori




Posts

: 4566


Join date

: 2017-11-19



Eleanor, okay, a bit different then what she was thinking but she made a mental note of it for later. Still she didn't expect such a cold answer, poor girl was still on guard. The model couldn't excitably bring herself to say anything to ease them with her around, sometimes the only way to know was experience firsthand. Rachel lightly rubbed her neck, feeling a bit awkward herself as they went in to explain she mostly goes by Ellie. "Would you prefer I use Eleanor instead? I didn't mean any harm, fräulein." She claims innocences. In the back of her mind she was running rampant, she felt she totally saw a hint of blushing earlier, the German wasn't crazy she knows what she saw.

Ellie ceremoniously took her hand, shaking it rather sternly yet professionally. For a split second, Rachel herself thought she was about to be blindsided, a tactic she would never resort to but one could never tell. With the talent seeing itself in, some of the competitors sucker punching the lights out of unsuspecting victims. Despite the thought she smiled again hearing it was a pleasure to be met. Ellie was certainly putting her in a good mood, especially with this rather nice display of sportsmanship. Still, even if she did like what she saw, that didn't mean for a second she wouldn't push herself to win this.

Her gaze focuses on their expression as she kicks away her Lycra pants, a face as red as a cherry. There it is, her surprise going off without a hitch. She could see the gears turning for the cherry faced Eleanor and that just made it all the cuter. The bell sounded but they didn't move, she was just standing there, absent minded of the start of their match. Was it to much? Did she make a bad choice? Maybe it to soon for fan service? Wether it was that or perhaps she was deep in thought the German stepped close, closing the gap that separated them.

In terms of wrestling, Rachel had every right to flatten Ellie in a surprise attack. She wasn't prepared for what could possibly come next but the model didn't take to it. Instead she crept closer, the crowd roaring for the two to clash. In time they would but she had other plans, she had to snap the poor girl to her senses, she wouldn't accept a win any other way, if she managed to earn it of course. Rachel's long legs made crossing the ring a quick effort, she was on top of the meme her of Bangarang in moments, Cyan's staring down into deep violets.

Her hands wraps the woman's waist up pulling her in close, with her height they practically mashed against her bust. Her left traveled down exploring its new sensory park as it ran down the small of her back, halting any progress past that point. Her right holds them in place, close to models body if they hadn't returned by the time she embraced them. "Hellooo~, Eleanor? Is anyone home?" She asks, making herself giggle. She'd never experienced this before, but she wouldn't look a gift horse in the mouth, besides, she got to feed her tic to touch. "If you don't get ready, Who knows what I'll do." Her threat was empty, she'd act on it in timet for sure but this wasn't the time, not yet.
_________________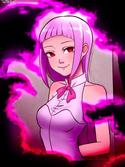 LilyStar




Posts

: 894


Join date

: 2018-02-27


Age

: 26


Location

: Your heart



If the rookie had heard the ring of the bell she made no mention of it. Her stance had not shifted, hands had not raised ready to grapple. Even as Rachel sashayed towards her she remained still and staring with ruby red cheeks like a deer caught in headlights. She had tried to look away but had practically been drawn back to making eye contact, losing herself in that silent intensity. Rachel carried herself so strongly, confidently, just from hoe she moved. There was allure there, enough to leave her stupefied even as Rachel stood before her and the match had begun. Like a wallflower at a high school prom who had never been asked to dance, she looked on with a lack of understanding that the look in her opponent's eye was meant specifically for her.

She didn't move as fingers slipped past her hips and arms wrapped around her body, tugged forward with a fumbled step to lean her body to Rachel's. She knew she shouldn't allow this, felt the twitch of her fingers to react but she didn't resist even in the slightest. It wasn't until Rachel said her name that she blinked herself back into the reality of the moment.

"Ah...Ellie. Ellie is fine." The rookie murmured softly, walking back her earlier correction when out so close to her opponent. She felt a bit foolish allowing herself to be held like this, sillier still she found herself liking it as a shiver ran up her spine at the other woman's wandering touch. "Ready? I'm ready…" She responded with an airy tone. It was unsure if she actually understood what she was saying . Instead, she brought her hands up to gently set them on Rachel's shoulders to gently pry the two of them apart. There wasn't a great deal of effort in her push for freedom though, easily resisted if Rachel chose to.

Yori




Posts

: 4566


Join date

: 2017-11-19



No sudden moves, just a stare that seemed to flicker back and forth between her and nothingness. Rachel couldn't help herself, Ellie was the cutest thing ever, possibly in the entire world right now, it practically made her heart skip a beat. Her experienced hands met them head on, guiding them as she pleases while she attempted to reanimate the blush stricken woman from her slight daze. She was helpless it seemed like in her embrace. Her right hand was barely grasping them and yet they didn't resist. Her left running down the small of their back as a taunt. It was a game of chicken, both for her and perhaps Ellie.

Her cyan gaze looked over head as they came to, insisting Ellie was fine. Rachel sensed a completely different tone then when they started their conversation. "Sure, fräulein. Ellie it is." she replies. Perhaps she had this little wallflower wrapped around her finger but then again, on the other hand, they could just be dumbfounded. Neither of those options mattered to her. What mattered now eas the next step, Ellie claimed to be ready, her hands gently pressed against her shoulder and weakly pry themselves away. The German, smiled again, no matter the outcome, she was beginning to like them, if this was an act it was certainly a good one.

Rachel resists the light pry, she was expecting Ellie to put a bit of effort into it but nothing. The model lightly squeezes them, she felt she couldn't rush this, in fact if anything, she wanted their momen to to mean something. It was a feeling of pure selfishness, but she could disagree with the thought. Leaning down, she'd lightly peck the woman's lips giving them a little taste of what to expect through their match. "Alright then, Ellie. I'm going to step back, let's make this a night to remember." She whispers, prying herself away from the smaller woman. Her heart hated the decision but she'd allow it to have its moment again.

The model takes a few steps back, giving the member of Bangarang a second to collect and then get into stance. She'd do the same, lowering her body and opening her arms, ready to grapple. Rachel wondered how sorry she was about to be about giving up her advantage but she wouldn't let it get to her. She wanted her rival focused on nothing or no one but the one person in this ring. Ellie was the only thing on Rachel's mind, her target locked.
_________________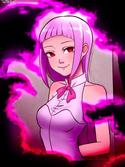 LilyStar




Posts

: 894


Join date

: 2018-02-27


Age

: 26


Location

: Your heart



As she pushed at Rachel she could feel the woman leaning back against it, those arms holding tight around her. She wanted to push them apart but Rachel was being so soft and sweet with her, she couldn't bring herself to actually try to separate them from one another. She could feel her heart thump in her chest, wondering just what the other woman might have had in store to prevent them from breaking away. The poor girl was practically swooning over the model now in a rather dynamic about-face from mere moments ago.

When Rachel leaned down, Ellie didn't pull away even as their lips touched. A small token of a kiss, enough to make her eyes flutter, make her yearn for more, but it was gone after that brief moment leaving her peering through lidded eyes with lips still pursed. As Rachel slipped away, Ellie's hands gripped at her a bit more forceful than they had been to push her off, but she seemed to realize what she was doing and brought her hands away with a fierce blush still on her cheeks, letting the model retreat a few steps back.

Ellie mournfully bit her lower lip, giving Rachel a slight nod of agreement with her wishes for their match, taking a half step back herself to prepare. Her hands came up, stance lowered and shoulders went stiff as she readied herself to grapple. There was a hesitancy to engage at first, Ellie slowly circling Rachel, taking a moment to clear her head of whatever this newfound infatuation for a stranger was. Then, without warning, she surged foreard and attempted to initiate a collar and elbow lock. While her struggling had been feeble begore, there was no doubt she was giving this her all as she rushed forward, trying to drive her opponent towards the ropes.

Yori




Posts

: 4566


Join date

: 2017-11-19



Rachel didn't notice at first but maybe she coyly acted as if nothing was going on. Her fingers pressed into the girls form to keep herself from pulling away instantly. She meant to peck and pull away but after their quick kiss, the look in their eyes, Rachel wanted so much more but she wanted it to feel earned. With a heavy heat she pulled herself away, only to be surprised by Ellie to hold her from retreating. It made her smile widen, pale cheeks going rosey. With a simple nod Ellie seemed to understand and released her to take a few steps back.

God, why did she do this to herself? She could've had a kissing contest by now if she didn't do that. Mentally she kicked herself for pulling away but there would be other opportunities, other chance to show her affection. Her heart skips a beat seeing them bite their lip. Could they possibly anymore cuter than this? She opted not to ask out loud, she knew that cuteness could be one-upped and she was all for it.

The pair began to circle one another, her hands up ready to strike and catch; catch she did. Ellie came at her fast and with power as she latched onto the model with a collar and elbow lock up. Rachel, matched their mirrored movement, in the heat of the supremacy battle, the member of Bangarang had managed to push the German back quite a few steps. They were putting their all into this and it showed. Gritting her teeth she leaned in, her shoes screeching as it dragged along the canvas. Despite her attempt she didn't manage to stop their progression until she was mere inches from the ropes. "Wow, aren't you strong for such a cutie." She states. A rough grunt escapes her lips as she makes an attempt to push back.

During their battle for the advantage, Rachel would attempt to gain back the ground she lost. It felt only right to show she meant business to, as well as a bit of her soft side during their confrontation. She had to think though, would it be optimal to go for a headlock or should she keep pushing until she managed to push them against the ropes? Either way her main concern was getting her arms around them again…for wrestling reasons of course…nothing else. If she managed sto push back Ellie enough, Rachel would step out, swinging the smaller girl about face to snake her arm up their collar, hoping to ensnare their neck and pull them into her side for a headlock.
_________________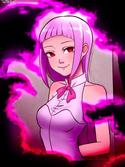 LilyStar




Posts

: 894


Join date

: 2018-02-27


Age

: 26


Location

: Your heart



She had never been like this before. Until she had met Rose and Thorn in the ring, everything she did for the sake of her wrestling career had always been purely professional. Sure, Lyla had tried to make their partnership something it wasn't, but that never really got to her. They were just friends. She could look at her tag partner and be fine. Ever since Rose had embarrassed her in the ring she was more acutely aware of herself, of her body, of her desires. It felt her up at night, it made her think about things she never had, it was making her job so much harder than it needed to be. She had thought by conquering Rose she would lay her demons to rest, but that thrill of dominance and submission she felt that night only made the urges come back so much worse than it was messing with her performance now. It hadn't taken much at all for Rachel to wind her up and she knew that if the other woman released that fact this match might be far more difficult than it should be.

Raw aggression was her answer. There couldn't be any flirting or fondling if she was slamming Rachel around the ring. No need to address jt or fight it, she would just let the rush of adrenaline of competition drown those feelings and fight. Which she did in overwhelming force as she stomped onward, forcing Rachel towards the ropes where she had plans to start unraveling the other woman with strikes. They stopped just short of the ropes, Ellie tried to make one last push when Rachel distracted her again by complimenting her.

It had been enough to allow Rachel to shove back, putting Ellie off-balance as she was forced to give up all the ground she had worked for. While fairly evenly matched, the model's height was the tipping point, using leverage to bully the shorter woman back to square one even against her best efforts. The rookie dug in her heels to show any further push, trying to force her way back into control only to have her opponent shift, letting her throw her weight forward to trip right into a headlock. Damni Ellie!

"Eugh!" Ellie flailed her arms for balance as Rachel wrapped her arms tightly around her head, mashing her glowing red cheek up against the side of her chest. Bent forward at an odd angle, Elle slipped an arm around the other woman's back and placed a hand on her hit, struggling to try and pull her head free. "L-let go!" She whined while working to try and free herself.

Yori




Posts

: 4566


Join date

: 2017-11-19



Page 1 of 3 • 1, 2, 3
---
Permissions in this forum:
You
cannot
reply to topics in this forum