Who is online?
In total there are
56
users online :: 0 Registered, 0 Hidden and 56 Guests :: 2 Bots
None
Most users ever online was
418
on Tue Jul 30, 2019 9:51 am
Champions & #1 contenders
Looking for a tag team match up.
Mon Dec 04, 2023 7:38 pm by Moriarty
Comments: 0
Tension Match for Melanie~
Tue Nov 28, 2023 12:56 pm by Leon564
Comments: 9
Howdy strangers.
Wed Nov 29, 2023 1:25 am by Yori
Just a small hello from an old face. I will be coming around for a bit soon and figured I would pop in. To anymore I have an unfinished thread with, if you have a desire to continue it with me just let me know and shoot me a link. While I am open to fielding ideas for new threads, I will be very selective with taking anything while I gauge my activity capability and trim/update my roster.
Toodles.
Comments: 4
Yuko Mizobuti
Yukos taste for violence began at the age of 17. In no better terms than what they are, she was quite the bully who enjoyed utilizing her superior strength to others. However not in the sense that she enjoyed picking on people weaker than her. She enjoyed picking on people whomst believed themselves strong. Mistake this not however, it was quite sadistic. Some heralded her as a "defender of the weak" but it was no such justice. This was an act of savagery to humiliate those whom believed themselves to be strong. This festered, from school to school to school, street to street this hunger grew. This is where she found her passion and love for professional fighting. At 18 years old it started with stage boxing. She did regulated ring boxing in a local gym picking up the pros of foot work and proper balance rather than just savage swinging. But this was practice, an emulation of the real thing without being the real thing. Her punches were limited. She couldn't kick. She couldn't grab more than a simple hug. She couldn't tackle. And if they went to the ground, she had to let them get back up or she won by default! It was smothering, and not at all what she wanted. Though it did have benefits, it laid the ground work for her future. The future she sought was in combat. So she went further than traditional boxing, especially in a training enviorement and sought out arenas for local MMA fighting. Underground rings, places to practice, and to fight for real. By time Yuko was 19 years old, she was practicing though nowhere near proficient in a few martial arts, in terms of Jujitsu, Taekwondo, and karate she couldn't do anything in terms of advancement, but the foundations laid work for her own personal more feral style. They gave her breathing techniques, foot works, and energy management, as well as a few good escapes and grapples to work with. This felt right, in these rings she could let loose entirely, bloody fights, punching, kicking, when they fall she mounted and assaulted! It was hers to finish! But it still felt like there was something missing, it was just her, and them. The fights were short lived, and they weren't showy enough. And being a local ring she wasn't fighting anyone with any high profession in any of the martial arts either, intermediary learners at best, that couldn't put it together with the same ferocity. So higher games were sought. She went by ring to ring in underground fights until she heard of a more international theme, wrestling. Her grappling wasn't great, but her strength was astounding, she was confident in terms of wrestling she would lose in ability but win in raw stats. Basic leagues became more advancements, but satisifaction never came until she heard of the AFW roster! Flashing forward, Yuki Mizobuti: Age 21, is now registering for her authenticity into the AFW league.
                       ---- Foot note: This will be revamped and finished at a later time when I have more time to flesh it out to the fullest, just wanted to give an idea of her characteristic and backstory leading to here.
Name: Yuko Mizobuti.
Age: 21
Birthday: March 24th.
Height: 6 foot even.
Weight: 175 pounds.
Affiliation: Heel.
-------------------------------------------
                                                                                           General Appearance
Wrestling attire -
Posing for her audition to AFW -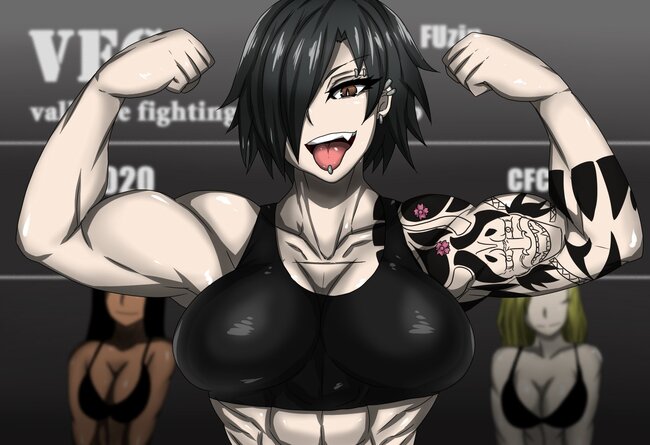 Casual street clothes -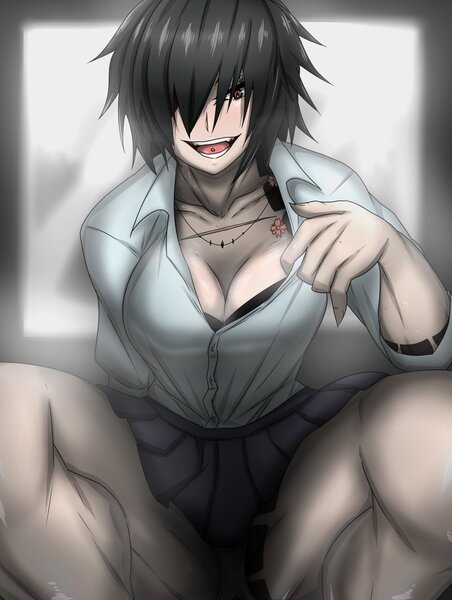 Working out~! -
Old fight~ -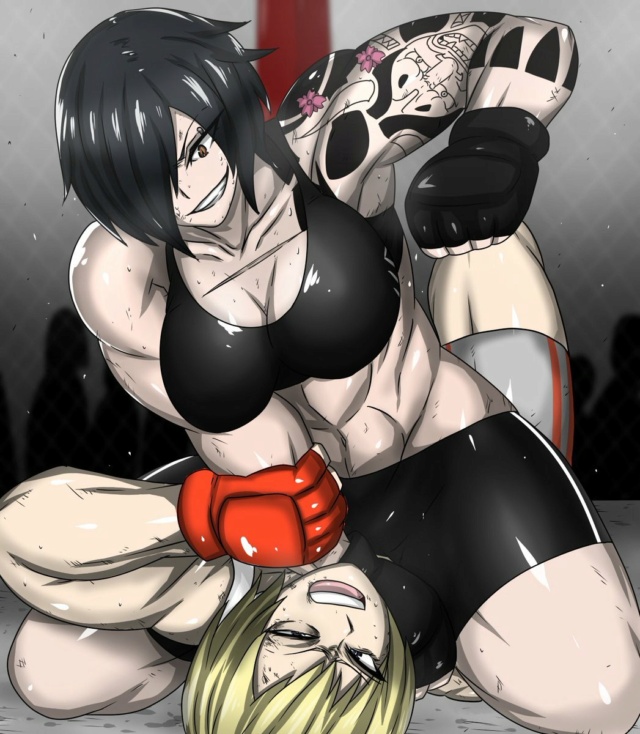 ------------------------------------------------------------                                                                                     
Statistics~
Strength: 10/10
Endurance: 8/10
Stamina: 7/10
Intelligence: 5/10
Agility: 6/10
Technique: 4/10
------------------------------------------------------------                                                                                        
Moves and techniques!
Gothic Reckoning: This is a name she came up with on her own time, something she dedicated to the showiness of wrestling! The technique is a few steps  that make it only used for finishing off opponents that have practically already lost, due to her lack of efficient technique. Taking a firm hold of the opponent she lifts them into a standing dragon sleeper hold, and with all her strength she lifts them by the weight on their shoulders and the back of their neck, lifts them into the air, while she herself jumps back to collide their head to the mat. If the move pans out how she desires, it should start with them standing up straight on their head, then flipping from their forward facing position to slamming face down on the mat.
Traditional sleeper: This technique needs no introduction but it is worth mentioning as it is one of her favorites to apply. She doesn't need much technique to make this work, just strength and accuracy. With her bicep around their neck and forearm locked in to their other arm, she places her free hand ontop of their head and squeezes with all her strength, with her muscle mass she cuts blood circulation off entirely and tries to put them to sleep real quick!
One two, to the ground~!: This technique is more of a brutal one and reserved only for matches such as no holds barred iron cage. It's an example maker if nothing else, in which she hits them with some of her boxing training in a "one two" to the face, it's normally used on dazed opponents as to finish this off, she lulls them to the mat with a continuous repeat set of the "one two" punches until they are on the ground, and counted out for a TKO.
Gothic Trophy: This finisher is an over the shoulder back breaker, a torture rack. However she leads their bodies leveraged onto her shoulder and walks them around the mat, exposing them to the audience as for each rotation to every corner of the ring, she will then bend them with all her might for one side of the audience. Where at the very end of showing off her victim to each of the four corners, she will snap them into a stunner and go for the pin.
[Secondary foot note: I intend to work on this further and expand upon this, my job has me very busy recently so I wanted to get it out there, hopefully the product is enough to allow for roleplay but I will continue to work on it! And sorry for the images, I tried everything to cut them down to a smaller size that I could think of, not very savvy with that.]

Echidnut




Posts

: 8


Join date

: 2021-04-17



Approved! You may RP as you wish.
_________________

acuyra




Posts

: 19142


Join date

: 2014-02-14


Age

: 37


Location

: Charlotte, North Carolina, WOOOO!



Similar topics
---
Permissions in this forum:
You
cannot
reply to topics in this forum