Who is online?
In total there are
42
users online :: 3 Registered, 0 Hidden and 39 Guests :: 3 Bots
Cleomori
,
Void Effect
,
Yori
Most users ever online was
418
on Tue Jul 30, 2019 9:51 am
Champions & #1 contenders
Looking for a tag team match up.
Mon Dec 04, 2023 7:38 pm by Moriarty
Comments: 0
Tension Match for Melanie~
Tue Nov 28, 2023 12:56 pm by Leon564
Comments: 9
Howdy strangers.
Wed Nov 29, 2023 1:25 am by Yori
Just a small hello from an old face. I will be coming around for a bit soon and figured I would pop in. To anymore I have an unfinished thread with, if you have a desire to continue it with me just let me know and shoot me a link. While I am open to fielding ideas for new threads, I will be very selective with taking anything while I gauge my activity capability and trim/update my roster.
Toodles.
Comments: 4
Continued from here…
Army took Rainbow Mika's hand, all too happy to accept the help in rising - he needed it, badly. He hadn't expected the match to be softball by any stretch of the imagination, but he hadn't bargained on it being such a heavy hitting brawl, either. She'd left him sore all over, aching all over his back, with a migraine that would be lasting for a day or two at the minimum. It was an insane performance, and while he was happy to be at the center of it, his body was much less keen on it.
He was about to tell her as much, too, and give her all the props she had coming her way, when the lights cut off across the arena without a single warning, bathing the ring and the audience in total shadow.
"RAINBOW MIKA!"
A single spotlight came on, shining at the top of the entrance ramp. There, a woman stood with a microphone, a dazzling beauty with icy blue eyes and long, shimmering blonde hair. Her attire brought to mind the look of a Russian soldier, and her hat was the Ushunka, a fur cap that many would associate with the country. If that were not enough, even the two words she spoke into the microphone were laced with a thick, rich, and unmistakable Russian accent.
She cleared her throat as the audience looked on, confused, and focused solely on Rainbow Mika, centering on her from far away. "I have come to give you a message from one who would challenge you to rigorous combat, to one who wishes to test you skills and see the full extent of your mettle. He was born into the icy wilds of Siberia, as much a home to him as it is to the many beasts who prowl its wilds. A legend, he is known throughout all of Russia as a testament to the strength of our people, a shining beacon to the world, an example of what we are at our very best. In gorilla positions throughout our country, his name is whispered in hushed tones, by those who both fear and revere him, for they know that the mere mention of his name is enough to tempt his coming, as sure as the devil himself. But he is no demon to be dreaded, no villain to flee. He is the embodiment of strength and raw iron will, the very personification of wrestling itself! Before him, all weakness crumbles, but in his wake, all are bettered and improved, for to face him is to see the highest limits of the human body and grappling prowess. His opponents leave the ring knowing that they must strive to live up to his shining example and better themselves. There can be no stagnation in his presence, only progress. Perhaps, then, this is why your Ms. Fairchild was so eager to sign him under Tension's banner, for she knew -
knew
, beyond any doubts - that, by simply setting foot in this arena, he would elevate the level of competition and bring Tension to new heights. Rejoice, Rainbow Mika! Be grateful! For this man could have chosen anyone to be his opponent, and considered many. Dasher Inoba, Kyo Akamatsu, Gwendolyn Bettencourt, Mako Adachi, Reira Kirishima, Rebecca Tomko. These names and more were bandied about, but upon seeing you in this match, seeing your spirit, your determination, your skill, he chose you without a second thought. He has deemed you worthy of the distinct honor of being his first opponent. The match, should you accept it, will be legendary, a battle worthy of songs, a fabled contest. Of this, there is no questioning."
The woman, breathless after such an exhausting speech, stepped to the side with open arms, moving out of the way as a hulking figure emerged from the curtains. Clad in a red robe, the audience began to erupt, as such a form was unmistakable to even the most casual wrestling fan. There was no mistaking that body, those muscles, that size. It could only belong to one man, and the woman's words confirmed it a moment later.
"Rainbow Mika! If you are willing, if you are brave, if you are strong, then I present to you your opponent at Showdown. The one, the only, the man, the myth, the legend, the titan among men: The Red Cyclone,
ZANGIEF
!"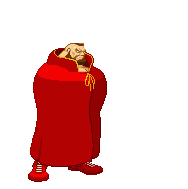 At the mention of his name, ZANGIEF tossed his cloak aside, raised his arms into the air and bellowed, his cries carrying well over the roaring crowd.
"HARASHOOOOOOOOOOOOOO!"
Army, who had just been stonefaced this entire time, blinked a few times before he gave Rainbow Mika. "Yep, I'm outta here. You have fun with
that
." He promptly made his way to the ropes and slipped out to the crowd.
_________________

acuyra




Posts

: 19142


Join date

: 2014-02-14


Age

: 37


Location

: Charlotte, North Carolina, WOOOO!



Army accepted Mika's hand graciously as she pulled him back up. He seemed to be on the verge of saying something, as well, possibly in response to her offer of an autograph...that was, until the lights suddenly turned off.

"What the--" Mika gasped, wondering just what the hell was going on, or who might be trying to make a dramatic entrance right at the end of her and Army's match. She got her answer very shortly: a woman was standing at the top of the entrance ramp, with ice-blue eyes and almost platinum blonde hair, wearing a fur coat and a ushanka. From a distance, it was impossible to tell anything about this woman's build, but all the same, Mika's heart leapt a little at the sight of her. Was she a new challenger?

Apparently not. The Russian woman spoke into the microphone, declaring herself to merely be a messenger for a new contender. As the woman spoke, Mika moved closer to the edge of the ropes, staring at the woman, a frown crossing her face. The Russian woman went on, speaking of some fabled wrestler from the wilds of Siberia, a wrestling force of nature who was a legend in his own right. As she spoke on and on, Mika's hand involuntarily clenched when she realized that there was only one man whom this woman could be talking about.

No...it can't be him...

And then the figure emerged from behind, his name was announced, and he dramatically hurled his cloak aside, revealing himself to be the hulking mass of muscle, chest hair, and beard that was infamous in the wrestling world, a man who whose face and body were well known to anyone who had grown up watching pro wrestling as a kid. A legend, a nightmare, a force of nature as unstoppable as the Russian winter itself.

Zanghief was here.

For a few seconds, Mika stood in frozen, mute amazement. Throughout her career, Mika had been outspoken about two wrestlers who had influenced her the most. One was her sensei, Yoko Harmageddon. The other was the Red Cyclone himself, Zanghief. It had been one of her lifelong dreams to run into Zanghief and get his autograph. Instead, in a few minutes, she was going to be fighting him. The thought terrified her more than it thrilled her: not only would she have to fight her idol, but she knew full well that Zanghief took no prisoners. It might just be the hardest match of her career.

And then, at that moment, Army proceeded to hightail it out of the ring. "What the--!" she exclaimed. "You...you cowardly son of a--"

At that moment, she felt someone tapping her shoulder. She turned to see Nadeshiko leaning over on the other side of the ropes. "Mika," she said, concern written on her face. "don't be afraid to say no. It's one thing to work your way up the ranks fighting guys like Rodriguez...but Zanghief is on a whole other level. Are you sure you're up for facing him?"

Mika said nothing at first. In all honesty, she was terrified of the idea of fighting Zanghief, even if Showdown was a while away. But on the other hand...the last thing she wanted to do was lose face in front of her fans. She had never turned down a challenge in her life: she wasn't about to start now.

"Quite sure," she replied softly, before walking up to the very edge of the ropes and holding out a hand. As if on cue, the referee came up and handed her a microphone.

She pointed dramatically at Zanghief. "You think that loud noise of yours scares me, big guy?" she taunted. "Please! That just tells me you're nothing but a lot of hot air! I, Rainbow Mika, accept your challenge, Zanghief! Face me at Showdown, and you'll see I'm more than just the best that Tension has to offer-- I am THE best!"

At this, the crowd erupted into applause at Mika's bravado. This confirmed it: Rainbow Mika would be taking on Zanghief, the Red Cyclone, at Showdown-- a battle that a lot of people had been wanting to see for a long time was finally going to be happening!

Underdog21




Posts

: 6219


Join date

: 2008-04-26


Age

: 37



"Hot...air?"

Something about Rainbow Mika's words seemed to set off the woman, and she leaned forward with a spark in her eyes. They had expected that this woman would have some bravado, that she would show spirit, but such impertinence! To say that Zangief was only talk! His record spoke for itself, but if she needed to elaborate, she would happily do so. "Foolish words. Perhaps you do not fully grasp the opportunity thrust upon-"

She was ready to let fly with another glorious speech, and was already preparing her lung for the challenge when ZANGIEF stepped in front of her and held out his hand. She went silent. Still. Not another word was spoken. Instead, she stood and looked on as the Red Cyclone made his way down to the ring. The crowd grew even wilder than before, their chants growing louder with each mighty step he took. Would they be given an early preview of the bout to come? Would this all start, here and now?

ZANGIEF made his way up the steps, onto the apron, and brought his leg over the top rope with ease, entering the ring with one thunderous leg after the other. Undeterred, he made his way over to Rainbow Mika and stood in front of her with an iron visage. His hulking form cast a long shadow along the ring, one that flickered with every camera flash around them. His body surged with every breath and his muscles swelled with untapped power as he towered over her.

He could have attacked. He could have struck her down. He could have done many things.

Instead, he only extended his hand. [B]рад встрече с вами, Rainbow Mika. I await our match with great anticipation."

_________________

acuyra




Posts

: 19142


Join date

: 2014-02-14


Age

: 37


Location

: Charlotte, North Carolina, WOOOO!



The crowd went silent, at that moment, as Zanghief stepped into the ring. The apprehension was visible on everyone present: Nadeshiko bristled in the corner, seemingly poised to run in to help Mika at a moment's notice, though judging by her face she didn't rate her chances very well if she did so. The ref girl was watching everything anxiously, standing back and waiting to see if she actually needed to intercede.

Only Mika was standing her ground. Even though Zanghief was now looming over her like some vast, terrible mountain of muscle and beard, even though the size and weight difference between them was hilariously off, and even though the brutality Zanghief had inflicted upon his opponents was the stuff of legends, Mika didn't flinch. Instead, she looked up at Zanghief, and met his stare.

Internally, of course, she was thinking ohmygodohmygodZanghiefisintheringwithme, this cant be reeeeaalll, but she had no intention of letting even an ounce of apprehension show as she met the state of one of her heroes.

She took Zanghief's offered hand, and shook it firmly. "So do I, Zanghief," she replied. "So do I."

Underdog21




Posts

: 6219


Join date

: 2008-04-26


Age

: 37



---
Permissions in this forum:
You
cannot
reply to topics in this forum