Who is online?
In total there are
28
users online :: 2 Registered, 1 Hidden and 25 Guests :: 3 Bots
Diesel_Electric_Razor
,
skip-stop
Most users ever online was
418
on Tue Jul 30, 2019 9:51 am
Champions & #1 contenders
fraction match wanted
Tue May 23, 2023 6:46 pm by Rohi Yamin
Comments: 3
Leaving here because of a baby
Fri Jun 02, 2023 4:22 am by Coolgirl1999
Goodbye everyone but I have to leave as I longer will have the time to roleplay as you seen by the title I have recently got legal custody of a family member 3 month old son and I have to focus on him, pets and work now which means I won't be able to do any more roleplay matches for a while, so goodbye
Comments: 1
Tension Match Hunt
Fri May 19, 2023 9:50 pm by GrandAkumaShogun
Looking for matches for my boys
Takeichi Mori
Takeshi Kawai
If anyone is interested feel free to hmu. ty in advance to anyone who responds.
Comments: 2
Page 3 of 3 •
1, 2, 3
To tease, to not tease? Aiko loved the thought of picking the petals off a flower to decide her opponents fate. A petal here, a petal there, the floor of her mind sprinkled with the soft pink petals of the flower in her hands. Saeko' scare rested on the choice of the last petal which came quickly. Aiko was still mindful to keep her opponents subdued until she reached the end, feeding them honey sweet words to avoid pain, giving them an option that surely would matter with the petals now raining down. It was hard sometimes keeping her own desires in check, this system allowed her to balance out those urges of hers and of course, give her playthings a chance to think themselves.

Saeko seemed to be coming around to her way of thinking, avoiding all the pain and accepting a mountain of pleasure but that die was tossed away. The option for mercy was gone for the time being and in its place was her system. The flower her mind had shaped came down to the last three petals. To not tease. To tease… To not tease. As that last petal fell, she grinned, the decision to hold back and deliver some punishment was made.

Her pitiful opponent was mindless when she began the transition, snaking her arm around their neck while she went for that rubbery adjacent leg, pulling it up before lifting the manager her high. The cries for her to wait. A futile plea but Aiko felt she could entertain the thought.

"Wait? You know I can't do that, Saeko sweetie besides, I don't get anything from it." She states, her words softening to a whisper only she could hear. "Youre going to be an excitement. First, always comes pain." She adds, allowing gravity to take her and her rival as they crash against the canvas. Aiko swings on her knees to face her handiwork, usually she'd taunt a pin here but this was a handcuff match. Instead, she'd swing her leg over Saeko, to kneel over them in a domineering fashion before she leans in against her hopefully downed foe. Her pools locking onto them. "Does my lovely test subject want another dose of pain or would she prefer a dose of something more…appreciative?" She asks.
_________________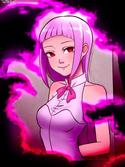 LilyStar




Posts

: 919


Join date

: 2018-02-27


Age

: 27


Location

: Your heart



At that rate in the match it was clear that Saeko was struggling with everything and was nothing more than putty in Aiko's hands waiting to be molded as the raven haired would see fit. The manager had become a scared little thing, cowering at the only suggestion of pain coming to her or even something more risqué, her mind blocking completely as she was prey to the fear and overthinking she was doing. Just thinking on what that woman could have in store for her was enough to send the chills through Saeko's body.

Moreso, it wasn't as if the pale haired was going to do something to escape as she was already set for an upcoming suplex. From her position whimpering and pleading for mercy was the only thing she could do, but at that point it was clear that Aiko was enjoying what she did and there was no way to circumvent what was coming. No matter how hard Saeko could try and get off the hook by whimpering it was as Aiko said, there was no benefit for the woman in that and softening Saeko while still teasing her looked like the best way to go.

Finally, with a thud and a short cry of pain Saeko's back impacted against the mat. She wasn't used to being in the receiving part of that kind of moves, and her body sprayed on the mat as Aiko would get a knee on her while posing for everyone. When asked what kind of punishment she wanted now, the manager broke, whimpering in despair. "P-please… no more..." Saeko just wanted her torture to end, to turn a page on that terrible day she was having and try facing her career with some optimism, but it would definitely be a hard thing after what was transpiring that night.
_________________
BEHOLD MY ICY FORTRESS

Iceman




Posts

: 1829


Join date

: 2019-11-13



The impact forced a cry and whimper from the manager as she duplexes the poor thing into the canvas. Regrettably it appeared as if they had no more fight in them, whimpering again for mercy, for it to be all over. Aiko straddled their stomach, her kind hands running along their cheeks as her thumbs press against their mask. "Thats a shame, I really wanted to see what else you could do but it appears the test has hit its breaking point." Declaring such a statement meant that anymore test involving her…athleticism was now off the table. She had so many more ideas to try but now was the time to offer up the carrot instead of the stick.

"I'm taking this off now. I know what you said earlier but you know the name of the game. The name of the game now is to properly care for my subject." She'd go easy with the push, attempting to reveal the managers true face admits the crowd. She didn't much care for their cheering, to Aiko, this moment belonged to her and her alone. If Saeko didn't fight back, she'd slip the mask off with relative eases down would admire them from above. Aiko would smile down as she loomed, her hands cupping the managers cheeks as she lightly scoots up, the sound of the woman's bodysuit screeching underneath. [color=#000000]"Mm, my, oh my. Aren't you just a sight. It's time Tudor the next round of tests, Saeko dear~. You're more than welcome to fight back but I love subduing my subjects." She warns.

The whimpering, the squirming, she couldn't help but find a charm in it. She held the bonds of her prisoner right in her hands. She could fine on her prey before locking them up tight, couldn't she? She was merciful in that she wouldn't tear off the woman's clothes like an animal, no, she would finesse it. Her experienced hands run down the woman's chest, Aiko leans down, her grin ever present. Her lips hang just mere inches away before coming closer for a kiss. With a soft squeeze, Aiko makes her authority known, would Saeko sucker punch her? The biologist wasn't entirely sure but she'd love to see them try.
_________________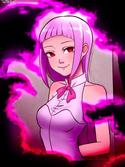 LilyStar




Posts

: 919


Join date

: 2018-02-27


Age

: 27


Location

: Your heart



Page 3 of 3 •
1, 2, 3
---
Permissions in this forum:
You
cannot
reply to topics in this forum