Who is online?
In total there are
33
users online :: 1 Registered, 0 Hidden and 32 Guests :: 3 Bots
skip-stop
Most users ever online was
418
on Tue Jul 30, 2019 9:51 am
Champions & #1 contenders
fraction match wanted
Tue May 23, 2023 6:46 pm by Rohi Yamin
Comments: 3
Leaving here because of a baby
Fri Jun 02, 2023 4:22 am by Coolgirl1999
Goodbye everyone but I have to leave as I longer will have the time to roleplay as you seen by the title I have recently got legal custody of a family member 3 month old son and I have to focus on him, pets and work now which means I won't be able to do any more roleplay matches for a while, so goodbye
Comments: 1
Tension Match Hunt
Fri May 19, 2023 9:50 pm by GrandAkumaShogun
Looking for matches for my boys
Takeichi Mori
Takeshi Kawai
If anyone is interested feel free to hmu. ty in advance to anyone who responds.
Comments: 2
Page 2 of 3 •
1, 2, 3
Having her plans go unhindered was always a nice feeling. She felt that this was a somewhat calculated move on her part but perhaps this was more based around enduring, observing, and then acting. Saeko wasn't going anywhere with her hug and even though it was tight, she wasn't completely immobile, she had enough room to grab and retaliate. Aiko felt she needed to show no mercy for what came next, what did surprise her was the manager going stiff yet again. Their nerves must seriously be tearing away at them, the poor girl. With a sharp turn she came down on the woman to clash against the mat, adding her body weight to apply even more pressure to the crash.

The feeling of their hold was now nonexistent as she pulled shifted her knees up to seat herself on their abdomen. Saeko looked many things but out of it wasn't one of them. She looked confused more so but she could also see a hint of fear in their eyes. Why were they scared? Their match had only just begun, Aiko, despite appearances, wouldn't think of really harming someone beyond repair or bullying them into submissions- wait, she might do that actually but all in good fun of course!

The scientist had the run of her opponent now, she leaned down, rubbing her hands up from her stomach over those mounds to cup her cheeks. "Dont worry Saeko-Chan. I'm going to make you feel good before this match ends, you can fight back but it won't stop me." She whispers, running her hands back down their front over those mounds, pressing her palms against their rubbery flesh. It was a rather pleasant feeling. The suit had a nice texture, one she felt she couldn't pry away from but for now she wasn't going to back away. Besides, she wouldn't lose from being mounted like this, the only way out of here was in handcuffs~.
_________________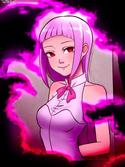 LilyStar




Posts

: 919


Join date

: 2018-02-27


Age

: 27


Location

: Your heart



Saeko was just in the middle of her debut after only some weeks of formal training. The woman wasn't fool enough to consider herself a full fledged wrestler and that was absolutely working against her morale. She didn't feel ready and that only made her unreadiness even worse. That was why even when she got a good move on Aiko out of panic, her control over it was so flimsy that the brunette managed to easily overcome it and slam the manager on the floor.

From her new position Saeko noticed how her rival straddled her. That couldn't mean anything good, and less even coming from the straightforward Aiko. The woman was shameless about the lewdest aspects of that match while the only thought of those actions made Saeko blush. Actions would follow those thoughts as Aiko leaned in and had a try at Saeko's breasts. Even through the leather material of her wrestling costume the manager felt those eager hands. Then Aiko talked and even if in her mind it sounded like a reassuring statement, it only made Saeko more nervous.

Aiko remained there, in control of the situation while giving some good fondling to Saeko's breasts. The manager needed to get out of that situation before things could go to worse, so she swallowed all that paralyzing fear she was feeling and started bucking her body to the sides in hopes of getting some momentum that could lead her to maybe, maybe making her rival a little more complicated maintaining her balance. It was clear at that point that if allowed Aiko would ravage her body, so Saeko groaned in exertion as she put all her strength in not giving up so early, showing some will to fight for the first time since she set a foot inside that arena.
_________________
BEHOLD MY ICY FORTRESS

Iceman




Posts

: 1829


Join date

: 2019-11-13



She sat upon her throne, a Queen in the making as her hands eagerly cupped their mounds. Her palms pressing, kneading their breasts, Aiko was aiming for a loan but it seemed the more she touched or spoke, the more nervous her opponent became. What was she doing wrong? Surely she wasn't so bad at flirting that her charms were utterly failing, was she? No, perhaps she wasn't clicking somewhere. Maybe she ought to get their input in the subject. A hypothesis could be formed with this information and then experimentation.

She had a moment to herself, she'd Scot just a hair up, her legs tightening along their leathery waist, as she looked overhead. "I've been speaking to you this entire time. I'm feeling a bit ignored since you haven't replied even once. Do you hate me? Is that why you won't relax for me?" She asks, preparing to lay down her next assault but Saeko seemed to have other plans.

The first buck caught her completely by surprise, her body almost flung forward making her reach out to catch herself on canvas. The second made her jump, the manager was resisting her, this wasn't a good time for that, especially when she was attempting to press her advantage, now in shambles. Aiko wasn't going to let herself be captured, as another wave of bucks came, she flowed with the movement, holding back her resistance as she landed in her bottom. It was hard to understand what was going through this woman's head but she supposed she had an idea. The scientist in her wanted to poke and prod for answers but perhaps that could come later, once she had them mewling for her.

With a smack of the canvas, her hands would propel her forward, rolling her body up to a standing position. The brunette would settle her hands on her hips and began to pace around her rival. The cuffs weren't within her reach but then again, why rush it? She smiled, stopping center ring, awaiting Saeko to get to her feet. "So, shall we continue this little dance, Saeko-San? Why don't you come to me this time, I promise we'll have a sweet time together, I won't bite...to hard, at least."
_________________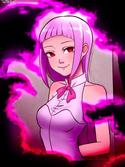 LilyStar




Posts

: 919


Join date

: 2018-02-27


Age

: 27


Location

: Your heart



From her lying position with her rival straddling her Saeko felt exposed and defenseless. It may be true that her costume was robust and she even had a mask hiding her embarrassement, but still the manager could feel how the crowd oogled at her plight while her rival preyed on her. Aiko was getting her naked with her gaze while also getting a good feel of her breasts, and in the end that was what awakened Saeko out of her stupor and finally convincen the white-haired to start working in order to escape.

It wouldn't be an easy task thoug. Even when the first of her jerking motion got Aiko by surprise and almost takes her down, with each coming buck the sultry woman was feeling more and more confident, riding Saeko as a cowgirl would ride a wild bronco. Definitely Aiko had done that before given how well she performed at staying on top of the situation. In the end, all of Saeko's movementes were just a waste of her energy. It surprised the manager hearing her rival reproaching her for her lack of speech. Again it left her wondering: were those honest thoughts or just part of some twisted mind game in order to get to her?

Saeko wouldn't have much time to digress about that since it looked like Aiko had some plans for her. To Saeko's surprise Aiko just gave up on her riding and got on her feet, letting Saeko do the same. Then Aiko got her hands on her hips and circled around Saeko while berating her. "I-it's not like that.", the manager started explaining herself. "Maybe you are used to this, but I jumped in here with only weeks of training. I'm no wrestler at all, and the idea of having… a more intimate exchange in front of everyone overwhelms me, but I am here and I have to defend my place in this ring." After saying that Saeko would run at Aiko in a clumsy but surprising spear move to the woman's stomach!


_________________
BEHOLD MY ICY FORTRESS

Iceman




Posts

: 1829


Join date

: 2019-11-13



She was a bit reassured that they didn't hate her, it's not like she hadn't done anything drastic. It was when they made the assumption that Aiko was used to this that she had to stop them there. Sure she perhaps had a bit more training and experience but that didn't always make the woman, it was trial and error. She couldn't exactly let this one slip by. "Used to this? Hardly. Don't bring up short comings with me, its not, how do the Americans say 'kosher'? Yes, I believe that's it. Even with a few weeks of training you could win, and about this 'intimate exhcange' you're so frightened of.." She trailed off, her focus broken as the manager charged her.

Having her center caught up in their spear, she doubled over before finding herself splayed out onto the mat. She rolled to her side, grimacing at the now sickening pain radiating from her stomach. Perhaps she was taking Saeko to lightly but this was now war. Every turn she offered love but maybe her approach was to comforting. One must first offer the stick before offering the carrot.

For the time being, she would lay there, attempting to recover her senses before retaliating. Aiko was going to have to be a little stern with them at this point or else this is where she would end up every time. If Saeko allowed her, the brunette would roll over onto her knees, clutching her stomach as she attempted to grab hold of the middle rope to pull herself up. The manager was going to learn very quickly that Aiko was much more than a pretty face.
_________________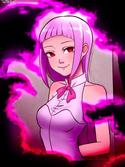 LilyStar




Posts

: 919


Join date

: 2018-02-27


Age

: 27


Location

: Your heart



For a moment before Saeko rammed Aiko it looked like the brunette woman was actually trying to reassure the manager. Saeko was obviously under some distress given her lack of experience and it looked like the sultry Aiko wanted to relate and help her overcome it a little. Of course there was still the chance of all that being some bluff in an attempt to make Saeko lower her defenses, but for some instants it looked like Aiko's intentions were pure. That didn't stop the manager from spearing her rival though.

From the position she was at the moment, Saeko should have mirrored her rival's previous move and got in a straddling position from where she could make good use of her advantage, but in the end her reaction time turned out to be too slow to do that and Aiko managed to roll over and get to her knees. Using the ropes as support, the brunette managed to get on her feet once more while Saeko looked, resetting the match once more. Something looked different in her gaze now, and Saeko almost regretted showing that resolve as it now looked like Aiko was ready to get the fight going. The manager breathed deep and observed, not willing to give Aiko any chance at ruining her night. She would wait for any signs of attack, being ready to evade or counter when possible, a look of unsettling on her face...
_________________
BEHOLD MY ICY FORTRESS

Iceman




Posts

: 1829


Join date

: 2019-11-13



For the time being she managed to rub in her pain, soothing it for now but Aiko knew she was going to feel it later. Her pools found themselves looking up to find Saeko attempting to close in but they hesitate and back away. Perhaps that was the best move on their part, Aiko could've snatched them into her clutches again. The brunette began to form a plan, the Manager was on guard but that wasn't going to stop her. Everyone had chips in their armor even the ones apperantly wearing it, it was only a matter of exploiting that weakness that Aiko would focus on.

Observing her previous encounter, she could deduce that her opponent wasn't in the fast side. Wether it be hesitation or actually lack of the ability, perhaps she could use that to her advantage. The way her opponent was poised now, they seemed to expect an attack, Aiko felt obligated to oblige them but maybe she ought to try a more...exaggerated approach.

She could still sense their uneasiness, even through their resolve, there were hints of fear. Another run to her aching center urged Aiko on, she began to slowly close that distance one step at a time. Her approach of anything was anything but calm, collected. She felt this wouldn't work on anyone but Saeko, with her next step, she'd press forward, digging her boot into the canvas to propel her toward the target. Her aim was to knock the wind out of them and she'd do so with precision as she raised her knee to collide with the Manager's body. Her competitiveness suddenly sprang forth, it wasn't to be spiteful by any means but sometimes, actions speak louder than words. Saeko wasn't allowing her in, a problem Aiko couldn't accept. She didn't expect them to outright reject her advances but she did so rather harshly.

If her knee connected, she'd use the position to double over the manager, she didn't want them to be afraid but one must overcome their fears to progress. Evolution was a prime example for her thought process. If the leathery knight followed her wishes, she'd grab hold of their arm, twisting it up before she side stepped to find herself behind them. If her plan followed its course she'd press her self tightly against her rival, her free hand lightly cupping their cheek, her thumb rubbing its hold to soothe her. "I was speaking and you rudely interrupted me. Be a good girl and listen, okay? I want us to enjoy our time together~." She whispers, playfully sinking her teeth into their earlobe, pressing her core against their bottom.
_________________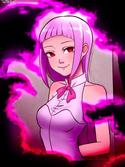 LilyStar




Posts

: 919


Join date

: 2018-02-27


Age

: 27


Location

: Your heart



Saeko was at the moment pushed against a wall and with a sword to her chest. At first her outburst of energy that got her hitting her rival hard could have looked like a wonderful way of breaking the ice for the manager and a powerful statement of the white haired being actually capable of throwing some good strikes. It could have been a good way for the manager of showing herself that she was in that fight and that she could get some damage done if she focused, but Saeko still needed to get rid of all her unease to become a true contender to that night's match.

Instead of that Saeko was still thinking about how Aiko looked ready to prey on her body and how to avoid just that. The idea of being hit by actual wrestling moves wasn't as heavy on her mind as being toyed by some sex weirdo. Luckily it looked like Aiko wanted to slowly move and approach her, and that allowed Saeko to maintain her distance with slow calculated backsteps.

Until she wasn't. With a sudden rush, Aiko planted her boot on the canvas to spring forwards, taking Saeko completely by surprise with that change of pace. "Ooooomph!" Saeko's eyes widened and all air escaped her lungs as Aiko's knee dig deep within her stomach. Bending herself over while coughing, Saeko tried to get some air back but Aiko wasn't just willing to stand there and allow her.

With a move that had some grace to it, the sultry brunette got a grip on one of Saeko's arms and twisted it behind her back. "H-hey!" The manager started fighting back by flailing her body. She could notice Aiko's teasingly whispering on her ear and she wanted that to stop, but all her struggle went to a complete halt with a low pant as Aiko started nibbing her earlobe! Saeko's body froze in place, her mind shaken in fear of what might come after.
_________________
BEHOLD MY ICY FORTRESS

Iceman




Posts

: 1829


Join date

: 2019-11-13



Everything seemed to fall right into place. Forcing the poor woman's air out from their lungs, the pain etched onto their face. Aiko was making progress and that deserved to be acknowledged, especially after the slight beating she received prior, while she was talking no less. Still, she had a handle on Saeko now, maneuvering to capture their arm, twisting it behind her back as she held them in a less than comfortable embrace. She wouldn't let them go so easily either, a chance to get a bit closer to her rival.

As much as she loved to play with her prey Saeko offered little in the heart of the chase. It seemed she was just to frightened of what could be or what comes next. Aiko could sense this was all new to them, just as it was to her but this sort of thing comes with the territory. The manager knew something like this could happen right? The older woman tightens her grip on that twisted arm, lightly cranking it as she ran her free hand down their neck, following the split in her bust down to her stomach.

[color=#000000]"You are so tense, you need to definitely loosen up a little. Come on, now. Don't be so scared, if you're worried because of the crowd focus on just me. Not like there's anyone else more important, correct?" She asks, lightly rubbing her cheek against their own, as much as Aiko would have loved to press on this advance, she knew she had to do a job first, besides, it wasn't like she couldn't try something a little more...risqué later.

With Saeko frozen in place, Aiko had an opportunity to act. She'd drop the capture arm in her left hand, her right zipping from their stomach to grab the hand adjacent to to her own. From here, she'd use the new hopefully captured hand to spin the quickly, using her free hand to guide them under her arm. Normally she'd have something to grab onto but this material looked to slippery for her nails to sink into. Aiko would opt to hook their leg instead. If she managed all of that, Saeko would find herself held up in the air, the threat of a fisherman suplex looming just below.
_________________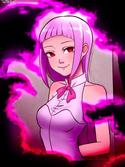 LilyStar




Posts

: 919


Join date

: 2018-02-27


Age

: 27


Location

: Your heart



It may be true that Aiko was a feisty and thirsty one. The woman looked like she had a strong desire for Saeko's body from the very beginning of the match, but since that threw the manager off and made her weaker to attacks maybe it was all part of some cunning strategy coming from the raven haired. Aiko had found her jackpot in making Saeko feel so unease about her sensual approach that she couldn't muster any strength to start fighting back and try to regain some control over the events.

Saeko had to admit that with the passing seconds Aiko's dominant but still sensual approach was somehow undermining her defenses. Not only the physical ones as she was unable to move from that incapacitating hold that rendered her still, but also that sultry attitude of the woman that threatened with slowly but surely make the manager think about wether it would be so bad to surrender herself to Aiko. Only having those thoughts made a heavy blush come to Saeko's face as she couldn't believe what she was thinking, but the truth was that in her mind the seed of doubt was planted. Maybe it would be better for her to surrender her body and spare some pain if she resisted.

None of those disquisitions mattered for Aiko, who was already on the move without Saeko even realizing. It looked like the raven haired had decided to wait more before letting her instincts loose because now she was moving more like a wrestler and less like a honeytrap. Before she could realize, Saeko saw herself completely immobile thanks to Aiko wrapping herself around her body, and then she took off as she was lifted in the set up for a fisherman suplex! "N-nooo! Wait!!" Saeko tried jerking her body, but at that rate her actions mattered little considering how the suplex was going to happen no matter what.
_________________
BEHOLD MY ICY FORTRESS

Iceman




Posts

: 1829


Join date

: 2019-11-13



Page 2 of 3 •
1, 2, 3
---
Permissions in this forum:
You
cannot
reply to topics in this forum