Who is online?
In total there are
56
users online :: 1 Registered, 1 Hidden and 54 Guests :: 3 Bots
Deus001
Most users ever online was
418
on Tue Jul 30, 2019 9:51 am
Champions & #1 contenders
fraction match wanted
Tue May 23, 2023 6:46 pm by Rohi Yamin
Comments: 3
Leaving here because of a baby
Fri Jun 02, 2023 4:22 am by Coolgirl1999
Goodbye everyone but I have to leave as I longer will have the time to roleplay as you seen by the title I have recently got legal custody of a family member 3 month old son and I have to focus on him, pets and work now which means I won't be able to do any more roleplay matches for a while, so goodbye
Comments: 1
Tension Match Hunt
Fri May 19, 2023 9:50 pm by GrandAkumaShogun
Looking for matches for my boys
Takeichi Mori
Takeshi Kawai
If anyone is interested feel free to hmu. ty in advance to anyone who responds.
Comments: 2
Page 1 of 3 • 1, 2, 3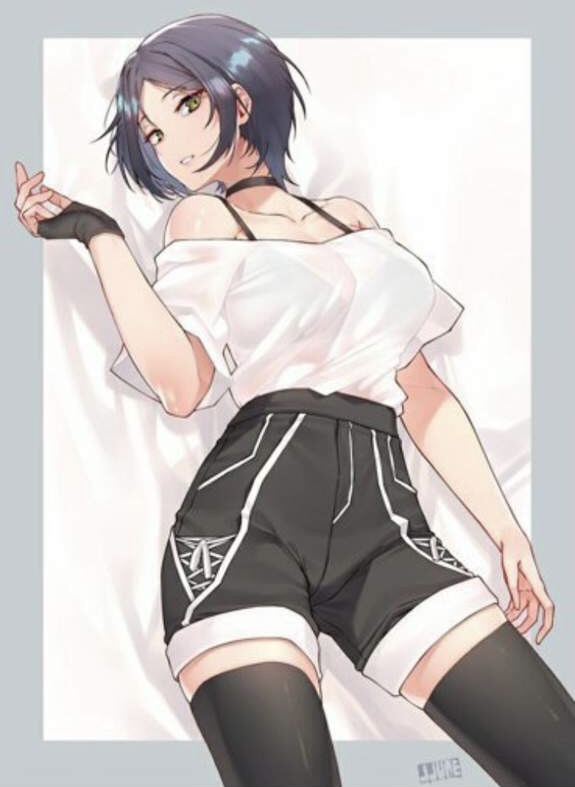 Vs.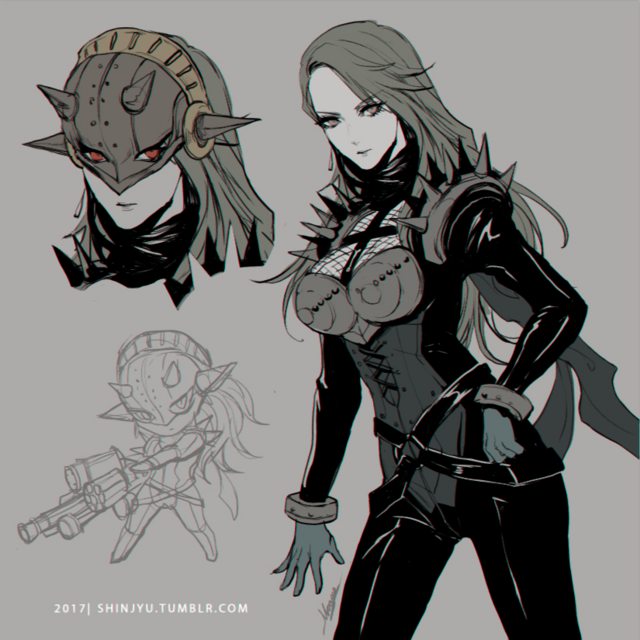 The match is a Handcuff Match, there will be handcuffs already locked into each corner, the first to cuff your opponent to the turnbuckle will be declared the winner. Hentai is allowed and encouraged for this match.
Aiko Hasegawa was ecstatic, a match, finally a match. She was rather psyched about getting her first ever league match against such a cutie too? She must be dreaming. Aiko reread the contents of her email, stating the when, where, and what details of her match. Having the ability to not only play with her opponent but cuff them, this had to be a dream. She could feel herself squealing with delight perhaps something a bit too childish given her age but she could be excited. Coming here, the biologist declared she'd live her life her way, this was what this was all about after all. She could finally be her own person, do the things she never thought of and getting a little frisky along the way.
She took another peek at her opponent, remembering their face to memory later when they met face to face. Saeko had the prettiest silver hair she had ever seen and those chocolate eyes? Killers to the weak hearted. Oh, how she couldn't wait to be in the ring with them, clashing so daringly, going at each other like brutes, the possibilities seemed endless in her vast mind.
First things first she needed to get ready, as she opened her locker door, she tossed in her gym bag, laying out her attire for the evening, she wanted to go a bit riskier but not tonight. She was saving that upon requests after all~. As she removed her skin gray sweater, she'd pick up her white top, the neck was wide, too wide as it caught on her shoulders but fit just right over her bust. Black straps were now visible but she wasn't the same timid girl anymore, she could care less if it was showing. Next came off those dark blue jeans, tossing them inside her bag situated in her locker, she'd pull up her black shorts. Comfy, form fitting and flexible, the material was all she could ever ask for and more. Grabbing her fingerless gloves, she reached into the side pocket of her bag and pulled out her a choker. It was a gift from a dear colleague of hers, she hadn't seen him in some years now but perhaps that was for the best. She lived a different life now, he probably wouldn't want to see her anyhow.
As she finished dressing she took one last look at her phone, the picture of Saeko was still on the screen. She pressed her lips against it, for good luck if anyone asked and placed it on top of her bag and shit the locker door. She was ready, Aiko tightened her boots and pulled her stockings tight against her thighs, Saeko wouldn't know what hit them when she was down as she was going to make damn sure she left her mark here.
She awaited right behind that curtain, just beyond her laid her fate, a fate of a hard fought match in a ring surrounded by hundreds maybe even thousands of people. Her heart began to race, it raced with the thoughts of what she could, what the possibilities of the outcome. She wanted to see it and she certainly would to the end. A guitar riff began to bring her in, as the guitar whammyed, she throw up the curtain extending each hand to embrace the audience, as she walked down the ramp those familiar words of one of her favorite songs rang through her mind.
"Oh, this ain't the end- I saw you againnnn, today! Had to turn my heart away~..."
it reminded her of a simpler time but those days were over.
Climbing those steel steps, she'd jump to the apron of the ring, and walk towards the center. She felt like flexing her abilities just a bit, to show off that she was capable despite her age by pulling that top rope. Using its elasticity, she'd vault over the third rope, landing on her feet to woo the crowd. Getting them to her side was certainly a plus but what she really wanted was just to come, she would back pedal towards the other side of the ring and lean against the ropes. Her focus was entirely on the woman who would be coming out of that curtain next, she had plans for them~.
_________________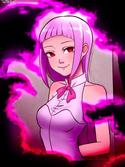 LilyStar




Posts

: 919


Join date

: 2018-02-27


Age

: 27


Location

: Your heart



The roaring of the crowd echoed in a very special way through the arena corridors, making its way even inside the locker rooms. It was just what Saeko needed to unsettle her even more. Sitting in a bench, the manager fidgeted with her legs uncontrollably. She was nervous beyond reason, not even her cold and logical mind could make her take that match with a calm mind. Of course Saeko was fully aware of the clause in her contract that would allow the AFW staff to book her for matches without even consulting her when she signed, but some part of her expected that clause to be used later in her career. Saeko loved her job as a manager and felt fulfilled when working with her clients, she only hoped to be able to do it for a long time without her fights getting in the way or being a detrimental part of her career.

Getting on her feet the Manager looked at herself in the mirror. Not in the wildest of her dreams she would have thought about wearing a suit like that, less use it to wrestle someone in front of a crowd of thousands. Saeko had to laugh at the weird situations life would get people into. Her wrestling gear was top notch quality, she couldn't object about the AFW wardrobe department which made a wonderful suit, but the material even if soft on the inside was rubbery on the outside, and it would clung to her curves in a way that highlighted all of her body in a way that made her feel uncomfortable. She wasn't going to criticize any wrestler for enjoying it, but it wasn't made for her. Saeko put on the mask while pushing all her doubts away. That mask would help her conceal her face. It wasn't as if her identity was a secret, but she was feeling flustered enough without people looking at her face.

Closing her eyes and taking some deep breaths, the next Saeko saw was a masked woman looking back at her in the mirror, but it wasn't Saeko anymore. Maybe that was the proper mindset for what was coming. Her mind was still wondering the idea about her inexperience since she only had some weeks to train, her wrestling experience was so little she feared about getting hurt or injured. But she hoped the ref would stop the match before anything could happen, would they?

Without even noticing Saeko had made her way to the backstage as her entrance theme was starting. The Manager tried to fix her gaze on the ring and walk ignoring everything else, trying not to get flustered by the whistles and cheers from all those people feasting at her with their eyes. She was there to fight in a match and not to be a piece of fanservice for some oogling weirdos.

After a walk that felt eternal, Saeko made her way to the ring. Inside waited her oponent for that night, and she was a tall, well toned and sexy woman. Saeko gasped as she looked at that woman's style and confidence. Her attire was way simpler than hers and yet she walked with confidence as if the whole arena was her scenario. She could learn much about that one, but for the moment she was just frozen in place with an awkward look on her face.
_________________
BEHOLD MY ICY FORTRESS

Iceman




Posts

: 1829


Join date

: 2019-11-13



Here they came, the crowd was already excited to see her opponent but no one was more excited then she was. She'd get to see more than just a picture, Aiko would get to see and touch her rival, something these poor saps wouldn't think of dreaming of. She lightly frowned seeing her burst from the curtain with..a mask? She'd admit it looked detailed, intimidating to some extent but she was a bit dissapointed Saeko was covering their face. Perhaps they would remove it if she asked nicely. Still though, that attire looked rather appealing. It looked almost gothic, no maybe it was entirely gothic, the black mixed with grays melded so well, and the netting on the top? Just perfect. She could tell from the get go this was going to be so much~.

She stared with dedication, analyzing her soon to be opponent as they came down the ramp. Saeko had some definition, their attire obviously hugging their form, it was cute. Was she doing that to taunt her? Aiko felt she was underwhelmingly dressed down. She chose something simple, while the manager came in something that was eye catching, and immediately caught her attention. Man, talk about a bad first impression, it wasn't until they got closer that they realized she was staring too. It made her grin, she wondered if they liked what she had on, or perhaps she saw something else she wanted.

With her rival now in the ring, they froze, that same stare still locked but she had a somewhat awkward face on. We're they nervous? Trying to put in an act maybe? It was possible but why wonder about the what-ifs, not when she had a fun night ahead. Aiko began to cross the ring, her steps slow but steady, in her mind she had to seem like she owned it if she wanted her opponents to see her confidence, to feel it. If Saeko could, she'd feel at least she had some wave of influence.

She'd stop, several steps away stood Saeko, Aiko would plant her hands at her hips, lightly leaning forward as she stared into those chocolate pools, mesmerized for a moment before she smiles again. "Hey there, hon. Love the getup, but why the mask?" She'd outstretched her hands to lightly grasp the sides of their mask. "I think you'd look better without it, what do you say, sweet cheeks? Lemme see that beautiful face of yours in person, I have to see my opponent face to face~." She rolls her tongue, her tone sultry in nature as she took a step inward looking to press herself against them.

The ref didn't seem to want or feel the need to intervene, she would slowly pull it away but if Saeko resisted, she'd stop. She didn't want to make them nervous, she wanted this to be enjoyable, for the both of them.
Last edited by LilyStar on Wed Mar 03, 2021 1:21 am; edited 1 time in total
_________________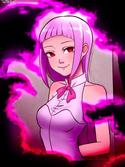 LilyStar




Posts

: 919


Join date

: 2018-02-27


Age

: 27


Location

: Your heart



From the very first moment she stepped down the ramp Saeko had been trembling like a leaf in the wind. The manager felt so fragile, like a small twig so afraid to be stepped on and broken. She could deny it as much as she wanted, but she wasn't actually ready for her debut, not physically nor mentally. And yet there she was, a lost little thing ready to be broken by some nasty rival, but no, she had decided to sell her defeat at an expensive cost if necesary. Her career as a manager was at stake.

Completely the opposite to her frightened state was Saeko's rival for that night. Aiko looked not only confident and sure of her skills, but also resolved and with enough confidence to dominate the scene. Where Saeko looked scary and ready to flee Aiko looked ready for anything. And that involved interacting with poor Saeko who was still to afraid to even react to her rivals… signals. Was that woman openly flirting with her before a match? Saeko knew some things about the AFW wrestlers and their habits, and the prospect of being hit on by some random girl wasn't something she expected.

But even the Manager had to admit that Aiko looked really, really hot. She struck as a hot woman and acting way more natural than her despite her way more revealing outfit. She was also straightforward and flirty. Snapping back to reality by her rival's approach Saeko realized how she was both complimenting her apparel and also asking about her mask. That implied that the woman either knew her face or was expecting something else out of her. Neither option helped her with her nervousness.

Trembling, Saeko wondered what should she respond: "I shouldn't be here. I'm no real wrestler." That sounded terrible. "Please, don't hurt me." That sounded pathetic. In the end, and seeing how her rival looked in the mood for some flirtation, Saeko decided to swallow her fears and go with some retort she thought she would never been able to deliver.

"If you go easy on me tonight I may show you what's behind the mask."

That would solve her problem for the moment while also not getting on her rival's wrong side. Her delivery hinted how nervous she was with some trembling voice, but she did her best. She could only hope those words not to backfire on her.
_________________
BEHOLD MY ICY FORTRESS

Iceman




Posts

: 1829


Join date

: 2019-11-13



Saeko didn't seem comfortable removing it, nor would Aiko push as to the why. She chalked it up to their nerves, the poor girl practically shaking as she tried to come off so cool. She didn't seem to mind though, in fact, she thought it was adorable. Aiko sighed, exaggerating her disappointment as if it were the end of the world, she wasn't an actress by nature but it seemed easy enough, probably. "Well that's too bad, I wanted to take a peek. Sorry to say though my hands are tied, hon. I'd love to take it easy on you, hypothetically of course." She runs her hands down from their mask, to their cheeks and then to their shoulders. Her words flowing off her tongue as they venture further down that rubbery suit.

She'd lightly pull them in towards her, Aiko was always so direct, so invasive. She enjoyed the thought of teasing her opponents or partners for that matter. A Domme at heart, she couldn't help but want to string her new playmate along. Her hands run down their hips, hugging them tightly against her frame as they stood there, so close her lips threatening to touch. "Hypothetically we could be at say, my place? Snuggled together on the couch as a bad romcom plays in the background." She goes about that fantasy, her fingers lightly digging into their suit, her eyes furrowing as she stares into theirs. "Its a shame, though. I would love to take it easy on you, but tonight's going to be anything but easy. I hope you'll forgive me. We can look back on this and laugh later or maybe..."

Aiko trailed off, if Saeko hadn't pulled away, she'd lean in closer then before, their lips hovering so close they could also be seen touching. She suddenly pulls away, holding up her hands with a smile on her face. Of course she wanted that kiss, that embrace but save those sorts of things for the match, she could indulge in them afterwards perhaps, that depends on the manager.

They knew what was in store for them now or if anything just a morsel of what was coming. Aiko felt she pulled it off beautifully, not bad for a now part time marine biologist, she'd think but now was the time to show she meant business. It felt like no one would take a scientist seriously, that would be a real shame for them, she may not be as skilled as most but she was above average for sure, her trainers were all to familiar with the subject. She turns her attention to the referee, nodding slightly to show her appreciation for staying out of her little..."greeting." Aiko would feel awful if Saeko was unresponsive to her but things were about to get heated.

The bell suddenly rings, the older woman taking the initiative to bring the fight to Saeko. It was fairly obvious they were shaken up by the thought of being in the ring, perhaps stage fright was the cause. They couldn't be having that, not when there was a show to run and a woman to cuff. Aiko would attempt to reach out, grabbing hold of the familiar body her fingers and palms had become accustomed to. If she was quick enough, she'd go for a lock up, hoping to overtake her squirming plaything and back them up against the ropes.
_________________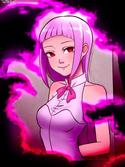 LilyStar




Posts

: 919


Join date

: 2018-02-27


Age

: 27


Location

: Your heart



Saeko was frozen in place as her sultry rival would lower her hands down her mask. The manager was scared about any contact at the moment, but her mask was giving her some false sense of safety and getting rid of it when she wasn't sure about what to think about her rival left her with a feeling of unease. Luckily for Saeko Aiko lost interest in removing her mask and the white-haired let a sigh of relief.

That was until Saeko noticed her rival wrapping her arms around her waist and pulling her closer. Her initial reaction would be cowering and trying to break some distance, but her resistance would be so weak that she wouldn't be able to get any distance between them. That was the moment Aiko kept hitting on Saeko. Could it be that the woman was actually asking her out in a moment like that, to a woman she had never met until that moment, or could it be all about mind games aimed at making her lose her focus. She could feel Aiko's fragrance against her nostrils, the absence of personal space even more obvious when the woman leaned even closer so their lips were almost touching, when Saeko gasped in surprise and froze instantly. She was right about the AFW wrestlers and her rival: not only she wasn't going to get the wasy way, her rival was also going to try some lewd tactics on her… but what could be expected of a handcuff match? It was kinky in nature already.

The only silver lining in all that was that in the end Aiko decided to retreat without further contact since the match hadn't even oficially started. Saeko breathed in relief as she got some space for herself. Maybe if she took control of the match from the beginning she would be able to avoid the less desirable aspects of that sensual combat.

But those were only thoughts because the instant the bell rang it caught Saeko by surprise and froze her in fear. Her rival wasn't eager to wait until she was capable of getting her mind together, so when Saeko noticed Aiko coming at her with her arms up she could only act in a reactive way, her strength failing her as she groaned in exertion as her weak pushing slowly dragged her and her rival towards the ropes. Seeing herself in between the ropes and Aiko's push Saeko could only wonder what was coming next...
_________________
BEHOLD MY ICY FORTRESS

Iceman




Posts

: 1829


Join date

: 2019-11-13



Aiko hadn't anticipated in actually driving them all the way back towards the ropes. Honestly she was expecting Saeko to lash out and keep her in the middle of the ring or snapping her into a headlock but she did neither. Instead she weakly pushed back and now found her back against the ropes. Perhaps she was more shaken up then the scientist originally thought. She felt sorry for the poor thing, maybe what she really needed was some of that worry whisked away by an expert. Aiko was more than happy to take up her mental offer. Saeko was so cute even like this. She could have a bit of fun before the high end impact stuff came later.

As she pressed her captive against those ropes, she'd push their hands up, looking to force the managers hands to follow her movements. Oh, seeing them so tense made her heart melt, they needed to relax and enjoy themselves more. If her attempt to move their lock up to more of a pin against the ropes worked, Aiko would step in, pressing her body against the rubbery frame in front of her. Her bare thighs met the side of the material, her busy mashing against the gothic style woman's own.

"Curious, isn't it?" she whispers as she lightly rubs her cheek against them if their were willing to cooperate with her body's demands. "We just separated from this and look? We're already back to square one. You are so adorable, Saeko-Chan. Just relax for me, you and I are going to have a night to remember. She adds. Dragging her face lightly down their cheek, she would run her nose against their neck before suddenly lunging up, baring her teeth. They sink into the soft flesh, but she doesn't bite hard, she only aims to make a mark before she pulls away for the moment. Her pools locked onto her chocolate orbs again, her hands unlocking Saeko's they found themselves attached firmly to the woman's hips.

Her right hand lightly runs down their thigh, if the manager was still playing to her tune, she would scoop it up, hauling it up against her own waist. "Tell me, Saeko-Chan. What do you want~? What do you want Aiko-San to do?" She asks, her sultry tone acting as a viper to lure her in. It felt a bit odd speaking about herself in third person but that was all part of the plan. She wanted them to understand they had a choice in this. Pleasure first or Pain, that choice was only their's to make. Her fingertips delighted itself in lightly scrunching up their suit. The rubber material was intoxicating to her touch, the more she felt the more she wanted to indulge in it. Especially those well curved bits just asking for her to play with.
_________________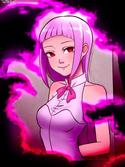 LilyStar




Posts

: 919


Join date

: 2018-02-27


Age

: 27


Location

: Your heart



As Saeko was frozen to the point the bell actually startled her she could only react in a passive way to Aiko's quick lockup in a test of strength, and that lead to the sultry woman pushing the manager towards the ropes, putting her on a complicated position from the very beginning of the match. Of course that could also be due to the obvious difference in experience and training between both women. Saeko was feeling undertrained and that was undermining her already weak confidence. Aiko kept going forcing their arms high upwards while pressing her body against the manager's. Saeko thought that her bodysuit could act as some kind of armor against her rival's advances, but the skin tight cut made it so easy to feel how touchy Aiko was getting.

Aiko was also a sweet talker. It felt both strange and amazing how the woman could softly talk Saeko into losing her small will to fight. The woman spoke with a sultry and playful tone, striking at Saeko's small hints of resistance as she was targeting her deepest desire. Could it be that the bigger woman was actually talking for real in an honest attempt at seduction, or was all of it a well thought ruse to make the manager lose her mind and the match. No matter which answer was correct it was a terrible outcome for Saeko who wasn't sure about what scared her the most, the thought of getting hurt in actual wrestling or get groped and taken advantage of by that rival.

And in the end that proved to be a pretty heavy motivating factor for the scared Saeko who didn't want any of those outcomes. Before her rival who was enjoying her rubbery suit's touch could even react Saeko's arms wrapped around her in a quick and out of nowhere hug that aimed at squeezing Aiko hard! Saeko wasn't really sure about where that skill or willpower came from, but she was just resolved to get the most out of it as she took everyone by surprise, including herself.
_________________
BEHOLD MY ICY FORTRESS

Iceman




Posts

: 1829


Join date

: 2019-11-13



Poor girl, what a poor girl. Aiko didn't want to admit it but even she could see how shaken her opponent was. They must have a very serious case of stage fright or perhaps it was the thought of being hurt that scared them. The scientist could understand that, when she first began it was startling, scary even. She recalled during her training her eagerness but the fear of pain too. Saeko must be terrified of getting hurt or perhaps it's something else that scares her. Aiko wasn't a therapist but perhaps she could help in some way, make them understand there's nothing to be afraid of.

Her lips part to speak but instead of words, a sharp gasp exhales past her lips. Pain slowly began to envelop her as Saeko suddenly reacted, squeezing her tight in a bear hug. What just happened? One moment they were quivering and now they had her locked up? Her profession kicked in, studying an animal in its current state. From observation, she devised that fight or flight had currently kicked in. Saeko opted for fight instead of flight, a rather interesting decision to make in their part but she supposed it was more so due to obligation than survival. How quaint.

Even in her current position, she grinned, wincing as another wave of pain intervened. "Well..Mmngh, Look at you. She declares, pressing her palms against their rubbery shoulders as she winced again. "Not shivering are we...darling~" Aiko adds. Her hands looking to find a place for a firm grip, she struggled at first what with the intense hugging going on. Trying to pry away wouldn't work, instead she'd have to take a different approach and she had just the idea. Pulling her hands away for only a moment, she'd swiftly bring them to wrap up Saeko's top half. Aiko would shift inward, pulling the manager into her chest for only a moment. Her fingers would hook, locking her rival in place. Aiko's gaze fell on them again as she tightened her hug in a bid to escape. Shifting her left foot outward, she'd use their combined hug against Saeko. If she managed to make some progress, she would look to swing the Manager over to plant them firmly on the mat for a bid at freedom.
_________________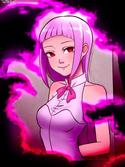 LilyStar




Posts

: 919


Join date

: 2018-02-27


Age

: 27


Location

: Your heart



If she had been collected enough to be asked about it, Saeko would say that she was the first one to be surprised by that sudden burst of energy and strength she got to tightly squeeze Aiko just when the bell rang. Looking at the action from the outside anyone could think that the masked white-haired got her rival by surprise and was now squeezing the life out of her in a nasty move that could definitely work in her favor in that match, but the truth was quite different. Saeko's control over her rival was precarious and her willpower was weak as a twig. It may be true that the manager was maintaining some illusion of control for those looking from the stands, but Aiko would know better.

And it showed when that brunette decided to start workin in her retaliation. Instead of trying to break the hold and get some distance she also wrapped her arms around Saeko. That was the moment the manager knew her rival had some kind of plan and her fear kicked in, freezing the manager in place while Aiko got freedom to toss the masked woman towards the mat. With a gasp of surprise and a groan of pain Saeko's back impacted against the mat breaking her hud and leaving the woman dazed, confused and also a little bit scared while lying on the mat. Thoughts of what her rival would do to her raced towards her mind and gave her some distress, but only time would unfold things...
_________________
BEHOLD MY ICY FORTRESS

Iceman




Posts

: 1829


Join date

: 2019-11-13



Page 1 of 3 • 1, 2, 3
---
Permissions in this forum:
You
cannot
reply to topics in this forum