Who is online?
In total there are
26
users online :: 1 Registered, 0 Hidden and 25 Guests :: 3 Bots
skip-stop
Most users ever online was
418
on Tue Jul 30, 2019 11:51 am
Champions & #1 contenders
Looking for fun Fights
Tue Sep 27, 2022 7:34 am by Leon564
Hello folks! Putting it out that I'm available to discuss matches for either James or Melanie.
If you are trying to find their profiles you can use the character search and type in the following;
James Elforn
Melanie L'belle
------
If it's for an author of my name tag then that's me! You're free as well to throw me a friend request on Discord since I'm not in the Discord server at this time.
Leon564#4514 (Discord)
Thanks for your read and have a great
[
Full reading
]
Comments: 0
Looking for match for Enki
Sun Sep 11, 2022 9:52 pm by Void Effect
Comments: 0
Match Hunting
Sat Aug 27, 2022 2:33 am by GrandAkumaShogun
Hello all who take the time to read this. I'm hoping to get back into the swing of things by having one or more of my boys in a match. If you're interested feel free to hmu on pm or on here and we can decide who will be in the match and we can either plan it or play it by ear. Hope to get a chance to interact with someone I have yet to before. Thank you for your time.
Comments: 2
The Tension crowd let out a roaring cheer as Waking The Lions by Popevil began to play, signaling the return of one of Tensions rising fighters, Riza Hawkeye. The woman had recently gained a massive win by defeating her rival, Army Rodriguez in the final battle of their epic Best of 5 series, only to take some time off to recover from injuries sustained in the match. But earlier in the week, she had joined the AFW Twitter, and sent out a special tweet that got her fans attention: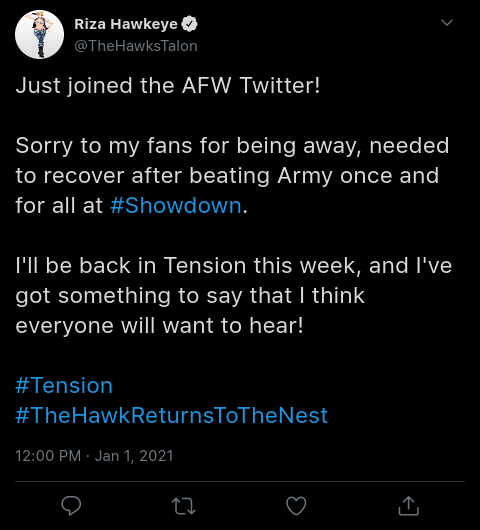 Needless to say, the anticipation was high as she came down the ramp, clad in a T shirt and jeans, microphone in hand, looking around the arena, clearly flattered by her reception. While her first run in the league had been a bust, her second run so far had given her a surge of popularity and positive reception with wrestling fans, who, from her tale of redemption against a former opponent, to her sheer heart shown in all her matches, as well as her talent and, of course, her beauty and willingness to take risks and do hentai matches, had earned her a large following.
Once in the ring, her music dying down, Riza looked around at the cheering crowd, wild grin on her face as she began to speak.
"Thank you. Just...thank you so much. I never thought I'd get such a reception. I hope I've earned it, and will continue to earn your respect and approval! There was a time where I never thought I'd even be back in this ring, much less back and successful and getting this kind of treatment! The battles against Army were some of the toughest I've ever had...but i know there are tougher challenges in this league, and seeking out and overcoming those challenges are exactly what I plan to do!"
Her words got another cheer from her fans, though some of the Army fans in the crowd would roll their eyes and boo the former soldier as she spoke again.
"In fact...that's why I'm here tonight. Right now, I've got momentum from a big one, on Tensions biggest show of the year...and I can't think of a better way to capitalize on that momentum by pushing forward, and going all out...and I plan to do that...by calling out none other than Mako the Shark herself!"
The cheers that followed that statement were loud, her fans surprised she had the balls to make such a challenge. "I know, I know. I'm still new, some might feel I haven't earned a title bout yet maybe. I don't think that matters. I showed how tough I am, and I know our world champion is a
fighting
champion, which is why I'm calling her out, to accept my challenge for a Tension Title Shot, tonight, in the main event!"
With that, even her detractors started cheering, many calling out Mako's name. Title shots on Tension TV were a rare thing, no way would they want to pass up seeing this!
Last edited by Old_Man_Tai on Sun Feb 07, 2021 10:17 pm; edited 1 time in total

Old_Man_Tai




Posts

: 9304


Join date

: 2008-04-29


Age

: 32



After Hawkeye's proclamation there were many shouts for Mako to come out and answer. A challenge for a title shot didn't happen every day and many were wondering how the shark would react to such a challenge. Many looked up to the ramp and to the entrance with an assumption that in only a few moments, the sharks music would blare out and she would answer to Hawkeye's request.
And music did indeed play out across the arena. But not Mako Adachi's
Instead a loud Egyptian theme rang out across the arena. The crowd went wild for while this wasn't the Shark herself, this was instead the winner of the Golden Wrestling Ring Award for the Breakout Star of the Year. Sierra Oasis!
Spoiler:
The massive muscle bound Egyptian slowly walked from the curtain to the shocked cheers of Afw's High capacity crowd, microphone in hand. She walked along slightly before finally stopping at the top of the ramp, starting at Hawkeye from across the way for a few moments before finally bringing the mic to her lips.
"You know, I have to admit that I respect you Hawk. You truly did go through the ringer, what without your whole feud with Army Rodriguez. But I have to ask, is three matches with the same opponent really the qualifications for contendership of the title? Because I don't know about you, but that sounds more repetitive and lazy than Title worthy."
The crowd collectively silenced as Sierra spoke, her size and the strong tone of voice almost giving the command to wordlessly quiet the masses. And as she spoke, she slowly walked down the ramp and to the ring. Whereupon she walked up the steel steps and entered from the middle rope before finally standing mere feet away from where the blonde stood.
"You see, I like to believe that a champion is someone who can take on all comers. Wrestlers from every walk of life and every style. From the most deviant of hentai fighters, to the most violent of hardcore specialists. You. Fought the same person. Three times. Where's the variety in that? Where's the proof that you did more than merely stay in your comfort zone?" Sierra spoke, her fingers curling up to make quotation marks for comfort.
"But most of all. We recently had an award ceremony that awarded the breakout star of the year in Afw. An award that all these incredible people voted on. And I don't recall you winning it. If anything I don't think you got voted for much at all, but do you know who did? Me. Do you know who won this wonderful award? Me. If anything anything means contendership for that title, it's that award. Which means if anything, I deserve the contendership for the tension world title far more than you do."
Sierra's declaration was met with gasps and excited shouts. Many even cheering on for what the Egyptian said. Why shouldn't she be number one contender? She's the one who won the award after all.

Ringropes98




Posts

: 1189


Join date

: 2020-05-24



Hawkeye blinked in surprise as not only did her requested opponent not appear, the Shark rarely missing a show or turning down a fight, and instead she was encountered by...Sierra Oasis. A powerful and beautiful woman Hawkeye had never seen or interacted with, but had been hearing some buzz about since she had come back to AFW, apparently starting to kick up a storm in multiple matches and even won an award recently. While Hawkeye herself wasn't to big on awards, especially fan voted ones, she tried to keep up with whoever was being highlighted by the league.

So she came out and...proceeded to belittle Hawkeye's entire return and claim she was more fit for the title shot instead. Well, couldn't have that, now could we?

"Well, you MIGHT have had a point about your more varied opponents, but its not like Army and I were just doing the same old grappling bout each time. We had variety. A brutal hardcore match, a very hot hentai match, if I do say so myself, a tough submission bout, and one of the most intense and brutal last man standing bouts this league has ever seen, so don't you dare call me lazy, because while I may not have gotten an award for it, I absolutely proved that I can contend and compete in any match type this league has to offer, regardless of opponent!"

She responded, her own fans in the crowd, a number perhaps not as large as Sierra's, but not small either, cheering in response and beginning to chant her name as the former soldier continued.

"Tell you what though...If you want to really question my skill...why not step into the ring and we go a few rounds, see who comes out on top?"

The crowd, both sets of fans, roared at this news, and apparently they weren't the only ones impressed, as Tension GM Erica Fairchild appeared on the titantron, sitting at her desk, with a smile on the blonde womans face. "Very good, very good ladies. I was hoping to see something like this tonight. First off, a warm welcome to Sierra Oasis for showing up in Tension, I've been having my eye on you for a while during your Friction exploits. As for the match tonight, I have to say, it takes gall for either of you to just come out and demand a title match like this...but lucky for both of you, I admire gall. So if Sierra is willing to accept the challenge, then I'll make it official for tonight, Hawkeye vs Oasis for a Tension Title Match at Showdown...what do you say Sierra?"

Old_Man_Tai




Posts

: 9304


Join date

: 2008-04-29


Age

: 32



It looks like Sierra's comments really hit a nerve with Hawkeye, as she wasted little time in trying to defend her actions. Excuses in Sierra's mind, to the Egyptian that still didn't change that she fought the same opponent three times and expected to get a title shot because of it. Sierra did nothing but shake her head at the blondes excuses. But when Hawkeye delivered her challenge to the Egyptian, Sierra was more than happy to reply.

Only she never got the chance, as the titantron suddenly came to life and Erica Fairchild's face appeared on screen. Sierra gave a respectful nod to her when she was addressed. She always had intentions to move to tension but the management at friction were very stingy about letting her go. So it was good to hear that a higher up was looking at her potential and liking what she saw. And she intends on making a splash, and what better way than to win the league's championship.

So when Miss Fairchild offered the match for the title contendership, the Egyptian couldn't help a small grin from forming on her face. Bringing the mic back to her lips she spoke. "Glad to know I've been impressive to you Miss Fairchild. Tells me that I'm doing something right. And as for your idea, if Hawkeye is up for it then I am too." Turning back to the blonde in question she asked. "So how about it Hawkeye? Ready to face off against someone that isn't army Rodriguez?"

Ringropes98




Posts

: 1189


Join date

: 2020-05-24



Well, that was that wasn't it? Hawkeye didn't know very much at all about Erica Fairchild, but she certainly seemed to get stuff done fast, didn't she?
Now with an official contenders match on the table, Hawkeye looked at Sierra and raised up the microphone, only one thing left to say.
"Bring. It. On."
Continued
Here:

Old_Man_Tai




Posts

: 9304


Join date

: 2008-04-29


Age

: 32



---
Permissions in this forum:
You
cannot
reply to topics in this forum