Who is online?
In total there are
23
users online :: 3 Registered, 0 Hidden and 20 Guests :: 3 Bots
FreestylePoet
,
Jstruggs716
,
KillerV
Most users ever online was
418
on Tue Jul 30, 2019 9:51 am
Champions & #1 contenders
After a long time I return, looking for a match
Thu Sep 16, 2021 11:20 pm by GrandAkumaShogun
Hello all, I would firstly like to apologize for the long periods that I've been away from here. Been taking time away to focus on my mental health but I think I'm ready to return and looking for a match or two to get back into things. All three of my boys, Takeichi Mori, Takeshi Kawai, and Imai Cosmo are up for matches. If you want I can link their profiles so you don't have to search through the roster page. Anyone interested feel free to hmu through private messages. Hope to hear from …
[
Full reading
]
Comments: 3
New to site - loking for a fight on Tension
Wed Sep 15, 2021 1:42 am by RedBasher
Hi guys,
This is my first time on the site and I'm looking a deput for my starting character. Here is her Bio and a rundown of what kind of matches she is available for
Eva Cravina:
Eva Cravina Bio:
Eva is a talented but inexperienced rookie face preparing for a debut in the AFW, preferably a standard one. She is aways looking out for a challenge and is willing to take any opponent in the roster, as well as a bit naive and …
[
Full reading
]
Comments: 0
Aye I'm back. I suck. Wanna wrestle?
Thu Sep 09, 2021 6:54 am by yummybunny
Aye I'm back again, the loser that pops in and out for like 5 years straight.
I know I know, no need for cheers.
Uh, but no seriously I'm feeling pretty good lately and would love to throw my hat back in the ring. If anyone wants to wrestle my losers let me know, I have a few now. Just made a new one in fact.
Queen Bitch:
Other than her I have like...A few others? I forgot who's made on here and who isn't. I WILL say, they ain't that good and …
[
Full reading
]
Comments: 3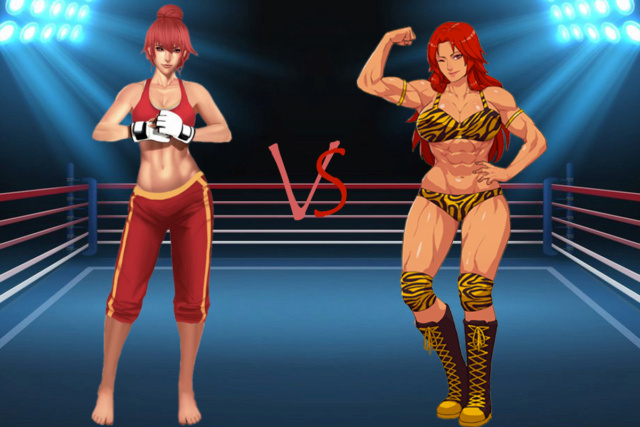 It's no secret that there is no place for philosophy in sports. Sport is not a place where arguments and points of view enter the battle. This is where fists and willpower enter the battle. Here fighters clash and here confrontations are born that capture the hearts of true sports fans. But sometimes it becomes impossible to deny the philosophical side of certain things.
Today we will talk about a real battle of generations. They say that each next generation is always better than the previous one. But does this statement really deserve to be considered true? Taking one of the most striking rivalry in recent years as an example, we will try to answer this question impartially. But this story began long before two women defending the honor of their generations first clashed in the ring.
Alaina Sanders
, one of the main stars of AFW, has been pleasing her fans and true connoisseurs of sports with her matches for many years. This girl has come an incredibly long way since the very difficult start of her career. A series of failures, only occasionally interrupted by single victories, predicted not the best reputation for the American woman. However, this is what tempered the character of the future champion. Alaina continued to enter the ring, gaining more and more experience. And over time, she managed to turn her series of failures into a real vertical rise. Due to its purposeful nature and desire to please the fans, the Amazon was able to break through to the very top, becoming not only a contender for one of the most prestigious belts of the federation, but also become the true Entropy Champion. In the future, Alaina Sanders repeatedly entered the ring against the strongest and toughest opponents, continuing to earn not only the love of fans, but also respect among colleagues. Thanks to her endless pursuit of the top, Alaina is rightfully considered one of the most accomplished AFW wrestlers and one of the most respected veterans. The American woman has become almost a professional wrestling icon, sticking to a classic style that includes devastating throws and submisson holds. But Alaina's unique strength in the ring was not only in brute strength, more than once she was able to surprise her rivals with incredible speed, this ability is loved by her fans and her rivals are afraid of her for this. But no person can deserve true love just for entering the ring. The Amazon is a person with a very big heart. She constantly participates in charity events, whenever possible helping everyone who needs it. She sincerely loves children and for her sincerity she earned true national love.
Charlotte Ravel'
, a young martial arts master who only recently joined AFW, but has already earned audience loyalty due to her very unusual fighting style and demeanor in the ring. The Frenchwoman prefers not to talk about her past, however, it is known that she is part of the wealthy Ravel' family. However, according to Charlotte, she has not maintained any relationship with her family over the past seven years. The Sand Lizard traveled all over the world for six years studying martial arts and after that she decided to settle in Japan. The girl opened her martial arts school for everyone and one day she was noticed by a manager who was gathering promising fighters under her wing. So the Frenchwoman came to AFW. When she first appeared in the ring, the audience was impressed by the professionalism of the martial arts master, as she not only bowed respectfully to her opponent, but also did not break even the most insignificant rule during the match. However, the most remarkable aspect of Charlotte Ravel was her fighting style. She very successfully combined all the martial arts and pro wrestling knowledge she knew in order to adapt to her opponent during a match. Then it became clear why she calls herself the Sand Lizard, it seemed that she really knows how to adapt. The Frenchwoman was quite successful in switching between throws, punches, submission holds and kicks in order to keep the match under her own control. Of course, wrestlers who use several different styles at once were not uncommon. However, no one has yet seen such an experienced and variable fighter as Charlotte.
It seemed that fate itself wanted these two women to meet. And in a sense, it turned out that way. It was pure coincidence. But this initiated the rivalry that brought us here today. This rivalry has reopened the question of the endless opposition of old and new.
Their
first meeting
was not official, but it was this meeting that set the tone for everything that was to happen between the girls in the future. On that day, the gym, where Alaina usually went, was closed and, by sheer coincidence, the choice of the American girl fell on the gym, which was owned by Charlotte. The French woman who coached her students that day could not believe that a true AFW legend had came to her gym. There was no doubt about it. They were supposed to meet in the ring. Students who were eager to see exciting combat became additional motivation. It was just sparring, but both women spared no effort. It was impossible to single out a clear leader, despite all the efforts of each of them. At some point, when Charlotte and Alaina were outside the ring, it seemed that the Frenchwoman had the opportunity to take the victory. However, for this time Charlotte offered to leave this meeting without result in order to meet in a real match. According to Charlotte, she felt that Alaina was not even close to being ready to see the martial arts master as an equal opponent. It left a residue on Charlotte's soul, but both girls knew that the day would come when they finished this match.
And that was true. Their
first official match
sparked a lot of talk among fans and others alike. Respected veteran and promising newcomer. Such matches have always been very interesting and this time was no exception. Each of them fought like a pro, the advantage was constantly shifting from Alaina and Charlotte and back. Alaina wanted to prove that no newcomer equal her. And Charlotte wanted to prove she deserves more than a top-down look. The result, however, was not overwhelming to viewers that day. The Amazon defeated the Sand Lizard, confirming that the older generation is still at the top. This match was good, no one argued with that. And fans weren't disappointed with the Sand Lizard, noting that the newcomer stayed true to her principles and never did anything that went beyond even the lightest rules. For example, the martial arts master never once touched Alaina's hair, although the veteran could not boast of the same. The surprise for the audience was Charlotte's reaction at the end of the match. Despite the fact that Alaina praised her opponent for a good match, the martial artist rejected these words, saying that it only mattered that she lost. This became a reason for doubts about Charlotte's nobility, however, after a while she will give an explanation for this. Until then, it ended up being no secret to anyone. An experienced veteran always wins over a newcomer. For many, this was the law. And that evening this law was confirmed once again.
The
second official match
of these two women was much more serious than the first. Now it was a match where the last one to stand would be the winner. It came as a surprise to the audience that the standard rules will be applied instead of hardcore in the match. Then it turns out that this is a personal wish of Charlotte, who did not want down below her dignity. The match exceeded the wildest expectations. And despite the standard rules, this match was more like real hardcore. Both women were covered in blood and stood on their feet with the last of their strength. Each of them refused to lose. For Alaina it was important for the same reason, she did not want to admit that a newcomer could match her strength. And for Charlotte it was a matter of honor, she wanted to prove that not only can she be on a par with an experienced veteran, but can also surpass her rival. This time Charlotte acted much more confidently, everyone noticed it, including Alaina. And although the advantage again did not take sides, in the end the Frenchwoman became the one whose willpower was stronger. She didn't just win. The result of this grueling and incredible match was that the martial arts master sent her opponent to the hospital. Since then, a controversy began among fans that continues to this day.
And it is this dispute that we are discussing today. After the second mast, the score of the women became equal. And along with this, the question was opened, which of them is stronger? The respected veteran seasoned in endless matches? Or the impressive and variable newcomer who is willing to give all of herself to win? The community still hasn't come up with an answer. However, even the most ardent supporters of each of their women agreed on one common opinion. Charlotte and Alaina are worthy of each other.
Everyone expected their rivalry to continue. But no one could have predicted exactly when this would happen. The answer was a
conference
hosted by the Amazon and the Sand Lizard. It was there that they both announced that they would meet again in the ring. And this time it won't be just a match. This time they will meet at one of the biggest events in the world of wrestling. They will face each other at the Avalanche. And this time, nothing will hold them back, because this time it will be a Steel Cage Match, where each of them can use their full potential in order to deserve victory. This conference provided answers to many questions and once again pushed the boundaries of the debate about which generation will ultimately win up? Despite the fact that Alaina and Charlotte had quite similar positions on many issues, they remained completely different people. Each of them looks at victories and defeats differently. Each of them has a completely different style. Each of them is not ready to recognize the other as the winner.
Charlotte Ravel':
"I am going to win."
Alaina Sanders:
"I will win."
And here we are. We have already seen an interesting rivalry more than once. Yes, of course, the essence of almost every competition is only to find out who will be at the top in the end. However, not every time it is possible to look at the opposition of something more. In the case of Alaina and Charlotte, we have a unique opportunity to observe not just the confrontation between two excellent fighters. Here we have the opportunity to observe the opposition of principles. Here we have the opportunity to observe the opposition of styles. Here we have the opportunity to observe the confrontation between generations. We cannot give you the answer. The only one who can give the answer is yourself. Who do you think will ultimately earn their right to call themselves the one who made it to the top? Which generation will prove their superiority? Will conservatism remain as effective as before? Or will liberalism finally bring something new to AFW? Will veterans remain AFW's only stars for years to come? Or will newcomers prove that they are the ones who are ready to become the one who will shine much brighter than any veteran? The answers to these questions depend on each of you.
But in order to make it easier for you to make a decision and give an answer to each of these questions, Alaina and Charlotte will again come together in a match very soon. The Avalanche. December 2020. See you soon!

_________________


skip-stop




Posts

: 1320


Join date

: 2019-05-11


Age

: 25


Location

: Nobody knows, heh



Similar topics
---
Permissions in this forum:
You
cannot
reply to topics in this forum