Champions & #1 contenders
Poll regarding the possibility of Mods booking PPV matches.
Sat Oct 24, 2020 1:43 am by Old_Man_Tai
So, basically, was wondering all of your thoughts regarding the possiblity of mods booking ppv matches.
The thought was, since people often seem to have trouble finding partners for ppv matches until the last minute or so, what if the mod team was to step in and, well in advance of the show, book the show ourselves, and try to put together the best matches we can, including title defenses, no.1 contender matches, and so on and so forth?
While I doubt our more popular members need such a …
[
Full reading
]
Comments: 7
General Avalanche Reminder
Fri Oct 23, 2020 9:21 pm by Old_Man_Tai
General Reminder: Friction PPV Avalanche goes live on December 1st: So if you need to do any promos or build up for your Avalanche matches, you should be focusing on that now. You are allowed to do such things over Discord and then post them after if it helps get them done faster so matches have proper build up.
Also, if you are looking to get on the ppv, and have a partner and match set up, (or can do so quickly), contact me to let me know what match you are doing on the show.
If you have …
[
Full reading
]
Comments: 0
Need Debut matches/Simply looking for more
Tue Sep 08, 2020 11:19 pm by Void Effect
Comments: 10
Isaac Clarke Vs Hoshino Yuubari
The Gentleman Faces Young Justice.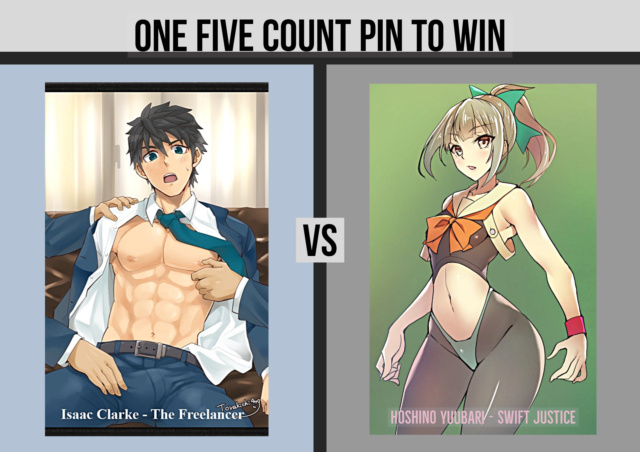 Isaac flashed a charming smile back at his slender opponent.
"I can assure you that things won't be so easy with me..." Now fully undressed from the waist up the gentle powerhouse raised his hands in front of Hoshino. "How about a test of strength? I promise not to go overboard..." The big man cringed a bit at his own words. 
Overboard was how thing went more often than not.
While Hishino and Isaac chatted Jason took the opportunity to slip out of the ring and slink up the ramp. He had enough humiliation for one night. 
_________________
Howdy i'm WrestleMind and there's nothing i appreciate more than honest feedback and discussion. Wanna tell me I suck? You would make my day!
Bio Link

WrestleMind




Posts

: 827


Join date

: 2018-06-30


Age

: 25


Location

: North America, East Coast.



Hoshino placed her hands on her hips, smiling at Issac as the handsome hunk undressed and made his declaration. "I certainly hope you'll put up a better fight!" she said, "That cocky one went down after only a few hits, but you look sturdier than he is. Hope you can it!" She stretched out a little bit, getting her muscles warmed back up after their little break. Her match against Jason ended so quickly Hoshino had just gotten her blood flowing. Now she could go up against Issac firing on all cylinders!

When Isaac offered a test of strength to start though, the smaller gymnast laughed. "Ahh Issac, you're bullying me already!" she teased, "I'm so much smaller and weaker than you, and you want to test my strength? How unfair!"

Sticking out her tongue, Hoshino raised her hands and interlocked her fingers with Isaac's, accepting the test of strength. "Well, if you promise to go easy, I can't be a bad sport and refuse!" Hoshino said. She grit her teeth and dug in her heels, beginning to push back as hard as she could against the muscular man, knowing full well that Isaac was probably going to overwhelm her quite quickly.

pu-level-up




Posts

: 1088


Join date

: 2019-02-11



---
Permissions in this forum:
You
cannot
reply to topics in this forum