Champions & #1 contenders
Howdy strangers.
Tue Nov 28, 2023 8:25 pm by Yori
Just a small hello from an old face. I will be coming around for a bit soon and figured I would pop in. To anymore I have an unfinished thread with, if you have a desire to continue it with me just let me know and shoot me a link. While I am open to fielding ideas for new threads, I will be very selective with taking anything while I gauge my activity capability and trim/update my roster.
Toodles.
Comments: 4
Tension Match for Melanie~
Tue Nov 28, 2023 7:56 am by Leon564
Comments: 0
Looking for a match for Lucy
Mon Nov 20, 2023 8:49 pm by NobuharuKinjo
Comments: 0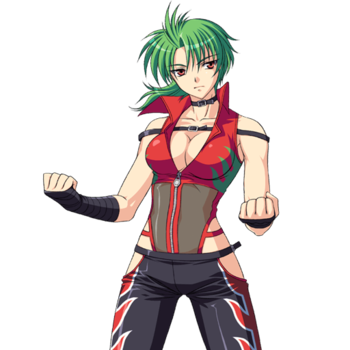 Name: Kanda, Sachiko
Aliases: Lightspeed Fist, GOD-san, Hurricane Kanda
Age: 28 (Born: December 1, 1992)
Hair/Eyes: Green/Orange
Height: 5'6"
Weight: 132 lb. (I got nothing to hide. -Sachiko)
Nationality: Japan/Born in Ibaraki Prefecture
Alignment: Tweener(mostly Face)
Sexuality: Bi  
BWH: 83/57/84
Entrance Theme: Hearts on Fire - John Cafferty
Fighting style: Striker-Power Submissionist Hybrid
Finishing Moves:
The God Hand - As a former Boxer Sachiko naturally has a move that plays to this. A punch that can strike from anywhere with nearly no warning, besides a slow rolling of her right shoulder, that has earned her many KO victories both as a Boxer and a Wrestler.
Punching Bag - With her opponent resting up against the ropes or the corner she'll begin to unleash a vicious barrage of punches on her weakened enemy, effectively turning them into human punching bags until they're either KO'ed or have had all energy to fight leave their body.
Throw in the Towel: An Anaconda Vise submission that Sachiko will lock in until they've given up, AKA thrown in the towel.
Stats:
Strength: 4/5        Strikes: 5/5
Endurance: 5/5     Submission: 4/5
Speed: 3/5           Power: 4/5
Defense: 3/5        Aerial: 2/5
Technique: 3/5      Counter: 3/5
Preferred Matches: Any (willing to participate in Tension and Momentum)
Personality: Sachiko has always been seen as an aloof kind of woman, rarely showing any sort of emotion even in dire circumstances. This however doesn't mean that she can't be a caring and sweet individual as those close to her or those she's taken a shine to will see she becomes a bit talkative and even witness a smile appear on her normally stoic face. When it comes to romance she doesn't concern herself with her partner's gender as she believes love shouldn't be so restricted like society tries to make it but she'll definitely be the one to take charge more often than not and will only concede it when they
really
fight her for it.
History:
Not much is known about Sachiko Kanda prior to her Wrestle Angels days as she normally keeps to herself. What is known however is that she was once a Boxing prodigy, one that liked to have a good fight, and even managed to become a professional boxer, earning herself a number of wins and even scoring a few title belts here and there but eventually she began to grow bored and searched for another physical sport, quickly discovering the world of Wrestling. It would take some time for her to adjust to the change in rules as well as break some of her boxing habits but eventually Sachiko would find herself taking down her opponent with ease and eventually joining the once great Wrestle Angels organization. When it shut down Sachiko didn't let it bring her down as all it meant was there was one less place to fight in and so she would go back to bouncing between wrestling and boxing circuits. A few years later Sachiko would later be approached by a talent scout from AFW, a company that had both a Wrestling and a Boxing promotion, with her two favorite sports together in one place there was no way she'd refuse the offer that they presented to her. Now Sachiko has come looking to make her opponents drop to the floor ring canvas on the global stage once again, regardless of whether it's for a count of 3 or a count of 10.
Fun Facts:
1. Huge fan of the Rocky movies........except for 5.
2. Due to a shirt she wore in her WA days that had GOD written in both English and Japanese on it, fans like to cheer for her as GOD-san.
3. Regardless of whether she wins or loses, if the opponent fought well enough or beat her clean, Sachiko will ask them to bump fists with her as a sign of respect.
4. The cuter her opponent the more likely she'll take her time in the match and refrain from messing up their face.
Gallery:
Bikini and Rare Smile:
Last edited by Mart-Kos on Wed Sep 23, 2020 11:32 pm; edited 3 times in total

_________________
Satou Kazuma
Sachiko Kanda

Mart-Kos




Posts

: 407


Join date

: 2020-03-30


Age

: 30


Location

: White Plains, NY



Sachiko Kanda is ready for action!
(Feel free to send me any feedback, especially if you know any canon material you think I could work into her bio.)

_________________
Satou Kazuma
Sachiko Kanda

Mart-Kos




Posts

: 407


Join date

: 2020-03-30


Age

: 30


Location

: White Plains, NY



Similar topics
---
Permissions in this forum:
You
cannot
reply to topics in this forum