Champions & #1 contenders
Looking for Return Matches.
Tue May 04, 2021 3:27 pm by Hedgehawk
Hello Everyone!
I am looking for anyone interested to help me get back into the swing of things and get or two going on the site.
Mostly I am looking for something from my character
Trinity
. Given her style I am looking for something on the more hardcore side, a cage match, no DQ, or even a streetfight. Given her build and her personality I don't mind her going up against males with a similar personality.
I am also up for possibly looking at setting a match up for
Momoka
. Though not sure if …
[
Full reading
]
Comments: 0
Just an update
Mon Apr 26, 2021 9:37 pm by Deus001
Hey folks just a quick public service announcement
So I'm now back at work proper now. So expect my posting to be somewhat erratic now, as we get into May I'll likely get more hours from the fam and eventually I'll be working full time for them by the end of the year. At that point I'll be able to come up with more of a posting routine, but as it stands if my post rate gets more iffy as we go into the year that's why but I'll still be doing stuff dw
Comments: 1
HAPPY BIRTHDAY KILLCARRION!
Sat Apr 17, 2021 11:29 pm by Old_Man_Tai
Happiest of Birthdays to our beloved Bird of Murder, Killcarrion.
He deserves it, this dude has worked IMMENSELY hard during his time as a mod to try and bring lots of cool ppvs, matches, stories, and such to the site and works tirelessly to try and help out as much as possible.
He's a legit good dude, and one of my absolute best friends.
Love ya buddy!
[
Full reading
]
Comments: 13
Page 1 of 7 • 1, 2, 3, 4, 5, 6, 7
Aphrodite groaned as she adjusted the white mma sandals on her feet. The blonde haired woman scantily clad in a rather skimpy  Bikini stood straight, taking a deep breath and stretching out. She had a bad feeling about this, one that she still wasn't sure about that much. It was only last week when Aphrodite had stumbled into a certainly fairly large individual known as Origa and one could say that tempers flared with the two butting heads against each other immediately. Fair to say though that Aphrodite had been the one to cause most of the antagonism between the two.
"FROM MOUNT OLYMPUS, SHE IS THE LOVE OF THE WORLD, APHRODITE!!!"
Here she was on stage standing proud. Not matter the case, she was going to take out this Amazonian regardless of how.... big she was. She'd waltz down the ramp, letting the music play as she took in the audience, boos and cheers in all. To her it was all some form of celebrity that she deserved regardless. She'd stand in to ring, arms out as she walked around the ring before centering herself right in the middle bending forward and blowing a kiss to the crowd. She'd brush her luscious blonde hair and wait for Origa to come out.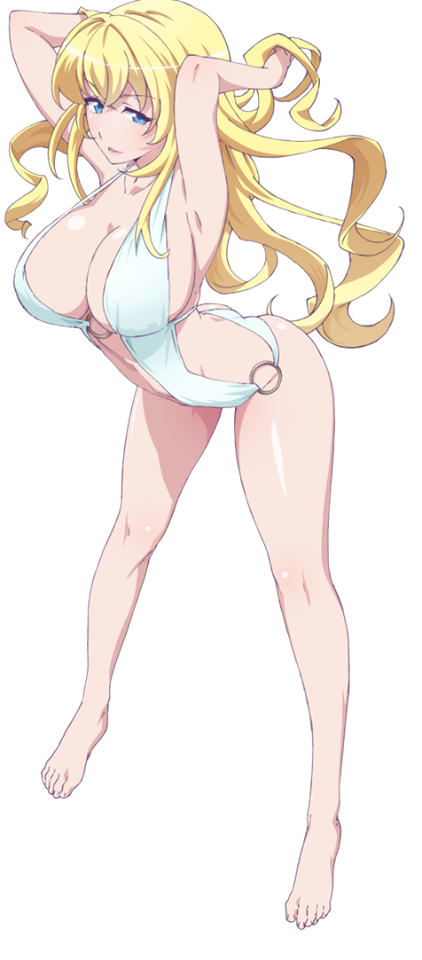 SimplyMoon




Posts

: 1339


Join date

: 2017-04-25


Age

: 23



In the opposite locker room Origa Xenia was finishing lacing up her purple boots to complete her attire of her purple corset and her black wrestling shorts. Looking up she scowled slightly as she saw her blonde opponent make her way to the ring from the locker room screen. To say that this match came about from flared tempers would be an understatement and to say that they were alike appearance and personality wise would be to compare oil and water.
All it took was the amazon and the goddess to bump into each other backstage one day for things to spiral out of control and Aphrodite egging the giant on wasn't helping. Management immediately set up a match to have them go at it in a more controlled environment while also promoting the match between a goddess and a giant out to fans.
AND HER OPPONENT! THE BRAZILIAN GIANT, ORIGA XENIA!!
Hearing her cue Origa stepped through the curtain and made her entrance to a roar of cheers and hollars of the crowd. Keeping her face to her usual stoic look the amazon made her way down the ramp and to the ring. Reaching the ring Origa climbed over the top rope and entered, all while staring down the supposed Greek goddess. Origa didn't care about her name and she was planning on teaching the blonde a lesson she wouldn't soon forget.
Spoiler:

Ringropes98




Posts

: 716


Join date

: 2020-05-24



Aphrodite appeared to be annoyed at the more positive pop that her entrance had on the crowd, waiting for her to get into the ring with one side cocked, a hand resting upon it. Origa was huge, far larger than any that she had face previously before. Worst of all, she bustier and curvier than Aphrodite dared say was, something of a slight that could not stand and impassioned the supposed goddess to not only win but destroy her opponent in whatever way was necessary.

"Good thing the stadium is as tall as it is or else we'd never be able to get you in here. How's the view by the way," she mocked, standing there ready somewhat, still in a relaxed stance. Already she was dripping with venom for Origa.

SimplyMoon




Posts

: 1339


Join date

: 2017-04-25


Age

: 23



Origa scoffed as she leaned against the turnbuckle and listened to Aphrodite talk. She rolled her eyes and wasted little time in replying. "If playground insults are the only thing you can come up with then this match is already a waste of time. Oh and the weathers great by the way and it's about to get sunnier." She smugly replied in a way that she knew would get under the supposed goddesses skin. Out of the corner of her eyes she saw the ref enter the ring with a microphone in hand.

"This match is decided by pinfall only!! Submissions will not be counted! There are no disqualifications, anything goes!"

With her piece said the ref nodded and the bell rung, the match began. Origa stepped out of her corner and began to circle Aphrodite before trying to rush in and engage her in a classic collar and elbow tie up.

Ringropes98




Posts

: 716


Join date

: 2020-05-24



Aphrodite balled her fists at her side, teeth gritted and giving off a small growl of contempt. Origa didn't seem intimated and if anything Aphrodite's insults hadn't even made a dent against her. Aphrodite would have to resort to far stronger tactics than that of simply playground bullying, stretching her body and readying herself for the match that would quickly commence, "It'll be sunnier once you're groveling at my feet, a nice clear view."

The bell rang and Aphrodite would also come out but instead of trying to lock up with the giant, she'd keep away, trying to find openings in Origa's defenses. Origa most likely had both the height and strength advantage and so the goddess would have to be rather creative and crafty.

SimplyMoon




Posts

: 1339


Join date

: 2017-04-25


Age

: 23



Stepping away from the corner and ignoring Aphrodite's returning jab like a cool breeze washing over her Origa crouched slightly and began to circle her opponent. She planned to tie up with the blonde in a collar and elbow tie up but whenever she would get close Aphrodite would dash away, clearly seeing the large advantage Origa would have if she had accepted. So instead the two would circle each other more until Origa ran out of patience.

Suddenly Origa would dash forward and try to hit Aphrodite with a shoulder block. If it worked Origa would then grab the blondes arm and throw her towards the ropes and have her rebound back towards her and attempt a scoop slam.

Ringropes98




Posts

: 716


Join date

: 2020-05-24



Aphrodite kept mostly away from getting into it with Origa, avoiding a direct contest between the two. She doubted that she could over power her straight on, instead relying on her own speed to move around in the ring. However, the ring was only so big and soon the goddess of love was slowly being backed I to a corner with limited space to escape once again.

She saw Origa coming at her this time with no chance of dodging away. Instead she braced herself. Arms blocking the tackle as Origa collided her shoulder into her. However she was helpless to one of her arms being grabbed and Irish Whipped into the ropes. She'd quickly rebound off but was soon in the waiting arms of Origa whom soon picked her up and slammed her down in a Scoop Slam. Aphrodite would clutch her back, turning over onto her side as she k ow the familiar feeling of pain.

SimplyMoon




Posts

: 1339


Join date

: 2017-04-25


Age

: 23



Aphrodite was doing her best to avoid going toe to toe with the amazon by constantly dodging around Origa's attempts to grab her. However there's only so far you can run with the space in the ring before you run out of options and that was exactly what happened to Aphrodite. Origa was able to catch the blonde and send her rebounding off the ropes back to her for a powerful scoop slam.

Only giving the blonde a second to writhe in pain and grip her back, Origa bent down and pulled the goddess up by her golden blonde hair. Once she was up Origa would send her running into the corner of the ring with the amazon chasing after her. If it worked then not long after Aphrodite's back slammed into the corner, Origa's body would charge in and sandwich her between a rock and a hard place.

Ringropes98




Posts

: 716


Join date

: 2020-05-24



Aphrodite winces as she held to her back after the scoop slam. It wasn't the worst thing she had gone through but was still somewhat painful. She had turned to her side and was trying to move away and get up when she was grabbed, this time by the hair and picked up her straight up to her feet.  The goddess would stay in that play for very long as she was thrown towards a corner.
Instinctively she'd turn her body so that her back would take the impact again, but this time she didn't offer her exposed back to her opponent. Aphrodite wouldn't have a chance to move out of the way before she was slammed by the weight of Origa, crying out in pain as they collided with each other.
"Grahhh!"

SimplyMoon




Posts

: 1339


Join date

: 2017-04-25


Age

: 23



Aphrodite crashed into the corner back first and before she could react, Origa crashed into her with the force of a freight train. The amazon heard the blonde cry out and her limbs flail about from the impact. Origa didn't remove herself immediately from the corner, instead she bent down to level with Aphrodite's midsection and with a grip of the ropes on either side of her she rammed her shoulder into the blondes belly.

After four shoulder charges Origa stepped away from the supposed goddess and backed up to the middle of the ring. She was tempted to keep going but the blonde talked awfully tough for how she was faring right now. "You know, for someone who calls themselves a goddess you aren't doing anything godly you know. Is this really the best you can do?" The amazon taunted.

Ringropes98




Posts

: 716


Join date

: 2020-05-24



Page 1 of 7 • 1, 2, 3, 4, 5, 6, 7
---
Permissions in this forum:
You
cannot
reply to topics in this forum