Who is online?
In total there are
60
users online :: 2 Registered, 0 Hidden and 58 Guests :: 2 Bots
Moriarty
,
Yori
Most users ever online was
418
on Tue Jul 30, 2019 4:51 am
Champions & #1 contenders
Looking for a tag team match up.
Mon Dec 04, 2023 2:38 pm by Moriarty
Comments: 0
Tension Match for Melanie~
Tue Nov 28, 2023 7:56 am by Leon564
Comments: 9
Howdy strangers.
Tue Nov 28, 2023 8:25 pm by Yori
Just a small hello from an old face. I will be coming around for a bit soon and figured I would pop in. To anymore I have an unfinished thread with, if you have a desire to continue it with me just let me know and shoot me a link. While I am open to fielding ideas for new threads, I will be very selective with taking anything while I gauge my activity capability and trim/update my roster.
Toodles.
Comments: 4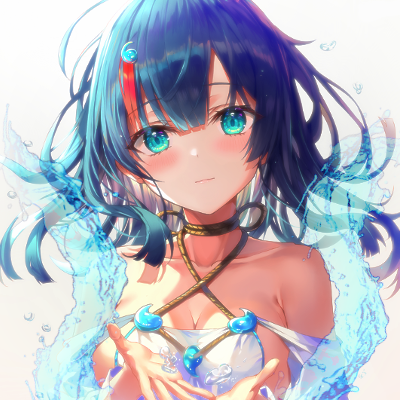 Real Name:
Mizuko Shimizu
Ring Name:
River
Alias:
Siren of the Sea, The Mermaid
Age:
21
Eyes:
Blue
Hair:
Black w/ Pink Streak
Height:
5'7"
Weight:
127lbs
Nationality:
Japanese
Alignment:
Face
Social Media:
CrystalClear
Theme Song
TRiECHOES feat. DJ SHOTA - Shape of You:
Casual:

Casual 1:

Casual 2:
Ring Gear:

Ring Gear:

Ring Gear 2:

Ring Gear 3:

Ring Gear 4:

Ring Gear 5:

Ring Gear 6:

Wardobe Malfunction:
Wrestling InformationType:
Skirmish Submissionist
Strategy:
On solid ground, River is a high energy momentum based skirmisher. Throwing herself at opponents with powerful hip attacks and body splashes, her one and only goal is to floor the opposition to get herself on top of them and make use of her plethora of submissions. She is a capable striker, though her strength lies in her control over her body as a whole and weaponizing her curves to knock her opposition off balance.
Where she shines is when water is added to the mix. While standard wet style matches are fine, she prefers to go even more stylized and add larger bodies of water to her matches. These can be something as simple as large bodies of water to fight in, Onsen matches, or even floating rings suspended over a full scale pool. When she hits the water her mobility and footing becomes sufficiently better.  Able to outmaneuver opponents with her impressive swimming and drag them down to a sweet watery loss as she dunks and chokes them into submission while they battle the environment just as much as they fight her.
Preferred Matches:
Anything including water. Special stipulation matches.
River's Special Matches:


Match Type: Floating Fortress
Match Type: Any
Victory Conditions: Varies
Match Overview: The ring is replaced with a smaller enclosed "bounce" caster suspended in the middle of a large pool. The walls of the fort are loosely secured and can be knocked down, allowing the walls to become extensions of the floor. If an opponent is knocked off into the water, they must return to the ring and allow their opponent to perform any move they want on them (This cannot be used to throw the opponent back into the water again) before resuming the match properly.

The structure itself is a large inflated surface, providing poor bouncy footing and is slicked when wet. Slams and other moves that rely on throwing opponents tend to be less effective here given the far softer landing, meaning strikes and holds will be more effective.

Match Name: Undertow
Match Type: Submission
Victory Conditions: Submission based conditions.
Special Conditions: Takes place in a body of water, roughly waist high, generally in a man made pool or a onsen.

Match Name: Jaws
Match Type: Beat the Clock
Victory Conditions: One opponent must outlast a set time limits without spending a set amount of time inside of the water or without being submitted.
Match Overview: Several free floating platforms are suspended on top of water, connected by ropes. One wrestler is tasked with outlasting a set time limit while the other is designated as the shark. The shark's job is to get their opponent into the water and keep them there for a set period of time, or make their opponent submit.
The Shark must have at least some part of their body in the water at all times.
The Shark can freely mess with the floating platforms to make things more difficult for their opponent. Knocking into them, flipping them, or using the ropes to tug them around.

Physical StatsEndurance:
★★★★☆
Endurance:

An impressive amount of stamina from her athletic lifestyle..
Strength:
★★☆☆☆
Strength:

About average in raw brute force, she generally won't be tossing people around.
Speed:
★★★☆☆
Speed:

Nimble and graceful but not nearly as swift when landlocked. Once she hits the water though...
Defense:
★★★☆☆
Defense:

Solid defenses all around..
Technique:
★★★☆☆
Technique:

Has great flow in her movements and holds.
Wrestling StatsStrikes:
★★★☆☆
Strikes:

Above average striker but not her preferred offense.
Submissions:
★★★★☆
Submissions:

Coiling limbs, choking holds, and crushing scissors. She is all about wrapping her opponents up and letting them struggle themselves out.
Powerhouse:
★★☆☆☆
Powerhouse:

Unlikely to do much heavy lifting outside of her finisher
Aerial:
★☆☆☆☆
Aerial:

She prefers to stay out of the air.
Counters:
★★★☆☆
Counters:

Decent with reversing moves into her vast arsenal of submissions.
Preferred Attacks:
- Body splash
- Hip attacks
- Flying cross body
- Body avalanche
Signature MoveRide the Wave:
River hops up onto her opponents back, wrapping her arms around their neck and legs around their waist in a piggyback sleeperhold.
Make a Splash:
Finishing Moves:
Tidal Crash:
Rolling Tide:
Personality:
River is a free spirit, easygoing by almost all accounts. As her name suggests, she goes with the flow of most situations and likes to see where they take her. She is none the less rather quirky to most outsiders looking in due to ehr beliefs and practices. They range from the mundane such as her obsession with organically sourced foods to the mystical such as spiritualism.
She is innately kind, believing in putting good energies out in the world and strives for a sense of balance to things. She does much of this with her practice of meditation and crystal healing. While she doesn't impose these things onto people, she is very outgoing and open about her own practice in hopes of opening others to give it a chance.
History:
Life in a small village on the island of Okinawa tucked far away from the Japanese mainland there were two main things that encircled River's life. The first was, quite literally, the pacific ocean and the second was Shinto teachings. Raised in a community of extended family, her knowledge of the world was often shaped by traditions and superstition rather than current affairs and technology.
Her beliefs in natural healing, energies found within nature, and spiritualism directly was passed onto her by members of her family who, rather universally, prescribe to many of the same ideals she holds onto currently. The love of the water however was one birthed all on her own. Days on end spent at the beach, local springs, or public pools made up much of her free time outside of family duties.
It wasn't until she reached her late teens that it was decided she would be enrolled in the schooling system to help educate her on the happenings of the world. It was here she started branching out into more competitive pastimes, those of course being swimming and wrestling. While she proved exceptional at the former, she struggled with the latter despite the shine she had taken to it. When it came time for her to graduate to University, she instead asked if she could instead travel to the mainland to get a taste for what it was like in the rest of Japan.
She quickly established her crystal healing business abroad and found great success bringing alternative medicine to the mainland cementing a place for herself. She wanted something more however, excitement. There was a need for discord to pair with the harmony of her lifestyle and it wasn't long until she found her outlet. After taking some time to train up a bit, she approached AFW management and pitched some ideas their way for her… it wasn't long before she had a contract.
Fun Facts:
Alternative Medicine:
River is a practicing crystal healer. Despite what scientific study might say, she does rather well with her appointment only business. She tends to be picky with her clientele, but might be willing to share her talents with some of her fellow AFW members.
No Tank Required:
Capable of holding her breath for an extended period of time, even while exerting herself.
Fish in Water:
A phenomenal swimmer, able to out pace and perform most people with the room to dip below the water's surface.
Comfortable in her Skin:
Unless she knows of it being an issue, River dresses very minimalist normally. She has no real issue with presenting her body to anyone or anywhere. Unless she is made aware of it being a social faux pas, its likely she won't even consider it being an issue.
AFW Information
Record:
-Wins: 0
-Losses: 0
-Draws/No Contest: 0
Championships/Accomplishments:
Friends: N/A
Allies: N/A
Rivals: N/A
Enemies: N/A
Crushes: N/A

Yori




Posts

: 4626


Join date

: 2017-11-19



Similar topics
---
Permissions in this forum:
You
cannot
reply to topics in this forum