Who is online?
In total there are
59
users online :: 0 Registered, 1 Hidden and 58 Guests :: 2 Bots
None
Most users ever online was
418
on Tue Jul 30, 2019 9:51 am
Champions & #1 contenders
Looking for a match
Sun Jun 26, 2022 3:38 am by TomboyTsuka
Comments: 0
Page 3 of 4 •
1, 2, 3, 4
The violet for a moment thought the Swede would struggle, break feee, and make her pay for trying to take away their momentum. To her surprise, Belinda was practically caught after their misstep, the setup felt perfect and then- impact!
The blonde flew backward as Eshe pulled with all her might, sending them falling down like a log. She bounced from the canvas after making contact, only to be found face first on the mat, groaning in pain as she clutched her aching neck. The Egyptian takes a breath, getting to her feet, and slowly making her way towards her downed foe. She had to press on, Belinda wasn't the sort she could just let recover like this, no. Thinking on it, she knew she was capable but she didn't have that same code of confidence like Belinda with an opponent like them. 
Her hair drapes over the blonde as she leans down to take a seat at their backside, propping herself into position, Eshe would lay their arms over her knees. If she managed to overtake the Swede she'd wrap her arms around their neck and pull back in a close contact camel clutch. Her body pressed against their own as she wrench's tightly. 
"Sorry about this Belinda but I can't let up for a second. I hope we can still be friends after this." She whispers, taking another moment to wrench her foe back to add pressure along their spine and maybe work on their neck in the process with her arms tightly clutching them.
_________________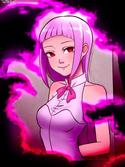 LilyStar




Posts

: 889


Join date

: 2018-02-27


Age

: 26


Location

: Your heart



Belinda groaned as she held onto her neck after her nasty fall, shaking her head a bit as she tried to ease the pain, but it seemed as if Eshe was smart enough to keep her advantage going now that she had taken control. As she came down and took a firm seat on the backside of the blonde, getting a grunt out of Belinda as she would feel her arms grabbed and next she knew she was pulled up.

The blonde was yanked up so her arms were trapped over Eshe's knees and then those arms of Eshe wrapped around her head and cupped her chin, pulling on her spine and neck in this painful camel clutch hold, a hold that made Belinda's bosom push outward to the delight of the crowd.

"Mmgnnh..." Belinda would grunt and wince as she would shift and struggle underneath Eshe, trying to force her arms forward and off of Eshe's knees.

LunarWolf




Posts

: 22238


Join date

: 2011-02-17


Age

: 29


Location

: The Root



Success! Eshe couldn't believe it, she was overpowering THE Belinda Northman, it was almost to real to be true. She couldn't let that get to her though, she should only be cheering when she won the match. The Egyptian wrench's again, seeing the ref drop to check on her captive, the violet had no intent of letting go just yet. She knew the Swede wouldn't give in to this, she was tough, but that's what she expected too.

Unbennouced to her, she didn't look down to see the blondes bust pushing outward. The roar of the crowd, she figured, was for her. Perhaps some were but most were probably for Belinda and her now precarious position underneath the tanned woman.

She was to neglegent however, even with the advantage, the violet should've been more careful of her opponent. Eshe felt them shift underneath of her but it was the slip of their arms from her knees that caught her off guard. Her focus was to much on the move than her captive and this, Belinda now had a way out.
_________________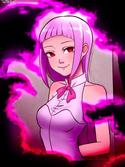 LilyStar




Posts

: 889


Join date

: 2018-02-27


Age

: 26


Location

: Your heart



Belinda was fighting to free herself from Eshe's hold and it was starting to go well, as she managed to slip her arms free from the camel clutch! Yanking her arms free and now she had a chance to free herself from the hold itself. Wincing out a bit as Eshe continued to yank on her head and wrench on the hold, the blonde would shift and move about with her legs, trying to push her knees underneath herself so she could start to push herself up.

Trying to force herself up to her knees as she would grab at Eshe's hands with her own, trying to pry those fingers off of her chin and free herself as she sought to rise up and fight her way to her feet. If she could manage that, Belinda would quickly try and use her grip on those hands to try and throw Eshe with a Seoi Nage or shoulder throw down onto her back on the canvas!

LunarWolf




Posts

: 22238


Join date

: 2011-02-17


Age

: 29


Location

: The Root



Her blonde rival had free hands at their disposal now, having managed to unhook their arms from her knees she felt the only thing she could do was wrench harder. Eshe could feel Belinda starting to move upward, her position now somewhat compromised as their knees were under the Swedes body. The Egyptian was pushed upward, having to bend herself over the woman to keep her lock in place.

The biggest fight would come as Bleinda's fingers intertwined with her own, attempting to pry them off of her chin. With each attempt she managed to slip through their grasp to keep the hold locked in but it wasn't long until they caught her. With her hold now complexity broken, she was nothing but dead weight on top of her rival, stricken with disbelief as she laid over them. What surprised her even more was what came next.

"Gagh!" She exclaims, as her back hit the mat with a surprising amount of impact. Even from her low position it still hurt. She didn't think she would come flying over their shoulders like that. She presses her boots into the canvas, looking to pull away at a moments notice if Belinda looked to take advantage of her current predicament.
_________________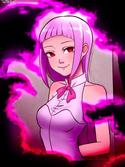 LilyStar




Posts

: 889


Join date

: 2018-02-27


Age

: 26


Location

: Your heart



Gasping out a bit after she sent Eshe down flat on her back with that shoulder throw, Belinda would straighten up and rise to her feet fully as she looked down on Eshe. Seeing her rival prepare to roll away though, the blonde would quickly lean down and grab onto that head of Eshe, trying to lift it up off of the canvas enough so that she could drop down and snap her legs shut around it.

Looking to lock in a nasty figure four headlock around that head of Eshe. Belinda aimed to have her thighs squeeze the skull of the Egyptian beauty and try and get some much needed payback against her opponent. Looking to flex her limbs as she placed her hands against the canvas behind her fore support and leverage.

LunarWolf




Posts

: 22238


Join date

: 2011-02-17


Age

: 29


Location

: The Root



Okay, so she didn't expect a shoulder throw right from the getgo or from her low position, cool. She'd give Belinda that much after managing that, but she wouldn't stay down for long, she planned on getting to her feet and getting back into the game, that was before she felt them grab onto her. Her head was caught by the Swede, but what was she doing? The next thing she knew, her head was being wrapped up by their rather cold thighs, strangling her in what seemed like a figure four lock. An odd method of capture for sure but effective.

The Egyptian struggled in their grasps, her boots pushing up off the canvas as she looked for a way out. Her palms pawing at their legs in a bid to find a chink somewhere to break through but no such luck. Belinda had locked her in tightly and air was being a rare commodity. She began to slightly panic but this reminded her of something. There was a way to turn this hold over but would it work in her current predicament.

With their arms holding them up for leverage, she was going to have to overthrow them. She would have to go for it, plain and simple. She couldn't reach any other part of their body to hammer in for release so, roll over it is. Lucky for her, she had more limbs available to her than Belinda, who's arms were the only thing keeping her up. Eshe would slide her legs closer, elevating her up higher, one hand gripped onto their thigh as the other, slipped in against her own body. Using her left leg as the center point, the violet would push hard with her right foot, using her right hand to help her twist the pair of them in her bid for escape.
_________________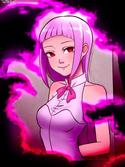 LilyStar




Posts

: 889


Join date

: 2018-02-27


Age

: 26


Location

: Your heart



Belinda's legs had found their target as they wrapped around Eshe's head and trapped her in that figure four headscissor hold. Those thighs of hers began to squeeze on the head of the Egyptian and she would be met with Eshe slightly panicking as she began to paw and hit on her thighs for a bit though it didn't take very long before Eshe started to act in a different manner.

The Swede would remain vigilant for what Eshe could be planning and in the meantime she would tighten her legs firmly around that head as she sought to squeeze that head even harder, those legs of the blonde's flexing as she sought to crush the head of Eshe. Though the Egyptian soon decided to use her limbs and then suddenly tried to roll them over as she aimed to pry the thighs of Belinda off.

However Belinda wasn't about to let that stop her hold on that head, trying to keep a tight grip on Eshe as she rolled them over, quickly trying to make use her own hands to aid in the roll and try to roll them back over onto their backs!

LunarWolf




Posts

: 22238


Join date

: 2011-02-17


Age

: 29


Location

: The Root



In the grip of the rather tight figure four lock, Eshe managed to roll them over onto their stomach. Good, she could get out of this. Just as soon as she pressed her palms flat against the canvas. She was going to push up and pull her head free, that was the violets plan but Belinda seemed to have a different idea. Just when she prepped to pull, she felt their body roll back over, cancelling all her progress and bringing her back to square one.

The Egyptian was far from pleased from that fact. Her violets dialate with a hint of frustration. Now what? If she couldn't break free the normal way what could she do? The idea practically smacked her in the face. If she couldn't get any leverage by rolling to the side maybe she could get somewhere rolling a different way.

Just like before, her boot push up from the canvas, elevating her bottom half. She had a plan to wipe Belinda and break this hold if it went according to plan. The tanned woman inhale what little breath she can manage to suck in, with a short push of exertion, she pushes up, throwing her legs upward, her aim was to roll up the Swede but she wouldn't go for a pin. If her plan succeeded, she'd tuck in her legs to expose her knees and drive them deep into the blondes center.
_________________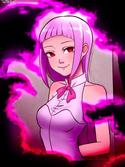 LilyStar




Posts

: 889


Join date

: 2018-02-27


Age

: 26


Location

: Your heart



Belinda could feel that Eshe was up to something now that she had turned the tables back into her favor, getting them back to square one and locking Eshe back into the figure four lock that she had wanted to keep the Egyptian beauty in for a bit. Though she could tell that Eshe was up to something which became rather clear with what she was trying to do with her legs.

Not wanting to turn this whole situation against her again, Belinda opted to switch gear a bit. As Eshe was trying to think of a way to counter, the blonde would try and release the hold and slip away from Eshe. Trying to roll her way backwards and up onto her feet in a rising back-roll before rushing forward and trying to throw herself at Eshe for a lighting quick Sliding D! Which Belinda usually liked to call the Milky Way Special. Aiming to drop down and slide in for a forearm strike across Eshe's face or chest.

LunarWolf




Posts

: 22238


Join date

: 2011-02-17


Age

: 29


Location

: The Root



Page 3 of 4 •
1, 2, 3, 4
---
Permissions in this forum:
You
cannot
reply to topics in this forum