Who is online?
In total there are
28
users online :: 2 Registered, 0 Hidden and 26 Guests :: 2 Bots
Diesel_Electric_Razor
,
Jstruggs716
Most users ever online was
418
on Tue Jul 30, 2019 9:51 am
Champions & #1 contenders
Looking for matches
Fri Nov 25, 2022 8:50 pm by Void Effect
Comments: 0
Looking for fun Fights
Wed Nov 23, 2022 1:55 pm by Leon564
Hi hiiiii
Hope you are well my fellows! Happy holidays to those that celebrate. Though some of you may indeed be busy, some of you might be bored and alone. Well I'm here as well bored and alone
So same boat. But not always the same tastes.
Anywhoooooo I've got my two characters available for some battles. James is decently flexible on whom he fights. But Melanie is strictly for the men. She can't get enough of'em
Take a gander at them and hit me up either with a …
[
Full reading
]
Comments: 0
Free Face Claim
Thu Nov 17, 2022 6:11 pm by Void Effect
Three of my character is getting Axed, just ya guys want em, just let me know in DM
https://www.afwrpg.com/t20236-ellie-haise-kaneki#543253
https://www.afwrpg.com/t20341-satella-the-witch-of-envy
https://www.afwrpg.com/t20571-eveline-lector-the-cruel-rabbit
Spoiler:
Spoiler:
Spoiler:
[
Full reading
]
Comments: 0
Page 1 of 2 • 1, 2
Two months had come and gone in 2020 meaning it was now time for the third part of Natasha's planned twelve part series for the AFW magazine, the babe of the month. The first two had been quickly decided upon by Natasha, Alaina was someone who she had kept tabs on for a while and Charlotte was in the midst of a rivalry with Alaina, so it had only been natural that they take the first two spots of the year. But for the babe of March she had to go over a number of possible women, all of whom would make for interesting interviews, and start to make herself a calendar for the next several months at the very least so she didn't start the search anew every month. As for March itself she ended up putting out the invite to one Aisha Love, or as she was apparently going by now Aphrodite. This seemed the perfect time to get her in front of her cameras and put a few questions to her, to find out what exactly was going on in her world.

Another month but she kept the same location, a small warehouse not too far from the AFW complex, and inside her crew had set up a couple movie set style chairs in front of a bright white background. A dozen different lights were placed around the set but were kept low for the moment as they were for the photo shoot to follow and not for the interview itself.

Natasha was sporting a curve hugging blue dress with slits on either side to show off her long and oh so shapely legs, though it was closed around the neck leaving others with no view of the mounds kept within. She had her notes in front of her, a pen in hand, and now simply had to wait for Aisha to arrive. This was always interesting as she didn't tell her babes of the month what to wear besides that it should be fit for a photo shoot that all of the magazine readers would see.

daemongirl




Posts

: 4410


Join date

: 2012-03-31


Age

: 32



The supposed goddess of the AFW Aphrodite wasn't one not to brag about how long she had been preparing since tapped to perform this interview, but now the only thing that was on her mind was getting their. Not willing to take the many trains throughout the country and instead driving her way to the studio haphazardly through traffic and her own poor directional skills, too adapted to taking said trains. What was supposed to be her arriving on time before the interview was slowly turning into her being late by few minutes.
"Damn it, the one time," she cursed before slamming the car door, shaking the small early 2000s vehicle that she had managed to transfer from the States. Small, it was perfect for Japan. Her outfit was no different from that she wore down the ramp to the ring; loose cloth much like that of fantastical Greek garb, barely hiding a curve as it covered over a loose sling like bikini she wore in ring. Her hair was done up, far more than usual, walking into the warehouse as she muttered under her breath, "A dingy warehouse, really?"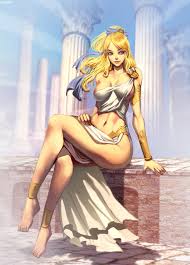 She put on a smile as walked in, "Your miss March has arrived," she spoke with sudden enthusiasm as if putting on a sort of face.

SimplyMoon




Posts

: 1655


Join date

: 2017-04-25


Age

: 25



Her first two guests had been right on time and she hadn't believe her third guest would be any different, yet as she looked at her phone to see it was already a few minutes past the chosen time Natasha couldn't help but wonder if she should have seen that coming. Aisha was as dependable as they came but Aphrodite might be a different story altogether. It wasn't unusual for someone to undergo a change in identiy over their time in the AFW, particularly if things were not going as good as they had hoped, and sometimes those changes were for the better but only time could tell such things. She hadn't known Aisha before she took on the role as Aphrodite but anyone who claimed to be the goddess of love...well they were someone she waned to meet at the very least.

Just as she was thinking about making a call the door swung open and the star of the hour announced her arrival in quite the grand fashion, Natasha chuckling while also giving her a quick round of applause. "So she has! Fashionably late too, though I suppose a goddess is never late. She arrives precisely when she means to." Rising from her chair Natasha walked over to shake the woman's hand, guiding her over to the set the camera crew had set up once again for the interview.

"Must say I'm a fan of the new look, classical greek literature was always a favorite of mine in school so seeing the famed Aphrodite in the flesh is quite an honor." Natasha winked at the lovely woman before gesturing to her seat before she took her on. "Comfortable? How was it finding the place?"

daemongirl




Posts

: 4410


Join date

: 2012-03-31


Age

: 32



"O you humble me," she spoke arms outstretched, as if Natasha was nothing more than just an old friend and she was seeing her for the first time. Instead of shaking her hand going for a sort of hug, kissing each cheek, "O' I am fine. Such a wonderful day, even these busy streets couldn't stop me from getting here. Now lets get to business shall we, I hope we haven't lost anytime."

She seemed rather happy, serene and calm, unlike what she had showed away from prying eyes the supposed goddess was an exact opposite to that. She sat down, sitting herself upright and proper. Aphrodite would cross her legs, brushing aside a curl of hair that had gotten in her face, "I am ready when you are."


SimplyMoon




Posts

: 1655


Join date

: 2017-04-25


Age

: 25



"Glad to hear it, I've been looking forward to our interview and of course the photos that will come out of the shoot after we finish the questions." Natasha took her seat across from Aphrodite and seeing the woman fixing her hair was drawn to do the same, reaching back behind herself to pull her long blue hair in front of her right shoulder. "Well time is our most valued resource, I hope you will find this a worthy investment of yours Aisha...it is still Aisha right? Or do you prefer Aphrodite both in and out of the ring now?" Natasha tapped her pen upon her notepad, waiting to hear the other woman's answer. It was important to establish a good relationship with the subjects of her interviews and getting their name or nickname right was a pretty essential first step.

daemongirl




Posts

: 4410


Join date

: 2012-03-31


Age

: 32



"Why that is my true name but it is by far past me. Aisha is a past self, a weaker form if you will that has long ago died and withered away," Aphrodite seemed to laugh when Natasha called her by the name of Aisha, laying back in her seat as she put a finger towards her soft plump lips, red like a delicious apple, "I ask that you do not call me by such a name but by my proper title as Aphrodite, the Goddess of Love and Beauty in the wonderful world we call Earth... but you can just call me Aphrodite, there is no need to such lengths only if you like to."

SimplyMoon




Posts

: 1655


Join date

: 2017-04-25


Age

: 25



It seemed that Aisha was truly committed to her new persona as Aphrodite, the goddess of love and beauty as she put it, so much so that she was keeping up the performance even though they were more or less alone. Neither her nor the camera crew would mention to anyone that she had slipped back into being just Aisha, but if thats how she wanted to play the interview then Natasha was all for it. It would make for quite the interesting read once all this was said and done.

"How gracious of you Aphrodite, well I will be sure to keep my questions focused around you and not Aisha then. Well, after this one. Can you tell me how you blossomed from a human woman to a goddess of love? Thats quite the change, what brought it about?"

daemongirl




Posts

: 4410


Join date

: 2012-03-31


Age

: 32



Switched the position of her legs before becoming a bit more serious in tone although seemingly still rather aloof and relaxed. She liked the questioning so far, "It was a natural change really. My former self or should I say, her former self was simply put a failure. Dreams dashed upon the rocks of the magnificent AFW, loss after loss suffered, another embarrassment on the record of a once well known indie darling. No more she said and so she offered her self unto and I accepted," she spoke, never breaking character for one second.

"O how weak and useless she was. No longer and no more, she just couldn't stand it. You'll find the new version rather sufficient and far more an improvement."

SimplyMoon




Posts

: 1655


Join date

: 2017-04-25


Age

: 25



Natasha had to give it to Aisha, she didn't break character for even a second. If she hadn't known better Natasha might even think she truly believed that, but regardless it was an impressive performance she was putting on despite the lack of video cameras. "So this new you was born out of past failures then? After so many losses a change was required and so Aphrodite was born." She summarized while the sound of her pen scratching upon the notebook filled the momentary silence. She took down the quote as word for word as she could without asking her to repeat herself.

"And so Aphrodite, what are your goals? Do you seek revenge on those who picked up wins against Aisha or are you simply moving onto new things? I'd imagine based on who you are that the hentai division would be your focus, is that true or do you have other priorities in mind?"

daemongirl




Posts

: 4410


Join date

: 2012-03-31


Age

: 32



"Revenge is for lesser beings but I shall say that if the time comes to take on those that had defeated her previously I shall do so without any restraint and should I say it, destroy them," she say spoke before grabbing a water bottle from her purse, taking a few moments to replenish herself before continuing on. The line between the reality and the act being blurred by the moment.

She seemed relaxed throughout so far, "Titles are definitely my goal though not in particular any kind. The Hentai division is one that I'd love to go for but I keep myself rather open whether I go for the World Championship of Friction or Tension, the Hentai titles, Entropy, or The Rising Star," there seemed to be some anger when she spoke of the last title, something definitely on her mind.

SimplyMoon




Posts

: 1655


Join date

: 2017-04-25


Age

: 25



Page 1 of 2 • 1, 2
---
Permissions in this forum:
You
cannot
reply to topics in this forum