Who is online?
In total there are
36
users online :: 0 Registered, 0 Hidden and 36 Guests :: 2 Bots
None
Most users ever online was
418
on Tue Jul 30, 2019 9:51 am
Champions & #1 contenders
Looking for matches
Fri Nov 25, 2022 8:50 pm by Void Effect
Comments: 0
Looking for fun Fights
Wed Nov 23, 2022 1:55 pm by Leon564
Hi hiiiii
Hope you are well my fellows! Happy holidays to those that celebrate. Though some of you may indeed be busy, some of you might be bored and alone. Well I'm here as well bored and alone
So same boat. But not always the same tastes.
Anywhoooooo I've got my two characters available for some battles. James is decently flexible on whom he fights. But Melanie is strictly for the men. She can't get enough of'em
Take a gander at them and hit me up either with a …
[
Full reading
]
Comments: 0
Free Face Claim
Thu Nov 17, 2022 6:11 pm by Void Effect
Three of my character is getting Axed, just ya guys want em, just let me know in DM
https://www.afwrpg.com/t20236-ellie-haise-kaneki#543253
https://www.afwrpg.com/t20341-satella-the-witch-of-envy
https://www.afwrpg.com/t20571-eveline-lector-the-cruel-rabbit
Spoiler:
Spoiler:
Spoiler:
[
Full reading
]
Comments: 0
Page 1 of 4 • 1, 2, 3, 4
Lucky had been texting Claudia NONSTOP for the past day or so, unloading OODLES of excitement over what was about to be! She told her about meeting Natasha, about the two of them having one of the sexiest matches ever, about them even going out to dinner and setting this all up... and about how she wanted Claudia to be her training partner! Natasha had asked her to find one, after all in preparation for her summer-splash 1st contender fight (a little detail she failed to leave out, unfortunately). Sakura also got to pick the place... and pick it she did! There was only ONE good location she wanted to train at when it was with Claudia! They had done hotels and apartments... And since this was gonna be both martial and sex training, she wanted to do... a Sauna! ...You know... for endurance and stuff!

Lucky had sent messages to both Natasha and Claudia, giving them the time and place of their training... and now, with it drawing near, Sakura was the first to arrive! She sat inside the hot, steamy room, a room WIDE and big, almost bigger than a wrestling ring! It had little benches sticking out from the walls, the floors softly padded with rubber mats at her request but other than that, everything was all nice and normal! Oh boy, she was so excited... SHE WAS GONNA HAVE A DAY WITH BOTH NATASHA AND CLAUDIA...? She was already blushing so hard at the idea, she thought she might have a nose-bleed or something!

Lucky sat in the far back facing the door, her generous body wrapped very loosely in a towel provided to her by the staff... It WAS meant for her hair... but she thought she might have a little bit of a bigger impact on Claudia if she were to just... RIP IT OFF in front of her as soon as she walked in!

...that and the fact she was gonna tackle her to the floor and give her so many kisses, the Italian beauty wouldn't even be able to even!

Cicilia




Posts

: 2866


Join date

: 2017-11-24


Age

: 24


Location

: 07/21



Claudia has been excited for the past few days ever since her lovely Sakura was texting her endlessly, which on a normal day would've been a happy occasion because it usually meant that she and her were meeting up for some...personal training of their own in which they would continue to push each other's sexual limits (read: passionate sex) but today was an even more special occasion! Sakura had been selected to compete in a number one contender's match in SummerSplash, something that Claudia had congratulated and wanted nothing more than her lovely angel to capture the gold of sex!

Which was why Claudia was going to do everything in her power to ensure that Sakura was prepared to the absolute best for her biggest match! However, not only was this going to be a training session, but they would also have a guest with them, the Current Hentai Champion Natasha herself with them! Normally Claudia would be protective of her little angel and not want her potential rival standing in her way to claim the Hentai Championship around, but after a 'chance' meeting with Natasha, she could not resist the fact of having Natasha with them.

Especially if it was going to be in a sauna.

It was an exciting change of pace, the fact that she and Sakura were going to be sticky with sweat while rolling around was something Claudia was not going to pass up on as she entered the hot room, with a towel wrapped around her body, wanting Sakura to have a little excitement waiting for her when she took it off. And lo and behold, Sakura was thinking the exact same thing. It brought a hot smile to Claudia as she quickly marched her way across the mats, her feet sticking to the rubber as she got right up to Sakura and grabbed her by her hips, pulling her in to press their towel covered bodies together!

"How is it, that you can get me excited every time just by looking at you~?"

_________________
COME HERE FOR THE COLLECTION

OmegaVan0




Posts

: 9909


Join date

: 2010-07-05


Age

: 31


Location

: New Mexico



Natasha arrived a few minutes early which for her was several minutes late, but given that she didn't want to be the first or even second to arrive she felt it was the only way to be sure Lucky and Claudia would be given time to greet one another without her butting in. After checking in at the front desk she was led to a changing room adjacent to the sauna she would be sharing with the other two lovely ladies. She thanked and tipped the gracious hostess who reassured her that no one would be interrupting them, so long as they didn't stay past their alloted time, an unlikely event given how long the sauna had been booked for but it required stating regardless. Once the woman had taken her leave Natasha got about to changing into the proper attire...
Several minutes later her clothes were folded and placed into a wicker basket along with her thigh high boots and her handbag, Natasha reaching for a stack of heated towels but she paused to think it over and figured she might as well go without one. She would be the first woman to sing the praises of delayed satisfaction, it was amazing how even a tiny strip of fabric could heighten the sexuality of its wearer, but Natasha was here to teach and to do that well she needed to set herself apart. A bit of shock would serve just nicely.
She waited at the door to the sauna, ear pressed to the wood until she heard two voices on the other side to confirm she was indeed the last to arrive. Then she pushed it open and stepped right on through wearing absolutely nothing but a hair tie to keep her flowing mane of blue locks tied back in a high ponytail. One look at the two towel clad women told Natasha her assumptions had been spot on, leaving her the only one of them nude, at least for the moment as she flashed them a smirk and a quick wave of the hand as she approached them at a quick pace. She wasn't in any hurry but the sight of her chest jiggling with every step would no doubt add to the shock value she was aiming for.
"Oh am I interrupting something?" Natasha said as she glanced between the two of them. "Don't let me stop you...oh, Claudia right? I've heard a lot about you and seeing you in person, well Lucky was somehow underselling you." She slid in beside Claudia, her right hand running its fingers up along the woman's towel covered back. "Perhaps she was trying to keep you to herself?"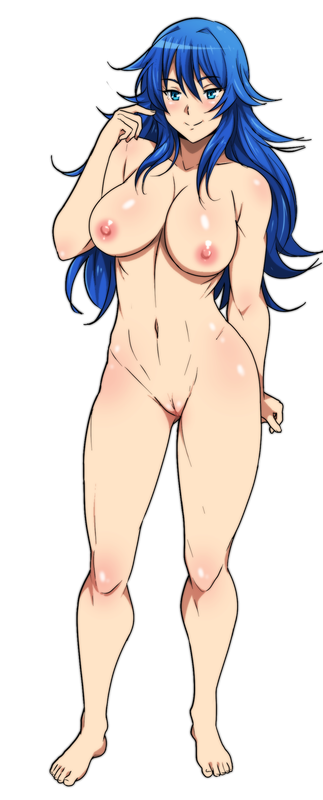 daemongirl




Posts

: 4410


Join date

: 2012-03-31


Age

: 32



Lucky nearly RUSHED Claudia the instant she saw her enter the sauna, the two women moving in quickly to each other, Lucky wrapping her arms around Claudia as she did the same thing! God, she was so beautiful... Sakura couldn't help but press herself as tightly against her Italian rival/friend/lover as close as she could, their towel-covered racks mashing and pressing together SO hard... Lucky's towel was actually starting to come undone! She could feel it loosening around her back and waist... but she didn't care! She'd been naked with her so many times, it was only natural a this point that their clothes would come off as soon as they meet each other!

Lucky blushed HARD as Claudia greeted her with such a nice question, the cheerleader pressing a nice, LONG kiss upon her lips before answering!

"W-well...Probably for the same reason I get excited by being around you!" Lucky giggled, leaning in just a bit so that her lips rested by Claudia's ear. "...Because you're just so stunning..."

AHA! Let's see how she handles that one! Without another word, the cheerleader would RIP off her towel and let it fall to the ground, flashing her European-friend with her generous form, her now naked breasts pressing tightly against Clauda's covered ones! Heh... it... It was kinda embarrassing how hard her nipples were already... how her body was beginning to tingle with anticipation... They had done this so many times but never ONCE had she ever been bored or had enjoyed herself any less! Claudia seemed to always have a new bag of tricks to greet her with! Sometimes Lucky was able to cope... sometimes she wasn't. But no matter what, they always fought their hardest!

"I missed you so much, Claudia..." She murmured before capturing her rival's lips in another quick smooch! "This is gonna be the most fun we've ever had! I can feel it!"

...It was then, the sauna door opened once more, a very familiar, very attractive... very naked champion walked in on them! With Sakura nestled against Claudia, hidden behind her from where Natasha was standing, one could assume she was still toweled up! Well... if she didn't see the towel at her feet, that was! Sakura smiled widely over her lover's shoulder, her blush only intensifying as Natasha made herself known, that silky-smooth french accent sending tingles ALL the way down Lucky's spine!

"Natasha! HI!" Sakura greeted enthusiastically, rubbing herself up and down against Claudia with excitement! "This is Claudia! Isn't she, like, the hottest girl eveeeeeeerrrr???" Natasha took this moment to walk over to them, her chest bouncing like... well... a pair of breasts ANY girl would want, Sakura's eyes entranced by their movement! She slipped up close besides Claudia, giving her a once over and making remarks about her... that made the cheerleader blush EVEN harder!

"...Well.. She... She's kinda beyond words..." Lucky stammered, her face a FULL SHADE darker when Natasha threw some accusations the cheerleader's way! It wasn't just the Sauna that was steaming anymore!

Cicilia




Posts

: 2866


Join date

: 2017-11-24


Age

: 24


Location

: 07/21



The two lovers mashed together as Claudia almost had to take a step back as Sakura came flying at her, the loud smack of their bodies ringing out as breasts mashed together and arms entangled. Claudia's towel began to unravel from her body from their embrace, loosening and dropping down from her breasts, exposing more to Sakura's as they pressed and shoved against each other as their lips met and their usual deep kiss ensued. There wasn't a time Claudia could think of that she didn't enjoy these moments that felt like they lasted forever, pressing up against Sakura as their lips parted and heads moved over the other's shoulder.

"Hu hu hu...you're right. You are just so stunning..." She whispered back into Sakura's ear, her face becoming red hearing the passionate word in such an intimate position as her lips curled into a lewd smile as she pulled away from Sakura. With one swift pull of her loose towel, she ripped it off of her body and coincidentally at the same time as Sakura! The two love rivals, shedding their only clothing as they flashed each other with their beautiful sweat layered bodies!

Claudia wanted to just pounce on Sakura seeing her bare in front of her, to get this training session started whatever it was. "Every day I can have with you, and every day I best you as a woman, is a fun day for me!"

But she had almost forgotten there was a third person to this as the door opened, turning her head over her opposite shoulder that Sakura wasn't on. And there she saw the Hentai Champion, already naked and bare as she made her way towards the two as Sakura and Claudia lined up side by side. Claudia was immediately taken in by the beauty of the blue-haired Champion, it was hard not to appreciate the body of such a woman as Claudia flashed a smirk at Natasha, who stood in front of the two as both Sakura and Natasha were commenting about her magnificent self.

It was hard not to feel a bit proud with how Sakura was fawning over her and Natasha's noting of being undersold as she puffed up her chest. "I don't call myself the Symbol of Love for show...! Well, not just for show." she let out as she eyed up the Champion, she could see the way that those blue eyes were looking at her and she loved it as she took a step forward to stand right up in front of Natasha.

"Sakura may be my favorite...but that doesn't mean I can't show my love to anyone else."

_________________
COME HERE FOR THE COLLECTION

OmegaVan0




Posts

: 9909


Join date

: 2010-07-05


Age

: 31


Location

: New Mexico



It was clear from the moment she laid eyes on the two of them that Lucky was absolutely smitten with the lovely Claudia, for reasons that went beyond the physical or so it seemed to her. Claudia for her part did not lack for confidence, not that she should have given the myriad of womanly charms she possessed, and while she had yet to witness what she could do with that body of her's Natasha suspected she wasn't a push over. She had seen many beautiful women in her life and had taken a good number of them to bed or seen them in action, so Natasha knew good looks weren't synonymous with sexual ability but it never hurt either. Claudia looked the part and could talk the talk, but Natasha still had to see if she could walk the walk as well. For while she had her number one contender already she had other plans for someone like Claudia.

Then she bore witness to how forward Claudia could be as the woman stepped right up into Natasha's personal bubble, the two of them standing nearly chest to chest while Lucky looked on. "The symbol of love? Now why did I never think of that? Oh well I've never really gone by a nickname so why start now?" Her voice remained calm and steady, giving no hint that she was nervous around the likes of Claudia or Lucky or bothered by how close the blonde had become. "But I digress."

Natasha began to circle the two younger women, her hands clasped behind the small of her back which meant her chest was thrust out as she walked. "Lucky and I have gotten to know one another recently and I had the thought of teaching her a thing or two. However theres only so much I can teach her first hand which is why on her recommendation I invited you as well Claudia." She came to a stop then, turning to face both of them while also leaning forward to let her large breasts sway a little. "I'd like to have you two spar, hentai rules of course, while I watch and give pointers now and again. I need to see more of what Lucky can do and from what I've heard you bring out the very best from her Claudia, besides this is my chance to see the Symbol of Love in action and how could I pass that up?"

She giggled and without another word stepped forward to wrap her arms behind Claudia, squeezing the woman's ass and pulling her in for a deep kiss while their bodies rubbed together amidst the steam and in full sight of Lucky. After several long moments had passed she slipped away from Claudia, a little breathless as she licked her lips. "Now don't let me keep you two apart any longer." Flashing them both a smile Natasha walked over to a bench by a stack of hot stones, pouring some more water to add even more steam to the room.

daemongirl




Posts

: 4410


Join date

: 2012-03-31


Age

: 32



Claudia stepped forward and RIGHT up to Natasha, shocking the cheerleader with how bold she was being! ...In all honesty, Sakura had never seen the Italian walk RIGHT up to someone of authority like she had just now, showing herself off to her with PRIDE! Lucky was very much different, quite humbled in the presence of the blue-haired goddess before them! Their demenors seemed to differ HEAVILY... but even still, Lucky couldn't help but look at Claudia in awe... Not just because of her obvious beauty... and with a smile that made the cheerleader blush in all sorts of ways... Just... that BRAVERY to stand RIGHT up against someone who held the belt of hentai, to present herself to her with all that confidence...

Lucky couldn't help herself! Without a word, she practically TACKLED Claudia from behind, wrapping her arms around her chest JUST below her breasts, hugging her close and blushing HARDER as she felt her rear press up against her sex! Lucky gently pressed her lips against the Italian's neck, suckling upon it softly as if claiming her for herself! Her bare chest rubbed and pressed against her lover's shoulders, her fit, toned body gently fitting against Claudia's... as Natasha seemed to do the same from the front! Sakura's emerald eyes widened as she felt the French-woman's hands slip around between Sakura's thighs and Claudia's ass, those hands taking her cheeks in hand as Natasha took her lips, kissing her!

The cheerleader blinked, a surprising wave of... something washing over her! It wasn't a GOOD feeling, she knew that for certain! It couldn't have been jealousy either!.... Right? She wasn't the kinda girl to get jealous even seeing her favoritest person ever being smooched by someone that wasn't her!

...RIGHT...!?

Upon witnessing Natasha kiss Claudia... Lucky only buried her face in the back of Claudia's shoulder, hugging her tighter and tighter... Wanting her attention and stuff...

Eventually, Natasha would pull back, remarking how she shouldn't keep them apart any longer... before moving over to one of the seats by the heater, the room growing even more hot and steamy as the naked, beautiful champion invoked more steam to rise! Left alone together... Sakura would pull back and allow Claudia to face her... before wrapping her arms quickly around her hips, flashing her a shaky... but loving smile! She stared into her eyes... an intense emotion flashing between them before Lucky would place a very soft kiss upon her lips... then another... and then another, her boy already covered in a thick layer of sweat!

Cicilia




Posts

: 2866


Join date

: 2017-11-24


Age

: 24


Location

: 07/21



Claudia felt pretty good about herself, able to keep herself compose in front of such a beauty like Natasha and not break or squee at how beautiful she was as she stood toe to toe with the Hentai Champion! She would stand her ground as Natasha began to circle the two of them, recounting of a meeting that both she and Sakura had. Instead of being possessive about who was meeting Sakura and when Claudia was quite open to the idea that Sakura had her own life. She, as a Symbol of Love, accepted all forms of love, even when they didn't involve her. And plus it's not like Claudia was at any position to dictate anything about Sakura!

She kept her eyes on Natasha, until Sakura jumped her from behind, almost shoving her into Natasha as she felt the lips on her sweaty skin in the crook of her neck! "Ah! H-hey!" she let out, a red shade washing over her face as she was thrown off her balance mentally and ended up becoming flustered having been suddenly jarred out of such a confident stance! "Wh-why did you do that?! I was to look strong in front of you!" she whined out, although did nothing to fight out of the grasp of her love rival as she managed to get her attention back to Natasha, who explained why this training session was set up.

Claudia smiled, she didn't need a reason to have sex with Sakura. But with the eyes of the Hentai Champion on the two of them, and with the thought of and even better Sakura along with getting a bit of know-how of how the Hentai Champion ticked, it made it all the more exciting!

And as if to give her a bit more motivation, the Hentai Champion wrapped her arms around her, squeezing her butt cheeks and planting a kiss right on her lips! Claudia's eyes widened again as she found herself trapped in a sexy sandwich! It was too hard not to become insanely turned on by this! When Natasha parted, Claudia's head was a little fuzzy as she watched the Champion take her spot to watch and commentate, the Symbol Of Love's lips curled into a smile as she would try to twist and turn in Sakura's arms to meet her face to face!

"Now don't think I forgot about you my lovely Sakura. Ready for me to get my revenge on you in sex?"

_________________
COME HERE FOR THE COLLECTION

OmegaVan0




Posts

: 9909


Join date

: 2010-07-05


Age

: 31


Location

: New Mexico



Lucky giggled lightly as Claudia protested her hugs and kisses from behind, the cheerleader responding with a soft grind against her back! Her breasts pressed and rubbed against her rival's spine just below her shoulder blades, the cheerleader placing another kiss right against her cheek!

"I'm sorry... I couldn't resist..." Lucky whispered into her rival's ear, hugging her a little tighter! "I just... You're so strong all the time... I wanted to... make you blush and stuff!" WELL! She certainly achieved that goal! Even from this angle, she could see her lover's face flash a whole shade redder with the cheerleader attached to her back! What was more... was that when Natasha moved in to press her against them both... Lucky could sense Claudia's arousal SPIKE! In just a moment, she locked eyes with Natasha, as if communicating this knowledge... A possible weakness to the Queen of Love...? Maybe! Lucky took ALLLLLLL that juicy information and hid it away inside... something to keep note of for later!

Once the Champion had gone to take her seat and observe, Claudia would TWIST herself around in Lucky's arms and before she had a chance to say ANYTHING... she would feel a pair of lips against her own! Claudia would quickly be silenced as Lucky pressed herself tightly against her, kissing her intensely with such potent emotion and drive, their breasts mashing TIGHTLY together as the cheerleader pressed into her with great determination! Her hands slipped up under Claudia's arms, her hands resting on her shoulders to pull her so close, their emerald eyes locking with a super-charge of energy!

Lucky would attempt to push DOWN on her rival, eager to take her to the floor already! Her hands PUSHED into her lover's back, trying to bend her and take the Italian off-balance and, if she succeeded, Lucky would carefully catch her in her arms and gently lower her to the floor! She had to break their kiss to catch her... but her gaze wouldn't be filled with any less love... She stared into Claudia's eyes as if she were opening her heart and soul to this woman... Lucky blushing harder and harder as these feelings grew more and more intense! If Lucky managed to take Claudia down, the cheerleader would gently cup one of her cheeks in her hand, the other softly looping behind her neck as a sort of support... before Lucky climbed on top of the italian to straddle her... and locked lips with her in a passionate, fiery barrage of smooches!

Cicilia




Posts

: 2866


Join date

: 2017-11-24


Age

: 24


Location

: 07/21



Hugging Sakura tightly in the sauna, the heat was already at new high for her and Sakura as their sweaty bodies slide and grind against each other as Natasha took a side seat to observe and watch their sexfight! Knowing that there was another beauty in the room, who was going to watch them in such an intimate struggle was far different than just battling in front of a camera with just her and Sakura! Although she did completely forget that her two matches with Sakura had a referee in the room with her, but she was unaware of this fact at this moment as Sakura's lips came crashing into hers.

Claudia saw the fire in Sakura's eyes, filled with brimming and overwhelming energy that she couldn't help but give her the same look. The two of them may have been love rivals, but in a battle of sex, neither one of them was going to take second place at pleasuring the other!

Sakura came shoving hard onto Claudia, breasts oozing out from between them as she was hunched over, letting loose a cry of pleasure from the tension on their breasts! "MYuaaaaaah~!" she moaned out, arching back as Sakura's arms wrapped tightly around her, guiding the two of them down onto the floor as Sakura was on top of her, mashing down on her with such intimate passion that it almost overwhelmed Claudia!

Almost.

Even more the most powerful of torrents of Sakura's love was not going to be enough to quell Claudia's! Her arms wrapped tightly as their lips smacked and smooched as Claudia wrapped her arms tightly around the straddling Sakura, jerking to the side to try and roll her over to take over the barrage of kisses!

_________________
COME HERE FOR THE COLLECTION

OmegaVan0




Posts

: 9909


Join date

: 2010-07-05


Age

: 31


Location

: New Mexico



Page 1 of 4 • 1, 2, 3, 4
Similar topics
---
Permissions in this forum:
You
cannot
reply to topics in this forum