Who is online?
In total there are
59
users online :: 2 Registered, 0 Hidden and 57 Guests :: 2 Bots
Kudiruka1106
,
Mart-Kos
Most users ever online was
418
on Tue Jul 30, 2019 9:51 am
Champions & #1 contenders
Looking for matches
Fri Nov 25, 2022 8:50 pm by Void Effect
Comments: 0
Looking for fun Fights
Wed Nov 23, 2022 1:55 pm by Leon564
Hi hiiiii
Hope you are well my fellows! Happy holidays to those that celebrate. Though some of you may indeed be busy, some of you might be bored and alone. Well I'm here as well bored and alone
So same boat. But not always the same tastes.
Anywhoooooo I've got my two characters available for some battles. James is decently flexible on whom he fights. But Melanie is strictly for the men. She can't get enough of'em
Take a gander at them and hit me up either with a …
[
Full reading
]
Comments: 0
Free Face Claim
Thu Nov 17, 2022 6:11 pm by Void Effect
Three of my character is getting Axed, just ya guys want em, just let me know in DM
https://www.afwrpg.com/t20236-ellie-haise-kaneki#543253
https://www.afwrpg.com/t20341-satella-the-witch-of-envy
https://www.afwrpg.com/t20571-eveline-lector-the-cruel-rabbit
Spoiler:
Spoiler:
Spoiler:
[
Full reading
]
Comments: 0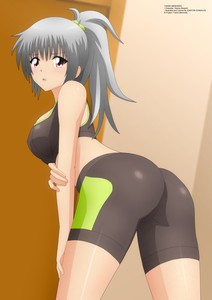 Kana had just got done in the gym with her typical work out. She was on her way out of the locker room wearing her usual workout gear. She was in a decent mood as she had beaten a few personal bests in her times and weights. She felt unstoppable.
Kana would be walking down the hall to the entrance. As she walked, her attention would be caught by a promotional poster. A new one. This girl was dressed in a witch get up. She was quite the looker. Kana always wanted to fight a newbie. She had been placed in the position multiple times but never with someone the same size as her or the same skill level. Most of the time, Kana was placed as a jobber against tough and obviously stronger opponents. This girl didn't look bad though. She looked like an opportunity.
Kana would snatch the poster off the wall and continue walking. She would stop at the front desk as she planned on asking about her and as if it was Kana's destiny, She would show the front desk lady the poster and ask for information. The lady would point right behind Kana and Kana would look back. There she was. Claire Von Brandt. Kana's chance at victory.
Kana would smile at the front desk lady before leaning against the desk, staring at the witch girl before looking away, not wanting to be obvious, She would act as if she was having a conversation with the lady at the front desk in order to not give up her original plan.
Once Claire had gone past and was a bit down the hall, Kana would once again thank the desk lady and begin following her soon to be opponent. Kana would stay about 10 yards back, not wanting to get too close yet. She would stay back until they were deeper into the hallway. She would keep walking, speeding up a bit so she can walk besides Claire before attempting to cut her off, jumping in front of her.
Either Kana would stop Claire or the two would collide in a crash. Either way, Kana would try to introduce herself nicely. "Hello My name is Kana. I couldn't help but notice your new here and you already have a promotional poster! That is a good start!" Kana would say with a friendly tone and a smile. She would offer her hand out for a handshake. If Claire were to shake back, Kana would make sure to give her hand a firm squeeze. "Do you know what would be an even better start? You jobbing for me... We all have to start somewhere..." Kana would tease although there was seriousness in her eyes. She would try to squeeze Claire's hand a bit tighter, hoping to intimidate the girl. "I can be your first match! Wouldn't it be glorious? The crowd would love you as my jobber." Kana would say with more confidence than she should have as she stayed standing in front of Claire, one hand on her hip, waiting to see how she responds.

shanecawf




Posts

: 864


Join date

: 2017-02-03



Claire Von Brandt:
Claire had been casually touring the various amenities the AFW offered. The rooms, gyms, cafeteria, and even a front desk! She was expecting very little to happen after all this was her first day, yet she was dead wrong.
After less than an hour on the premises she was already being challenged to a match. A very sweaty, and admittedly pretty, girl had suddenly jumped in front of her and grabbed her hand without asking.
Claire grinned in muted surprise as this girl started to introduce herself, bragged, and then generously offered to let Claire act as a "Jobber" for her. After Kana had finished her little speech Claire clasped her free hand to Kanas. With the most bubbly voice she could muster she purred: "thank you so much! I must be
so
lucky to job out to a
real
veteran like you! Say... Since I'm
so
totally outmatched could I make the rules for our match?"
While Claire was completely new to this whole professional wrestling thing she had a litany of fighting experience. Mostly scraps that took place in back alleys, bars, and even a few train yards. She would bring all her experiences of brutish violence upon this very rude girl.
_________________
Howdy i'm WrestleMind and there's nothing i appreciate more than honest feedback and discussion. Wanna tell me I suck? You would make my day!
Bio Link

WrestleMind




Posts

: 844


Join date

: 2018-06-30


Age

: 27


Location

: North America, East Coast.



Kana would be surprised by the reaction she got out of this girl. It was rare a girl would be willing to job for her. Her voice was so bubbly and happy. It almost seemed as though she was looking forward to it.

Kana would listen to the girl's response and would act like she was thinking for a second. "Oh hell. I don't see why not! I usually decide the match type but with a girl as cute as you... I can't say no." Kana would say in a flirty tone. "The crowd will love it. I promise! There is nothing they love more than the sight of a cute little jobber like you getting tossed back and forth around the ring!" Kana would exclaim excitedly.

Kana was already plotting in her head what she had planned for this girl. She was looking forward to dominating her in the ring, of course if everything went as planned.

"So... What rules did you have in mind? Please make it interesting, Nothing basic like a standard match..." Kana would say. She would notice she was still holding the girls hand and would let it go and place her hands behind her back, nearly bouncing on her feet with excitement. This may be her chance to prove that she wasn't just a jobber.

shanecawf




Posts

: 864


Join date

: 2017-02-03



Claire nodded and chuckled at Kanas remarks. "You think I'm cute!? That's so sweet... If the fans want to see me tossed around like a ragdoll I'm happy to oblige!" 

Claire rested her chin on her oak staff and peered longingly at Kana. "If I'm going to be the best jobber I can be we should have a match with a lot of knockouts and like no rules... I think the original way of saying that is like a no DQ iron woman's match?..." 

Claire's crimson eyes grew brighter as a new thought occurred to her. "Also we should make sure to change our gear! We both look pretty cute right now but I think we could be a bit skimpier when we're in the ring."
_________________
Howdy i'm WrestleMind and there's nothing i appreciate more than honest feedback and discussion. Wanna tell me I suck? You would make my day!
Bio Link

WrestleMind




Posts

: 844


Join date

: 2018-06-30


Age

: 27


Location

: North America, East Coast.



Kana was more than pleased with the outcome of her approach on the new wrestler. She would hear how Claire was more than happy to oblige and would smile brightly as she was called sweet.

Kana would Blush a bit as Claire rested her chin on her staff and stared longingly at her. The girl was quite beautiful and Kana couldn't wait to toss her around the ring at least thats what she had planned. Claire's next set of words would make Kana's smile grow even bigger. She was on the exact same page as her.

"That's exactly what I was thinking!!!" Kana would say excitedly as continued thinking about what she would do to the cute new girl. "The fans love that kind of stuff. Sometimes you just have to feed a lamb to a lion for the crowd." Kana would tease as she would point her finger to Claire when she said Lamb and Back to herself when she said Lion.

When Claire's eyes grew brighter and she brought up their outfits, Kana would quickly nod and and agree. "Yes of course. Your adorable right now but I can tell you have plenty more to show.." Kana would say in a more sultry tone. "Make sure to wear your nicest bikini or your hottest lingerie!" Kana would say excitedly as she looked up and down Claire imagining her already hot self dressed in something skimpier and sexier.

"Than it's a deal! I will be your debut match... It may not be as glorious as a debut victory but I can tell the crowd is really going to like you!" Kana would say as she would at first put out her hand for a handshake before pulling it back and going for a hug. Her body was still a bit sweaty from her work out but she didn't care. "I hope your ready..." Kana would whisper as she would squeeze the hug a bit tighter before loosening it up waiting to see how Claire responded.

shanecawf




Posts

: 864


Join date

: 2017-02-03



Claire's cheeks grew bright red as Kana suddenly pulled her into a deep, sweaty hug. Her thick body practically swallowed up the slender girl. Claire grinned as Kana whispered suggestively: "I hope you're ready..." Not wanting to break her innocent girl routine Claire stuttered: "Uh um... I th- think so... Please be gentle my sweet lioness..." 

Claire then nuzzled the nape of Kanas glistening neck. Once some anticipation had built she gingerly kissed her opponent's cheek. Having flirted with Kana to her satisfaction Claire slipped away from the hug and headed towards her room. While walking away she gave Kana a quick wave and a big smile. "See you in the ring Kana!"
_________________
Howdy i'm WrestleMind and there's nothing i appreciate more than honest feedback and discussion. Wanna tell me I suck? You would make my day!
Bio Link

WrestleMind




Posts

: 844


Join date

: 2018-06-30


Age

: 27


Location

: North America, East Coast.



Kana was very excited as this plan went as good as it could possibly go or so she thought at least. She would get goosebumps as her soon to be opponent played the jobber roll well, asking her to be gentle and calling her a sweet lioness...

Kana would shiver as Claire nuzzled her neck before she would receive a kiss on the cheek causing her to blush slightly. Kana would be awe struck as she wasn't expecting that, allowing Claire to slip from her hug and head towards her room. She would watch her walking away and her mouth watered. She desired this girl. She couldn't wait.

She would snap out of it when Claire called back to her saying that they would see each other in the ring. Kana would simply nod and turn around to head to her place.

The first thing she planned on doing was calling her manager to set this match up as soon as possible.

shanecawf




Posts

: 864


Join date

: 2017-02-03



Similar topics
---
Permissions in this forum:
You
cannot
reply to topics in this forum