Who is online?
In total there are
52
users online :: 9 Registered, 0 Hidden and 43 Guests :: 1 Bot
BritBrat
,
Gadot
,
GrandAkumaShogun
,
Iceman
,
Kelsea
,
Moriaty
,
Panda
,
Random_Username
,
Ringropes98
Most users ever online was
418
on Tue Jul 30, 2019 9:51 am
Champions & #1 contenders
Tension: Looking for a Debut!
Tue Feb 23, 2021 3:49 am by Gadot
I'm looking to send Nic out there and give him a proper debut, would love a nice match for him! I've honestly got no preferences in terms of a match, but I would love something that either gives him a nice plot to ride out with someone else, win or lose. He's down to play with both men and women, either hentai or not. Link is in my signature!
Comments: 0
Searching for some standard matches
Thu Feb 11, 2021 3:26 pm by Iceman
Hello there. Now that I took care of my posting schedule and I managed to catch up it is time for me to make an open call for anyone willing to give
this new wrestler of mine
a cool standard match. I have plans for her so the options are somehow a little limited, but if you reach me through PM or Discord we can discuss things. Also, I'm on some kind of schedule so I would like those matches to last a couple of months, three tops.
Thanks a bunch. Have a nice
[
Full reading
]
Comments: 0
Poll regarding the possibility of Mods booking PPV matches.
Sat Oct 24, 2020 1:43 am by Old_Man_Tai
So, basically, was wondering all of your thoughts regarding the possiblity of mods booking ppv matches.
The thought was, since people often seem to have trouble finding partners for ppv matches until the last minute or so, what if the mod team was to step in and, well in advance of the show, book the show ourselves, and try to put together the best matches we can, including title defenses, no.1 contender matches, and so on and so forth?
While I doubt our more popular members need such a …
[
Full reading
]
Comments: 9
Page 3 of 4 •
1, 2, 3, 4
Cicilia's eyes widened, a streak of red flashing across the bridge of her nose as Sayumi's compliment struck her. A simple 5 words and Cicilia was left speechless, her normal strong, powerful personality melting into jelly in the face of such an adorable, innocent reply! God, it felt like the Juggernaut was going to have a heart attack and DIE from the sweetness that came off her girlfriend... but then... that wouldn't be too bad a way to go. As the blush stretched on, bleeding down into her cheeks, the German's lips broke into a small smile, her head leaning in to gently press itself against her partner's. Her eyes fluttered closed as she just stood there for a while, her forehead gently touching Sayumi's, letting her warmth bleed too and fro and back again. Silently, the boxer thought towards her partner as if their minds were linked, words of love flowing from her thoughts and into her partner's along with the sensation of connection she had with her...

Cicilia loved being called beautiful... It was something she took pride in, her looks. She never did it for anyone other than herself, really, just thinking it'd make her happy to come home and see someone good looking in the mirror. All those from the De'Reignhardt line had perfect genetics, she figured. Chest, voice, figure... all these things they flaunted carelessly every time they were in front of a camera. Of course, they probably looked like GODS back in Germany, using all the latest designer products from foreign lands... She did the best she could with what she had...

With her girlfriend around... even if she knew it probably didn't matter what she used, Cicilia made extra efforts to look beautiful... She started learning make-up tutorials online, paid attention to more beauty related channels (when Sayumi was out, of course. SHE MUSN'T KNOW). She even found herself browsing dresses and other... "gear" when she was at the store! To hear that Sayumi thought she was beautiful... that could've been a birthday gift and it would've been all she could've ever wanted. Eventually, Cicilia pulled away for a second, her sanguine eyes aglow with endless warmth as she stared down into the cool aquas of her girlfriend, her cheeks quite on fire themselves!

"...Thank you..." She whispered before reaching down and taking a hand of Sayumi's in hers. Cicilia's fingers gently ran over her palm, smooth and soft... perfect like an angel's... Sayumi could be so down to earth and mature, a perfect listener... than a paragon of beauty the next instant. She had no idea how she did it but one thing she DID know was how jealous she was she couldn't pull the same trick for her.

"I love you..." She whispered, her eyes drooping slightly as she leaned in a little closer, their noses nearly touching. "I really do... You make me so happy..."

With those words of unadulterated affection, Cicilia would pull away... slowly at first, savoring every bit of contact she had with her sweetheart before disappearing back into her room to get ready... She might as well show off her new threads even if there was some time before they had to go. Heh... Sayumi would never guess where she hid this one...

Cicilia




Posts

: 2866


Join date

: 2017-11-24


Age

: 22


Location

: 07/21



Sayumi's head canted slightly to one side, blinking up at Cicilia in minor confusion. She wasn't sure why she was being thanked. Was it because she said her girlfriend was beautiful? It was true, nearly always. It didn't really matter what Cicilia wore or how she made herself up, the lavender haired girl likely would have responded the same way. There was more to the Germans beauty than how she looked, it was backed by the person behind it that Sayumi adored. Any extra effort the boxer put into looking nice was just a bonus really… the Japanese native was easy to please.

"You're welcome." She offered back tentatively, taking a guess at the right response. She sucked in her lips as Cicilia drew in close, staring back innocently with a smile. Her girlfriend was almost always so intense when the two of them synced up on the same wavelength, it made it hard to sit still.

The urge to tackle Cicilia was real. Draw her to the floor or zig zag their way to the couch in the other room under a torrent of kisses. Before the boxer's injuries the two of them had been like rabbits once they moved in together. It didn't take much to have both of them giggling and undressed within one another's arms. These days, they did so in moderation. Snuggling was at an all time high, which suited her fine really.


Reaching out she took Cicilia's cheeks within her palms, pulling her in mid sentence for a big wet kiss. Interrupting her girlfriend with affections like this was something that never got old, especially since it often stunned the girl into silence. She held her their, captive in a long slow kiss, sure to leave a deep red smear of her lipstick on Cicilia's face before pulling away with a giggle.  

"What were you saying?" She batted her eyelashes and puckered her lips. Playing dumb was a close second in her master list of playful interactions.

Yori




Posts

: 3964


Join date

: 2017-11-19



"I really- MMM!" Cicilia was interrupted before she could complete her thought, a powerful, wet kiss from her partner catching her completely off guard! It seemed to be a game they always played, cutting eachother off with a kiss... and somehow, the German was always surprised each time... She was so shocked by Sayumi's strength and... technique, in fact, she was unable to respond effectively and was completely taken by her! Cicilia moaned softly into their kiss, her eyes fluttering shut as her partner held them close together with her hands, her gentle hold on her cheeks keeping her firmly in range of her luscious lips.

By the time it was all over, Cicilia's cheeks were burning almost as red as the lip-stick Sayumi had smeared across her face, the boxer's state almost half-conscious with the glow of their kiss! Cicilia's eyes fluttered open... but only slightly, their gaze heavily lidded as they stared into the soft, innocent blues of her partner... Sayumi's question would go unanswered for a moment... two... Several moments as the German's brain made attempt after attempt to process the information She simply stared, slightly open mouthed with her bottom lip quivering as if trying to decide which motion to adopt...

"I... You... I..." Cicilia mumbled, her breath warm as it gently graced her partner's lips. She was... stunned not only with how glorious a kiss that was... but how she was able to render her so utterly and completely speechless! "I... Don't know..." She eventually managed to utter, her cheeks burning red enough to match the complexion of Sayumi's beautiful lipstick. Where her mind failed, instinct took over, activating the autopilot that commanded Cicilia lean in and press her lips to Sayumi's once more, kissing her back with equal fervor and passion as had been given to her! This, her mind could understand and sync up to...

Her own hands rose to gently cup her girlfriend's cheeks, her thumbs gently stroking them with the tender care of someone so in love. It took a while, but eventually Cicilia found a reason to stop, her lipstick-splattered mouth curling into a wide smile as she pulled away an inch. Her hands gradually lowered, gently wrapping under Sayumi's arms, pulling her into an embrace. Her chin rested on her shoulder as she hugged her, sighing with such contentment, one might've thought she was in heaven... For all intents and purposes... this moment here? This was as good as it got.

"How...?" She whispered in her lover's ear. "How do you keep flustering me like that...?"

Cicilia




Posts

: 2866


Join date

: 2017-11-24


Age

: 22


Location

: 07/21



Sayumi was brought to the edge of her seat, scooting forward as she was drawn into Cicilia's embrace. She squirmed with a small giggle, reaching up to wrap her arms around her sweetheart. The simple things in relationships were best she found. Getting those small reactions like smiles and blushes.

Knowing that she did that because of how they felt about one another. It was a spark of magic that never seemed to die out even when the two of them had moments where they didn't agree or were distant with one another.

She cracked a smile at the comment, blowing a warm breath of air into her lover's ear to fluster her further before responding. "I dunno, I am just too cute I guess." Her arms squeezed briefly around Cicilia before they loosened up, her hands drifting down. They didn't fall away though, instead they cupped the boxer's rear to give it a playful honk. "Also saucy." She finally pulled back to stick her tongue out at the German.

"So… about that dress." Sayumi sucked in her lips, taking a moment to work her lipstick back over them while tasting the lingering traces of her girlfriend. The first dress she had seen her lover in had been plain, but elegant. Simple milky white with a billowing skirt. She had looked like something out of a fairytale.

She expected something similar, though likely black with some manner of red highlight in the stitching perhaps. Cicilia seemed at home in darker colors, which was fine. It added an interesting contrast when they went out together. They were an unlikely pair to be certain, but she liked to lean into the oddity of it rather than shy away from the truth of how different they often were.

Yori




Posts

: 3964


Join date

: 2017-11-19



Magic... that was a great description of what they had... It was an otherworldly bond, something that transcended something that normal people had... Love... and magic... the two ingredients came together to form what Cicilia and Sayumi shared in this hug: A bond between them that would never die. She held the smaller woman in her arms, taking in her warmth like an addictive drug... It was so comforting to hold her... to be held BY her... She was so soft and caring...
Cicilia blushed heavily as her partner's feather-soft breath tickled her ear, the sensation running right down her cheek, sides and legs, stirring up urges ALL the way down... Her arms began to slip from around Sayumi, loosening, drifting lower and lower but her partner, in all her infinite wisdom, knew EXACTLY what was going on and decided to do it first! Cicilia GASPED in surprise as Sayumi's hands scooped up her rear, squeezing them quickly as if to taunt her! The German's nose and cheeks flashed a heavy red as her girlfriend simply giggled at her, pulling back to stick out her tongue... The German tensed up, her blush spreading farther and wider than before, feeling the embarrassment and allure build up inside as the most adorable person in the world smiled suggestively up at her. She was so beautiful... Cicilia couldn't help herself... She leaned in once more, her movements slow and deliberate as she leaned in and took her partner's lips in her own, pressing them softly together... Slowly her eyes would flutter shut as she kissed her softly, gently... Her hands shifted around to her front, gently taking her hands as they kissed, their fingers intertwining. She kiss her for what felt like only a few minutes... which in reality was far longer... before finally pulling away with the smallest of smiles... it's strength coming not from her lips but her full face.
"Oh... right... the dress." Cicilia mumbled, pulled only an inch back, the electricity between them still tingling upon Cicilia's skin with their closeness. She tilted her head... as if considering something... before leaning back in, placing a long, sloppy kiss along Sayumi's neck, suckling on her tender skin before pulling back one last time with the widest, smuggest grin on her face... and with a long sanguine smear in the shape of lips lining the lavender cutie's neck... She could have that lipstick back... She had her own after all...
"Be right back, sugar..." Cicilia shmoozed, blowing her girlfriend a kiss before disappearing into their room!...
... She came out only to ZIP into the bathroom a moment later to clean up... make everything nice and pretty before stepping out one more time... to make her presence known to her partner: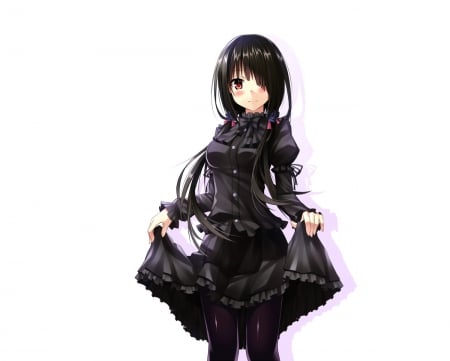 "So...?" She asked, one hand gently lifting up the front of her elegant black dress, the other adjusting a few stray strands of hair, pushing them behind her ear. "What do you think...?"

Cicilia




Posts

: 2866


Join date

: 2017-11-24


Age

: 22


Location

: 07/21



"Ehrm…" Sayumi let slip a small pleased hum as Cicilia buried her lips down against her neck. Like a deer in headlights she remain Frozen in place, listening to the soft sensual sound of her girlfriend having her fill. Her semi hazy mind thought very briefly how cheat neck kisses were… though she wasn't about to complain. She wasn't about to let the boxer get away with it for free though.

As Cicilia broke away, Sayumi took a long step after her, deftly hooking a finger down the back of her girlfriend shorts. With a quick tug, she let the elastic bane buried within the fabric snap back to give the German a sharp but playful reminder that she rarely went without returning a favor when it came to the two exchanging affection. Got'cha! She was already grinning like a fool.

"Sugar." She mused softly, watching Cicilia hurry off. Sayumi was in no way opposed to the idea of having pet names piled on her. It was flattering, even if many of them on face value alone weren't special. When they came from Cicilia, they were.

The smile never faded, even as her girlfriend vanished from sight behind their bedroom door. Part of her wanted to follow and undercover the mystery hiding spot the boxer had used… but she thought better of it. Breaking into the room now would burn that location and Cicilia would start hiding things somewhere else… better this way. She could scour when the apartment was empty to find it later, that way she could steal a peak at potential hidden gifts! Was it wrong to do? Maybe. But she liked knowing.

She instead busied herself with cleanup. Rolling up her sleeves and tending to what remained untidied within the kitchen. The opening and closing of doors caught her attention, enough to have her craning her next and blinking at the black blur that was her girlfriend. What was she doing? She had expected another simple dress much like her white one but did it really need that much prep?

Skirting around the counter she moved to the bathroom door, pressing an ear softly to the wood to listen to the soft sounds of her girlfriend beyond. Her eyes stared sidelong at the plain door while she listened as if trying to see through the barrier with x-ray vision. Softly she pawed at the wood, making faint scratching sounds with her fingernails. "Cicilia… I wanna see… Cicilia… Ciiiiiiiciiiiilia, pleeeeeeeease?"

Sayumi jumped back when the door finally opened, quickly straightening herself up in the brief second she had from being seen. She blinked, eyes wandering up and down her girlfriend. She took a light step back, then another to allow Cicilia to leave the bathroom. Cheeky Rosy, lip quivering, she seemed to be holding something in.

Sayumi couldn't keep it back any longer, squeeing loudly as she immediately descended into Cicilia's personal space "Oh my God! You look so cute! You are like a person sized doll!" Black wasn't her personal favorite choice for most forms of attire, but the flowing skirt and over abundance of ruffles and frilly cloth was so her style. She circled her lover, poking, prodding, and at one point even lifting her skirt to peak underneath… though it was a purely professional thing. The craftsmanship was top notch… truth be told, she was a bit jealous that she hadn't been the one to make it for Cicilia.

"Where did you even get this and why were you hiding it!" She rounded to Cicilia's front again, reaching out to clasp the bow around her neck to pull her in close enough to press their foreheads together. " You better tell me… I have ways of making you talk. Really, really effective ways."

Yori




Posts

: 3964


Join date

: 2017-11-19



Cicilia blushed, glancing off to the side as she caught Sayumi's reaction to her new outfit, the lavender cutie's baby-blue eyes ogling her as she stepped out! Her girlfriend looked like she was gonna EXPLODE right there, what with her lip quivering and her body frozen like an explosive before it's ignition... She didn't think she looked THAT good... in fact, she kinda preferred the simplicity of her last dress now that she had seen herself in the mirror... She was kinda worried that her girlfriend would just break out in laughter or something with how long this silence hung over them both, The German's eyes flicking to the floor... then up at Sayumi, then back off down the hall, unable to keep her gaze locked on any one thing in embarrassment...

"U-uhm... Sayumi-"

SUDDENLY her girlfriend let out a loud "SQUEEEEEEEE" as she fell upon her outfit like a rabid fashion designer, poking and prodding the fabric and design as if that were the only way to truly know it! The German's whole face flashed a steaming red, feeling her partner's fingers run over her form, EVEN GO AS FAR AS TO PULL UP HER SKIRT! She gasped in protest at that, but that didn't stop Sayumi from pulling her in close by her neck ribbon, remarking how she looked like a human-sized doll... of all things! Cicilia didn't know quite how to take that... either as a compliment or something slightly more creepy... but either way, it got a nervous laugh out of her... one the ceased instantly once Sayumi's forehead touched her own.

Cicilia blinked dumbly as her partner threatened her with the various methods she had to extract information, methods she'd use should the boxer be stubborn enough to not reveal the name of her supplier and where she had hidden this dress. She opened her mouth to speak... but she didn't know quite what to say... She was so close... her energy flooding the German in the most addictive, euphoric ways... The Boxer only leaned in, softly taking Sayumi's lips in her own, kissing her tenderly as her hands rose up slightly to wrap around her lover's waist. She hugged her close as they smooched, her eyes fluttering shut as she expressed her undying love for her...

"...Hid it at the top of the closet...under some other things... Wanted to surprise you..." Cicilia explained, unaware of Sayumi's insidious intentions to raid her hiding-places. As for her second question, Cicilia would stubbornly refuse to say, instead pulling her lover in for another quick kiss. "...Seeing you smile... It makes me happy..."

Cicilia




Posts

: 2866


Join date

: 2017-11-24


Age

: 22


Location

: 07/21



Sayumi had many, many ways to make Cicilia spill the beans. Almost all of them were all something she could easily have fun doing and truth be told, Cicilia would likely end up enjoying it too. It would have to wait though until later. She wasn't about to mess up her nice clothes by shoving her girlfriend back into their bedroom and not letting her leave until she was satisfied… though she gave it ample thought while clutching the the ribbon around her neck.

The kiss hadn't been unexpected, so ready for it in fact her grip on the bow only tightened to pull Cicilia closer, sharing her painted lips with her partner until she had hungrily given her girlfriend a close to matching hue. It was times like this where she shined most. We're she not as kind a person as she turned out to be, the lavender hair girl could have been a fearsome manipulator. As it turned out though, she preferred to use her gifts more innocently and for the benefit of them both.

Sayumi cutely played with Cicilia's bow, fixing it so it sat correctly as it should. She spoke softly in her gentle, melty tone. "You surprised me alright." She admitted freely, stealing another small kiss on her lover's lips before it could be reciprocated. The gears were already turning on how to get the boxer back with a surprise of her own. That could wait though, she had other things to focus on for now.

"Well I have to take you with me now. I feel like I have to parade you around on my arm or something just to make people jealous." She gave Cicilia a brief look up and down, smiling. "If I didn't know any better, I wouldn't even know it was you hiding in there." She withdrew her hands finally, using one to prod lightly at her girlfriend's midsection.

Yori




Posts

: 3964


Join date

: 2017-11-19



Despite Cicilia's earlier attempt to give Sayumi back her lipstick, her lover was more than determined to make sure they shared the color! The German moaned ever so softly into their lips as they kissed one another fondly, Sayumi's lips coming at hers like a starving creature! She clearly hadn't been spending enough time with her... She could practically taste the need in her kisses.. She would make a note in the back of her mind to start taking less matches... so she could spend all that time here... at home... with her... doing this... like ALL day... Cicilia had no idea how much she missed Sayumi until their lips had locked in a fiery passion like this, how she missed their unrestricted need for one another... If Sayumi believed this dress was the only surprise Cicilia had in store for her, how wrong she was! She had one other little thing hidden in their bed-room... but that wasn't for anyone to see but Sayumi herself...

If Cicilia could've blushed any harder, she just might've died right there, the tone her lover took with her mixed with how she cutely fiddled with her neck-ribbon making the boxer's skin tingle with attraction... Still, behind just mere lust, Cicilia smiled lovingly upon her precious Sayumi, leaning into her quick smooch and giving one right back... They REALLY needed to spend more time together... Not just in the bedroom or anything sexy... but she just wanted to relax with her...

Play some games, go on a walk, swim... She needed to bring her more into her life... Since her incident in the Alley, the two of them had been more... cautious(?) with their interactions, more (dare she think it) distant... She hated it... She wanted to hold her lover as close as she could all the time... and she would work to make that happen in the coming days! Work was not more important than her. Cicilia's personal problems weren't more important than her. Sayumi mattered so much more than all that... and she would do everything she could to prove it...

"Shame for them." Cicilia giggled softly, her sanguine eyes warm with love... "Seeing me with the most beautiful girl in Japan would make them jealous..." Sayumi's remark got a soft laugh out of the German, her poke extracting a few more giggles! Heh... everything was still here... just... not important now... All that anger and strength... she didn't want to be that person today. All she wanted was to be Sayumi's Cicilia... her loving girlfriend...

"I'm still me!" She promised, giving a small spin, the edges of her dress fanning out around her! "...and I guess I'm your princess today!" She winked playfully her lover's way, all too obviously trying to ham this up for all it was worth...

Cicilia




Posts

: 2866


Join date

: 2017-11-24


Age

: 22


Location

: 07/21



Cicilia's claim to still be herself were put into question as she gave a cutesy spin,letting her skirts fan out and flutter. It got a raised brow from the very professional Sayumi in her business attire… but also a giggle. She wasn't sure she would ever fully get use to seeing the box r in dresses. Far too many days spent in hoodies, sweat pants, and other assorted forms of undress had placed a near unshakable stereotype onto the German. Still, the Japanese native could appreciate it for what it was when once in a blue moon Cicilia found herself in skirts. Plus, it was far easier to play with her when she dressed like this.

"My princess." She mused fondly, slipping her arms around one of Cilicia's, brushing up beside the woman. "For the whole day huh? Well then, I am taking you out on a walk to show you off until my meeting. Hope those shoes are comfortable." Without warning, Sayumi swept up to Cicilia's side, hugging her arms around one of the boxer's. It was like a death grip, of love, one that she wouldn't let her significant other easily escape from.

With a firm tug, she would drag the other woman with her towards the door regardless of how ready she might be to share her most recent transformation with the world. "I'm not going to carry you though, so don't get your hopes up." She paused briefly to crane her neck in, tagging her girlfriend with a quick kiss on the cheek… another on her lips if the boxer had attempted any sort of rebuttal or protest. This didn't seem like it was something The raven haired boxer was permitted to opt out of.


Yori




Posts

: 3964


Join date

: 2017-11-19



Page 3 of 4 •
1, 2, 3, 4
Similar topics
---
Permissions in this forum:
You
cannot
reply to topics in this forum