Champions & #1 contenders
Tension matches wanted
Tue Sep 26, 2023 1:25 pm by Midori Hyuga
Comments: 0
Page 3 of 5 •
1, 2, 3, 4, 5
Veronika remained calm as she sat up, brushing her mouth with her forearm. Her tan skin streaked with warm wetness from her lip, an injustice she wasn't a fan of. Cicilia snapped and so suddenly, but that could be her own undoing. If the solider was careful she could trip up the juggernaut but first, even in her calm state she wanted vengeance.

Her focused gaze never left the other as she rose to her feet, her mind wondered what could've been the trigger. Of course she could deduce three maybe four things that would've been the case. The first thought was doubting their strength but highly unlikely. The second was perhaps overwhelming her, a thought she had come to know. The third could be she was frightened but tha t was unlikely. The fourth was she didn't like her family name being used or compared to. She's met many individuals like that so it wasn't too far fetched.

The solider decided whatever the case, she'd stomp it out quick. Her gaze met the enrage pair in front of her. With a swift step, Veronika would attempt to step in to deliever her own barrage. Her right fist would clench tightly as it shot for her stomach, her left firing in case of a kiss to her face. It was her duty to make sure she never relented and promised herself to not falter.


_________________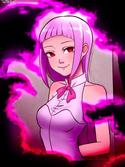 LilyStar




Posts

: 934


Join date

: 2018-02-27


Age

: 27


Location

: Your heart



Veronika was quicker to recover than her but that wasn't much of a surprise. A Juggernaut was always weakest when she was stopped if even for a moment. While the two had managed to get to their feet, Veronika was the first to go on the attack, lashing out with surprising precision, her own barrage of blows well directed by an even temper. Cicilia had no choice but to defend herself... Or try to, a hand shooting down to intercept Veronika's going for her belly but she was just too quick!

"GGGGH!" She groaned as the soldier's knuckles buried themselves in her stomach, nearly causing her to double over her fist from the sheer force alone! That wasn't where the attack ended, however. As expected, a tanned fist cracked against her jaw, jerking the German's face far to the side as her gaze dulled for an instant, the power of the blow threatening to push her back...

Suddenly, the German's fingers would close around Veronika's wrist, digging into her skin as Cicilia turned back to face her. A small stream of red dribbled over her lip as they curled into a snarl, her sanguine eyes only ignited by the woman's strikes! Through her anger, however, she was perplexed why she wasn't trying harder... Was Veronika trying to draw Cicilia out? Feel her true power? Someone as strong as her... as FAST as her shouldn't suffer rivals if she can help it and yet...

Bah! Whatever! If she wanted power, she'd SHOW her power! Cicilia would JERK Veronika's arm back in, pulling her towards her as the Juggernaut's free hand shot out to GRAB the Russian's throat! She would step into her, shoving her back and downwards as she did so, attempting to SLAM her back into the ground in a choke-slam! From there, Cicilia would would reach down and JERK Veronika back up... only for her head to collide with a knee waiting for her face.

Cicilia




Posts

: 2866


Join date

: 2017-11-24


Age

: 25


Location

: 07/21



Veronika buried her fist deep into their gut, her ability to do so seemed so unmatched even with the fabled enraged De'Reigndhart. She could tell what was working but she needed to be careful, even if she held power they did too. If she got caught there's be no telling what could happen or the possibilities that would follow. Her next shot cracks against their jaw their reaction was suitable for such a a blow and the solider truly felt she was making some progress.

She didn't bring her arm back fast enough, their grip found her wrist and squeezed. Her gaze hardens as she attempts to pull free only to feel the anchor of her nails in her skin. The tactic seemed so..childish and barbaric, if she were to put words nicely. Only kids pinched and scratched like this but perhaps it was out of desperation. For a seance time their pools locked into one another, she saw the slight drip of red from her lip. Cicilia seemed more like a beast in this moment and that would hold true soon.

The solider was going to free herself, a timed punch against their jaw seemed suitable. The thought wasn't even finished before she felt something clasped at her throat, her wind pip had been closed off by the juggernaut. She bends in her knees a little attempting to anchor herself down to the mat to make whatever was going to happen harder, but it wasn't any use. Her back would slammed to the mat, she'd gasps for air only to be pulled up to met a knee to her face.

She'd fall back, rolling covering her nose "Ебать! Ебать! Ебать!" she wailed. It was possible she had just broken her nose and if that were the case she would need to pull on her big girl panties and tough it out...or fix it. Rolling backward, her fingers would access the damage, it was broken. She lightly groans as her fingers find their place. With a slight a sudden shift she resets her nose in place, a light gasps escaping her.

Her brow furrows, she wasn't going to being playing it safe anymore, if they wanted her full attention well they had it.
_________________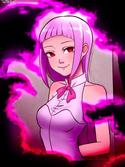 LilyStar




Posts

: 934


Join date

: 2018-02-27


Age

: 27


Location

: Your heart



Veronika recoiled from Cicilia's knee to her face, clutching at it as she wailed in pain! Boy, was that satisfying, seeing someone so strong retreat so quickly... Whatever the Russian thought of her, Cicilia neither held it against her nor thought to change her ways. If it worked, don't fix it! While Veronika tended to her broken nose, The Juggernaut chugged ever forward towards her, unrelenting in her attack! She didn't want to give this woman any room to get a foothold because DAMN would it be hard to wrench her from that position!

With a loud grunt, Cicilia cocked back her fist and threw it straight at the russian's face, hoping to pound that wounded nose HARDER into her face, indent it deep into her skull and knock her the HELL out! Cicilia knew how much it hurt to have a weak-spot exploited and how much it took out of you to be struck there... It was like mashing the Kill-Switch on a robot with how fast it put people to sleep! Her sister had taught he that one...

Whether or not her fist would connect, the boxer would unleash a barrage of blows upon Veronika, a wall that aimed to pound her into bloody, defeated paste on the floor! Each punch was quick, individually lighter than the slug that nailed her opponent in the nose but combined, their collective gravity would destroy anything unlucky enough to slip within it's radius! She attempted to pin Veronika on the defense, keep her moving back to avoid destruction.... until she lost all the ground she could retreat on...

This was one of Cicilia's most classic plans in both boxing and wrestling: An unstoppable wave of pain that was approaching just slow enough for you to get out of the way consistently but just fast enough so that one wouldn't have enough time to easily check their surroundings. It was a carefully measured game of endurance (on her part), granted one with a high cost. The whole thing banked on the outcome of pinning the opponent in the corner, nowhere to run but through Cicilia herself and all the brutal punches between them.

Cicilia




Posts

: 2866


Join date

: 2017-11-24


Age

: 25


Location

: 07/21



Veronika in the nicest of terms was angry...very angry. She had shown honor, given the girl a motive to fight but here she was breaking her nose and screaming like a banshee as she threw punch after punch. The Russian was far from forgiving at this point, she wanted Cecilia to understand she wasn't the one to mess with and she sure as hell wasnt going to take this anymore.

As the Solider got to her feet she saw the juggernaut coming, her enraged pools could see this punch coming, her expression calm.

Smack

Veronica would slap the punch away from its target, her face, expression, gaze, all cold and calculating as she was prepared for her counter attack. She'd step in to close the gap, her fist armed and ready as she cocks it back only to fire it toward the Germans face, the Russian was in the zone, nothing was going to break her concentration and nothing stopping her from laying into the juggernaut.

If her punch had connected she'd return the barrage, the German had threatened. Each punch came with her power, heavy and attempting at all costs to break that guard. This was now a brutal beatdown, if anything the Eussian was making a very clear statement.
_________________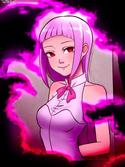 LilyStar




Posts

: 934


Join date

: 2018-02-27


Age

: 27


Location

: Your heart



Cicilia was snapped out of her combination attack when her soldier-opponent SLAPPED one of her fists wide of it's target, returning with a punch of her own! Veronika possessed greater strength than the Juggernaut, her military background allowing her fist to fly hard and true! The German's head SNAPPED hard to the side, her eyes blinking rapidly as she tried to shake loose the cobwebs that hit had thoroughly implanted into her mind!

The Soldier wasn't going to give her much of a chance, however, letting loose her own barrage of blows to give back ALL the pain Cicilia had thrust upon her and a little bit more! Her boxing training kicking in, Cicilia's hands shot up to defend her, deflecting or taking several blows as they came down on her like meteors from space! The sounds of bone upon bone, muscle upon muscle... It was guttural and vicious as they exchanged blows, the expression on the audience's faces were ones of empathy and mutual pain! Even more than that, however, they cheered the ferocity of their opponent's, loving how the two of them slugged it out, two goliaths determined to undercut the other!

But for every punch Cicilia deflected, two more slipped past! Uppercuts to her gut, jabs slamming into her cheek, hooks to her jaw... She could feel herself being pushed back step by step, Veronika's superior training and strength beginning to overwhelm her...

"NO!" The boxer roared, her hands shooting out and CATCHING her opponent's fists, her fingers clamping down between her knuckles, stopping them dead! A shockwave of pure power PULSED out from beneath their feet as their mighty arms met in a brutal clash, blasting away any dirt or dust that clung to the Ring-canvas!

Cicilia wouldn't waste a moment in trying to steal back the high-ground, bringing a knee up to SLAM into Veronika's gut, hoping to buckle her to her knees before bringing her head DOWN to slam into her opponent's and knock her on her ass!

Cicilia




Posts

: 2866


Join date

: 2017-11-24


Age

: 25


Location

: 07/21



Every punch the Russian threw had purpose, giving a taste of their own medicine in a way, this was a reminder to the German that she could fight just as hard as she could if not more. Veronika has been thinking though, this recklessness, the outbursts, they seemed personal, perhaps hitting a bit too close for home, she'd be lying if she were to tell you she wasn't interested, if only a little.

The amazon would grunt as her barrage was halted by an outcry and both fists caught into the the juggernauts hands. Her own would open and they be stuck palm to open palm, the solider could see hate and anger in those red eyes of theirs and it made her want to know why. What could she have done to trigger this? She didn't have time for that, she sensed a kick just by the shift in her movement and quickly stepped forward to close the gap pushing her shoulder in to stop any oncoming attacks. Unfortunately both skulls smashed into one another, forcing the Russian to push the German away.

Veronika decided maybe now was the best time for this intervention, she'd didnt like to fight with such emotions at work. A raging opponent without reason wasn't something she really wanted to deal with, they never thought straight and left themselves totheir basic instincts, she'd know.

"Mishka, why you take so personally? So angry, fierce, like wounded animal." she crossed her arms, a signal she wanted this hashed out her and now before continuing, the Solider was definitely a stubborn woman when it came to situations like these. "It no fun. What's problem?" She demands.
_________________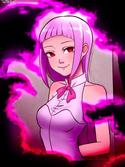 LilyStar




Posts

: 934


Join date

: 2018-02-27


Age

: 27


Location

: Your heart



Veronika seemed to sense Cicilia's intention with that knee to her gut, slipping in close enough so that their chests and bodies were pressed HARD against one another! Their hands intertwined inevitably had to drift down to their sides, however, still pushing against one another, but no longer able to fight between their users! This position, however, didn't stop Cicilia's headbutt, the German driving her skull as hard as she could into the soldier's!

The resounding *CRACK* of the impact made many of the spectators surrounding them wince and groan in sympathetic pain, the Juggernaut's expression curled into a determined snarl! However, Veronika was quick to SHOVE the boxer back, surprising Cicilia that she could move her so easily! She knew she was stronger... but she had put up a better fight than this! With a mighty heave, the German was sent stumbling back a step or two!

Before she could prepare a counter attack, however, Veronika stopped her with a mere gesture, crossing her arms stubbornly as she DEMANDED what was up with Cicilia, her broken Japanese losing none of it's strength or the respect it deserved. She insisted that this fight wasn't fun anymore, that she wanted to know what the problem was... and this took Cicilia aback. No one actually cared to ask what her problems were, just acknowledging she had them and keeping the hell out of her way. It was probably for the best, in any-case because they would've earned the ire of a woman with a bleeding heart... Veronika, however, she refused to take this conflict ONE. STEP. FURTHER without the information she sought, denying Cicilia her sense of catharsis... in exchange for something as dopey as arm-chair therapy... or at least, that's what she saw it as.

Her sanguine eyes narrowed suspiciously, her fingers curling into frustrated fists... Not fun...? This wasn't ABOUT fun! This was a tournament! Fucking hell and she couldn't just attack her either, not while she stood there utterly defenseless! She had a moral code, dammit!

...So she was really going to make her tell her stupid story in front of a bunch of people who couldn't give two shits, huh...?

"Fuck my life..." She huffed loudly through clenched teeth. "I have family issues, okay? Got cast out because I wasn't 'good enough'." She raised her hands up in the air, emphasizing those words with each pointer finger and thumb. "I'm MAD. I was wronged and I'm mad, got it? I'm mad... and I won't stop being mad until I beat it into their skulls that I'm not some worthless child they can mistreat because I'm inconvenient to their brand! Does that explain things well enough, comrade?"

Cicilia




Posts

: 2866


Join date

: 2017-11-24


Age

: 25


Location

: 07/21



"You take too seriously, relax. All got problems, big and small. You are sad from family let them control you." she waved her hand to suggest it was a bad thought process "Not good. Only bring self down. Ostets wanted son but stuck with me. Forced into army to fight, never time to be little girl." She explains, her childhood not being one of luxury either.

She sighs, perhaps she couldn't get this raging Mishka to calm herself but maybe if she continued, inched just a bit more she could get somewhere. "Don't think of family, think of match. It's fun, yeah?" she'd state, bringing in her fists to launch a light jab in the air to get the blood flowing and herself in the zone. "If not calm will wait." she adds.

Veronika could sense that maybe that wasn't the best course of action and Cicilia could very well come charging at any moment but she hadn't yet, maybe she was thinking or maybe it was something else. Either way the Russian planned to stay by her word.
_________________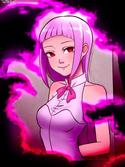 LilyStar




Posts

: 934


Join date

: 2018-02-27


Age

: 27


Location

: Your heart



Cicilia stared silently as Veronika calmly and, almost gently offered Cicilia more practical life advice in the ring than she ever had anywhere else! These were things she already knew... but it seemed to actually click when she heard it being said from someone else... Sometimes it made more sense to hear the same information spoken from other lips... this was very much one of those times...

"...Your dad wanted a son... instead of you...?" She asked softly, shocked and mortified for her! Whatever she went through in her time trapped in the claws of the insidious spiders of the De'Reignhardts, Cicilia couldn't even imagine the abuse her opponent went through via her father... then the brutal and agonizing training of the military! Things were put in perspective... that was for sure... Often times, her stubbornness to change came from the perception that their attempts to help her were hollow... After all, who listened to someone giving advice when they knew little about your situation...?

She had been so selfish, hadn't she...?

Cicilia was so sure she was the only one ever in the world who had experienced pain like this... Never once did she stop to consider that the people who wanted to help her had a real grasp on her situation.

"Awh, geez... I'm sorry, Veronika..." Cicilia offered, her sanguine eyes glancing off to the side shamefully. "I've... been an idiot, haven't I...?"

The Russian soldier merely encouraged her to let go of her family for their match, to merely think of their fight... Heh... it was... liberating to be given that option... Of course, it was there all along but... she didn't... really know it had been...

"...Yeah... yeah it is..." Cicilia chuckled softly, rolling her shoulders... "Lets get back to it then, huh?" The German raised her hands, a small smile upon her lips.

I can't believe it... She thought to herself. I... I feel more at ease than I ever had... Why was that...? Well, Veronika had taught her something: That she didn't have to be mad all the time... There WERE people out there that hurt the way she did... and that the things they had to say truly had gravity... Heh... Knowing that she could smile as she fought... that it wasn't just a liberty for normal people... It helped.

Cicilia




Posts

: 2866


Join date

: 2017-11-24


Age

: 25


Location

: 07/21



Page 3 of 5 •
1, 2, 3, 4, 5
Similar topics
---
Permissions in this forum:
You
cannot
reply to topics in this forum