Who is online?
In total there are
26
users online :: 1 Registered, 0 Hidden and 25 Guests :: 3 Bots
skip-stop
Most users ever online was
418
on Tue Jul 30, 2019 11:51 am
Champions & #1 contenders
Looking for fun Fights
Tue Sep 27, 2022 7:34 am by Leon564
Hello folks! Putting it out that I'm available to discuss matches for either James or Melanie.
If you are trying to find their profiles you can use the character search and type in the following;
James Elforn
Melanie L'belle
------
If it's for an author of my name tag then that's me! You're free as well to throw me a friend request on Discord since I'm not in the Discord server at this time.
Leon564#4514 (Discord)
Thanks for your read and have a great
[
Full reading
]
Comments: 0
Looking for match for Enki
Sun Sep 11, 2022 9:52 pm by Void Effect
Comments: 0
Match Hunting
Sat Aug 27, 2022 2:33 am by GrandAkumaShogun
Hello all who take the time to read this. I'm hoping to get back into the swing of things by having one or more of my boys in a match. If you're interested feel free to hmu on pm or on here and we can decide who will be in the match and we can either plan it or play it by ear. Hope to get a chance to interact with someone I have yet to before. Thank you for your time.
Comments: 2
Page 1 of 5 • 1, 2, 3, 4, 5
Preceded by:
SS 18 Entropy Title: Valley Doll (c) versus Manami Toyoda (Iron Man Match)
Followed by:
SS 18 Tag Team Titles: Imperial Order (c) vs Blazing Blizzard
Vs.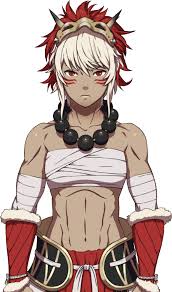 Match type: Standard Match
Winning conditions: Victory is attained by submissions, pinfalls or count out
Live or Die Stipulation by Audience Vote

Serpon




Posts

: 4424


Join date

: 2015-05-28


Location

: Eye of the Storm



Cicilia honestly had some thoughts about this whole tournament, especially since her... condition. Her eye had still been healing and, even though it was tucked safely behind a nice eye-patch (thank god Sayumi was a better person than to crack jokes), she was still getting used to walking around with only one eye. She could still throw a punch worth a damn but whether or not it'd hit more than air... that was what she was worried about. Still... The German couldn't very well pass up an opportunity like this... Even if she didn't win, she would be showing the wrestling world and Margaux (She knew that twisted bitch was watching) that she wouldn't back down from her career so easily and that was good ENOUGH! She smiled softly to herself as she waited for her name to be called, the image of her beautiful Sayumi flashing before her. She had been so good to her, even when... especially when she had gotten hurt. It touched her heart to just think about how she helped her recover... This was for her too. She was going to make her girlfriend proud to be with her. How? By kicking ass in this tournament in spite of her handicap!

Cicilia walked out into the view of the crowd, the spectators going wild as they recognized the face of the juggernaut before them, the German smiling a little wider as she raised her fist in the air in acknowledgement. Geez... it was disorienting only having half her vision... How was she gonna use her left arm like this? She'd have to lean to the left every time just to keep her opponent in her field of view!

Stop thinking that way, Cicilia. Stop worrying about it. You'll adapt as you fight. That's what you DO. She chastised herself silently as she walked down the ramp as straight as she could, trying not to look like she downed a bottle of vodka before coming to wrestle. Rolling under the ropes, the German sprang to her feet, lightly hopping from foot to foot, looking around in every which direction in order to get her right eye accustomed to working by itself. She had it take in her surroundings, memorize the space she had to work with... Lord knew she needed to... She had some idea of how bad one eye could be in a fight... Some boxing matches she had with her sister back home left an eye swollen shut but this was like going in with that condition...

Shut up and fight! Stop thinking and just act!

Cicilia smiled confidently for the crowd, cracking her knuckles.

"...Oh boy..." She whispered under her breath. "Here we go."

Cicilia




Posts

: 2866


Join date

: 2017-11-24


Age

: 24


Location

: 07/21



Veronika was surprised her first match would be at such a huge event. She didn't exactly think that the higher ups would even think she had the skill for it but maybe they were short on people and that was why she was here? It didn't matter the soldier didn't care, didn't have much reason to care, she was told to fight so she'd fight. It took time to wrap the bandages over her battle scars and breasts, it wasn't that she didn't mind them as much as the questions that followed from them. She didn't really care much for pity not would she show it to anyone who wanted or needed it. That wasn't the type of person she was or ever be for that matter. The Russian would finish getting ready, it didn't really take too much time after the bandages seeing as how she really had to do was clip on her waist cape, situate her pants and gloves and then her boots. Veronika was deep down, excited, to have this though, she'd show her opponent what's she had and win or lose she could be happy with that.

As she walks down the halls, she balls up her fists, the anticipation of this match was beginning to settle in, she wanted to get started, the thrill of battle beating in her heart as she readied herself for war. The solider in her was ready to burst, ready to see her enemy fall and crumble but was that truly necessary?

The russian didn't have time to dwell on those thoughts, the guitar for her solo began to blare and that was her cue. She didn't see the need for any theatrics, as she walked out to the view of the crowd the sudden roar over took her, she hesitates for a moment as her gazed meets and surveys the crowd. There must've been thousands maybe even tens of thousands here to watch.

Her hesitation had to subside, her gaze finally met her opponent as she went down the ramp. Their build was something, a bit soft but still firm in a way, Beronika wasn't the type to underestimate anyone and that's what she'd have to do with with her too.

As she made her way down the ring and up the steel steps she noticed the woman had an eyepatch over her eye. She had three guesses as to why: 1.she injuries it and it's healing. 2.Its a fashion statement and just for looks. Or 3. It was a combination of both. Veronika wasn't sure how she felt about fighting a half blind fighter but she didn't show any signs of pity.

The Russian amazon points at the patched eye with curiousity on her face "What's with eyepatch?" she asked her English very broken but still ledgible. "Is it hurt?" she continues.
_________________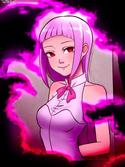 LilyStar




Posts

: 894


Join date

: 2018-02-27


Age

: 26


Location

: Your heart



Cicilia observed her opponent with interest as she made her way down the ramp. Specifically, her interest was attached to the outfit she wore. It was very... Native. Unique. She could appreciate that. The woman herself was large too in the sense of her height and her bulk, very little hidden behind her skin. Her muscles were shown quite well, her body well honed and promised strength. That excited the juggernaut, someone she could actually clash well with her power! Beyond body-type, she had a darker yet... pale-ish complexion, her expression flat and her gaze strong. She was taller than Cicilia by a couple inches, but that just made the fight more interesting! She had defeated taller foes back in Germany so this little a difference didn't bother her overmuch.

Once Veronika had entered the ring, she too spared Cicilia a curious glance. She stared right into her face, specifically, and the boxer could only guess what part of it she was looking at. The russian spoke plainly (if in broken speech), asking what was up with her eye-patch and if it was because her eye was hurt. The boxer smiled at that. Straight and too the point. Good. People that stare and don't say anything just made things awkward. At least she spoke her mind.

"Yeah." She responded, crossing an arm over her chest to stretch it before doing the same with the other. "Got hurt in a fight. Still healing." The announcer began stating the rules of the match, how things would go down when one of them should fall. Cicilia looked around for the official that would serve as their Caeser, who would most likely decide on the loser "dying" today. She watched gladiator movies. She knew how this went down.

"Don't hold back on my account." Cicilia requested bringing her hands up in the typical wrestling stance. "I didn't pick up wrestling to be coddled."

Cicilia




Posts

: 2866


Join date

: 2017-11-24


Age

: 24


Location

: 07/21



Veronika could tell it was a bit more than something that just happened in a fight, from her years in the military you could sense when something was intentional but it wasn't her business to pry. She did however have to respect the wounded fighters pride and confidence to continueneven with an injury like that, she'd hold up her end of the bargain nicely in honor of their warrior spirit.

Although this was true she still had some doubts, the Russian didn't want talk of herbeating in a disabled fighter so why not make things fair? Her thumb slips into her bandages at her left arm, she unties the knot and loosens up the white cloth. With a surefire tug she rip a lengthy piece away, tying back the piece at her arm before brining the other length to her face.

Veronika was noble and very proud, she had no intention of being the least bit hesitant. As the bandage covered her right eye, she tied the knot tightly to avoid it slipping from her face and taking away the respect she was giving to them.

With that out of the way, the solider would twist her body as she hugged her arm to her chest, stretching before the announcer stated the rules for the match. "Why would hold back? Have come to fight so will fight hardest." She states.
_________________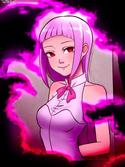 LilyStar




Posts

: 894


Join date

: 2018-02-27


Age

: 26


Location

: Your heart



Cicilia watched curiously as the woman before her grabbed at a piece of bandage covering an arm, tying it around her right eye as if to mimic her own bandaged eye. She stared quietly, unsure what to make of this. On the one hand, she could've been mocking the juggernaut, saying something along the lines of "I don't even need my eye to beat you" or something. That could've been it, but she didn't have that smug, self-assured look assholes like that would have. If anything, Veronika looked nothing less than sincere with nothing but a serious look on her face. Was she... trying to even things up...? Granted, the Juggernaut didn't NEED any kind of assistance to make this match hers but it was the thought that counted, didn't it?

Heh. Maybe.

The German couldn't help but snort in mild amusement, shaking her head lightly. Well. She was a card, wasn't she, tying up her eye only to make things even. She didn't know quite how to feel about that... On the one hand, she wouldn't be fighting her at her full strength and that would demean her victory! On the other hand, Cicilia wouldn't be as handicapped in this fight either. This could very well have been a sign of respect... She chose to believe that.

"...And you don't want to have an unfair advantage, right?" Cicilia completed, of course only guessing as to why but if she was anything like her, that'd be the reason. "You didn't have to do that. I would've fought you at your best anyway." The German rolled her eyes and sunk into her fighting stance, ready for battle.

"Still. It's nice to meet you, Veronika. Fight well."

It was soon after that the bell to start their match had rang, signalling it's commencement! As any good wrestler starts a match, the Juggernaut charged in with her arms up, hands ready to lock with Veronika's in a test of strength! Classic opener and would give her an idea of where she stood strength wise.

Cicilia




Posts

: 2866


Join date

: 2017-11-24


Age

: 24


Location

: 07/21



She could see the slight confusion in the juggernauts expression, was it mockery? was it respect? The Russian could see those questions in the single eye visibleto her. If anything she would've answered respect but what good what that do her? The answer was only to be known by her and her alone, no one else needed to hear it. With that being said she'd bury those questions of theirs away, refusing to acknowledge them anymore for her own benefit.

The mild snort, did force a brow raise. Was what she doing funny? Maybe it was out of disbelief. She had seen and heard about opponents taking full advantage of crippled combatants, Veronika wasn't the sort to beat a blind man unless of course she was at war. The only exception to any rule she set for herself out side of the smoke, and gun fire.

"I will still fight best. Covering eye means nothing in heat of battle, I will fight like back in military days, yes." She proclaims. Finishing her stretch, she'd bend in her knees slightly, one foot pressing forward a bit further than the other as her hands balled into fists; arms at bust height. This was going to be first match, her big chance to show what's she got.

"It's pleasure Cicilia, fight well." She replies just before the ding of the bell.

With the bell sounded her hands opened up, the rush of the juggernaut was met with the rush of the Tank Amazon. Fingers interlock together as palms mash tightly and fiercely against one another. Veronika was happy to oblige Cicilia with this test of strength, it gave them both an idea with what they had to work with.
Last edited by LilyStar on Fri Jun 22, 2018 9:46 am; edited 1 time in total
_________________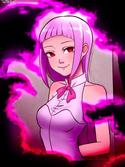 LilyStar




Posts

: 894


Join date

: 2018-02-27


Age

: 26


Location

: Your heart



Cicilia and Veronika locked up, and began to push, the two of them beginning this fight with a test of strength! The Juggernaut grunted loudly as she pushed HARDER and HARDER against the Russian but was surprised, if pleasantly so, that she couldn't make a dent in her! It was like pushing against a brick wall or the trains her ultimate move claims to destroy! It wasn't often ANYONE could match her in raw strength... Most wrestlers had to be bigger or their muscles swollen to unhealthy levels to even match up with her but Veronika was denying that precedent and denying it handily! She dug herself in like she was in the no-man's-land of war itself, attempting to assert herself through her sheer, unbridled strength!

...Except she found herself being pushed back... Her arms didn't give, but Veronika was SOMEHOW dishing out more strength than the Juggernaut herself could produce! She took not a step back but was shoved towards the ropes regardless, her boots skidding against the canvas as she was pressured inch by bloody inch! Sweat rolled down the boxer's brow as she stared a firey gaze back at her new rival, her lips curled into a sharp smile. Even though she was losing this contest, she was having the time of her life! Whether or not she knew it, Veronika promised so much with the amount of heat she was packing! The Juggernaut was no longer going to be comfortable in simply using her strength to power through this match! She'd have to THINK her way to victory!

...That being said, that didn't mean she didn't like to throw her weight around while she strategized! As such, once Cicilia felt the turnbuckle touch her heel, she quickly swivled, using those strong leg muscles to WHIP her stronger opponent around and SLAM her into the corner of the ring instead before ripping a hand free and attempting to sink it into the Russian's abs in a brutal uppercut!

Cicilia




Posts

: 2866


Join date

: 2017-11-24


Age

: 24


Location

: 07/21



Veronika was never the type to hold punches, even in war she found herself fighting her hardest, doing the absolute best she could at anything she was ordered to do. Cicilia demanded a fight and she'd be damned if she didn't bring it. The solider would step in, flexing her build to push the juggernaut back, she found it a bit harder than she would've liked but inch by inch, fighting tooth and nail as well as the sound of rubber screaming as it drug along the canvas, she was stopped by only the ropes in their little contest. With fires raging in the exposed eyes, she witnessed that curling smile of enjoyment, she could only assume the German found herself content with the Russian so far but now wasn't the time to let up!

With that in mind however, Cicilia wasn't to keen on letting Veronika keep the advantage, their leg muscles had power and such a swift shift in movement forced her back into the turnbuckle. Her back bounced as it slammed into the covered metal. "Guagh!" She groans but far from out of the woods. Her gaze quickly noticed their next shift and the fist aiming for her gut, it was sloppy, too sloppy and easily dissapointing her but she didn't have much time to work with.

Her left hand was quick to lightly attempt to force the uppercut away, she didn't care where it would land as long as it wasn't in her stomach. Cicilia could have very well sent the punch into her liver if she weren't carefully and that's something Veronika very much wanted to avoid. With that threat out of the way, depending on where her attempt would send that uppercut or if she even managed to conpletely avoid it, the Russian would step forward, her right arm coming in and stiffening up, her elbow running straight for the Germans jaw to give the solider some room to leave the corner.
_________________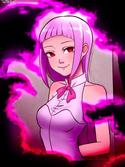 LilyStar




Posts

: 894


Join date

: 2018-02-27


Age

: 26


Location

: Your heart



Cicilia slammed the Russian into the turnbuckle she herself was meant for, shoving her arm against the woman's throat to keep her pinned there, stuck! Already, at the beginning of the match and she had her opponent right where she wanted her, cornered against a wall with nowhere to go! The Juggernaut was in position, ready to strike, her other hand cocking back to deliver a blow...

"HRK!" She coughed as the Russian's fist dug into her stomach, wasting no time in already pushing for an escape! This sudden attack caught the boxer COMPLETELY outta nowhere, Veronika not even attempting to push her way free before going on the attack! Most girls pushed, shoved, attempted to get out without resulting to a brawl! They tried to be slippery and so Cicilia had to act as a wall... She was starting to notice the inexperience she had in fighting other woman who fought as she did... Letting out a feral growl, Cicilia lashed out with an elbow at the Russian soldier's head just as she did the same thing! the force of the blow knocked a small bit of spit from the boxer's lips, making her take a step or two back to regain her balance!

While she wasn't stunned, she just had to take a moment and marvel at the other wrestler, still feeling that ghost of her arm digging into her stomach.

Damn... What a hit... Cicilia mused, wiping off her mouth with the back of her wrist. She's stronger than me and hits just as well... Probably just as tough too... I can't just be a brute with her... She took another few steps back, returning to the center of the ring, this time offering Veronika the first move. This uncharacteristic display of passiveness was not lost on Cicilia but rushing blindly ahead would be nothing but trouble against someone who could meet her head on! She had to wait for an opening... then crush her once her opponent's weak point is revealed...

Cicilia




Posts

: 2866


Join date

: 2017-11-24


Age

: 24


Location

: 07/21



Page 1 of 5 • 1, 2, 3, 4, 5
Similar topics
---
Permissions in this forum:
You
cannot
reply to topics in this forum