Who is online?
In total there are
43
users online :: 4 Registered, 0 Hidden and 39 Guests :: 3 Bots
anon4you
,
Epicsnivy
,
KillerV
,
MAR_1992
Most users ever online was
418
on Tue Jul 30, 2019 3:51 am
Champions & #1 contenders
Looking for fun Fights
Mon Sep 26, 2022 11:34 pm by Leon564
Hello folks! Putting it out that I'm available to discuss matches for either James or Melanie.
If you are trying to find their profiles you can use the character search and type in the following;
James Elforn
Melanie L'belle
------
If it's for an author of my name tag then that's me! You're free as well to throw me a friend request on Discord since I'm not in the Discord server at this time.
Leon564#4514 (Discord)
Thanks for your read and have a great
[
Full reading
]
Comments: 0
Page 1 of 7 • 1, 2, 3, 4, 5, 6, 7
Preceded by:  
SS 18: Katori vs Patrice
Followed by:
SS 18: Lucha Girls Versus Camilla and Anja (Tornado Tag Team Handcuff Match)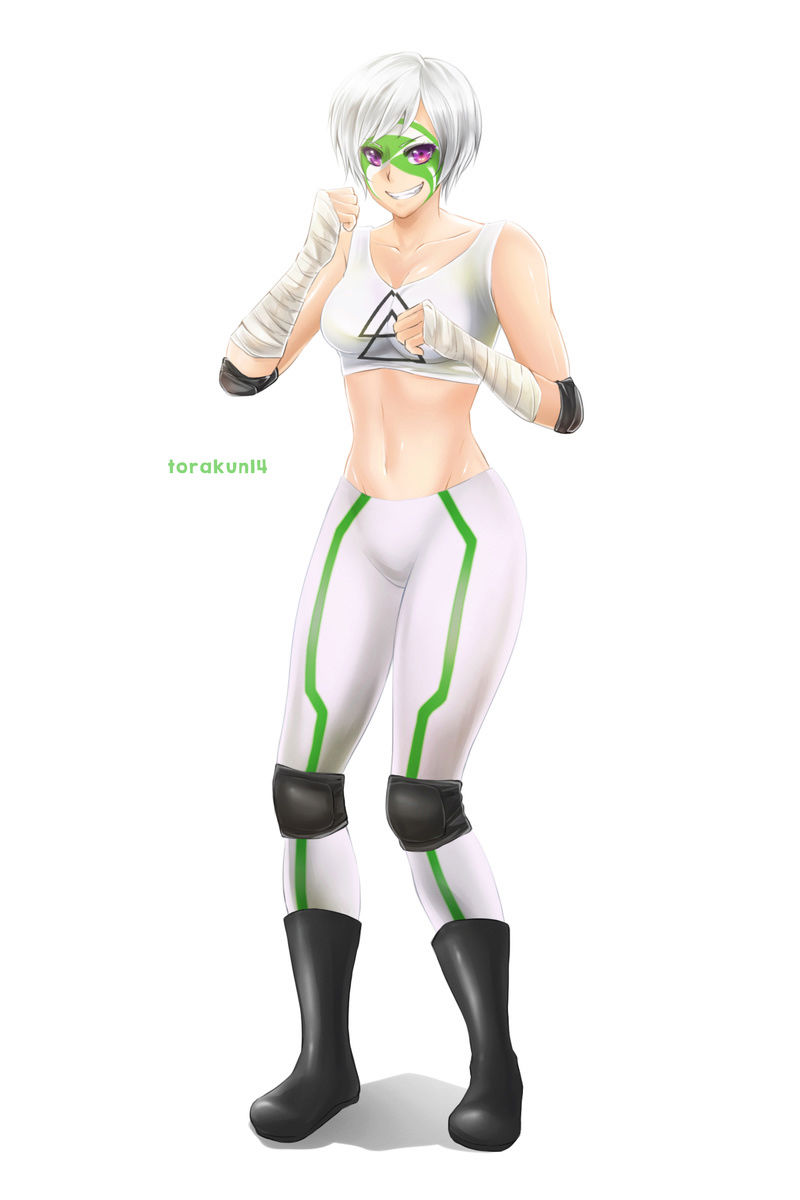 Vs.


Match type: Monsters Ball
Winning conditions: Pinfall or Submission Counts Anywhere, No DQ,
Live or Die Stipulation

Serpon




Posts

: 4424


Join date

: 2015-05-28


Location

: Eye of the Storm



This was going to suck. that was certain.

Silver Ace knew it. Her lover, Valley Doll, knew it, and while they had agreed, years ago, to stay out of each others match affairs unless asked otherwise, her comments about the subject had been frequent and vivid.

"I believe in you, you know I do. But you keep doing these hardcore matches and keep trying to prove yourself by upping the ante, and I'm just worried you're going to get hurt."

Silver Ace sighed, finishing applying her facepaint, letting it settle, hoisting the Hardcore Title on her shoulder. Her lover was a smart woman, and probably had a good point. Jessica had already agreed to the match, after all, and yet Ace had still decided to up the ante, making it a Monsters Ball match.

All because of a constant desire, ever since she won the title, to prove the other hardcore wrestlers, and her critics, wrong, that she wasn't weak, that her time on the injured list didn't prove she couldn't handle the rougher matches, that she was, in fact "Hardcore"

Tonight would be the test of it. Her first title defense after finally becoming the sole Hardcore Champion again, and, hopefully, the very end of her constant battle against WAR, the faction that had started her now two-year run of bad luck and hospital time.

Beating Jessica wasn't going to be easy. It was going to hurt...and it was gonna suck, but damnit, she was Silver Ace, and she wasn't going to back down from her own challenge!

Finally, her music, "Animate" by Rush, started playing, the italian crowd roaring in cheers at the opening drum riff. Figures really.Her and Valley come to the most romantic and beautiful country in the world, and it was to beat people up.

Well, plenty of time for a vacation after she won.

She came out onto the ramp, clad in her battle gear, green and white facepaint on with matching gear, raising the Hardcore Title up for her fans to see across the entire collessium, the crowds roaring cheers flying into the night air thanks to the lack of a roof.

She went down the lonnnng ramp built for the occassion, slapping hands along the way, and entered the ring, holding the belt up again, and looking up at where the Friction GM, Angelique, sat, ready to judge the loser of the match. Well, at least the boss would get quite a show, two gladiators battling it out with weapons in the greatest fighting arena ever built.

When in Rome...

Old_Man_Tai




Posts

: 9304


Join date

: 2008-04-28


Age

: 32



When she landed in Rome, it occurred to her that she ought to see the sites. After all, Rome was the Eternal City, and boasted a legacy unlike any other city in the world. But she didn't. Ever since the plane landed, she had been training. Back on the plane, back in Tokyo, back in Iowa, she had been dreaming of this moment. And now it was finally within reach. Jessica had gotten a shot at a belt. Finally, all of her struggles, all of her training, all of the brutality that she had caused would be worth it. She had no idea how she slept, what with the flashing of gold and leather in her mind pulsating through her brain like it was a talisman and she were a witch doctor.

She wondered if she were ready now. She wondered if she would ever truly be ready. This was a shot at her white whale. This was a shot at being the hardcore queen, something she would very much appreciate. This was her shot at immortality. And Jessica felt like a very small woman next to the eternal. She closed her violet eyes, and remembered Iowa. She remembered her home town, and the shitty little gym where she fought and lost her first match. She remembered all of the scrapes and brawls and miniature riots that got her to where she was today. And she opened her eyes again. Yeah, she was ready. Ready for Silver Ace, ready for the world.

See, Jessica had been studying. Even if she were not the smartest woman in the universe according to her book smarts, she knew how to fight. And Silver Ace had quite the catalog. Jessica's laptop became her guiding light, and her notebook became her holy text. Knows many different styles, shows great variance in vectors and intensity of attacks. Emotional, can be taunted. Likes to come off as more brutal than she actually is. And then, in big, bold, borderline illegible letters: beatable. Jessica closed her notebook, and stood up. She did twenty jumping jacks, then ran in place. Sure, Silver Ace was beatable, but Jessica was going to need her blood pumping if she wanted to win.

Jessica emerged from her locker room and stalked down the halls. Behind her was turmoil, vagueries and the ambiguousness of existence. In front of her stood the belt. And Jessica knew which was she was going to go, and pursued her lofty goal like no other goal that she had ever pursued before. There could be no holding back, no restraining herself. Tonight, the Violent Violet was going to go for it all.

She stepped into the arena itself, her red boots crunching on the sand of the Coliseum. Her gaze spotted Silver, and she marched toward her. Her fists were clenched, and her eyes were narrowed. The weight of a thousand thousand people were on her shoulders, yet she was strong. When she breathed in, her large chest rose and fell mightily, and she exhaled all of her fears and doubts and worries. Tonight, she was going to get into a match with Silver Ace, which is what she was born to do. And she felt that she would come out the other side looking awfully pretty. Because she knew that there was now depth she would not sink to, no tactic that she would not employ, no weapon that she would not brandish in an attempt to relinquish her opponent of the belt. Her eyes scanned the arena, looking for hundreds of horrid ways she could inflict violence upon her opponent.

Do as the Romans do, she thought.

LtLukas




Posts

: 4436


Join date

: 2014-05-25


Location

: The Dreadfort



Ace had done her own homework on Jessica, and had come to a few simple conclusions. This bitch could hurt people, it was going to take a LOT to bring her down...and this match was going to hurt.

But god damn it, she was Silver Ace, she was the Hardcore Champion, she had put with WAR for FAR too damn long, and she would NOT be cowed by this arena, or how much of a scary bitch Jessica claimed to be. Ace had fought scary bitches. Won too.

She handed her belt to the referee, moving towards the center of the ring, rolling her neck, feeling loose and relaxed, waiting for the bell to ring. "You ready for the toughest fight of your career Jessica? I'm about to make you famous."

Old_Man_Tai




Posts

: 9304


Join date

: 2008-04-28


Age

: 32



"The toughest fight of my career? Am I going to fight someone after you?" Jessica snickered. Half of this battle was going to be establishing and keeping a mental edge, and Jessica wanted to start early. She watched carefully when Ace handed the belt over to the ref girl, as if she were afraid that it would be dented. In her mind, the belt was already hers, and she wanted it to be well taken care of. Ace must have noticed her long stare, but Jessica was ambivalent. Hell, she wanted Ace to know how covetous she was.

But the time for feeling was over. The time for action had arrived. Jessica dug her heel into the sand. Before her, there was blood here. The sand did not forget its unquenchable thirst for human suffering, and once more eternity called out for human anguish. The hard look on Jessica's face proved that the Violent Violet was there to quench that insatiable, nameless, and endless hunger. Her violet eyes narrowed and her muscles tensed. Slowly, she started making her way forward.

The slow walk turned into a full sprint. The footfalls in the sand came faster and louder as Jessica surged at her opponent, treading a path from which there was no return. Her fist dropped low, and then propelled itself forward as if it were shot from a great and terrible cannon. The blow was headed for Ace's stomach, but she was going to take what she could get.

LtLukas




Posts

: 4436


Join date

: 2014-05-25


Location

: The Dreadfort



...Damn it. The pre-match banter was an important part of any match...and it looked like she lost that one. Round 1 to Jessica. Would be the only win she'd get tonight. Ace also caught that long stare she gave the belt when Ace gave it to the ref. She wouldn't be getting that either.

The crowd roared as the fighters stood silently for a few moments, considering each other the way the ancient gladiators considered their own opponents before lethal combat, until finally the bell rang, and soon after, The Violent Violet charged directly for the Hardcore Champ, clearly eager in being the aggressor.

Silver Ace however, had a different idea, staying still until Jessica closed in, then with quickness and grace, light on her feet, she side stepped away, turning and pivoting her body in time to just dodge the attempted fist, actually feeling the air move from the force of the missed blow, before following up, lashing out with a short kick to Jessica's leg!


Old_Man_Tai




Posts

: 9304


Join date

: 2008-04-28


Age

: 32



Jessica was not a speed demon. Anyone who had watched more than five minutes of her matches could tell you that. Her speed was on the mediocre side of average, and Jessica was always going to be the first one to own up to that particular fact. The real terror lay in when she really got going - Jessica had honed her movement so that she was nothing less than a well oiled machine when she got up and rolling. There was a nasty downside of this, however, in that she was not only telegraphing the move, but once she got going she had a hard time screeching to a halt.

She saw Ace moving. The only likely result of that move would be Ace dodging the blow, but there was simply too much inertia for to really change direction. Sure enough, her mighty blow whiffed, causing a concussive shift in wind but little else. Jessica had half a mind to just carry through with a daring backheel kick, but Ace rapidly changed her plans.

A leg met Jessica's own, causing the Violent Violet to stumble forward. Her intense pace meant that the woman stumbled for a bit, only saved from becoming acquainted with that mat due to a quick hand down and some deft footwork. Soon, Jessica came to a halt and wheeled around, facing her opponent once more. Taking the opportunity once more, she charged forward yet again and went to spear her opponent.

LtLukas




Posts

: 4436


Join date

: 2014-05-25


Location

: The Dreadfort



The first time, the charge was widely telegraphed, and Silver Ace had the entire length of the ring to prepare her counter. Here, she had far less space, far less reaction time. She tried anyway, attempting to sidestep the charging Violent Violet like a matador sidestepping a bull...but just wasn't quite quick enough.

She took the blow in her side, Jessica's shoulder catching her in her taut and toned stomach, just under the ribs, taking the face painted woman down to her back, where she quickly got her arms up over her painted face, trying to bend her knees and get them far enough under her to push-kick her challenger away!

Old_Man_Tai




Posts

: 9304


Join date

: 2008-04-28


Age

: 32



A fist was easy to dodge, she supposed. It was small, and was moving pretty fast. If it did not look like it was going to hit immediately, well, then a miss was probably going to be in the cards. It was harder to dodge someone's entire body, especially when that body belonged to Jessica Wright, who was not only tall but had shoulders that made it difficult to traverse doorways. Jessica felt the meaty hit of shoulder on stomach, and pushed forward.

Jessica had taken Silver Ace down to the mat. It was the sort of tackle that would make a linebacker coach proud, and Jessica had to admit that she was feeling pretty good herself. Her high feeling was brought down considerably when Silver Ace got a knee to her. The Violent Violet was left with little recourse but to roll off of her opponent, and then stand up. She hunkered down, and approached slowly, hands at the ready for both offense and defense.

LtLukas




Posts

: 4436


Join date

: 2014-05-25


Location

: The Dreadfort



Whew. Lucky break. You did NOT want to be trapped under Jessica Wright. If she hadn't gotten that knee up, she'd probably have eaten an elbow or four right about now.

With Jessica getting off of her, Silver Ace rolled back, getting back onto her feet, patting at her side where Jessica's tackle had it. Not a bad hit at all. Bitch had a lot of power, as Ace recalled from the first time Jessica had beat her up, that day she attacked her and Angel.

Getting her arms up, this time Ace went on the offensive, lunging at Jessica's legs, trying to take her down in return!

Old_Man_Tai




Posts

: 9304


Join date

: 2008-04-28


Age

: 32



Page 1 of 7 • 1, 2, 3, 4, 5, 6, 7
---
Permissions in this forum:
You
cannot
reply to topics in this forum