Who is online?
In total there are
73
users online :: 3 Registered, 0 Hidden and 70 Guests :: 1 Bot
ARStudios2000
,
Void Effect
,
Yori
Most users ever online was
418
on Tue Jul 30, 2019 9:51 am
Champions & #1 contenders
Tension Match for Melanie~
Tue Nov 28, 2023 12:56 pm by Leon564
Comments: 9
Howdy strangers.
Wed Nov 29, 2023 1:25 am by Yori
Just a small hello from an old face. I will be coming around for a bit soon and figured I would pop in. To anymore I have an unfinished thread with, if you have a desire to continue it with me just let me know and shoot me a link. While I am open to fielding ideas for new threads, I will be very selective with taking anything while I gauge my activity capability and trim/update my roster.
Toodles.
Comments: 4
Looking for a match for Lucy
Tue Nov 21, 2023 1:49 am by NobuharuKinjo
Comments: 0
Authors Note: This character is still very much in development. It will take a few weeks before this is nailed down properly.
Basic Information
Name:
Trinity Cordova
Aliases:
None
Age:
25
Height:
6'1"
Weight:
218lbs
Place of Birth:
Las Vegas, United States.
Currently Residing:
Wherever she can find a place to crash.
Character Information
Alignment:
Chaotic Heel
Sociability:
None
Outlook:
Doesn't particularly care about people, or herself to some extent. Life is just one battle after the next: whether it is the battle to survive, or the battle in the ring. You are always fighting life, 24/7... then you die.
Personality Traits:
Stubborn, Apathetic, Cantankerous, Adaptable, Adventurous, Boisterous, Brutal, Disrespectful and Incisive.
Appearance:
Appearance:
History:
With hindsight, Trinity's path in life was almost a given. Born in Sin City her prospects in life were already disheartening; her father was in serious gambling debt when she was born, and that didn't get better with the passage of time. As if having a single parent battling addiction was not problematic enough, soon after Trinity was born, her mother started to develop an addiction to crack cocaine. Life had dealt Trinity a shitty hand. Growing up was tough, exceptionally backbreaking. All this did was light a flame in the young preteen Trinity, a burning rapaciousness capable of saving her parents and giving them all a comfortable life. This materialised inside Trinity's work ethic, working hard at school and eventually becoming the top of her class as she entered her teens.
Life has a funny way of taking turns for the worst. As she started to move into her teens Trinity began to see the world for what it was: A dark, cesspit of a place where the cunning and the naughty lived in far more luxury than the righteous and the good. She began to twist the intellect she had honed in her early years towards manipulation. The art of getting what she wanted without resorting to violence. For a while, it worked, but soon enough it failed and Trinity found herself on the receiving end of an contentious individual. Inevitability, a fight broke out. It was here that Trinity discovered her love and thrill for violence. The woman, who up to to this point had never hit a person in her life, took to fighting like a fish to water.
This fight marked the inauguration of the Trinity we know today. She began to move from fight to fight, relying less on her brains and more on her brawn to get her own way. She became more rowdy as she embarked on the adventure of her late teens. She eventually made her way into underground fighting with her talents. Here she was able to accumulate enough wealth to be able to give herself a somewhat substantial standard of living. It was around this time period where the young woman's morals began to take a turn for the worst. She began to become standoffish towards her parents. Despite her help, they had refused to disavow, or more likely were unable to break their vices. This point caused their relationship to collapse and she was kicked out by her parents. Since that point at aged 19, Trinity has never had a permanent home.
She started touring the US, hitchhiking around the states and getting involved in as many fighting clubs as she could possibly participate in. For the next few years this sustained her until she ended up getting into a fight against a woman in New York that almost got her incapacitated. She lost rather horrifically and her reputation was shattered as a tough brawler. With her remaining funds she packed up and decided to take the fight to the world. Starting in Europe at the start of her 25th year of age, Trinity moved across into central Asia with ease. There was no real challenge. As he started to get closer to Japan, she began to hear about the AFW. With her fighting in China wrapped up, she headed to Japan to take part. She is currently crashing in a hostel in Tokyo until she can raise some funds to get her own place.
Wrestling Information
Wrestling Style:
Brawler
Preferred Match Type:
She prefers hardcore matches, anything nasty and brutal. She doesn't mind standard matches, but shies away from Hentai.
Physical Stats:
Endurance: ★★★★★
Strength:   ★★★★☆
Speed:       ★★☆☆☆
Defence:    ★★★☆☆
Technique: ★☆☆☆☆
Wrestling Stats:
Striking:        ★★★★★
Submissions: ★☆☆☆☆
Powerhouse:  ★★★★☆
Aerial:           ☆☆☆☆☆
Countering:   ★★★☆☆
Preferred Moves:
Strikes, Kicks, Elbows, Smashes. Occasionally likes to throw people around.
Signature Moves:
Elbow-a-bout
A back Elbow attack which Trinity uses when an opponent is rushing towards her. Generally catches them off guard. Against tougher Titan women, she may do a follow up elbow strike to double the damage.
Close Encounter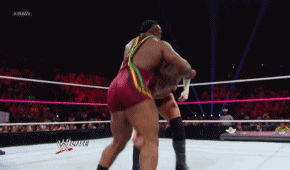 A double axe handle attack that Trinity tends to perform on stunned opponents. While the attack is devastating, several oppents have developed a counter for it.
Stay Down
A Knee Lift attack where Trinity launched her knee at her opponents chin. Tends to use it on a prone opponent who is trying to get up. There is a variant that she uses where she jumps up and strikes standing opponents.
Fight Record
0-0-0
Last edited by Hedgehawk on Sat May 12, 2018 8:53 pm; edited 1 time in total

Hedgehawk




Posts

: 112


Join date

: 2018-05-12


Age

: 30



Once you finish the wresting portion, you can consider the character approved for RPing.

Old_Man_Tai




Posts

: 9482


Join date

: 2008-04-29


Age

: 33



There we go, finished adding the signature moves.

Hedgehawk




Posts

: 112


Join date

: 2018-05-12


Age

: 30



---
Permissions in this forum:
You
cannot
reply to topics in this forum