Champions & #1 contenders
Looking for matches
Fri Nov 25, 2022 8:50 pm by Void Effect
Comments: 0
Looking for fun Fights
Wed Nov 23, 2022 1:55 pm by Leon564
Hi hiiiii
Hope you are well my fellows! Happy holidays to those that celebrate. Though some of you may indeed be busy, some of you might be bored and alone. Well I'm here as well bored and alone
So same boat. But not always the same tastes.
Anywhoooooo I've got my two characters available for some battles. James is decently flexible on whom he fights. But Melanie is strictly for the men. She can't get enough of'em
Take a gander at them and hit me up either with a …
[
Full reading
]
Comments: 0
Free Face Claim
Thu Nov 17, 2022 6:11 pm by Void Effect
Three of my character is getting Axed, just ya guys want em, just let me know in DM
https://www.afwrpg.com/t20236-ellie-haise-kaneki#543253
https://www.afwrpg.com/t20341-satella-the-witch-of-envy
https://www.afwrpg.com/t20571-eveline-lector-the-cruel-rabbit
Spoiler:
Spoiler:
Spoiler:
[
Full reading
]
Comments: 0
Page 1 of 2 • 1, 2
Camilia rarely got to come to the live shows, being hunkered down in the gym training, or looking for a new apartment took most of her time not to mention the little stops she'd make while exploring her new home. Tonight's match was a hentai themed match, she always felt s tinge of embarrassment watching these but she found herself enthralled and honestly, deep down, her heart knew she wanted something like this, even if it was just a match.

Her casual attire of a football jersey for her home team of México and the man behind the number hugged her too frame, cut up jeans hugged her bottom, she fidgets slightly, being amidst the crowd certainly was a different perspective but her pools were glued to the match.

The one who caught her eye was of course the one dominating the match entirely, Natasha Loclear, a blue haired Frenchwoman who seemed to have all the moves and attack just the right places. The Latina wanted to meet them, talk with them, she wanted to desperately understand this sort of fighting for her own benefit, she wanted to be the best, that meant in any battlefield. Still her gaze couldn't pull away from the feecoisity and the tenderness between the competitors.

It didn't take much longer than that for her opponent to concede, it was obvious as soon as the blue-haired woman locked herself in that hold that it was over. Camilia would jump from her seat, this was the chance she'd need to track her down and ask for some advice, if she were even willing st this point. As she made her way backstage, she had to think, would she even give her the time of day, in her eyes and if she were in that position maybe she wouldn't give that kind of time either but Natahsha had to!


_________________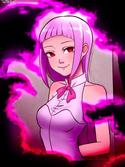 LilyStar




Posts

: 894


Join date

: 2018-02-27


Age

: 26


Location

: Your heart



After quite the delectable match where she was fortunate enough to come away with the victory Natasha was eager for a shower and a change of clothes, what she had worn down to the ring were now gathered up in her arms as she headed back to the locker room. She slipped back on just enough to be a little bit modest as she made her way to the lockers, passing by another wrestler who was on her way to the ring for the next match. "Good luck!" She said wishing her well, stepping past her to find she was all alone which suited the bluenette just fine.

Natasha tossed her ring gear onto the nearest bench and went right to the showers, taking a few minutes to clean the sweat and other assorted bodily fluids from herself before stepping out with a towel wrapped snuggly around her body. She was squeezing the water from her long blue hair when she noticed she was no longer alone in the locker room, a woman with white hair had joined her in the short time she had been showering. Natasha didn't recognize her nor was she even certain the woman was supposed to be back there considering what she was wearing. Then again she certainly had the exact build that the AFW considered perfect for its talent so maybe she was someone new or was looking for a job? Either way, she was curious.

"So uh, may I help you stranger?"

daemongirl




Posts

: 4410


Join date

: 2012-03-31


Age

: 32



Camilia was fortunate to find the locker room where Natasha would be showering and preing themselves to go home, she opens the door expecting to see her standing, already dressed but that wasn't the case. They close the door behind them, her red gaze meeting their attire laid over the bench and the sound of rushing water, echoing off the walls.

She guessed anyone after that would want a shower, the Latina would probably indulge in one too if she were in their shoes. She opts to wait, there wasn't any rush just yet, not like it was so late in the evening that she couldn't spare a few minutes before catching her two trains home.

The squeal of the knobs caught her attention, the bluenette would be out soon, Camilia wasn't sure wether to sit or stand. In the end she couldn't figure out which and stood awkwardly as they rounded the corner from the shower, their gaze meets and silence fills the room. Natasha was the first to speak but it sounded like she was confused or rather curious?

"Train me!" she exclaims, wait no! She meant to give her name then ask, in her mind she screams internally. "W-Wait no, I meant to say Camilia, Camilia Espinosa." that transition was far from smooth, maybe she ought to go...
Last edited by LilyStar on Thu Apr 12, 2018 3:27 pm; edited 2 times in total
_________________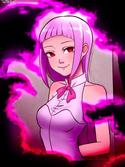 LilyStar




Posts

: 894


Join date

: 2018-02-27


Age

: 26


Location

: Your heart



Natasha just stood there in nothing but her towel, blinking in silence for several moments as she tried to make sense of what had just happened. This was certainly a new one for the bluenette and she wasn't quite sure of what to do next, though she couldn't just stand there all night without saying anything now could she? At least now she had a name to go along with the lovely face in front of her, even if she still didn't really know who the woman was beyond that. The quiet had gone on long enough though so Natasha brought it to end, motioning for the woman to come take a seat on the bench across from her.

"Well Camilia Espinosa, why don't you sit down and uhh, tell me what you came here to say. I kind of doubt you followed me into the showers just to blurt out train me." Natasha chuckled at the absurdity of the situation. She had never seen this woman before but just going off of appearances she hoped Camilia was a fighter, she was always happy to meet new talent after all. Even if she wasn't though Natasha was curious enough to hear her out.

daemongirl




Posts

: 4410


Join date

: 2012-03-31


Age

: 32



The silence was killing her, what could she be thinking? Probably how odd this whole situation was or maybe even considering her request, that seemed to be the case anyway since she invited her to sit. Camilia obliges taking the bench opposite her, she locks her pools in theirs, she wanted them to understand she had their full attention and she hers.

With their question fired at her, she'd twiddle her thumbs, actually thinking before blurting anything stupid out again. "Well I didntjust follow you..I don't think they'd let random spectators back here. I guess my name isn't that big yet but I fight here! I want to be one of the best, that's my dream..and well, I feel I'd be neglecting something if I didn't take hentai matches into consideration." her thumbs continue to twiddle in tangent, she was nervous to ask for help, she'd gone through life without it, but it was something she had to do. " I want you to teach me, I don't know the first thing about it."
_________________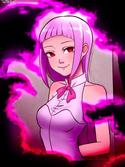 LilyStar




Posts

: 894


Join date

: 2018-02-27


Age

: 26


Location

: Your heart



Natasha sat there quietly, responding with just a nod of her head when appropriate but otherwise not reacting as the woman explained her reason for seeking out the Frenchwoman. While she could have just reached out through AFW channels, the staff was great about getting messages around, she didn't fault her for coming to find her so she could ask in person. Natasha didn't really need too much time to think about the request though, the girl seemed sincere enough and if the AFW had hired her already she must have been able to fight. Plus she definitely had a body that the crowds would fall in love with, now she just had to see if she had the personality to make them fall at her feet.

"Now thats a surprise, it isn't often I get someone with a fighting background interested in picking up some hentai skills." Natasha then rose up to her feet and stretched out a hand for the woman to shake. "Okay then I will teach you, hard to say no when you put it like that and all. What do you say we meet here tomorrow morning? Make sure to bring your gear and such okay?"

daemongirl




Posts

: 4410


Join date

: 2012-03-31


Age

: 32



Camilia sat in anticipation, she expected the blue-haired vixen to say she'd think about it or just a flat out no. Much to her surprise however that wasn't the case, she had actually accepted her request and on top of that wanted to start tomorrow, she didn't think at all on that there may be ulterior motives but she had no reason to doubt Natasha.

She stood, shaking her hand. The Latina was somewhat excited, she'd get to try out something new and maybe in the long run, it'll help her get even closer to reaching that goal high above the clouds. "Sure, I'll be here, I'll bring my A game. Hope you can keep up." it sounded condescending but she meant it all in good fun.
_________________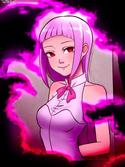 LilyStar




Posts

: 894


Join date

: 2018-02-27


Age

: 26


Location

: Your heart



Natasha didn't take Camilia's response as anything but a joke, chuckling at the thought of this newcomer to her brand of wrestling being able to outpace her, a former champion. Then she paused and looked at the woman a bit more seriously, pondering if she might be lucky enough to come across a raw talent so skilled as to able to accomplish such a thing. "Guess we will see tomorrow then won't we? Just be here around 10 o' clock, bring your usual gear and a swimsuit, and we will go through some practice." Natasha then went and finished changing, giving her one last handshake before heading home for the night.

True to her word Natasha was in the same locker room she had met Camilia the previous night before the clock struck ten, going over what she had planned for the other woman in her head one last time before the practice got started. She changed into a blue bikini that Natasha was sure would get Camilia's attention, resisting distractions was a big part of hentai wrestling so she needed to test Camilia's ability to do just that.

daemongirl




Posts

: 4410


Join date

: 2012-03-31


Age

: 32



Camilia wasn't nervous per say, her heart however wasn't ready for this, not in the slightest. She hadn't ever gotten down and dirty with an audience but that was just it, there wasn't one so why was she so...hesitant? It confused her, she wanted to do this but her mind had second thoughts, still she kept her promise and arrived fifteen minutes to ten. Her gear in a bag, a black shiny bikini stuffed in as its contents, she wondered if the blue-haired vixen would find her build remotely attractive but what was the use in wondering?

The Latina set up shop in another locker room, she wasn't one to impose so she changed there instead, she could meet Natasha later. Slipping off the casual attire she put on the swim suit, this wasn't her normal fighting attire so it felt weird to even attempt it. She'd listen to her coach's previous instructions however and heads out of the locker room, heading down the hall to meet the blue-haired girl.
_________________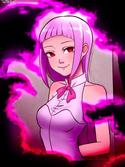 LilyStar




Posts

: 894


Join date

: 2018-02-27


Age

: 26


Location

: Your heart



Natasha was starting to wonder where exactly Camilia was as the clock got close to striking ten in the morning, having already changed into her swimsuit with a dark blue robe pulled tight around herself. She went to the door to check to see if she was outside waiting on her and sure enough the rookie almost walked right into her, seems she had caught her just as she was about to open the door. She was right on time and already changed which had Natasha chuckling when she noticed that Camilia was already in a stunning black bikini, the frenchwoman blinking a few times as she loooked her over. "Well you definitely have the body Camilia. Right on time, a good way to start things off." Natasha said as she closed the door behind her, brushing past Camilia while making sure their chests met for the briefest of moments in the process just to tease her.

"Alright follow me, I've already got things set up for your training." She said while leading Camilia down the hall, glancing back at her every so often to sneak another peek at that wonderful body. "So I thought the best way to start your lessons is for me to learn where you are now as far as endurance and skill go. Therefore today I will be testing you in a sparring match and the best place for that is right here." She finished as she opened a door at the end of the hall, revealing a small shower room with a rubber padded floor.

Natasha ushered her inside and locked the door behind them, walking over to a dial on the wall which turned on the shower, Natasha settling on just hot enough to be get some steam going. "Now any questions before we get started?" She asked as her hands pulled off the robe, revealing the skimpy blue bikini she wore underneath.

daemongirl




Posts

: 4410


Join date

: 2012-03-31


Age

: 32



Page 1 of 2 • 1, 2
Similar topics
---
Permissions in this forum:
You
cannot
reply to topics in this forum