Who is online?
In total there are
79
users online :: 2 Registered, 0 Hidden and 77 Guests :: 2 Bots
SigmaMorgan
,
Yori
Most users ever online was
418
on Tue Jul 30, 2019 9:51 am
Champions & #1 contenders
Tension Match for Melanie~
Tue Nov 28, 2023 12:56 pm by Leon564
Comments: 9
Howdy strangers.
Wed Nov 29, 2023 1:25 am by Yori
Just a small hello from an old face. I will be coming around for a bit soon and figured I would pop in. To anymore I have an unfinished thread with, if you have a desire to continue it with me just let me know and shoot me a link. While I am open to fielding ideas for new threads, I will be very selective with taking anything while I gauge my activity capability and trim/update my roster.
Toodles.
Comments: 4
Looking for a match for Lucy
Tue Nov 21, 2023 1:49 am by NobuharuKinjo
Comments: 0
Làn-Fen Xià
" The Snake Queen "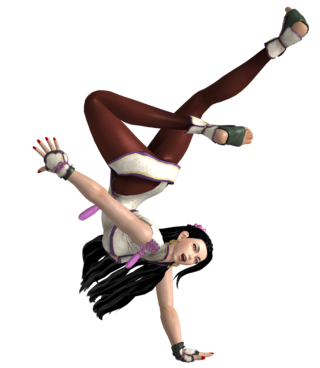 Birth Name: Làn-Fen Xià
Nickname: " The Snake Queen ", Làn
Sex:Female
Age:24
Eyes:Purple
Hair:Black-Blue
Height:5'10"
Weight:137 lbs.
Nationality:Chinese
Alignment: Face
Entrance music:Luana Coil-Our Truth
Wrestling Information
Strategy:While on defense, Làn-Fen will utilize space to properly find weak points in her opponent. If pushed she will draw herself in and direct any body movement in her favor to throw someone off balance on the off chance she gets in too close. In intense full out brawls her arms and legs are her shields. Lifting them up or tightening them to take the brunt of any punch/kick, she'll still feel it though, her body isn't made of steel.
While on offense, Làn-Fen tends to be the animal her style envisions and slithers into her opponents space. Her main goal is to keep any pressure focused on any body part she feels is most important to any fighter. She will throw in quick elbows to striking kicks to pinch and lock up her opponent before locking them up for a submission to even a signature move depending on the aggressiveness of the match.
Style:Làn-Fen style is very flexible and whip like, almost as if she were a snake. Her body will flow and slither about her opponent before " sinking in her fangs ", most of her style is based on being loose and out of opponent's grasp, though she can be quite slippery if caught, when exhausted, she'll more than likely be a much easier target.
Type:grappler, light brawler
Preferred Attacks:
Kicks
Elbows
Chops
Preferred Matches:
Standard
Submission
Open to expiriment
Endurance:★★★★
Strength:★★★
Speed:★★★★
Defense:★★★
Technique:★★★★
Favored moves:
-DDT's
-Single Leg Boston Crab
-Smother's
-Headscissor's
-Piledriver
-Suplex's
-Hurricana
-Leg Drop Guillotine
-Butt Bomb
Signature Moves;
Hooked Demon Suplex: When she gets behind and opponent, she hooks both of their arms behind their back and pulls them backward to hit the mat head first.
Super Kick:This move is self-explanatory, this is her go to signature is=f she can get her hands on her opponent
Finishing moves:
Wrapped Dragon Piledriver:
Làn-Fen's Double Underhook Piledriver. Làn-Fen will bend her opponent forward, placing the opponent's head between their legs (a standing headscissors), and hooks each of the opponent's arms behind the opponent's back. She then pulls back on the opponent's arms lifting him/her up so that the opponent is held upside down facing in the same direction as her, she then drops to a sitting or kneeling position dropping the opponent's head into the mat.
Ao-Oni Drop:
While her opponent is stunned, Lànfen will run towards them, jumping up for her knees to come up to their chest/slash face and hooking her arms around their neck to fall back onto the mat and forcing her knees into them. This can also be done from the back, She would run towards her opponent and lock her hands around their shoulders with her knees along their upper back/under their shoulder blades to fall onto the mat and force her knees into their spine or shoulder blades, doing damage mostly to the head or back to disorient or knock them out cold.
Signature Submission:
Cross Eel Stretch:With her opponent on the ground, Làn-Fen will sit on their back, grabbing one of their legs to wrap over her head to bring tension into their lower back to thigh muscles before taking their adjacent arm to pull up to their body to stretch their abdomen and arm. Then she will lift them slightly up off the mat to hover them off the ground for them to hang suspended as she stretches out their body parts.
Characteristics
Appearance: Làn-Fen appears fair with her palish-tan skin, whenever she enters the ring you can expect her signature purple lipstick. Her blueish-black hair is usually down with a crown-esque braid over top her scalp, an orchid perched into er hair with a clump of bangs hugging the left side of her face. one cant miss her toned yet curvaceous form perfect for smothers and submission holds to squeeze the life out of her opponents.  
Personality: Làn-Fen thinks of herself being very capable wrestler as well as martial artist while being  headstrong against her opponents, appearing extremely aggressive but noble toward most opponents while in the ring. Outside the ring, Làn-Fen is a very sturdy but loving person. They love getting out to meet other people and talk with them about their home life or books they enjoy, while training every so hard to keep in shape. Occasionally she tends to be quite simple-minded due to her very demanding upbringing which she didn't mind per se but the new breath of life she was able to live was something they had always dreamed of. She takes great pride in her skills and to mock them would be to mock her hard work and dedication to her training, so anyone brave enough to make such comments would find themselves on the receiving end of an angry Chinese woman. When Làn-Fen is distressed or angry she tends to revert back to her native Lànguage.
Past/History: One could say that wrestling is a passion for most or a chance to be someone but for Làn-Fen, it was a way of life. Having been born into the wrestling business due to her father being the renowned wrestler Tai Xià, she'd spend much of her time dedicated to training to entering the Chinese league when she was older. It brought her unimaginable joy to watch matches between strong individuals on AFW, the league she so desperately wanted to join when she was much older of course admiring their beauty and tenacity to win. She also had the  privilege to sit in the front row to her father's matches. Làn-Fen's mother Lànhuā Xià, was a mill worker who'd spend most of her days at the mill watching her husbands match on the television set up in the shop.
After several years of training and at the ripe age of fourteen, she was as allowed to enter in the junior division wrestling league held once every six months for the youngsters in her hometown. In the league she had managed to win third place which truly set the flame to pursue wrestling as a career in the girl's heart. Being brought up in it was one thing but having that spark was another. Only a few months later did the girls world come crashing down when her father was rushed to the hospital due to a intense injury in the ring. It was an accident of course but Làn-Fen was crushed that one of her biggest idols was now broken in a hospital bed. It took weeks for her to emotionally recover but through her Dad's encouragement she was set back on track to her dream.
With a new flame burning in her heart, Làn-Fen would continue to train, even going as far as to train in other schools of combat to heighten her skills. In the span of five years, she had learned much of the Chinese martial art that she now implements into her own wrestling style. Now at the age of nineteen, she was allowed to enter into the adults Chinese league and pulled ahead of the competition and coming now in second place. The woman knew she could push herself harder and continue to enter in every adult league that appeared across China to further herself and her skills. It wouldn't take long for her to branch out from her home country across much of Asia and ending up in Europe where she would witness matches unlike those at home. The Chinese girl came to admire them and look up to them hoping to take them on in the ring one day when she was completely confident in her skills.
Wrestling Attire:
Attire 1:
Secret match Attire:
Fun Facts:
-Làn-Fen has an overwhelming sweet tooth when she was able to try them as a young adult, when she has a craving, her body literally demands she has it.
-She occasionally goes back home to visit her father, though he doesn't wrestle anymore, she always tells him about her matches which puts him back in that fighting spirit he always had. Although she loves seeing him so amped up it doesn't always end well with him sometimes on the floor.
-The few veteran wrestlers at AFW have her complete and utter respect, if shes seen them in action or been able to have a match with one, she tends to idolize them.
AFW Information
Record:0/0/0
Wins:
Losses:
Draws:
Match history:
1. Priscilla Haynes vs. Lán-Fen Xiá(
WIN!
victory achieved via pinfall after hitting the Aoi-Oni Drop.)
Championships/Accomplishments:
Friends:None
Allies:None
Rivals: None
Enemies: None
Crushes:None
Last edited by LilyStar on Wed Feb 24, 2021 5:54 pm; edited 4 times in total (Reason for editing : Personality has been changed, hentai related bits have been removed so she won't participate.)

LilyStar




Posts

: 937


Join date

: 2018-02-27


Age

: 27


Location

: Your heart



Approved, you may RP as you wish.
_________________

killcarrion




Posts

: 6105


Join date

: 2013-04-14


Age

: 36



---
Permissions in this forum:
You
cannot
reply to topics in this forum