Who is online?
In total there are
38
users online :: 5 Registered, 0 Hidden and 33 Guests :: 2 Bots
Deus001
,
LARIATO
,
LunarWolf
,
SimplyMoon
,
Yori
Most users ever online was
418
on Tue Jul 30, 2019 9:51 am
Champions & #1 contenders
General Avalanche Reminder
Fri Oct 23, 2020 9:21 pm by Old_Man_Tai
General Reminder: Friction PPV Avalanche goes live on December 1st: So if you need to do any promos or build up for your Avalanche matches, you should be focusing on that now. You are allowed to do such things over Discord and then post them after if it helps get them done faster so matches have proper build up.
Also, if you are looking to get on the ppv, and have a partner and match set up, (or can do so quickly), contact me to let me know what match you are doing on the show.
If you have …
[
Full reading
]
Comments: 0
Need Debut matches/Simply looking for more
Tue Sep 08, 2020 11:19 pm by Void Effect
Comments: 10
And again
Thu Oct 22, 2020 7:38 pm by skip-stop
Hi hi, skip-stop is in touch
All posts debts have been paid. To be brief, I'm taking a short break again, will be back on Monday. There are a number of problems that require thought and solution attempt. Discord is always available in case someone suddenly needs something. Thank you for your attention. Stand by
Comments: 1
Page 1 of 2 • 1, 2
Preceded by:
SD III: The Dasher Challenge
Followed by:
SD III: Simply Superior vs. Heart and Passion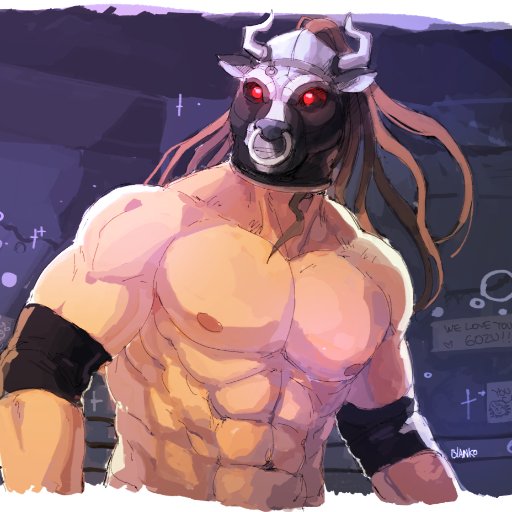 VS.
Match Type: Standard match
Winning Condition: Pinfall, Submission or Knockout
Special Conditions: none
_________________
The new and improved:
Kelsea's Karacters
Spotlight
characters:
Prepare your face for ThE BRaT PaCK
Ivan was waiting wheter he'll get the spot in Showdown or not. He never showed any emotions and was barely feeling anything except of cold hatred toward everyone, but he was quite excited for this one. It would be his first big match since joining AFW and great opportunity to put some spotlight on him. He was brutal and agressive and he loved showing that to everyone around him. There was little catch though - the match won't be simple walk in park, since this will be battle of two heavy weights. Ivan's already pretty big and heavy guy, but his opponent is even bigger.

His opponent, Gozu, didn't have any match under his belt in AFW yet, but Ivan knew that he used to wrestle in past. But that was pretty much everything Ivan knew about him. He never bothered checking his opponents beforehand and Showdown match wasn't exception. He was simply that strong the he didn't care and just power through everything and everyone that stood on his way.

Ivan was standing behind the courtains when waiting for announcer to call him out. "And now...! Coming from far Russia, weighting 240 pounds with 6'7" height - Ivan Komorov!" Ivan showed up and there's no surprise that crowd wasn't too pleased when seeing him. There were lot of boo-ing, but as always, Ivan ignored everything and fixed his eyes on ring. Today was standard match on the schedule, but this didn't mean that Ivan won't try with any illegal or cheap shots when referee won't be watching.

Ivan took his time to get to the ring and once reaching it and used the steps to get up and moved in between top and middle rope. He walked toward the distant end of ring with eyes fixed on entrance to see physique of Great Gozu.

TheRacker




Posts

: 1640


Join date

: 2015-04-30



It's been ten years, ten whole years since Gozu has stepped into the ring. And he was making his big return back into the wrestling world with this "Showdown". Quite fitting for a bull. And he heard his opponent was quite a heavy weight as well though this would be his first match in AFW as well, which made things even more interesting. Gozu had quite the reputation back in his prime and he wasn't deemed to be one of the best wrestler in history if he wasn't. He'd also be damned if he lost to this rookie. He'd show him what a true wrestler is made out of!

He would let out a bellowing, "MOOOOOOOOOOO!", in the locker room, standing up from the bench he sat on and flexed his muscles. He actually shook the benches and lockers slightly from his war cry. Calming down, he would turn around to see a quivering staff members hiding behind the door, completely scared out of her mind.

"M-M-M-M-M-M-," the employee stammered as she struggled to get the words out her mouth before Gozu suddenly leaned down and looked right at her face. With his booming voice, he exclaimed, "WHAT IS IT!? IF YOU HAVE SOMETHING TO SAY, THEN SPIT IT OUT!"

The employee looked like she was about to wet herself before she screamed, "M-Mr. Gozu! You're up soon!" Gozu stared at the girl before standing back, almost hitting the ceiling with his head and let out a bellowing laugh.

"HAHAHAHA! See? Was it that hard?" Gozuu laughed before making his way out the door, having to duck his head but before he left, he'd turn back to the employee, "You've got guts kid, I like that! NEVER BACK DOWN FROM ANYONE! HAHAHAHA!" Gozu would make his way to the arena, the employee collapsing as soon as Gozu left.

"Now presenting Ivan's opponent! Hailing from Japan, he is a wrestling legend! Charging back into the ring after a ten year retirement...retired wrestling champion! Weighing in at 308 pounds and standing at a towering 6'11, it's the GREAT GOZU!" the announcer exclaimed as Gozu stomped into the arena, raising his fists in the air as the fans cheered and went wild. Some veteran wrestling fans would recognize Gozu and he looked better than ever, in fact, possibly better than when he was in his prime!

"MOOOOOOOOOOOOOOOOOOOOOOOOOOOOOOOOOO!" Gozu boomed, loud enough to Moo over the screaming fans. He would charge down the ramp like a bull and jump up onto the top rope from the ground before he came crashing down with huge thud in the center of the ring, landing on both his feet.

"ARE YOU READY TO SEE SOME WRESTLING! CAUSE THE GREAT GOZU HAS RETURNED!" Gozu boomed as the fans went wild in the crowd. The referee would motion Gozu to get into his corner for the beginning of the match and once he obliged, he would look at Ivan and sized him.

"Quite the big fella. But I'm bigger and stronger!" Gozu thought as he waited for the bell to ring. Once the bell rang, Gozu would immediately start off with one of his famous Bull Tackle, charging at Ivan and ramming him into his corner with his huge shoulder!

Ragdoll_Jobbers




Posts

: 2729


Join date

: 2016-09-07



"What a clown..." Ivan thought to himself after seeing Gozu with his mask. He was really big indeed - it was clear even from distance that he's larger than him. But this didn't bother him, since he knew he was still strong enough to be on even ground with great Gozu. Unlike Ivan, Gozu wasted almost no time and rushed toward the ring and you could even feel the ring shaking a little upon his landing. This probably wasn't the only case for tonight, since there is no doubt that fans will be served with some heavy and exciting throws during the match.

Ivan moved toward the center of the ring after hearing the bell ringing and prepared for the begining. But Gozu didn't want to take it slowly like Ivan wanted to. Start of the match was in simmilar fashion as his entrance: fast, straight to the point and without any stalling. Ivan still didn't move though - he just stood firmly and prepared himself for an impact. Height and weight difference often meant a lot, but he will show Gozu that this wasn't the case today. He flexed his abs when Gozu jumped to land a shoulder in his stomach and prepared arms to catch him. Gozu hit him pretty hard, but Ivan's abs were rock hard and action ended with Gozu moving Ivan only few steps back instead of all the way to the corner. Russian wrestler would try to use the opportunity to dish some counter damage and sent elbow to opponent's back.

TheRacker




Posts

: 1640


Join date

: 2015-04-30



Gozu faced many big and tough opponents back in his prime, people similar to Ivan. But all his matches ended the same way, with them outside the ring or pinned down for a three count. Though Ivan was certainly a strong fellow and gutsy too, instead of trying to move out of the way, he would instead hold his ground and try to catch him. That was the manly way to deal with the situation and he respected that but that didn't mean that he wouldn't try to push through and demolish him regardless!

While Gozu used his muscles and strength to continue to push the Russian wrestler, Ivan was eventually able to put him to a halt and throw an elbow to his back. Gozu released a big scoff as he barely felt the elbow. If this rookie thought something as simple as that would be able to hurt him, he had another thing coming.

Since Gozu couldn't push him any further, than he would throw him instead! After Ivan threw his elbow, Gozu would quickly wrap his arms around the Russian and let out a bellowing "MOOOOOOOOOO!" before flinging him over like an ox throwing its head back to attack!

Ragdoll_Jobbers




Posts

: 2729


Join date

: 2016-09-07



Ivan always hit first and think later - sometimes he didn't even do that. He had a habbit of brute forcing everything and he had the same plan for today's match. Due to this simplistic tactics he quickly became known for brainless mounatin of muscles, which was prooven with his elbow strike attempt. Gozu was simmilar wrestler to Ivan when it came to strength and endurance. Since Ivan managed to stop Gozu's rush without any problem, there wasn't any doubt that this elbow strike won't do much to him either.

Being uneffected by elbow hit, Gozu wraped arms around Ivan with Ivan doing the same to him. He could easily turn this to any kind of throw or slam, but his opponent was the first who did that.

Ivan quickly lost touch with a canvas and flew over his opponent, landing hard on his back. Well it wasn't as hard as it sounded, since he was pretty big and tough guy and such slams usually looked way worse than they actually were. Still, he rolled away from his opponent and start slowly getting up on his feet.

TheRacker




Posts

: 1640


Join date

: 2015-04-30



Gozu let out a triumphant roar when he threw Ivan over him, hyping the crowd even further as he flexed his muscles while Ivan was getting up. But Gozu wouldn't let up and push on his advantage and like a bull, he scoffed his right foot across the mat like a bull getting ready to charge before charging at him again. Head down and ready to go for a head to head collision, literally. Gozu tussled with men just as big as Ivan before and he always out lasted his opponent and he was going to do the same tonight.

Once he would headbutt Ivan, Gozu would kick him down once again, flat on his back. He would raise his right fist in the air and the crowd would roar with approval as he would jump in the air and attempt to land a powerful elbow drop!

Ragdoll_Jobbers




Posts

: 2729


Join date

: 2016-09-07



Gozu showing off with flexing and hyping worked in Ivan's advantage. He had enough time to get up in peace and prepare himself for further encounters. And Gozu still wasn't over with his shanenigans and continued with his bull imitations even after Ivan stood up. Ivan was fine with this though - it was indeed slightly annoying, but hey - at the end it was him who got more time to prepare.

Ivan would slightly bend his knees and raise his arms while Gozu would charge toward him. Regardless of what was Gozu's plans, Ivan won't let them happen. He'd wait for Japanese wrestler to approach him and use his momentum to try to throw Gozu down with hip toss move.

TheRacker




Posts

: 1640


Join date

: 2015-04-30



Gozu was really feeling it, he had a fire in his belly as the roaring cheers from the crowd pumped him up. This was exactly what he missed from the ring. The adoring screams of the fans, the intense battle between two men to see who of the two was the superior one. He couldn't help but smirk under his mask as he charged at Ivan. But he took too long showing off to the fans earlier as his Russian opponent had enough time to recover and brace himself.

The man impressively caught Gozu in his grasp, and using Gozu's own powerful momentum, flung him with a hip toss, sending Gozu crashing to the ground. The ring trembled on impact but it didn't hurt Gozu too much. Much like Ivan, given their sizes, moves like those seemed painful when really it wasn't too big of a problem. Gozu snorted as he would rise to his knees and look at Ivan. "Nice one rookie," Gozu complimented as he would get up and flinch slightly. God damn old age, his shoulder stiffened up and Gozu would ring it around to loosen it up.

Ragdoll_Jobbers




Posts

: 2729


Join date

: 2016-09-07



Ivan just smirked after Gozu's remark and wasn't too interested in any conversation or small talk. He was man of few words - acts say way more than words and Ivan simply didn't feel any need to support his acts with pointless talk. Instead he flexed his own biceps infront of Gozu to show him that he's not the only one with muscles in ring. He didn't sow off for too long though, since he know that same thing that just happened to Gozu can happen to Russian giant as well.

Ivan knew very well that he's way too slow to catch Gozu on the groun that early in match, so he just waited him to stand up. He'd walk toward him with arms extended after they'd both be up on feet and try to engage with lock up; puting one arm around Gozu's neck and grabing his shoulder with other.


TheRacker




Posts

: 1640


Join date

: 2015-04-30



Page 1 of 2 • 1, 2
---
Permissions in this forum:
You
cannot
reply to topics in this forum