Who is online?
In total there are
47
users online :: 2 Registered, 0 Hidden and 45 Guests :: 3 Bots
Diesel_Electric_Razor
,
Grievous77
Most users ever online was
418
on Tue Jul 30, 2019 9:51 am
Champions & #1 contenders
Looking for... anything really.
Mon Jul 26, 2021 10:43 pm by Chaos
Hey. I'm just here to look for one more thread, just trying to be active.
Could be anything as I don't have anything in mind.
if interested, don't be afraid to PM through the forum or Discord (ChaosDeku#0180) or even here, so that we may discuss.
Thank you and hope to see you soon.
Comments: 2
Debut Match
Sat Jul 24, 2021 1:34 am by Rymiscuius
Hello.
I might have time for a thread or two.
Got one character so far, she's pretty snazzy.
PM if interested but discord will likely be easier
Rymiscuius#7782
Comments: 0
Match Wanted
Sat Jul 17, 2021 6:51 pm by KillerV
Looking for female opponents against my Killer King or Nathan Ballwin.
Prefer my males win the match.
Can discuss via DM or Discord KillerV#5130 for more details.
Thank you.
Comments: 0
Name: StarStruck - Amber & Lara & Cassie
Sex: Female
Age: Amber: 21  - Lara: 20  - Cassie: 24
Eyes: Amber: Pink - Lara: Purple - Cassie: Brown
Hair: Amber: Pink - Lara - Orange - Cassie - Purple.
Height: Amber: 5'4" - Lara: 5'5" - Cassie: 5'7"
Weight: Combined 430ibs (Amber: 125ibs - Lara: 135ibs - Cassie: 170ibs)
Nationality: Canadian
Alignment: Heels
Entrance music: None Yet.
Wrestling Information
Strategy: The girls work as a team to dominate rivals before subjecting them to a big team finish.
Style: Wrestling
Type: Teamwork at ALL times.
Preferred Matches: Tag Team and Handicap Matches
Favored moves: Headscissors, Smothers, Slaps, Humiliation with Foreign Objects, Slams, Submission Holds, Pinning Moves, Cheating, Quick Tags, Crabs, Clutches, Everything you can think of
When Double Teaming: Corner Moves, Triple Pinning Combinations, Triple Submissions, Cheating.
Finishers:
Now you are StarStruck: Main Finisher & Pinning Combination
Amber and Lara take turns wearing their opponent down so they are helpless. Then Amber puts them across her knee for a backbreaker, while Lara climbs the turnbuckle. Jumping off she lands a leg drop across their throat to lay them out on the canvas. After this Cassie is tagged in and being the heaviest, drops a big splash off the ropes to finish them.
All three girls will often pin their rival assisting Cassie to reinforce their teamwork.
Triple Trouble: This is a team submission hold.
Variation 1: Cassie puts her rival in a Romero Ceiling Hold so they are helpless. Amber moves to their head and applies a choke hold (a bit like a dragon sleeper) while Lara, being the most sexually active of the team, nuzzles licks and plays with their rivals sex.
Variation 2: With the victim on their tummy. Lara applies a head scissor, ensuring the rivals face is up against her crotch. Amber concentrates on the legs, bending them back almost crab like. Cassie then piles on the pressure with a clutch to secure the arms and work the back.
It is the mix of pain and pleasure that the team use if they really dislike someone.
Characteristics
Physical Appearance: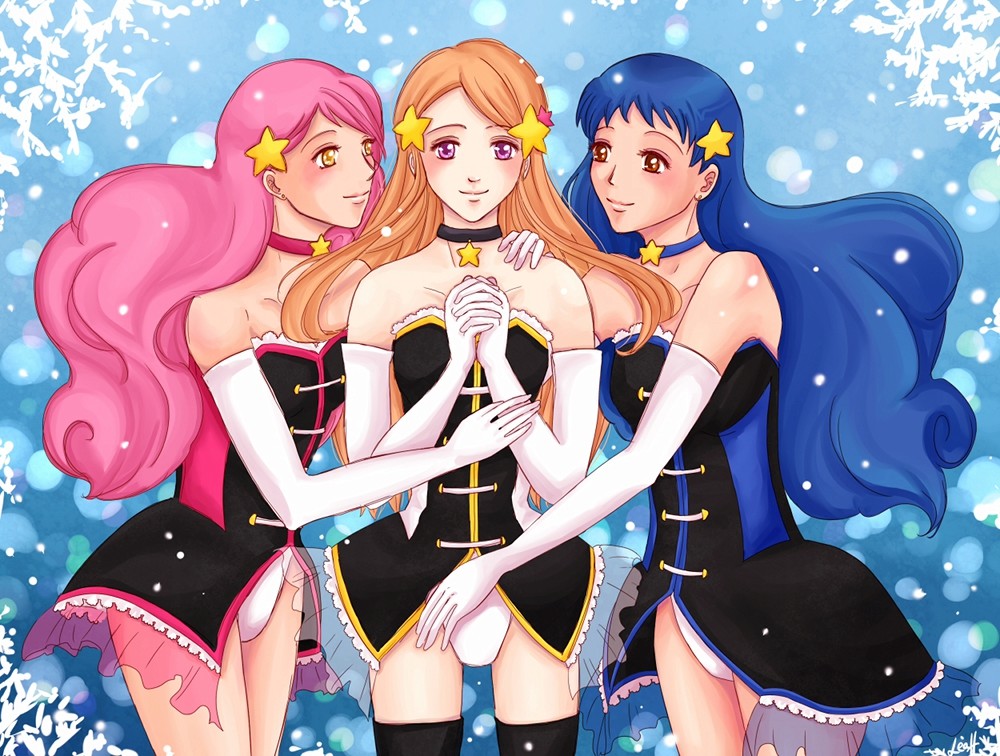 Personality: The team are solely in AFW to dominate and be used as some form of punishment. Whilst they are not sadistic, money talks and they will squash anyone put in their way (usually relying on the odd of 3v1 to do it) They often like playing to the crowd, even though they are heels and announce their moves just like anime characters. They especially do this for their finisher and triple pinning combination.
Past/History: The girls met at wrestling school and initially it was just Amber and Lara who formed a tag team. After they saw Cassie utterly destroy a girl, they knew a triple tag team was the way to go forward. They recruited her simply as he muscle of the team, and to really hammer home the helplessness of their rivals.
Wrestling Attire: Matching Star Print Bikini's and boots.
Fun Facts: Amber loves cats, while Cassie hates them.
Last edited by starvalentine on Mon Jan 02, 2017 9:58 am; edited 1 time in total

PV




Posts

: 1191


Join date

: 2016-02-21



They are now under Manager's management and have been adopted

Ragdoll_Jobbers




Posts

: 2708


Join date

: 2016-09-07



---
Permissions in this forum:
You
cannot
reply to topics in this forum