Who is online?
In total there are
20
users online :: 3 Registered, 0 Hidden and 17 Guests :: 2 Bots
ja15ke
,
Nelv
,
Teenwrestler
Most users ever online was
418
on Tue Jul 30, 2019 9:51 am
Champions & #1 contenders
After a long time I return, looking for a match
Thu Sep 16, 2021 11:20 pm by GrandAkumaShogun
Hello all, I would firstly like to apologize for the long periods that I've been away from here. Been taking time away to focus on my mental health but I think I'm ready to return and looking for a match or two to get back into things. All three of my boys, Takeichi Mori, Takeshi Kawai, and Imai Cosmo are up for matches. If you want I can link their profiles so you don't have to search through the roster page. Anyone interested feel free to hmu through private messages. Hope to hear from …
[
Full reading
]
Comments: 4
Request Filled for Now, IGNORE!
Thu Sep 23, 2021 10:18 am by Frodouken
Comments: 3
Aye I'm back. I suck. Wanna wrestle?
Thu Sep 09, 2021 6:54 am by yummybunny
Aye I'm back again, the loser that pops in and out for like 5 years straight.
I know I know, no need for cheers.
Uh, but no seriously I'm feeling pretty good lately and would love to throw my hat back in the ring. If anyone wants to wrestle my losers let me know, I have a few now. Just made a new one in fact.
Queen Bitch:
Other than her I have like...A few others? I forgot who's made on here and who isn't. I WILL say, they ain't that good and …
[
Full reading
]
Comments: 4
Page 1 of 4 • 1, 2, 3, 4
What happened previous between these two
Tsume was just done chancing into her workout outfit which consists of a pair of sneakers , Green shorts and a white tank top as she walked out of the locker room and into the gym. So as the Japanese native looked around the room as she spotted a free hometrainer near the back as she started to walk towards it.
While Tsume was working towards the home trainer she was thinking about her last match and smirked as she remembered that she had throw her opponent threw the announcer table after the match was over and she was declared the winner. ''Now i just need to find that asshole from my debut match and make him suffer for ruining it''thought the dog lover as she finally reached the home trainer and sat down on it and started to ride it.
workout clothes:

anime_hentaifighter




Posts

: 4952


Join date

: 2013-07-28


Age

: 32


Location

: netherlands



Shido had already been in the gym when Tsume had entered. He visited the gym quite often. He had to keep himself trained to be able to keep up with the many larger and stronger opponents at AFW, both men and women alike. He'd been hitting the weights and doing dumbbell presses on the incline bench when he noticed the veterinarian enter and begin her workout.
Despite the attack after the match, Shido still seemed to have no ill feelings towards the lady. He'd approach her as she began her workout on the home trainer.
"Excuse me. Miss Ama? Is that you? He said, casually.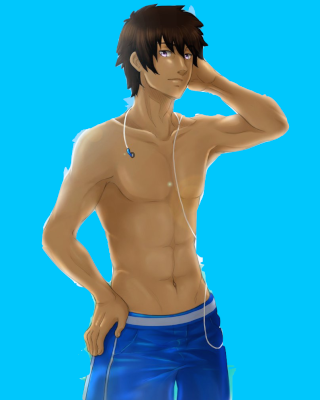 Winner3




Posts

: 2084


Join date

: 2015-12-22



Tsume was just enjoying her work out when she heard a familar voice as she turned around to see it was the same weakling who got lucky in her first match. Not knowing what the other wrestler wanted from her caused the dog lover to get off the home trainer and stand across from the male as she hoped not to cause a scene as she crossed her arms under her breasts.

''What do you want Shiro was it? As i'm currently busy''replied Tsume as she struggled to resist the urge to just punch the male that ruined her debut as she was on guard for any kind of sneak attack the other wrestler had in mind.

anime_hentaifighter




Posts

: 4952


Join date

: 2013-07-28


Age

: 32


Location

: netherlands



"Oh, actually it's Shido, with a d and not an r, haha The Fanboy said with a nervous laugh while scratching his head. Tsume towered over him, which was no big deal to him. But she did look intimidating. He enjoyed their last match and even if some people might say he had gotten lucky, he felt he earned that victory and was proud of it.

"Listen, I'm sorry to bother you. But it's about our last match. You attacked me after it ended and that wasn't cool. At all. So I wanted to ask: do you have a problem with me?" he said in as stern a voice as he could manage. He wasn't intent on attempting any sneak attacks. He just wasn't the kind of guy to attempt something like without a very good reason. But still, the Fanboy would seek to resolve things between the two of them, even if it needed to become physical. He wasn't afraid of standing up to a bully. And that's precisely what Tsume was making herself out to be, or at least that's what Shido thought.

Winner3




Posts

: 2084


Join date

: 2015-12-22



Tsume was not amused that the male was correcting her as she was resisting the urge to punch him right in the face as she wanted to show him that last time was just a fluke. At her mood became even worse when she heard that Shido wanted an explanation about her actions after their match as she would just take a step back.

''Well Shido i don't have a problem with you so long if you leave me alone weakling''replied Tsume as she hoped the male wanted to start something as she would push him out of her way. After pushing the male out of the way Tsume would make her way to the punching bags as the dog lover knew she needed to punch something right now or else the next person to annoy her would end up with a black eye.

anime_hentaifighter




Posts

: 4952


Join date

: 2013-07-28


Age

: 32


Location

: netherlands



Shido noticed that Tsume was visibly upset. He knew the lady didn't want to see him. And given the way their last meeting resolved, he didn't think she'd be too keen on the idea of getting along with him. Still, he pried about why the Veterinarian disliked him. He knew he was onto something when Tsume took a step back in response to him confronting her about it.

The beautiful Miss Ama would push past Shido and head towards the punching bags, but the Fanboy would grab hold of her arm as he was pushed away. He tried to hold her attention and discuss matters further.

"If you had no problems with me, you wouldn't have attacked me. And you wouldn't insist on calling me a weakling....I think you're just calling me that because it helps you feel better about yourself. To help you feel better about losing...."

Winner3




Posts

: 2084


Join date

: 2015-12-22



Tsume was not in a good mood to begin with after seeing Shido so when the male grabbed her by the arm and started lecturing her about the simple fact that she was acting this way because she could not handle losing she would just turn her head and smile.

''Your right Shido was it about the fact i don't handle losing very well but theirs one thing i hate even more and then is being lectured'' replied Tsume as she would free her arm from the male's grip as she took two steps towards the punching bags. After taking those two steps she would turn around as her left arm would swing towards the male's face as her hand was turned into a fist as she hoped to knock the bastard down on his ass.

If the punch connected and Shido landed on his butt she would just smirk as she yelled ''so stay away unless you want to get another beating like i gave you after you ruined my debut Shido'' before resuming her way to the punching bags.



anime_hentaifighter




Posts

: 4952


Join date

: 2013-07-28


Age

: 32


Location

: netherlands



Tsume's smiled almost seemed sincere. Shido was hoping she'd want to talk things out, to resolve their differences. But all these hopes were dashed when the brunette brute would throw a hand a Shido, hitting him clean across the face! The punch made a distinct noise and seemed to stun the Fanboy. He wasn't knocked down, but he kept his head turned to the side and stood still after taking that hit. After the comments about her debut being ruined, Shido turned his head back at Tsume as she walked away.

"Yeah....yeah, you're right. You don't take losing very well. I hope you spend the next several weeks in this gym training so that one day, you might have even the slightly chance of winning again a weakling like me." He sat down to use the home gym Tsume was just using before he finished berating her. "You should consider dropping the wrestling career for a modeling job or something you'd be better at."

Winner3




Posts

: 2084


Join date

: 2015-12-22



Tsume was feeling good about herself after punching that annoying punk in his face only to hear him yell out to her as she would turn around with clear disdain in her eyes. ''Sorry what did you just say Shido as i think you told me to consider an other career choice but i most have heard it wrong right''screamed the dog lover as she slowly made her way towards the male as he sat down to us the home trainer she just used.

While waiting for her answer Tsume would stand just beside the machine she just used as she would crack her knuckles hoping to intimidate the asshole into saying something else. Meanwhile some of the other wrestlers would slowly back away from the home trainers they were using as they did not want to get involved in the upcoming brawl.

anime_hentaifighter




Posts

: 4952


Join date

: 2013-07-28


Age

: 32


Location

: netherlands



Shido was normally not the provocative kind of guy, but it was hard to avoid pissing off Tsume. He made it a habit to stand up to people he considered to be bullies and right now the easiest way to do that was to use his signature witty comments to annoy her. "Oh, I'm sorry. You didn't hear me." Shido would say before covering his mouth and clearing his throat a bit. Before saying another spheal and simply hoping he was uninterrupted yet again.

"If you can't seem to beat weaklings in the ring, then you ought to consider taking up a different career. I know your veterinarian job will probably be waiting for you if you ever chose to go back to it. I'm sure you could do a lot of things. Right now you look like you have a promising career as a bouncer since you like to stand over weaklings and look intimidating.

Shido would turn to Tsume and make eye contact with her for the last bit. "Or you could continue making yourself look like a bad wrestler by trash talking the very same person you lost to fair and square."

Winner3




Posts

: 2084


Join date

: 2015-12-22



Page 1 of 4 • 1, 2, 3, 4
---
Permissions in this forum:
You
cannot
reply to topics in this forum