Champions & #1 contenders
Avalanche 2020 Postponement
Mon Nov 23, 2020 10:04 pm by killcarrion
Due to various circumstances, including some board members becoming ill (whom we all wish a prompt and speedy recovery), magnified stress levels due to the holiday season, and the fact that our delay of SummerSplash may have inadvertently pushed some storylines further down the line...this year we've decided to postpone the beginning of Avalanche from Dec 1st to
Dec 15th.
This is to give members more time to finish threads or further storylines in preparation for their Ava match, and hopefully …
[
Full reading
]
Comments: 0
Retirement
Thu Nov 19, 2020 7:17 pm by WrestleMind
Howdy everyone, 
I've recently had a bit of an appifiny that drives me to retire from this forum for the foreseeable future.
I'm sorry to everyone I have an active thread with. Unfortunately, I won't be finishing our threads. If you wish you have my blessing to finish the threads however you like. 
If anyone wants to take my face claims or my characters as a whole please feel free to reach out and ask. 
It's been a fun ride. Good luck and thanks for everything. 
Edit: Sorry I didn't …
[
Full reading
]
Comments: 14
Need Debut matches/Simply looking for more
Tue Sep 08, 2020 11:19 pm by Void Effect
Comments: 13
Page 1 of 7 • 1, 2, 3, 4, 5, 6, 7
Smother/KO Match
Winning Condition: Do you really need an explanation?
Setting: Open space in an isolated forest, purrfect for one-on-one private matches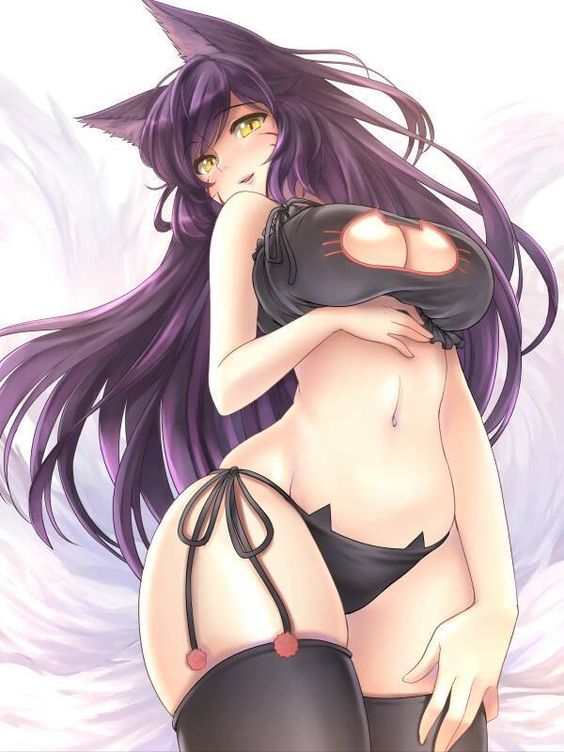 Ahri would walk to the destination on the card she received. It told her she would be having a private match in the forest. Best 2 out of 3 smother or ko match. Ahri bit her lower lip, wondering how sexy it would be having her opponent's head between her breasts or thighs. Ahri would get a little wet, swaying her hips from side to side as she reached the opening clearing in the forest. She would stand there in the middle of the opening, patiently waiting for her opponent.

Ragdoll_Jobbers




Posts

: 2734


Join date

: 2016-09-07



Ally made her way to the designated area. "Hmmm, wonder who my prey is this time?" She would ask herself out loud as she reached her destination. She would see he scantily clad fox and assumed that she would be her opponent of the day. "So you're the person to beat?" She asked, moving in closer and checking her opponent over. Being about the same size as her opponent, Ally wasn't to nervous. She had been able to handle herself in the ring and hoped she could get a win today.
Spoiler:

noob




Posts

: 1652


Join date

: 2016-08-28



"Oh? A pussy cat?" Ahri said in awe, "This will be fun." Ahri looked at the leopard girl in front of her and walked up to her and offered her a handshake. "Nice to meet you, I'm Ahri," Ahri greeted, "What's your name pussy cat?"

Ragdoll_Jobbers




Posts

: 2734


Join date

: 2016-09-07



Ally's face would contort into a frown. Her eye twitched as she was once again mistaken for a common cat. "D...do I LOOK like a pussy cat to you?" She would yell. This was perhaps the 5th time she was called a cat but it always annoyed her. She just slapped the fox's hand away and pouted. "I'm a leopard. WAY better than just a cat. So take note." She huffed, still annoyed at her opponent.

noob




Posts

: 1652


Join date

: 2016-08-28



Ahri would chuckle at her opponent's childish outburst, "Awh, did I hurt the widdle kitty's feelings?" Ahri loved seeing her opponents getting flustered and then going all out. It made squeezing the life out of them all the more enjoyable. "If I did, why don't I give you a present and let you get the first shot? How does that sound pussy cat?" Ahri taunted, spreading her arms and legs wide open. Free shot to her head, neck, breasts, stomach, legs or even her own pussy.

Ragdoll_Jobbers




Posts

: 2734


Join date

: 2016-09-07



"grrr...just shut it" Ally growled, clearly irritated. Composure was not the leopard's forte. Ally was going to make her opponent pay for taking her lightly. She would gladly take the free shot, being sure to make it count. She took a step back and would then aim a hard kick right at the Fox's ribs, hoping to stagger her. "Hmmph, how's that?" She would say if it connected.

noob




Posts

: 1652


Join date

: 2016-08-28



"OFPH!" Ahri would grunt as the leopard woman kicked her in the rib, making her stagger a bit. Ahri would actually accidently step on one of her own tails and fall on her back. Luckily her tails cushioned her fall but her stepping on her tail made her actually cum a bit. Ahri would moan out in pleasure.

Ragdoll_Jobbers




Posts

: 2734


Join date

: 2016-09-07



Ally's attack couldn't have had a better outcome for her. She smiled as her opponent fell right on her back. Wanting to gain some momentum, she would quickly step in. "That's what ya get for takin me lightly." The cat girl scolded. She would then stomp down 3 times on the fox's gut. If she hit all 3 she would stand there triumphantly and look down at her opponent. "So are we gonna do this the easy way or the hard way?" She would ask regardless.

noob




Posts

: 1652


Join date

: 2016-08-28



Ahri would feel Ally stomp on her grunts roughly three times. Ahri would clutch her guts and looked up back at Ally and heard Ally's question. "I prefer, the fun way," Ahri would giggle and when she did, she willed one of her tails to knock Ally's feet, hopefully knocking her off her feet.

Ragdoll_Jobbers




Posts

: 2734


Join date

: 2016-09-07



Ally raised her eyebrow, puzzled by the fox's words. She would start to ask a question before she was tripped up. "What do ya mean the...waaaah!" The cat girl fell right on her butt, groaning as she hit the floor. Ahri would learn that cats did not always land on their feet. Ally scowled at her opponent. "That was a cheap trick." She complained as she tried to get back up to her feet.

noob




Posts

: 1652


Join date

: 2016-08-28



Page 1 of 7 • 1, 2, 3, 4, 5, 6, 7
---
Permissions in this forum:
You
cannot
reply to topics in this forum