Who is online?
In total there are
27
users online :: 3 Registered, 0 Hidden and 24 Guests :: 3 Bots
Deus001
,
FreestylePoet
,
Tarantulust
Most users ever online was
418
on Tue Jul 30, 2019 9:51 am
Champions & #1 contenders
After a long time I return, looking for a match
Thu Sep 16, 2021 11:20 pm by GrandAkumaShogun
Hello all, I would firstly like to apologize for the long periods that I've been away from here. Been taking time away to focus on my mental health but I think I'm ready to return and looking for a match or two to get back into things. All three of my boys, Takeichi Mori, Takeshi Kawai, and Imai Cosmo are up for matches. If you want I can link their profiles so you don't have to search through the roster page. Anyone interested feel free to hmu through private messages. Hope to hear from …
[
Full reading
]
Comments: 0
New to site - loking for a fight on Tension
Wed Sep 15, 2021 1:42 am by RedBasher
Hi guys,
This is my first time on the site and I'm looking a deput for my starting character. Here is her Bio and a rundown of what kind of matches she is available for
Eva Cravina:
Eva Cravina Bio:
Eva is a talented but inexperienced rookie face preparing for a debut in the AFW, preferably a standard one. She is aways looking out for a challenge and is willing to take any opponent in the roster, as well as a bit naive and …
[
Full reading
]
Comments: 0
Aye I'm back. I suck. Wanna wrestle?
Thu Sep 09, 2021 6:54 am by yummybunny
Aye I'm back again, the loser that pops in and out for like 5 years straight.
I know I know, no need for cheers.
Uh, but no seriously I'm feeling pretty good lately and would love to throw my hat back in the ring. If anyone wants to wrestle my losers let me know, I have a few now. Just made a new one in fact.
Queen Bitch:
Other than her I have like...A few others? I forgot who's made on here and who isn't. I WILL say, they ain't that good and …
[
Full reading
]
Comments: 3
Page 1 of 6 • 1, 2, 3, 4, 5, 6
BZZZZTTTT!

Carmen had been sleeping when the doorbell went, caught in a deep, deep slumber. It had been a long, rough day, even moreso than usual. Tension had been running her through the paces, getting her ready for some Summer matches and trying to use her to promote the Hispanic market. That was all well and good, something she expected as the 24/7 champion, but they were running her ragged.

BZZZZZZTTTT!

She opened her eyes, closed them, then opened again even wider as she looked at the clock. 1:21 AM. What jackass would be ringing this early in the-

"Meirda." She grumbled and started to pull the covers off, yawning and groaning at the same time. "Army."

Had to be. Felina was out dancing, taking in the Kyoto nightlife, so that ruled her out. Certainly wouldn't be the first time he'd locked himself out of the apartment. He had this funny little habit of going out late for little midnight runs, then coming back, only to be surprised that, yes, you needed the keycard to get into their apartment. She'd thought he was getting used to life in Japan, but apparently he was lagging behind in certain aspects.

BZZZZZZZTT!

She pulled her red robe out of the closet, tied the sash, and padded her way across the apartment, bare feet tapping along the cold linoleum floor, flipping on a few lights as she went. With a long sigh, she made her way to the foyer and opened the door.

"Come on, Army." Carmen rubbed her eyes and opened the door. It was tempting to make him wait a little while to teach a lesson, but she didn't want to bother the neighbors when he started banging. "Is it really that hard to bring a little card with you?"
Last edited by acuya on Tue May 10, 2016 7:26 pm; edited 1 time in total

acuyra




Posts

: 18826


Join date

: 2014-02-14


Age

: 35


Location

: Charlotte, North Carolina, WOOOO!



After hanging on the door bell for maybe more than a bit was necessary, Soledad cocked a hip onto one side, and waited. With a flick of her head, she tossed her long black hair off onto one shoulder.

"Come on, bitch ..." Soledad said, sparing a glance down at her nails. In her own defense, Carmen Rodriguez had told her to come by, some time. On the night that Soledad had her first match, a surprise win against the monster Killer King. A win which King hadn't taken well, and decided to pay back by laying into Sola with his full rage. Leading to a beatdown that Soledad might not have survived without Carmen's timely intervention, and post-match commisseration.

But all of that was behind the Puerto Rican street fighter, now. All Soledad could remember of that encounter now, was Carmen brandishing about that shiny, championship belt. The AFW 24/7 Championship. And a standing offer to come by Carmen's home, and pay her a visit. How else was Soledad supposed to take such an offer, eh?

So, there the latina teen stood, waiting. Behind her, an AFW referee, standing by. Soledad herself, clad in her ring gear, ready for a fight. Soledad looked down, and tied her top a bit more snugly, around her chest, re-fastening the knot that bound her top beneath her ample chest. Any minute, now ... really, how long did it take this woman to answer the damned door? How big was a champion's house anyway, Sola wondered. No, really, she told herself- she really wanted to know. She should look that up.

Finally, the front door swung open, and Soledad was staring her rival/idol right in the face. "Hola!" Soledad grinned, with insultingly fake cheer. She wouldn't let herself wait long, however, springing into action almost as quickly as the door opened. Soledad launched herself forward, driving a hard knee into Carmen's toned midsection, allowing her momentum to carry her into the apartment and right over the threshold.

With Carmen hopefully rocked by that kick, Sola began to look about. The first thing she saw was a lamp, looking almost perfectly sized for her hand. Reaching out and wrapping her fingers around it, Soledad snatched the thing off its shelf, and brought it down as hard as she could over the champion's back. "Como estas, bitch?" Sola asked, looming over Carmen, a sick grin running from ear to ear, "How's our pretty little twenty-four-seven champion, eh?"

Lunchador




Posts

: 1626


Join date

: 2013-05-30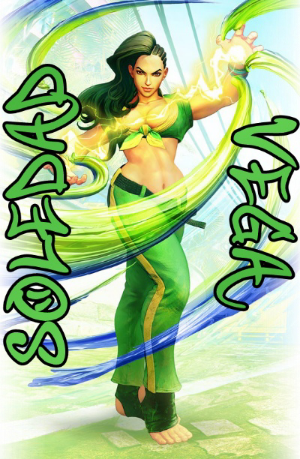 ★VS★
Match Type:
24/7
Victory Conditions:
Pinfall, Submission, or Knockout. No Disqualifications or Countouts.
Victory Stipulations:
Winner will either remain or become the 24/7 Champion.
***
Breasts.
That was the first thing Carmen centered on when she opened the door, mostly because it was the exact last thing she expected to see when opening a door for her brother. In the second it took Soledad to speak, the champion stood there with a raised eyebrow and a slack jaw, as her addled, tired mind tried to put the pieces together. Referee. Camera. An evil grin on Vega's face.
"¿Que?"
Her mind hadn't finished putting the pieces together when she felt a sharp pain in her stomach, a blow that she didn't have the time or energy to see coming. It launched her clear on her feet and sent her down with a hard crash, right on her back, right on the hardwood floor. None too pleasant.
Still groggy, still slow, Carmen started to pull herself up off the floor as the gears turned in her mind. Soledad Vega, a 24/7 match, an ambush. How did she know where to find her? Oh, right, the card, Carmen had practically gift-wrapped an opportunity. But it had to be a joke, or maybe a lucid dream. Was this crazy woman seriously going to just-
Carmen looked up right as a lamp - her mother's little doll lamp, family heirloom that she'd brought all the way from home - was smashed across her back, shattering to pieces and sending her right back to the floor. This time she flopped down on her chest, groaning, while her robe started to slip off and reveal the black lingerie underneath.
"Dios…" Carmen hissed, and started to push up again. Very slow going. "Can't be serious with this..."

acuyra




Posts

: 18826


Join date

: 2014-02-14


Age

: 35


Location

: Charlotte, North Carolina, WOOOO!



Soledad didn't feel terribly welcome, but let herself into Carmen's home, anyway. "Super serious, Carmen," she said, grinning like the cat that caught the mouse as she planted one foot on ether side of the 24/7 champion. "Now let's see how you like trying to hold onto that title while I'm up and about, huh?" In some ways, this style of fighting actually suited Sola better than the rarefied rules of the ring. Growing up, she'd been a street fighter. A punk. A rat. And now, here she was- half a world away from those streets, and still taking the fight to her opponent's homes.

Carmen chucked the remains of the lamp over her shoulder. Looking down, she caught took in the view of Carmen in ther robe, down on the floor. For the Puero Rican youth, it was a strange sight. Back home, Carmen Rodriguez was a legend, a competitor that had left their small country and done damn well for herself out in the big bad world. Right now, though, Sola had her between her legs.

Reaching down, Soledad took a fistful of Carmen's robe, and pulled on it. Wrapping it around her forearm rather quickly, Sola pulled up and out, trying to loop the loose robe around Carmen's neck. Then, Sola would pull herself upright, yanking up on the robe to try and use it to choke Carmen out. She'd pull the veteran fighter's body upright, long and lean, hanging her from the bath robe like a noose while she struggled to choke some of the fight right out of Carmen, wearing her down as she fought her way into the woman's home. Soledad licked her upper lip sadistically, looking to get a good view of Carmen as she struggled, whipping her hair off to one side as she tried to position herself dominantly.

Lunchador




Posts

: 1626


Join date

: 2013-05-30



Carmen still felt like she was half asleep. She was giving her body orders, telling it what to do, but every movement was delayed and sluggish, everything was weak and feeble.

Coffee. She needed a hot, boiling pot of coffee. A Mellow Yellow. An energy shot. Caffeine. Something.

She'd started to sit up, when Soledad 'helped' her along with the effort. At first, Carmen thought she was just going to lift her up for another strike, batter her around a bit. It was what she would have done if the positions were reversed. Her fellow countrywoman seemed to have a more creative ideas, though.

Carmen gasped as the robe was pulling tight around her neck, the satin cutting deep into her throat. In this position, there wasn't much she could do about it, either - she tried to pull at it, tried to wrench free, but all she could do was steal a couple of breathes before the choking and sputtering began again.

And the cameraman made sure to catch her suffering on glorious 1080 HD, circling around and zooming in on the scene, getting some good angles. The referee kneeled down nearby, checking Carmen out to see just how bad this was getting.


acuyra




Posts

: 18826


Join date

: 2014-02-14


Age

: 35


Location

: Charlotte, North Carolina, WOOOO!



Sola leaned back, pulling hard on the rope, tightening it as much as she could around Carmen's throat. For all her taunting, for catching her with her guard down in her own home, Soledad wasn't going to be taking any chances with the 24/7 Champion. Pulling up high, Sola had the robe mostly off, before she decided to mix up her tactics.

"Weird ring gear, chica," Sola taunted, as the upturned robe revealed Carmen's attire, beneath. "Like you weren't even expecting a match, today!" Reeling back with a foot, Sola swung hard with a stiff kick to Carmen's ribs, looking to pound away at the champ while she still had her trapped in the folds of her own robe.

Afterward, however, Sola knew it was time to change tactics. Carmen was a legend in her home country for a reason- there was no way she was going to chicken out and submit her title with a few hard kicks and a choke. Casting a glance around the apartment, Sola began to brainstorm other ways she could put the hurt on the champ.

Eventually, Soledad's eager eyes settled on the living room furniture, all around them. Returning her attention to the champion, Sola hooked her arms around Carmen's waist. Hoisting her up for a powerbomb, the rookie looked to drive Carmen down hard onto the couch- and while the cushions would pad the blow somewhat, the hardwood frame likely wouldn't feel great, as Sola would throw Carmen down with all of her might!

Lunchador




Posts

: 1626


Join date

: 2013-05-30



Carmen was acutely aware of the fact that she'd been, quite literally, caught with her pants down. Between the way the cameraman was centering on her chest  - this was the AFW, after all - or Sola's insipid taunts,  the indignity was driven home, giving her just one more reason to knock the little brat's head clean off her shoulders when the time came.

If the time came.

Until it did, she had other pressing concerns, like drawing a full breath. Soledad was wisely pouring on the pressure, not giving Carmen the precious time she needed to gather her bearings. She was a mean, vicious little bitch, but she wasn't a stupid, mean, vicious little bitch, as the kick to her back amply demonstrated. It drove out what little air Carmen had managed to snatch, so when the robe was finally released and her throat was freed, she broke into a gasping fit. Wheezing. Cough. Totally vulnerable.

Just to look at Soledad's smaller body, Carmen wouldn't have guessed the smaller wrestler would be able to hoist her up into a powerbomb, but that was precisely what she did - the hellion was full of surprises. Carmen tried to throw a couple of quick punches into the brawler's face when she came up on those shoulders, but they were weak, sloppy, missed their mark upside her head, and did nothing to stop the inevitable: down she went. Hard.

The couch was rich leather, well-made, expensive stuff, but it wasn't designed to have a 180 pound woman powerbombed on top of it. When Carmen hit, the framework gave way and broke apart beneath making the whole thing collapse at the seams, breaking apart into five disparate peices. There, in the midst of the wreckage, Carmen laid on her back, writhing around in the mess with a string of curses fluttering from her lips. Spanish and English. "Dirty puta, vete al infierno, sleazy…"

acuyra




Posts

: 18826


Join date

: 2014-02-14


Age

: 35


Location

: Charlotte, North Carolina, WOOOO!



Chest heaving after the heavy lifting of the powerbomb was done, Soledad stepped back to admire her handiwork. She grinned, even as she rubbed her aching face- Carmen's punches weren't full force, but even a relatively weak and sloppy attempt from the champ was rougher than what she would have gotten from others. Still, as Soledad stood amongst the wrecked remains of Carmen's couch, she couldn't help but look pleased with herself.

She admired Carmen's writhing form. "Seems like a bad couch, hija," she taunted, "no support. You got ripped off." Then, flipping her hair over one shoulder, Sola leaned in and planted a foot right onto the champion's upper chest, toes clenching at Carmen's throat, trying to choke her out. Soledad needed something nice and easy, after the effort of the heavy powerbomb, and this seemed to fit the bill.

"Feel free to submit, bitch," Soledad said, with a smirk, "you know, whatever you wanna do!" Leaning on the wreckage of the couch, the latina put her full weight into the choke. Which allowed her a moment to cast a glance around the apartment. Sola couldn't help but be a bit distracted by it. This place was so much nicer, so much more lavish than ... Well, hell, anywhere she'd ever lived. Was this the lifestyle being a champion could buy you? If so, she thought to herself, all the more reason to snatch Carmen's title away from her.

Letting off, Soledad reached down, and grabbed a fistful of Carmen's smartly-cut black hair. With her other hand, Sola grabbed the bottoms of Carmen's attire, trying to get the best hand-hold she could. The Rodriguez's swanky digs had Sola's interest, and she wanted to go exploring. "What you got in the kitchen, Carmen, huh?" Soledad asked, as she started dragging the Champion off the couch and over to the kitchen area.

Lunchador




Posts

: 1626


Join date

: 2013-05-30



Before, Carmen had thought she'd seen something of a kindred spirit in Soledad. She was brash, yes, but brave, and her willingness to stand up to a much bigger opponent and not flinch was impressive. Then, when they'd actually met, she compared the mouthy young woman to her brother - talented, good, but with a mouth that was outpacing her body's ability to back it up.
Now, as she sat up and was quickly planted down by Soledad's foot, she realized neither of those comparisons worked - Soledad was a lot more devilish and cunning than she or her brother would ever be.
She thrashed and fought underneath Soledad's foot, but it wasn't getting her anywhere. Her body was still too sluggish, still fully coming back to life, and getting slammed through upholstery wasn't helping things. The smaller luchadora wasn't that heavy, but you didn't need that much weight when you were pressing down on someone's throat. To learn why, all you had to do was look at the choked gasps coming from Carmen's mouth.
Soledad finally let up and Carmen once again broke into a coughing fit, trying to refill her lungs for the second time in a single minute. Her head was swimming, and when her hair and bottom was yanked and pulled along, it was all she could do to follow along on her hands and knees, trying to stumbling up to her feet every few steps before she had to come back down again.
As an annoying little bonus, her underwear was being painfully yanked up her butt, something she was sure the cameraman would be focusing on.
When Soledad entered the kitchen with Carmen in toe, the lights automatically came on and
music
began to play, as it was set to do.  She liked to have a good beat as she cooked, helped her get into a good mood.
The kitchen was her holy place, and it was about to get sullied.

acuyra




Posts

: 18826


Join date

: 2014-02-14


Age

: 35


Location

: Charlotte, North Carolina, WOOOO!



"Ho ho! Holy shit!" Soledad exclaimed, as the lights and music of the kitchen came on. "What the hell!?" she exclaimed, looking around the ceiling with a sense of incredulous wonder. "I know you rich bitches don't live like the rest of us, Carmen, but holy hell!" Throughout all of this, however, Soledad's pace wouldn't drop. She was dead set on dragging the stunned and hurting Carmen over to the fridge, and putting the hurt on. She certainly wasn't expecting that greeting, however.

Really, though, it was furhter reinforcement that this whole lifestyle? The rich and famous, championship living thing? Yeah, that was for Sola. That was all the encouragement she needed, to keep doing what she was doing.
Cranking on her handhold on Carment's pants, tightening her grip on the champ's hair, Soledad got a bit of a running start and drove her opponent, like a battering ram, straight into the refridgerator! Sola would release her after the impact, dropping her to the tile below. Almost absent-mindedly, Sola followed that up by picking the cutting board off the counter, flicking her wrist, and chucking it rudely down, right at Carmen's back.

"I'm drinking your milk, puta," Sola said, opening the fridge and looking for the first carton she could find. Opening it and sipping lightly, she spent a second getting the layout of the fridge interior. Rolling her head loosely, Soledad started making herself feel at home, plotting out her next move. At this stage in the fight, the ruda teen street fighter wanted to intimidate her opponent. To make it clear to her, and to all the little fanboys watching on television, that Soledad felt more than comfortable going into a rival's house, making herself at home, and fucking shit up.

There were a few melons in the fridge. Reaching out with the carton, Sola poured the rest of its contents down onto Carmen before picking up a single watermelon. After a moment's pause, Sola spiked that melon toward Carmen's lower back, as hard as she could. Then, reaching back into the fridge, Sola would start picking up everything she could find. Eggs, bottles, salad fixings, whatever she could get her hands on, and chucking them down decisively at her opponent. She knew that trying to better Carmen physically wouldn't be enough. The woman was a champion for a reason. She had to get into her head, had to try and humiliate her, before she could hope to pry that title off of her.

Lunchador




Posts

: 1626


Join date

: 2013-05-30



Page 1 of 6 • 1, 2, 3, 4, 5, 6
---
Permissions in this forum:
You
cannot
reply to topics in this forum