Champions & #1 contenders
After a long time I return, looking for a match
Thu Sep 16, 2021 11:20 pm by GrandAkumaShogun
Hello all, I would firstly like to apologize for the long periods that I've been away from here. Been taking time away to focus on my mental health but I think I'm ready to return and looking for a match or two to get back into things. All three of my boys, Takeichi Mori, Takeshi Kawai, and Imai Cosmo are up for matches. If you want I can link their profiles so you don't have to search through the roster page. Anyone interested feel free to hmu through private messages. Hope to hear from …
[
Full reading
]
Comments: 4
Request Filled for Now, IGNORE!
Thu Sep 23, 2021 10:18 am by Frodouken
Comments: 3
Aye I'm back. I suck. Wanna wrestle?
Thu Sep 09, 2021 6:54 am by yummybunny
Aye I'm back again, the loser that pops in and out for like 5 years straight.
I know I know, no need for cheers.
Uh, but no seriously I'm feeling pretty good lately and would love to throw my hat back in the ring. If anyone wants to wrestle my losers let me know, I have a few now. Just made a new one in fact.
Queen Bitch:
Other than her I have like...A few others? I forgot who's made on here and who isn't. I WILL say, they ain't that good and …
[
Full reading
]
Comments: 4
Page 1 of 5 • 1, 2, 3, 4, 5
Another day, another commute.

Carmen laid back in her window seat as her train sped along the rail, looking up from her phone to occasionally watch the buildings whiz by. The night was coming on, and it made for a lovely sight across the city. The sun was starting to melt over the horizon, the lights were coming on along the streets, and there was a fiery red glow over the whole scene, as the electric city got ready for another heated night.

She wasn't impressed, though. You could tell from the placid look on her. Carmen couldn't be. She'd seen the sight so much in the past few months, the beauty had long since grown dull.

Carmen sighed and wearily glanced at the 24/7 title, neatly lain on the seat beside her. The rules required her to carry it with her at all times, not just for advertising purposes, but in case she was challenged on the spot and it needed to be given to a new fighter. Not that she was dressed for a match at the moment - a business dress and heels were hardly complementing her fighting style.

Carmen leaned back and closed her eyes, pushing those thoughts away, trying to enjoy the solace of the moment. She was mostly alone in this car - one of the benefits of traveling on the AFW's dime was that they always hooked her up with first class. It was the least they could do, really, considering they'd be dragging her across Japan for the past two days. Press conferences, signings, and a throwaway match with some local talent. Little stuff, boring stuff, but there was so much of it that she was left exhausted.

So, now that she finally had a moment to breathe, she intended to enjoy it. It was just her and a few AFW officials sitting nearby, coming with her back to Kyoto.

Relaxation.

Carmen let the seat recline and closed her eyes...
Last edited by acuya on Fri Mar 11, 2016 9:41 pm; edited 5 times in total

acuyra




Posts

: 18855


Join date

: 2014-02-14


Age

: 35


Location

: Charlotte, North Carolina, WOOOO!



Gai smiled, whistling a happy tune as he entered the first class cabin, ignoring the sight of the countryside rolling by. He had eyes on exactly one thing, and could already see it, sunlight shining off of the Tension 24/7 title.

Gai was new to the league, hadn't even had his first match yet, but the way he figured it, there was no better way to debut than by beating the crap out of a respected champion, and taking her belt to boot. A quick glance around showed him there was two referee's already in the cabin. Not in working gear, granted, but it would suffice.

Finding Carmen had been extremely easy. She had been traveling, doing promotion work for the league around Japan, and her schedule of appearances was listed on AFW's own website. Considering she was doing multiple appearances in multiple towns, it wasn't too difficult to figure out train schedule times and locations and figure out what train she was likely to take, then just buy a first class ticket and look around.

He'd hopped the train hours ago, in between her last couple towns, wanting to wait for Carmen to finish all her work so she would be nice and tuckered out.

Clad in a pair of jeans, a tank top, a light jacket, and his fighting gloves, Gai made his way over to the champ, tapping on the chair in front of her.

"Scuse me...your Carmen right? The wrestler from Tension with the shiny belt?"

Old_Man_Tai




Posts

: 8981


Join date

: 2008-04-29


Age

: 31



Carmen had started to drift off, well on her way to napping for the rest of the ride home, when her sanctity was suddenly interrupted. Though she made an annoyed grunt at being dragged back into the land of the waking, she wasn't really that irritated by whoever this was. Even before she got the 24/7 belt, she'd run into the occasional female boxing fan, especially when she was anywhere near Puerto Rico. Just came with the fame.

"Yeah, that's me." She looked up and saw the man - native Japanese from the looks of him, though the red hair was a weird thing. Well-built, too. Young, five or so years behind her. "What can I-"

She paused in mid-sentence, as her eyes centered on the thick, padded gloves he was wearing. Odd fashion accessory. It didn't take much brainpower to make the logical leap.

Carmen's face hardened as she looked back up, staring into his eyes, waiting to see what his next move would be. She made damn sure he saw the growing aggravation across her furrowed brow.

acuyra




Posts

: 18855


Join date

: 2014-02-14


Age

: 35


Location

: Charlotte, North Carolina, WOOOO!



Oh good, she figured the gloves out quickly. Gai was worried the 24/7 champ would be too tired to figure out what he wanted. Smirking, he pulled his hand back, leaning against an empty chair, crossing his arms.

"Well that was fast. I won't waste your time then. Names Gai. I'm new to Tension, just signed over from the Buriki-One fighting league. Basically, I'm all about finding the biggest badass in the league and punching them in the face. You're supposed to be a badass, AND you've got a belt I can take from you, so that moves you to the top of the list. It's nothing personal of course, just the best way to make my mark."

He snickered a little.

"Though, you look tired and...rather overdressed for a fight. You want to splash some water in your face? Take a power nap? Strip down a little first? I'm a patient guy. Waited all day for you to finish your promotional crap, and this train still has hours to go before we make it back to Tokyo. It's just no fun if I choke you out now, when you're already half asleep."

Old_Man_Tai




Posts

: 8981


Join date

: 2008-04-29


Age

: 31



Oh. Carmen was frankly a little surprised that he didn't just attack her outright, get the element of surprise on her. He was being polite about the whole thing, she'd give him points for that.

One of the referees - a young girl, transfering from Fricton - stuck her head out and looked down the aisle, clearly catching the conversation. She shot Carmen a sympathetic smile that told her everything she needed to know - Gai had every right to fight for the title, and this little reprieve he gave her wasn't customary. Best to go with it.

Without another word, Carmen stood up, grabbed her travel bag, and made her way down the aisle, slipping into the bathroom with cool and collected steps.

A few minutes later, and she came back out in her full attire - the black and red workout pants, the red Tension A-shirt, the sneakers, and most importantly, the matching gloves, which were currently getting wrapped over her fists.

"You're sure you want to do this...Gai?" She glanced back up at him as she approached, making sure she got the name right.

acuyra




Posts

: 18855


Join date

: 2014-02-14


Age

: 35


Location

: Charlotte, North Carolina, WOOOO!



Gai slipped his jacket off while waiting for Carmen to get ready, leaving him in his tank top and jeans, the ginger giving a flex of his thin muscles, built for a mix of speed and power.

Carmen was right, it WAS an unusually nice move for him to give her time, but he had a vision in his mind for this, of him choking out one of Tensions Champion fighters.

Beating up a woman in a business dress however, didn't have the same vibe, no matter who the woman was. The images of it would make it look like he had sneak attacked Carmen instead of beating her in a real fight, and while AFW sanctioned such things (and would be handling any and all legal issues that came from this), the last thing he needed was for some passenger or conductor to think he was just assaulting some innocent woman.

Once Carmen came out though, and approached him, that courtesy was over with, the former Buriki One fighter charging straight at her, trying to ram her body back against the door!

Old_Man_Tai




Posts

: 8981


Join date

: 2008-04-29


Age

: 31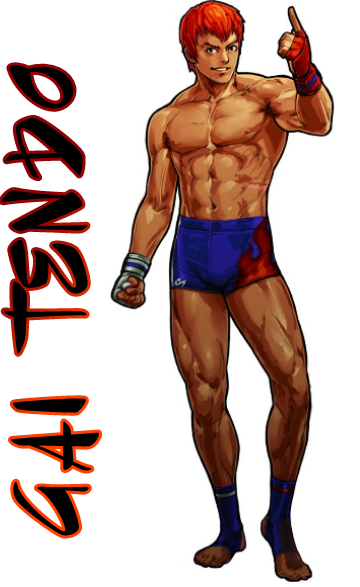 ★VS★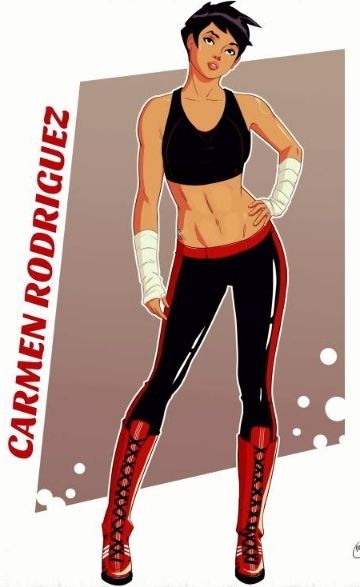 Match Type:
24/7
Victory Conditions:
Pinfall, Submission, or Knockout. No Disqualifications or Countouts.
***
Despite the pleasantries, Carmen was expecting Gai to come at her hard right from the start. The guy was hungry for a win here, she could tell, seeing a lot of the same energy that Diana had before. The idea of starting off your AFW career with a belt around your waist was just too tempting for some fighters to ignore. That being said, seeing the attack didn't mean she could dodge it, which brought up the first, major problem with fighting on a train: the lack of room to maneuver.
She wound up take the blow head on, with Gai smashing her into the door hard enough to crack the glass. She grit her teeth, biting down a shriek. He was strong, as if the rippling muscles weren't a big enough clue. A little shorter than her, but compact. With the limited room, that would be hard for her to deal with.
But Carmen
would
deal with it.
The first step was going to be grinding him down. A second after she hit the door, Carmen brought her arm up and tried to capture Gai's head with a front facelock, trying to trap his head under her shoulder and hold him against her, prevent him from following up. Ideally.

acuyra




Posts

: 18855


Join date

: 2014-02-14


Age

: 35


Location

: Charlotte, North Carolina, WOOOO!



Locked in a front face lock, head trapped in Carmen's arm, wincing as she squeezed.

Gai had hoped he could rush her, smash her around, beat her down, and choke her out quickly, even with giving her a courtesy rather than just rushing in and beating her down from the start.

His body held close, he lost free access to her chest, but her leg remained open, and he took it, trying to hammer his fist on her thigh.

Old_Man_Tai




Posts

: 8981


Join date

: 2008-04-29


Age

: 31



Carmen let out loud, undignified grunt as she wrestled with Gai, trying to ride down his struggles. He was every bit as solid as he looked, almost certainly stronger than her overall - something that was actually surprisingly rare in Tension, where many of the men were shorter than her. She didn't know where Gai had fought before coming to the AFW, but if this opening salvo and his strong physique were any indication, he'd been a force there.

For instance, the punch she took in her leg. It hurt. Not debilitating, but it was enough to make her legs buckle. Definitely not something she wanted to take more of.

With that in mind, she'd release the facelock and push Gai away, but not before giving him something extra for her troubles - namely, she brought her spare arm up and drove her elbow hard into his shoulder, making sure it dug into the tender spot where the bones connected.

acuyra




Posts

: 18855


Join date

: 2014-02-14


Age

: 35


Location

: Charlotte, North Carolina, WOOOO!



Damnit, Carmen had to be good, knowing exactly where to strike, her elbow digging into is shoulder at its most tender point, driving him back several steps as he rubbed and rotated it, checking it out. Satisfied she didn't damage the bone, he got back in position, arms up and seeing if she would cross the distance between them first.

"Battle on a train...you gotta admit, pretty climatic!"

Old_Man_Tai




Posts

: 8981


Join date

: 2008-04-29


Age

: 31



Page 1 of 5 • 1, 2, 3, 4, 5
---
Permissions in this forum:
You
cannot
reply to topics in this forum