Who is online?
In total there are
40
users online :: 3 Registered, 0 Hidden and 37 Guests :: 3 Bots
furry4ever14
,
Jstruggs716
,
Underdog21
Most users ever online was
418
on Tue Jul 30, 2019 9:51 am
Champions & #1 contenders
Looking for fun Fights
Tue Sep 27, 2022 5:34 am by Leon564
Hello folks! Putting it out that I'm available to discuss matches for either James or Melanie.
If you are trying to find their profiles you can use the character search and type in the following;
James Elforn
Melanie L'belle
------
If it's for an author of my name tag then that's me! You're free as well to throw me a friend request on Discord since I'm not in the Discord server at this time.
Leon564#4514 (Discord)
Thanks for your read and have a great
[
Full reading
]
Comments: 0
Looking for match for Enki
Sun Sep 11, 2022 7:52 pm by Void Effect
Comments: 0
Match Hunting
Sat Aug 27, 2022 12:33 am by GrandAkumaShogun
Hello all who take the time to read this. I'm hoping to get back into the swing of things by having one or more of my boys in a match. If you're interested feel free to hmu on pm or on here and we can decide who will be in the match and we can either plan it or play it by ear. Hope to get a chance to interact with someone I have yet to before. Thank you for your time.
Comments: 2
Page 1 of 8 • 1, 2, 3, 4, 5, 6, 7, 8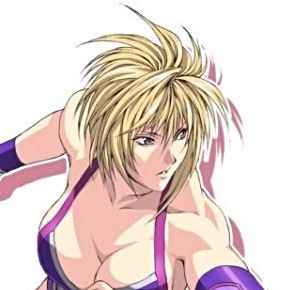 Natasha Han
-VS-
Valley Doll
Match Type:
Standard
Victory Conditions:
Pinfall, Submission, or KO
***
Valley sat in her dressing room, enjoying the solitude while she dressed up and got ready for the next match. She pulled her gloves on tight, got her boots wrapped snugged around her calves, squeezed into her top and made sure her trunks held firm around her weight. Maximum comfort, maximum movement. She was ready, physically and mentally. Verbally, too, as she repeated the name of her opponent to make sure she got the pronunciation down.
"Natasha Han."
Another day, another Wrestle Angel. This would be the third one she'd taken on since she came to the AFW, and while one of those had been a match she specifically requested, it was still a funny little coincidence. During one of her darker periods with the Slamazons, she'd actually considered joining the Wrestle Angels, loving their flair and the wide range of personalities and looks on their roster. So it wasn't like she minded the chance. She loved it. The Angels were, for the most part solid wrestlers who gave out solid matches, and that was something Valley needed in abundance.
She dropped to the floor and spread her legs wide, getting in some last minute stretches while one of Natasha's matches played on her iPhone. A bout between her and another Angel, Emily Nelson. She was having a good, solid showing. Nice moves. Good strength. Well-rounded. Valley had seen the Russian blonde a few times on Wrestle Angels, and it didn't seem like she was much to worry about. Not a
bad
wrestler by any stretch, but not one who left any real impression. Just sort of...there.
Not that she was in any position to talk, since many people could say the same about her. But this year was all about changing that and rising up in the AFW. She didn't know what sort of person Natasha really was, but it didn't matter. Tonight, she was an obstacle, and Valley had every intention of running over her if that's what it came to.
A knock came on the door, and Valley knew what it was for, even if she couldn't make out the muffled voice on the other side. She stood up and gave her knuckles one, final crack, steeling her resolve. Another day, another Wrestle Angel, another chance to show the world what the Last Slamazon was worth.
Van Halen started thumping over the loudspeakers and filled the arena with their familiar twang, getting the audience pumped and cheering before Valley even took a step out. Those cheers only grew louder when she made her way out of the back, whipping her golden hair around and spinning to the beat. The crowd danced, they clapped, they moved along with her as she kicked and flipped her way down to the ring, and it was a good sign of how far she'd come in such a short time. A few months ago, she could barely even get people to watch her matches. Now? She was hardly the star of the program, but people stayed in their seats when she was in the ring and held their bladders until she left. They were happy to see her wrestle. Valley didn't get a pay increase based on their opinion, she still made what she always made per match, but it was amazing how much better it was to work for a crowd that cared.
Valley blew a kiss to a random - but cute - girl in the audience at the bottom of the ramp, then rolled her way into the ring. She spun her legs around with a windmill kip up and flipped up to her feet, then hopped over to the turnbuckle so she could stand on the middle rope. Valley threw out the devil horns to the audience, the universal sign of rock, and soaked in their energy as hundreds of people threw the sign right back at her.
She held out her hands, nice and wide, as the camera's flashed around her. "You people ready to rock?!"
"YEAH!"

acuyra




Posts

: 19142


Join date

: 2014-02-14


Age

: 36


Location

: Charlotte, North Carolina, WOOOO!



Meanwhile, in another dressing room, in another part of the arena's backstage, Natasha Han was slowly preparing for the match ahead. It had been far, far too long since she had been in the wrestling ring in a real match. Almost a year, come April. Her last match, against the giant Radmilla Horacek, had haunted her. It was one of the most crushing and one-sided losses she had ever had, and it had forced the Russian to rethink a lot of things. Her career. Her place in the AFW. What she was really doing here.

She didn't think about those things for too long though. Natasha wasn't stupid, but she preferred to think with her fists, not her brain. She was a fighter. She was trained to do one thing, to wrestle, and that was exactly what she planned on doing tonight.

After her loss to Radmilla, Natasha had taken a little bit of time off. More then a little, really. Months. The rest of the year. She had felt so humiliated and so beaten down from that loss, that she could barely stand to be in the arena. She decided to take a vacation...or at least what she called a vacation. She had flown back to Russia, back to her homeland, for the sole purpose of re-training herself. Strengthening herself. Bettering herself. She never wanted to feel like she had felt against Radmilla again. Never again did she want to climb into the ring with someone and feel so helpless, so utterly powerless against her opponent.

More importantly, she wanted to break the losing streak she was on. Two losses in a row wasn't exactly much a streak, but it was enough to bother Natasha. Enough to make her want to refocus and work her ass off to get her head back into the game.

And tonight, that was exactly what she was going to do. Tonight, she was going to head out to the ring, and remind everyone of who she was. Natasha Han. The Submission Queen of the Wrestle Angels. The Russian force that was here to win, not to job out to other girls.

With a few final adjustments of her simple, usual wrestling attire, Natasha turned to go. She paused for a moment, catching a glimpse of herself in the mirror of the dressing room, and smiled. Though she was usually modest, she had to admit to herself that she looked good. She was fit, her body toned, and strong. The body of a warrior. The body of a wrestler who was determined to earn victory.

Without wasting any more time, Natasha left the dressing room, and headed through the backstage halls of the AFW arena. Once she reached the curtains separating the backstage from the arena proper, she closed her eyes, taking a deep breath, steadying her nerves. Then, she pushed out through the curtains and into the arena, throwing her arms into the air, letting out a loud, guttural roar as she stepped out onto the stage atop of the entrance ramp leading to the ring. Her entrance music erupted over the speakers of the arena, echoing through the large stadium, as Natasha stood there, tall and proud, glad to be back where she belonged, here in the AFW.

The crowd's reaction was mixed; some of the people cheered her, while others didn't seem to care. Natasha didn't mind though. She had already pushed them out of her mind. The crowd is your enemy, she thought to herself, as she stood there, her eyes looking down the ramp and towards the ring. Don't let them distract you. They aren't your real opponent. The woman in the ring is. Not the crowd.

With another quick breath, Natasha began to head down the ramp, towards the ring. Every one of her steps was confident, the Russian completely sure of herself. As far as she was concerned, her victory tonight was already assured and in the bag. With the mood she was in, with how good she was feeling about her return, there could not be any ending to her match other then victory...right?

Alexandra




Posts

: 10846


Join date

: 2009-06-21


Age

: 36


Location

: Neo Cyber City, 3 A.M.



"...my love is rotten the core..." Valley started humming the last few lines of her theme as the music died away, but she was cut off by what could best be described as the roar of an enraged siberian tigress. Natasha Han had entered the stage in grand fashion.

Despite the flair of her entrance, she came down the ramp to a lukewarm reception. They didn't hate Natasha, she didn't hear a single boo, but they didn't seem to care much, either way. Just like Valley thought. Vanilla.

That wasn't exactly a bad thing. Vanilla wasn't her favorite flavor, but she'd gladly take it, especially over some of the weirder, crazier, sadistic flavors that the AFW could produce. Natasha was normal. Normal was good. Normal didn't strip her clothes off or smack her around to prove a point or do something exponentially worse.

Then again, Valley felt like she could see a few things the crowd wasn't seeing. There was some purpose in those strides and focus in those eyes. Natasha was looking at the ring as if she were about to start the most important match of her life, not just another exhibition between two lady wrestlers who'd never met. It was the same kind of posture Valley had brought when she came down to fight Haley a couple of months ago, and she wasn't quite sure why Natasha had it. But she was intrigued. she just hoped the woman wasn't so serious that she forgot how to have fun with the match.

She made her way to the center of the ring, bouncing from heel to heel while she waited for Natasha to enter, a light smile on her face as her hair whipped along with her.
Last edited by acuya on Sat Mar 14, 2015 2:18 pm; edited 2 times in total (Reason for editing : Added a period and a an extra paragraph at the top.)
_________________

acuyra




Posts

: 19142


Join date

: 2014-02-14


Age

: 36


Location

: Charlotte, North Carolina, WOOOO!



In a lot of ways, this was the most important match of Natasha's career. In her eyes, she had everything riding on this match. She had to win this fight, to prove to both herself and everyone else that she deserved to be here, that she deserved to be in this ring and in the company. But she was feeling good. Confident. She was in the best shape of her life and she felt like it. She knew she could bring home the win tonight, especially when she laid her eyes on Valley for the first time.

As the Russian headed down the ramp, she looked towards Valley, inspecting the buxom blonde up and down, from head to toe. She was familiar with Valley. She had seen a few of her matches before. She had watched them on TV during her time off, and hadn't thought too much about them. Valley was good, she had skills that Natasha couldn't and wouldn't deny, but...Natasha knew she was better. She knew she could take the blonde on.

She had to admit that Valley had a good body, though. Strong looking. Fit. She smiled a bit more as she drew closer to the ring, giving Valley a short, small nod of approval as she came closer, meeting her gaze for just a brief moment before looking away again.

Once she reached the ring, she hopped up onto the apron, ducking right under the ropes and stepping through to enter the ring proper. She didn't waste any time at all, heading straight towards her corner to await the start of the match. She began to do a few light stretches as she waited, stealing a few glances back across the ring towards Valley, keeping a careful, interested eye on the woman as she waited for the sound of the bell.

Alexandra




Posts

: 10846


Join date

: 2009-06-21


Age

: 36


Location

: Neo Cyber City, 3 A.M.



Valley had to admit, she was a little happy to see the hint of a smile on Natasha's face. Not some sadistic, demonic grin, either - a genuine, real smile. Valley would've been ready regardless, but it was nice to know that it didn't look like Natasha would be joining the list of women who wanted to bash her face in. Considering that she hadn't even been in the AFW for a year, it was depressingly long.

Valley nodded back at Natasha and moved to her corner, looking back at Natasha as the heavy music died down. No words had been spoken between them yet, but she felt like the gist was gotten, regardless. Time for business.

The referee looked between them, made eye contact with them both, then stepped back and called for the bell.

Valley exhaled the moment she heard the sharp noise echo throughout the arena, then pushed her way out of the corner with her hands raised and her fingers wiggling. She made her way to the center of the ring in the prime position for a tie-up, wanting to see just how well they measured up before she started getting any ideas. "Ready for me, Ms. Han?" She gave her a quick wink and a cocky smile, keeping it light on the outside even as she focused on the inside.
_________________

acuyra




Posts

: 19142


Join date

: 2014-02-14


Age

: 36


Location

: Charlotte, North Carolina, WOOOO!



Natasha couldn't deny that she was a little happy, too. After her last match, against the giant, Amazonian Radmilla, she was glad to see that she was up against someone closer to her own size this time. Slightly taller then her, but Natasha felt like she would still have the strength advantage. Valley looked fit and in shape, but Natasha felt like she more fit and in slightly better shape. Maybe she was being overconfident, or maybe she was just feeling that damn good, but the Russian still wasn't feeling any fear or worry over the match.

She took a deep breath as the bell rang, and let the air exhale from her lungs before stepping forward to meet Valley in the center of the ring. She smirked towards the blonde as the Slamazon winked at her, and raised her arms to meet her. "Perhaps you should asking if you are ready for me, little kukla," Natasha teased back towards Valley, before suddenly lunging in, meeting her head on in the tie-up. She started to push back against Valley, wanting to test out the blonde's strength for her own, eager to see how closely they compared with each other.

Alexandra




Posts

: 10846


Join date

: 2009-06-21


Age

: 36


Location

: Neo Cyber City, 3 A.M.



Valley had an idle whistle as she locked up with Natasha and the crowd started to cheer, egging them on. They didn't even seem to be throwing their lots behind anyone yet - they just wanted to see the match get going. "I'm not sure what a 'kukla' is, but..."

Valley didn't have the time to ask more than that, as Natasha started to pour on the pressure and push forward with full, furious force. She was brought back three whole steps before she managed to put her feet down and stop the advance, summoning her lower body strength and making her legs work to the fullest. Even then, all she really did was slow Natasha down, not stopping her, and she lost ground with another step back. And another.

Far, far too close to the corner, now. Only six feet away, tops. Natasha wasn't the strongest opponent she'd ever come across, but she was stronger than Valley, enough that it would be a serious problem if she had decent speed to go along with it.
_________________

acuyra




Posts

: 19142


Join date

: 2014-02-14


Age

: 36


Location

: Charlotte, North Carolina, WOOOO!



Good. This was good. Natasha was already overpowering Valley and picking up an early lead. It was a good feeling, Natasha decided, to make a return like this and already be overpowering her. Natasha grinned, and pushed harder, trying to keep pushing the blonde back, the Russian finding herself getting caught up in the moment, the feeling of winning the test of strength doing wonders for her already high confidence.

Even as Valley started to slow her down, it didn't ruin the Russian's optimism. Instead, it only served to egg her on further! Her arms flexed, and the Russian started to push harder against Valley, trying to force her back all the way, not wanting to let up until she had the Slamazon's back against the corner!

Alexandra




Posts

: 10846


Join date

: 2009-06-21


Age

: 36


Location

: Neo Cyber City, 3 A.M.



Valley tried to keep her spirits up and take on a never-say-die attitude, but she had to face the facts, here - Natasha was stronger than her, plain and simple. She still felt like she could pull out a win, but it wouldn't be by taking the Russian head on. This tigress had way too much bite in her fangs for that. Even with that avenue closed, though, Valley still had a plethora of moves to chose from, and it was about time she got some mileage out of them.

"Okay..." She let out one, final grunt, as she readied herself. "Here!" Valley suddenly stopped pushing and started pulling, falling backwards and twisting to the side as she went, trying to send Natasha flying off with an arm drag towards the corner. If she couldn't overpower her, outmanuevering would have to do.
_________________

acuyra




Posts

: 19142


Join date

: 2014-02-14


Age

: 36


Location

: Charlotte, North Carolina, WOOOO!



In that one, sudden moment, Natasha suddenly realized how overconfident that had gotten, and got a harsh reminder to keep it in check.

She was thrown forward by Valley's arm drag, the Russian flying awkwardly towards the corner. She crashed into the turnbuckle and dropped towards the mat, ending up in a heap at the base of the corner. A light groan passed her lips, as Natasha shook her head slowly, trying to clear her mind out. Not good, she thought to herself, reaching out to grab the nearest ropes, starting to try and slowly pull herself back up to her feet.

Alexandra




Posts

: 10846


Join date

: 2009-06-21


Age

: 36


Location

: Neo Cyber City, 3 A.M.



Page 1 of 8 • 1, 2, 3, 4, 5, 6, 7, 8
---
Permissions in this forum:
You
cannot
reply to topics in this forum