Who is online?
In total there are
31
users online :: 4 Registered, 0 Hidden and 27 Guests :: 2 Bots
Deus001
,
Kelsea
,
Maxy
,
Teenwrestler
Most users ever online was
418
on Tue Jul 30, 2019 9:51 am
Champions & #1 contenders
Looking for a Hentai Debut match!
Tue Jan 19, 2021 11:20 am by Diesel_Electric_Razor
Hello AFW! Asking again for anyone to take my dear lad Jasper Rhys on for a somewhat unusual hentai match, as I want him to face off against another male wrestler, preferably a masculine male for his Hentai debut match.
Essentially I'm asking for a gay hentai match, I.E. yaoi
Jasper's Page
If anyone is interested, hit me up on Discord so we can plan it out!
my Discord is
[
Full reading
]
Comments: 0
Bored, want some matches, the nomal
Sun Dec 20, 2020 1:03 am by Void Effect
Want some RP matches, Bored mostly, find me on Discord, I am free most of the time, don't really have any limit of which types, okay with anything, and just bored, DM me if interested
Comments: 2
Looking for fresh matches :D
Fri Jan 08, 2021 9:32 am by Vcom7418
Hullo!
Like the title says, looking for more matches.
Clara and my new gal Chika are my priorities. Looking for new potential stories and/or one-off matches for both ladies, especially a debut in Chika's case. Alice is also available for matches, as are Clara and Alice together as a tag team.
It may take me a while to respond here, so I recommend contacting me on Discord (links and Discord profile are in my signature)
Match preferences:
Clara - Normal, softcore
Alice - Normal, Hardcore, …
[
Full reading
]
Comments: 0
Page 1 of 8 • 1, 2, 3, 4, 5, 6, 7, 8
The announcer stepped into the ring as the arena cheered at the start of one of AFW's shows. Taking a mic in her hands, she began to speak.
"Ladies and gentlemen, the following match is the first of its kind, an experiment authorized by our general manager, Lukretia Von Creuzfeldt! This will be a tag team match, special in the fact that it's participants will be selected by, this."
With that, a tech entered the ring, bringing up a laptop to the announcer.
"A program will select names from the AFW roster, without regard to alliances, teams, or personal feelings! We could see two strangers paired together, or even stranger, long time foes. Of course there could be the chance that two friends could be put together. One thing you will not see, however, are any existing tag teams. The program automatically rejects any pairing that is an official tag team! So, before I lose you to the boring details, let's get things started!"
She motioned to the tech, who ran the program in order to get the first name, who then turned the screen to her so she could read off the name.
"So the first member of the first team is.....Tiffany Laurence!" she called out.
The Texan's
new theme
played as Tiffany came down to the ring, running down the ramp. Climbing into the squared circle, Tiffany looked at the ring announcer and the computer bearing tech with a raised eyebrow and curious expression. In all of her time in the AFW, she had never done a tag match, and for her first one to have a complete unknown as a partner was startling, to say the least.
"So.....um. Who am I teaming with? Angel would be nice, don'tcha think?" she said with a smile.

valen311




Posts

: 2996


Join date

: 2008-04-26


Age

: 35



Once Tiffany had made her way to the ring, the tech pushed the button again, the computer's flashy random select program swirled through names and pictures like a Las Vegas slot machine until it finally landed on the name of Tiffany's tag team partner:
A few seconds after the name flashed on the AFWTron, the
haunting music
of Tiffany's new partner began to blare over the arena speakers. A few seconds later, the large woman emerged with a bright and cheerful grin upon her face. In one hand, she had an apple and in the other, she was dragging along a stuffed teddy bear. She was dressed in childish looking powder blue clothes with a maid's cap on her head. Her sproingy ringlets bounced as she skipped down to greet her new partner.
Once she got to Tiffany, she pulled the girl into a deadly tight bearhug, squeezing and shaking Tiffany while Migiri happily purred and nuzzled the Texan. "Missy-tan said you'd take care of me tonight. Are you going to pway with Mi-tan?! I can't wait to have fun together! B-But be gentle with Mi-tan, ok!?" Migiri set Tiffany down. "O-Oh! I'm Mi-tan! What's your name?" She asked. She then held up her bear. "This is Ringo-tan, say hewwo to him too!" She said with a bright grin. "Oh, and I got you this apple! Here, have it!" Migiri shoved it at Tiffany. "Wet's be fwiends!" The giant wrestler was super excited to have a new playmate!
Last edited by Tatyina on Thu Oct 23, 2014 3:03 am; edited 2 times in total

Tatyina




Posts

: 27237


Join date

: 2009-04-02


Age

: 100


Location

: VIP Box inside the AFWDome



"Who?" Tiffany blinked in confusion as her partner was announced.
She had never kept up with the Wrestle Angels, and as such, had never heard of Migiri Oozora, and she had missed any AFW appearances that the woman may have had. When Migiri stepped out onto the ramp and got into the ring, Tiffany's eyes widened in shock. At six foot even and weighing one hundred and sixty pounds, the Texan was definitely not one of the smallest women in Friction. In fact, she could probably count on one hand those who stood over her in height and weight. And apparently that number just got one higher.

Getting over her shock, Tiffany took in the rest of Migiri's appearance.
"Wait, is that a teddy bear? Why are-whoa!"
Migiri had stepped forward and lifted Tiffany into a crushing bearhug!
"Ohmygod!" she exclaimed as the air was squeezed out of the unprepared cowgirl. Migiri shook and squeezed her, all the while nuzzling her as if she had found a cute puppy or kitten, the whole time speaking in a childish manner. Tiffany found the whole thing very unnerving, and wondered briefly if she was going to wind up playing George to Migiri's Lennie. "Alright, alright, we'll play...just need...air!"
She gasped in relief as Migiri set her feet back down on the canvas. The Texan had never been manhandled like that before, ever. Even when had been caught off guard like she was here, Tiffany was usually able to power free of holds, especially one as simple as a bearhug. But there had been no way to overpower Migiri's strength. And the fact it was done by someone who looked like they were still mentally in grade school made it all the more unsettling. Tiffany quickly decided to play along with Migiri.

"H-hey there Ringo...um, -tan. How's it going?" she said with what she hoped was a friendly grin. Then she looked up at Migiri's face. "I'm Tiffany, it's good to meetcha!"
Taking the apple, the Texan took a bite out of it. Actually it was pretty good, and it reminded her that after this was done she should probably have a post show snack.
"Here, let's share.." she said, handing the apple back to Migiri as she thought to herself *Jeez, now I feel like I'm back in elementary school...*
Settling in, Tiffany waited for their opponents to be called....
Last edited by 133 on Thu Aug 28, 2014 4:49 pm; edited 4 times in total

valen311




Posts

: 2996


Join date

: 2008-04-26


Age

: 35



Once the die-hard Texan and infantile giantess were finished consummating their partnership with an awkward exchange of bear hugs and apples, the announcer signaled back to the techie to get this show on the road again. With the press of a button on his laptop the slot machines spun and spun until finally slowing down and settling on the name :
Gwendolyn DuPont Bettencourt!
Soon after the announcement of the next combatant an imperialistic
theme
boomed from the speakers along with nationalistic chanting that heralded the arrival of the blue blooded heiress herself. Though it took several seconds into her theme song Gwendolyn begrudgingly stepped through the curtains with her arms folded in front of her chest, fully clad in her frilly and form-fitting blue and white wrestling outfit. Two company trainers accompanied Gwen on each of her sides, though even they couldn't hide the look of annoyance Gwendolyn was sporting. The aristocrat was none to pleased with this arrangement, thrust into an impromptu match and teaming up with a complete unknown and against opponents she had no way to prepare for. How was Gwendolyn supposed to properly formulate a successful stratagem with all these unknown variables?! Once she was aware her name was even in the running she was seconds away from stomping into Lukretia Von Creuzfeldt's office to impart some wisdom as to who she thinks she's bossing around....though a bespectacled secretary informed her inches away from her office that any attempt to back out of the GM's latest experiment would result in SEVERE penalties, including being forced into matches of the kinkiest variety she ever heard of....she decided to postpone this discussion with GM until a later time.
Distracted up that point with ways of coming out victorious with as little effort as possible, the full gravity of her situation wouldn't hit her until she entered the ring and laid her widened eyes on the two standing across from her. "Oh mon Dieu...." It wasn't until she was standing head to shoulder with these ladies that the size difference became a tad more noticeable....especially with the one dressed in adult sized baby clothing clutching what seemed like....a teddy bear....and even sporting curled hair somewhat similar to Gwens!! The heiress let out an audible *gulp* as her shocked face stared upwards towards the grinning baby behemoth, and then back to the blonde haired cowgirl. Gwen backed up slowly until she felt the ropes behind her...
With a quick shake of her head fluttering her golden curls left and right, Gwen steeled her shaky resolve by stepping forward with her arms crossed and her chest puffed out. All hope wasn't lost, her partner had yet to be announced!! The odds may still be in her favor....a lucky draw of some first-class athlete may still win her the day!!.....though, there was still the chance she could team up with her dear engineer Nikolette....
Last edited by killcarrion on Wed Oct 08, 2014 11:08 pm; edited 1 time in total

killcarrion




Posts

: 5150


Join date

: 2013-04-14


Age

: 33



The computer came to life once more, whirring around and flashing all sorts of photos, every name the AFW had to offer. The fans looked on with bated breath. Who could it be? Maybe they'd get the chance to see Angel take on Tiffany again. Maybe it would be Chris Morgan or Mikoto Kusanagi or one of the other Wrestle Angels on the roster, and they'd get to see a classic matchup - more than a few Wrestle Angel fans wanted to see Chisato Sakurai get her revenge on the dreaded Migiri. Or maybe...
[align=center:2byanvoi][size=150:2byanvoi][River Styx!][/align:2byanvoi]
[align=center:2byanvoi][url=http://afwrpg.informe.com/forum/friction-roster-f10/river-styx-t9863.html:2byanvoi]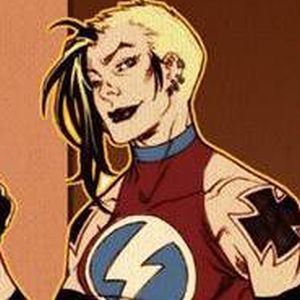 [/url:2byanvoi][/align:2byanvoi]
...maybe it would be someone they absolutely loathed. Yeah.
As usual, the crowd erupted into a chorus of boos as hisses, as [url=https://www.youtube.com/watch?v=eR_5yeJI4L0:2byanvoi]the NERD[/url:2byanvoi] hailed the arrival of afwfan.com's 6th Most Hated AFW American Wrestler - the incorigable River Styx. Not as usual, however, was that River didn't immediately come out to her music. It kept playing. The boos kept going. Some people just started dancing to the music. Still, no River Styx.
As it turned out, River was in the middle of taking some provisions from an unwatched concession stand when her name was called, blaring out over the loudspeaker. She knew they had some sort of random tag thing going on, she just didn't think they'd be stupid enough to throw her name into the hat. And, what, did they expect her to just come to the arena on the off-chance that she was selected for a match tonight? What if she'd been busy at her home? What if she had things to do? What if she was getting laid?
Of course, those points were moot. River lived in the arena, she had absolutely nothing to do but get drunk and/or high all day, and her sex life was pretty much nonexistent. But, fuck, it wasn't like
they
could know any of that.
The song was almost over by the time the backstage crew finally found her and pushed her out, rushing her out so fast she'd barely had time to a box of popcorn. The crowd started booing again as she made her way down the ring, and she greeted them all with her million dollar smile and her five cent middle finger. She walked up the steps, came in over the top rope and found herself facing off against a discount Dixie Clements and a girl who seemed to have some serious autonepiophilia going on.
Typically, she wouldn't have cared about either of them. Just obstacles. She couldn't help but notice two interesting things about both of them, though. One of them was a tall as she was, the other was
taller
.
Styx was no Rebecca Tomko, but for a woman - especially a woman in Japan - she was a giant, and she typically enjoyed being taller than her opponents. Not today. While she seemed to have a little more weight than the cowgirl, Little Bo Peep had her totally outmatched. For the first time she could remember, she was going into a fight with a distinct weight disadvantage. Crazy sort of world.
And who was she teaming up with? Someone big, someone able to even things as a little? Maybe someone with years of experience, a big name? Nope. Fucking Goldilocks.
Styx looked the woman over like she was a Kawaii wrestler. Hell, she might as well have been one, given the competition they were up against. Two of the biggest women Styx had seen in this damn company, and she was teamed up to fight them with a girl who probably spent more time doing her hair than training. She looked so immaculate and pristine, like she was too good for even dust to settle on her precious form. The sort of girl Styx had spent her few days in high school beating up in bathrooms. This was some karmic bullshit, she could smell it. It was a good thing her usual accouterments were tucked in her pockets, because she had a feeling she'd need them.
"Christ..." She fished a pack of cigarettes out of her pocket and checked it as she walked towards the girl. Two cigarettes left. Probably not enough. "First thing's first - who the fuck are you and why should anyone give a shit?"
Last edited by 12547 on Thu Aug 28, 2014 4:56 pm; edited 2 times in total

acuya




Posts

: 17847


Join date

: 2014-02-14


Age

: 34


Location

: Charlotte, North Carolina, WOOOO!



"Well, and here I thought we were going to be the odd pair." Tiffany remarked off hand to Migiri after she had watched River and Gwendolyn's introductions.

Gwendolyn had seemed like a priss, coming down the ring being escorted by...were those personal trainers? It practically screamed spoiled rich kid. Who spoke French, judging by the words she spoke when she stepped into the ring and found herself confronted with the sight of herself and Migiri.
"Hey, maybe you'll get Rebecca Tomko." she called across to Gwen. "She's the biggest gal in the-oh...who's River Styx?"
She echoed the announcer as she spoke River's name. Eventually, the woman who owned the name came through the curtain. The sight of her made Tiffany shake her head. She looked like the type of woman who would start the drunken brawls in the bars Tiffany would frequent back in the States.
"Congratulations, the randomizer thing really works." she said dryly to the technician.

Turning to Migiri, Tiffany nodded to her partner.
"Ok, big girl. Let's figure out who goes first. You know the game rock, paper, scissors, right? We'll play, winner goes in first."
With that, Tiffany would begin the three count, tapping a closed fist against the palm of her hand. The Texan would throw scissors when the third tap of her hand.

valen311




Posts

: 2996


Join date

: 2008-04-26


Age

: 35



"I know nor care not for this...Tonka individual you speak of.Though....there is one candidate whose mere presence would soothe my nerves into a tranquil repose~..." Gwen raised her hand to her cheek to hide her slight blush.

Gwendolyn starry-eyed hopes of seeing her beloved engineer traipse down that ramp and aid her in thwarting these randomized adversaries through a beauteous and synchronized ballet of harmonious team work....would be HORRIBLY SHATTERED IN THE SAME MANNER OF A BASEBALL CRASHING THROUGH A GLASS WINDOW once her actual partner made her profane appearance. With each step bringing River closer into view Gwen's face degenerated further into utter revulsion. The notion that this vile and wretched creature was approaching Gwendolyn with intention to speak to her brought a sickly, nauseous feeling to the pit of her stomach.


Then she spoke those words to the horrified heiress in that gravely voice of hers.


.....Though the world continued spinning normally for everyone else, time had seemingly frozen still for the heiress and her stunned silent posse standing just outside. Never had a single strung along statement offended the heiress in such a way, her mind blank and face wide eyed in shock. Gwen's pearly whites shined more and more as she clenched her teeth with increasing pressure, shaking fists betraying the inner rage storm percolating beneath her crumbling regal posture. Being chosen for this ludicrous experiment in the first place, pitting her against a giantess with paraphilic infantilism and a cowgirl yokel, and now drudging up this loathsome reprobate to be seen in the same vicinity as the heiress and actually partner up with her?!

.....*deeeeeep breath*.....After a prolonged breathing exercise Gwendolyn miraculously managed to regain her calm, cool composure. Rationale thought. That's what would get her through this. This.....creature, standing before her is the blunt instrument she would toss at these people, and may be what saves her from being bent into a pretzel by the opposing team....so for now...

"...What's say we...forgo with proper introductions until matters are settled here. 'Gwendolyn Dupont Bettencourt' though 'Lady Bettencourt' will suffice for now...R-I-V-E-R~..." Gwendolyn pronounced River's name through a gritted teeth smile with her hands folded tightly underneath her chin, a twitch in her eye making it obvious that being polite to her...*shudder*...partner, may have been the most difficult thing she would ever have to do in her life. Turning quickly back and stepping to her opponents playing Rock-Paper-Scissors, Gwendolyn would accidentally smack River in the face with her golden curls before waiting for them to finish their childish game.

"Follow MY lead and you may yet walk away from this bout triumphant...a concept foreign to you I'm sure..."
Last edited by killcarrion on Mon Oct 13, 2014 4:51 pm; edited 1 time in total

killcarrion




Posts

: 5150


Join date

: 2013-04-14


Age

: 33



Migiri had been far too engrossed in her little game of sharing with Tiffany to even pay attention to who was coming down the ramp. She'd taken a bite of the apple and now she was "feeding" some to Ringo and making funny chomping noises while holding the bear up.

"That's soo good, Ti-tan!" Migiri said as she held Ringo in front of her face, shaking the bear with her hand while "speaking" for it. That amounted to Migiri's voice but more "bear" sounding. "Omnomnom! Now YOU have a bite, Mi-tan!"

Migiri pulled the bear away from her head and bowed her head. "Why thank you, Ringo-tan! You're such a gentleman!" Migiri took a dainty bite and rubbed her belly. "Mmmmmmm!"

That was when Tiffany got her attention once more. "Huh?" She said, looking at the Texan as she explained Rock, Paper, Scissors to her. She knew the game, of course but it also dawned on her that the rest of her playmates were here and while Tiffany held out her scissors, Migiri was looking at the pair of arriving girls.

"Uwaaaaaaaah!"

When she caught sight of Gwendolyn, Migiri instantly stuffed Ringo into Tiffany's waiting hand. "You watch Ringo-tan." She commanded and stepped through the ropes, approaching Gwendolyn with a bright grin on her face.

"Uwaaaah! You're so pweeeetty!" She said in her baby talk. "Oooh, I wove youw haiw! It's so pwetty, we'we wike twinnies!" Migiri clapped her hands and hopped up and down. "Lemme touch it! I wanna bwush it!" Migiri said and reached out a hand timidly to touch one of Gwendolyn's long ringlets while the other hand covered her mouth. She held her breath while her wide eyes fixed on the heiress, hoping the golden locked aristocrat would say yes.

"Pweeeeeeaaaaaase!?"
Last edited by 445 on Fri Aug 29, 2014 3:56 am; edited 1 time in total

Tatyina




Posts

: 27237


Join date

: 2009-04-02


Age

: 100


Location

: VIP Box inside the AFWDome



Styx had a theory - you can tell exactly how full of shit someone is by counting the number of syllables in their name and getting the percentage out of ten. By her estimation, Gwen was about 95% full of shit. 80%, plus an extra 15% for insisting that Styx refer to her as 'lady', which was never going to happen in this or any other universe.

When the little bint spun around and slapped Styx in the face with her curls, she almost forgot that this was supposed to be her partner, and hammering her into the mat with a powerbomb before the bell even rang wouldn't exactly help her chances. She'd known this chick for just under thirty seconds, hadn't even had a full conversation, and she was already wondering if she could choke Gwen out with her own hair. That had to be some kind of record.

She started to reach for Gwen's shimmering curls, when she was beaten to the punch by the baby doll. Migiri was interested in Gwen's hair. Very interested. Creepily, disturbingly, nauseatingly interested...which might have been a good thing. Maybe Gwen could use her silliness against her, they could get the drop on the crazy bitch and win the match, easy. Maybe this was just the sort of edge they needed.

Or maybe not, and this crazy bitch would break Gwen in half like a cheap Barbie Doll knockoff. Which would be fun to watch, if nothing else. A little bit of Schadenfreude. Win-win situation.

Styx leaned forward and whispered into Gwen's ear, her hot breath pouring out over the prima donna princess' neck. "Think she's talking to you, Goldilocks." She gave Gwen a little shove, just enough to get her up close and personal with the wannabe baby.
Last edited by 12547 on Fri Aug 29, 2014 8:14 pm; edited 3 times in total

acuya




Posts

: 17847


Join date

: 2014-02-14


Age

: 34


Location

: Charlotte, North Carolina, WOOOO!



Ready to persevere through insurmountable odds the heiress stood ever vigilant with her head held high and chest puffed out in her haughty posture, woefully oblivious to the immediate threat her own partner presented from behind. Despite her horribly unfortunate luck that night due to that blasted slot machine surrounding her with a cavalcade of wrestling oddities, Gwendolyn's ceaseless confidence in her own leadership abilities gave her no reason to believe this night wouldn't end with yet another convincing vic-

*.....Why is that towering behemoth staring at me?* Her thought process would come to a standstill once the heiress noticed Migiri's doe-eyed expression fixated squarely on her. Gwendolyn hands rose from resting on her curvy hips to slowly in front of her as the infantile wrestler was now cheerfully bounding her way across the ring making a beeline straight towards her! The shiver felt up her spine just from their eye contact evolved into a creeping sense of dread once the curly haired combatants stood head to....chin. Gwendolyn nervously grimaced upward at the 6'3 woman-child who, through her own distinct baby speak, gushed on about the heiress' stunning beauty and awe-inspiring golden locks. Gwendolyn would normally willingly accept any complimenting on her gorgeous countenance, but not this day. There was something wholly unsettling about Migiri that struck Gwen with a certain fear she wouldn't have felt if another run of the mill muscle bound brute stood before her. Confused and unnerved as to what exactly she was dealing with here, Gwen opted to play along while eventually slowly stepping backward with a nervous smile on her face.

"Y-yes...T-Twinnies, uh we both are...vewwy pwetty...W-why don't you meet my partn-" Gwendolyns backward retreat would stop before it got started thanks to her partner's traitorous ways. The gravely voice of seemingly death itself echoed in her dainty ear, disgusted to have the anarchists putrid breath on her neck. So repulsed that Gwen was somewhat relieved to have been pushed away from her, though now unintentionally bouncing her face off Migiri's bosom. Embarrassed by the fluffy face check, Gwen turned back to her vile partner with gritted teeth and a look of pure disdain until...

*Ding*

The ringing of the bell signaling the start of the match reminded Gwen of her woeful situation...stranded in the middle of the ring against the toddler titan less than half a foot from her grasp. Gwendolyn turned back to Migiri nervously laughing...

"Ah..ha...and it would be s-simply dreadful if my-er, our hair were to get muffled in any manner, oui?"

killcarrion




Posts

: 5150


Join date

: 2013-04-14


Age

: 33



Page 1 of 8 • 1, 2, 3, 4, 5, 6, 7, 8
---
Permissions in this forum:
You
cannot
reply to topics in this forum