Who is online?
In total there are
39
users online :: 4 Registered, 0 Hidden and 35 Guests :: 2 Bots
Edmund
,
LunarWolf
,
Nelv
,
Tarantulust
Most users ever online was
390
on Tue Jan 02, 2018 2:02 pm
Champions & #1 contenders
Posting delays
Sun Jun 24, 2018 12:14 pm by Harrier
Dear posting partners and people who are waiting for an reply from me by PM,
I am terribly sorry that you have to wait for my replies for so long.
Maybe the one or another from you knows the situation, you were flying high for some weeks posting wise and then you hit rock bottom again because of some RL BS and then you barely manage to churn out enough creative output for a meager 100 words post in a week and you ask yourself how you could have seriously overextend your supply lines so much. …
[
Full reading
]
Comments: 0
Kawaii Opportunities
Sun Jun 17, 2018 3:04 pm by Daaharu
Hey, guys!
With the kawaii title match at Avalanche taking on an interesting wrinkle with the interruption by the Brat Pack, we are moving forward with the overall kawaii storyline, and at this point I'd just like to take stock of what kawaiis are out there that are interested in participating in a cohesive storyline.
Can't make any promises about titles or what exactly each girl's given role would be. We can talk a little more about the specifics of where the story is going soon, but I …
[
Full reading
]
Comments: 3
Match for Takeichi
Tue Jun 12, 2018 6:13 am by GrandAkumaShogun
So with my other two guys having their own matches I figure I should do something with my first character on here, Takeichi Mori. If anyone is interested feel free to post here or get in touch through a pm so we can plan it out. I can either have Takeichi remain a jobber or begin to work him towards being a more serious competitor.
Comments: 1
Page 1 of 5 • 1, 2, 3, 4, 5


Steven had just recently met this girl in the Afw gym room, where they talked a little about themselves and a little practice sparring match between themselves, which led them to do an actual pro wrestling match in the AFW arena. Steven knew this girl had potential and he couldn't afford to go easy on her at all, despite being on somewhat of a friendly terms with her.

Steven arrives backstage, hurrying towards the mens lockers with his gym bag hanging around his shoulder. He was pretty excited for this match as soon as they had made it up during there gym sparring and finally had a chance to face Carmen in a more competitive match, he stripped from his street clothes and got in the showers to take a quick shower before changing into his wrestling attire, putting on his UK flagged wrestling boxers perfect fit around his waist. He put on his black wrestling boots (calf high) before sitting on the wooden bench and bending down, lacing up the boots " Mmmmm there! ready" he says to himself. He got up and headed outside towards the AFW wrestling arena, hearing his music cue he brushed past the curtains and headed out, taking a moment to take the excitement in as he sees the crowd and the ramp which leads towards the ring " Alright! this is gonna be awesome" he says with his hands raised up in the air.

He quickly sprints down the ramp, leading towards the ring, as soon as he got close to the ring he did a baseball slide in underneath the bottom rope as he got in the ring, quickly getting back up on his feet he immediately bounced off the ring ropes and sprinted inside in the ring as well, stretching out his arms and neck before moving towards his corner of the ring, his back resting against the corner turnbuckle with his arms draping on the side of the ropes with a smile " Mmmm this outta be good! Lets see what Carmens got in an official one on one...." he says waiting on for his opponent.
Last edited by 12085 on Wed Mar 19, 2014 12:19 pm; edited 1 time in total
Third match. Third try. But not her third loss.
Carmen loved the fight. She loved the way it made her blood boil. She loved training, pushing herself, hardening herself, then putting it all to the test. She loved the ring, the audience, the roar of the crowd. She loved the lights, the cameras, the stage of it all, the drama. All of it, hers to own.
But she also loved to win, and ultimately, that's what she came to the AFW to do. And that started tonight. She just hated who she had to start it on.
Steve seemed like a really, really nice guy, and in her experience, that was a rare thing. He was different from the other wrestlers she'd met - more innocent, sweeter. A bit like Dominique, but even more filled with that wide-eyed wonder. And not even twenty years old, either; younger than her little brother and half his size. A step away from fighting a real kid.
But they'd sparred. She knew he had real strength. He
could
beat her, that was a distinct possibility. So no holding back. Not today.
[url=http://smg.photobucket.com/user/acuyra/media/Carmen3_zps7358f974.jpg.html:1bz8ggqi]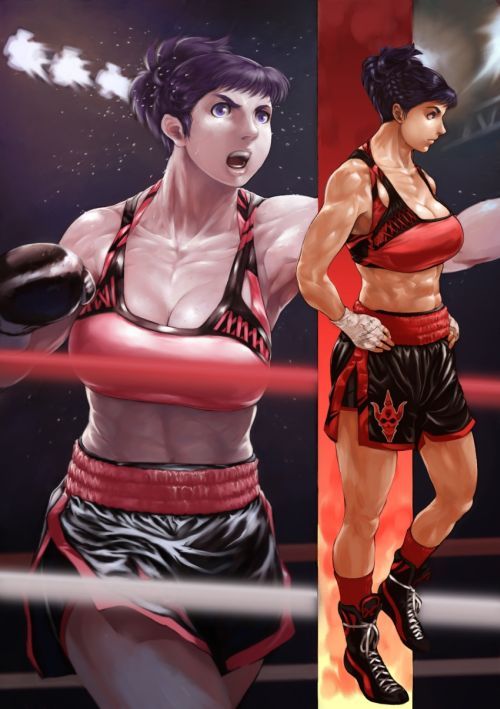 [/url:1bz8ggqi]
Her music started up, and she came down to the ring in her fighting trim, giving a short wave to the audience as she went, but keeping it serious, otherwise. The reception was lukewarm, and she didn't hold it against them - she hadn't given them a reason to cheer yet. But it was coming.
She slid into the ring and rose up with a quick pop, already bouncing on her heels as she made her way to the center of the ring.
Steven knew he was in for a tough-match, that light spar in the gym gave him a fair idea about his opponent. There was a slight disadvantage on his part, in the spar it was he who was putting her in holds and checking out endurance and stamina however he had not a clue on what sort of offense did Carmen possessed, no turning back now! He saw her making her way down towards ringside in her traditional boxers outfit, with the only difference is this was wrestling and she had no gloves on.

" I know she packs a mean punch, during the spar I did avoid her punches but now It seems like a bad idea, I have no idea how bad they hurt" Steven murmured out to himself as he saw Carmen get close to the ring, he gave her a short wave when she was outside. Steven focused his thoughts, the possibility of losing this match was in his mind, lingering, but he tried to give it little thought as he shook his head R-right! time to begin" he said as he saw Carmen waiting for him in the middle. He took a deep breath as he moved forward to the middle, meeting with his opponent in the middle of the ring face to face, head to head as they stare each other down, the ref standing next to them So? were really doing this huh? goodluck" he smiled very lightly jabbing her shoulder after a few moments of staring at her, dead in the eyes. The ref was about to ring the bell and Steven had taken a few steps away from the middle, hands up infront as he took up a wrestlers crouching position, eyes locked in at his opponents positioning.
Steve - she still wasn't quite used to calling him 'Teenwrestler, didn't roll well off her tongue, even in her head - seemed to be in deep thought - smart man, despite his youth. He knew she was a puncher, first and foremost, so he'd be prepping for that - she was meet that expectation, yes, but she had plans to throw some variety his way, more than with the other matches. She'd done a little crash training after they parted ways the other day - nothing drastic, she was hardly going to go into full-fledged wrestling mode. But she had surprises. More than a few.

She got with him in the center of the ring and rolled her eyes, smirking as he gave her a play jab - yeah, like her brother, only without his usual jackassness. "Good luck to you, hermano." She raised her fists and tightened up,moving into an open stance. "After this, drinks are on me, either way. If you're old enough to drink in this country, anyway."

The bell rang, and she started to move around him, building up a rhythm, keeping her fists close for the moment - she'd start on the defense, this time.
Steven felt a bit awkward at how everything was set up, it was a wrestling ring, a wrestling arena but his opponent had a unique and distinct style and swagger about her. Her attire, her stance and positioning made him feel like he was in a boxing match but the rules was on his side since it was actually a wrestling match.

Steven nodds when she wishes him luck and chuckles a bit on her second comment " Haha right right, loser pays for the winners costs? that sounds much fair, then I wont feel bad about getting a drink off you when you lose" he winks, trying to make a smart comment.

He sees her taking up a more defensive stance with her fists raised close to her body as they circle around, Steven edges closer to her as they continue to circle each other, he knows he has to avoid those raises fists so he quickly lunges in at her trying to make it look that he is going for a collar and elbow lock up but at the last moment tries to dive low into her, looking to tackle his shoulder into her gut "Hyaa!!" he grunts, diving in looking to take her down on her back.
Stay in the ring long enough, you learn to look for cues - the subtle movement of the eyes, an arm the opponent favors, a slight limp in the legs. Little things. Hints your opponent might not even know about himself. Tics.

He said something, but Carmen didn't even hear it - the bell rang and her focused locked. He didn't start straight at her - cautious. Again, smart man, wise beyond his years, a typical rookie might have charged in, tried to overwhelm her straight out, and gotten hammered like a rusty nail.

He went for the tie-up and Carmen planned to step away and nail him with a right hook instead - she even started the motion up, but it seemed they both had different ideas in mind. He plowed forward instead, taking her to them mat in one, swift move, driving the air clean out of her.

The sheer alacrity of the attack took her by surprise, but she looked to make the most of the position - if he was gonna be on top, he'd hate every second of it. She tried to put him in a front facelock, wrapping her arm around his head and giving it a good squeeze
After a few moments of hesitance from both wrestlers it was Steven who eventually went to break the deadlock, he lunged in for a collar and elbow which Carmen had looked to avoid as she stepped back, going for a hook of her own. Luckily it was never his intention to go for the lock up, and instead he ducked down low and tried to tackle her, shoulder first into her gut.

They went down onto the ring canvas, Carmen went down on her back as Steven was on top *THUD* the ring shakes just a bit from the impact of both wrestlers going down, Steven smiled a bit as he got the first move in but before he could capitalize on his success, Carmen's strong arm was wrapped around his head as she pulled him in, locking in a front facelock.

His body on top of her now while his head was being pressed against the mat, he moaned and groaned as she tightened her hold, his body thumping down on hers as he wiggled and squirm " Grrrr-owww, I thought you didnt go for submissions" he moaned out as he continued to thrust down and struggle " two can play at that game" he moaned as he tried to reverse their roles!! Since she took a more submission orientated style he would try to copy her style, steven tightened his fists and tried to blindly hammer down open fists into her ribs and side, his vision is blocked since his face is pressed against the mat but he pretty much has a good idea on what hes hitting "Let! GO" he moans louder as they fight it out.
Last edited by 12085 on Wed Mar 19, 2014 5:51 pm; edited 1 time in total
If there was one thing Carmen was used to, it was taking punches - more often from gloved fists, sure, but punches all the same. Steve wasn't a bad shot by any means; he drilled her with blows in the side, wild shots with no target, no reason behind them, just trying to bully her into letting him go. They hurt, sure, but it wasn't anything she could put up with, especially when the match had only just started. Her tank was full.

Still, she wouldn't be getting a submission from him, either, and to top it off, she was dangerously close to being pinned, just managing to keep her shoulders up - she did not like the way the ref was looking at her. So she did let him go - but she didn't do it easy. Releasing the facelock, she tried to roll him off to the side with a good heave, and give him a quick punch to the face as a parting gift.
Steven continued to hammer away at his opponents side, blindly at that. As he punched away with open fists, he could feel her firm and muscled sides. He knew she had worked well on her body to take on any sort of punches. Knowing that,he tried to lean his body forward to try to pin his opponents shoulder down on the ring, he figured one way or the other she would have to let go.

Steven sighed a huge sigh of relief as he felt her arm unwrap from around his neck as he took in fresh air, his relief was short-lived as he was shoved off her to the side, parting him off with a quick punch that stuck against his jaw! "Gah-" he groaned as he rolled away towards the ropes, grabbing the middle rope he pulled himself up to one knee, one hand grabbing the rope the other holding his jaw as he glared at her, in anger. "Ref?.....watch the closed fists..." he tried to bring the attention to the ref if Carmen used any closed fists, the ref waved on.

He got back up on his feet, rubbing his jaw to ease the pain as he circled her again " alright..." he said stopping " how about a clean collar and elbow? you and me,one on one,clean grapple battle, test of strength?" he smirked as he gave her a few seconds to think, before lunging in at her with his arms raised, looking to lock up with her collar and elbow. If he would get her in the lock up, he would try to plant his boots hard onto the ring canvas, trying to push her body into the corner, their bodies would be stuck tight to each other.
Last edited by 12085 on Wed Mar 19, 2014 6:16 pm; edited 1 time in total
Right, right - the closed fist. It hadn't come up in her previous matches, but she knew it would be a problem sooner or later - old habits die hard. The kid looked pissed off, and she didn't blame him; the fault was all on her. Another one of those and she'd risked a well-deserved DQ.

So - what to do, what to do? Maybe the answer was just to step out of her comfort zone, altogether - she was a wrestler now, so she'd try straight wrestling, see how well that dog hunted. Risky, dangerous - but it might just be the switch she'd need to throw Steve for a loop and swing the match her way.

She nodded and tied up with him head on this time, pitting her power against - they seemed close, at first, but after a moment his strength started to win out, pushing her back towards the turnbuckle. She waited until they were close, backing a few steps away, before she tried to jerk to the side and use his own momentum against him to put him in the corner instead.
Page 1 of 5 • 1, 2, 3, 4, 5



Similar topics
---
Permissions in this forum:
You
cannot
reply to topics in this forum