Champions & #1 contenders
Highfly Flying Out Of Town
Tue May 22, 2018 1:31 am by HighFly
Hello everyone, I just wanted to inform all I have threads with that I will be gone from this coming Wednesday through Sunday. I won't be able to post consistently if at all during this time, but I will try to make up for it next week! I am sorry for the inconvenience to everyone.
Comments: 7
The Austrailian Mudslide is Back.
Sat Apr 21, 2018 6:20 am by Softsquad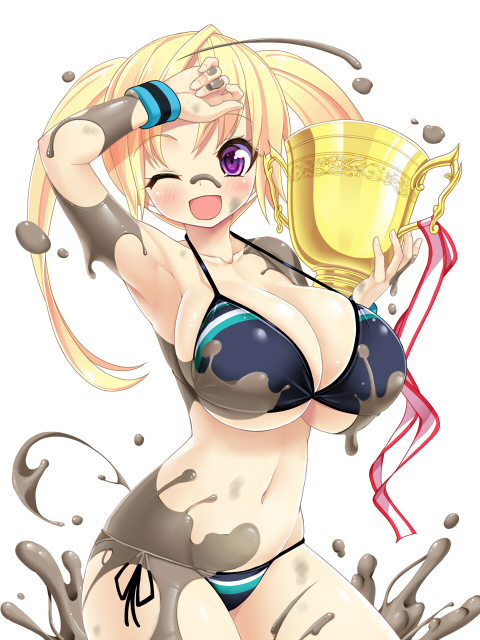 Granted that most of you won't know me or remember me, but I've had a few matches here and there some time ago. Well I think its time to become a regular around here and try to have some fun again, but at the same time keep coming back. Anyway I think its time to jump into some matches with Zoe Taylor, my mud wrestling character from Australia and get her back into the squared circle. Furthermore I will update my characters as I think some proper changes need to happen.
So if anyone would …
[
Full reading
]
Comments: 5
Page 1 of 3 • 1, 2, 3


Today, finally, after a lengthy leave of absence, Cassie Elliot was coming back. The date had been marked on the calendar on the wall in the Higurashi home for weeks, and Taylor had counted every day until it was finally time to collect the little redhead from the airport. She had missed so much while away in Canada, just like Taylor had missed so much by not being in Canada. She couldn't wait to catch up with her. She couldn't wait to see her.

Also, it was as good a time as any to spring a surprise she had for Johnny, the first of two. This one had come up unexpectedly, sort of on a whim, but it seemed appropriate both to go with their new house and with the special Cassie day.

"Ready, Jun-Bug?" Taylor called from the front door as she laced up her weathered, black, knee-high boots. She had put on purple-and-black-striped, over-the-knee socks over dark tights, with a short, pleated, black miniskirt, a thick, studded belt, and tight, bright pink t-shirt. The shirt had the words "Terror Baka" one on top of the other on one side, and a crayon winky-face with a fanged smile in the middle. She slipped on a short, faded-black, vaguely military themed and snugly-fitted twill jacket, with a straight collar and sleeves that reached her thumbs, and peeked around the corner to see if he was coming while she flipped her blonde pigtails out from under the jacket.

"Hurry up, we still have to get Akashi on the way! Are you good to drive?"
Johnny stepped out of the bathroom and smiled at Taylor. He looked her up and down and grinned at her look. She always looked good and he stepped into her and gave her a kiss. "Yeah, babe." He said, guiding her out of the house, angling the keys with his other hand.

It was weird driving. Tokyo was always a traffic nightmare but it seemed like no one in the huge city actually drove. Taylor seemed like a driver ever since Johnny had known her. It seemed pretty American. He never really had any desire to drive, really. Anywhere that was too far to walk, just needed a train ride. But ever since moving to Hamamatsu, Taylor had suggested he drove. He didn't really understand WHY, but he wasn't really OPPOSED to the idea. He guessed if there was ever an emergency, maybe it would be good for him to be able to drive. He didn't like the thought that THAT was why he should learn, but it really wasn't that hard and was a little fun.

He slipped out of the house and locked up. Then he got inside and adjusted everything he needed to. "Just didn't feel like drivin and junk?" He asked. He always kind of thought she just liked it so it always seemed ind of weird when she asked him to drive.
Taylor strolled along with Johnny with her hands in the pockets of her jacket. The air was warming up, but not enough to keep her from shivering when the wind picked up. If she were running everywhere, she'd be fine. She'd be in spandex and running shoes all the time and something to keep her ears from freezing. When she wasn't active, though, she very quickly turned into a popsicle.

She stopped outside her little Fiat while Johnny jumped in and adjusted all her shit. She sighed, but couldn't keep the smile off her face. "Whatcha doin' in there, Bug?" She asked innocently, and pointed across the street.

On the side of the road, only a few yards from where their property ended, was a large, blue tarp over a conspicuous mass of anonymous something that had mysteriously appeared there the week before. A new addition was a note on the front in Taylor's handwriting that read "If we can't live forever, we might as well die together", with a big smiley face at the end.

She looked back at Johnny with a giddy smile and a gleam in her eye and watched him like he was a wild animal she'd spotted in the back yard from the kitchen window, waiting to see what he'd do.
Last edited by 1167 on Tue Mar 18, 2014 8:49 pm; edited 1 time in total
"What? What do ya mean?" He said. He was adjusting shit. He was larger than her and needed to fix the seats and mirrors. How did she not know? But she was giggling and pointing at something. The pile of whatever that Johnny thought the neighbors had put there or the trash collector didn't pick up.

"Uhhh..." He said. and looked at the tarp. "Isn't that the neighbor's junk?" He said. Johnny narrowed his eyes suspiciously. Not with the way Taylor was giggling. "What is it?" He said, tilting his head. He pushed open the door and stepped out. "Did you do it?" He said. Johnny tilted his head. What was she up to. Johnny walked over to the tarp and saw the note. He looked back at Taylor and knelt down, pulling the tarp up to see what was underneath. She was being way too secretive with all this.
"Well, you're a real big boy now, Bug-Bug," she said cutely. "You've got a house and a career and a cute, feisty little- oh my gawd, Johnny, just yank it off already!"

Taylor was rapidly driven to madness by Johnny's tarpal timidity, and she descended on the thing and quickly yanked it back. It had been tented up on poles to disguise the shape, because it would've been a bit obvious, otherwise.

Underneath was a nearly ancient wreck of a car. The body was intact and free of rust, but what used to be shiny black paint was now a dull, splochy gray. One of the turn signal lenses was missing and the tires and rims didn't all match. It looked sorely in need of some TLC.

"Ta daaaa!" She exclaimed, arms straight up in the air with a big grin. "It's yours! I bought it from some dude in Nagano a couple weeks ago. It's a Plymouth Barracuda from like... a million years ago. Nineteen-seventy-ish," she proudly declared as her voice accelerated more and more. "And... funny story, I broke it. I tried to test drive it, and it had a manual sticky shifty thing, and the guy asked me if I knew how to drive it and I said 'Hai!' and then I tried and it turns out I didn't and I blew it up, so I got a guy to get a transmission from the States and put it in and now it's an automatic. It works, though! And it has like a really big engine, and I thought we could paint it together!"

She beamed. She was so proud.
"Whoa." Johnny said as she pulled the tarp off. He blinked a few times. It looked like a junker and seemed like it might never run. But it was pretty awesome. It was way different than most of the micro cars that he saw around Tokyo. It was a real American beast. Johnny reached out and grabbed Taylor's hand, squeezing it tightly and turning his head. He had a serious look on his face. "I can't believe you'd do this, man." He said in a low tone. He lowered his head and frowned.

Johnny then turned and slowly looked at Taylor. He turned his body and pushed her against the car., staring at her. "You're gonna show this to me now when we haveta go when we can't even try out the back seat!?"

Johnny kissed Taylor deeply and pushed his free hand against her cheek. "I love it, babe. It's really cool, man." He couldn't contain his big grin. "Yeah, man! I'm not a grease monkey or anything, but it could be pretty fun to tinker around with! Thanks, babe, you're the best." He said, pressing himself against her more. "Except for the teasin thing and junk."
Taylor giggled and tucked her chin down while she peered up at him. "Yup," she said. "Well, we can't get the back seat all sweaty for Cassie! But I promise we can put the whole thing to good use." She bit her bottom lip enticingly.

"I just want you to know that I know some things have been rough lately, but I really love you and I know you just want to protect us from crazy people. So even if we end up on a first name basis with the cops from the neighbors calling them on us over our... domestic disputes, I care less about that stuff and more about you."

She pulled the keys out of her jacket pocket and shoved them into his chest and gave him a long, lingering kiss before making her way around to the passenger seat. "Try it out! I'm pretty sure it'll start. It's waaaaay different than little Japanese cars, and don't, like, put your foot down with it because you'll probably end up spinning off the road or something. But it makes really good noises, and it was super cheap! The transmission cost as much as the car." She got into the passenger seat and buckled up. "Now let's just hope that Akashi doesn't blow out the tires when she gets in. Oh, and..." She looked over at him with even more mischief in her deep blue eyes. "I have more surprises, too."
Johnny's face softened when Taylor began to speak. He lowered his head and squeezed her tightly. "Babe, man..." He said, turning his head and pressing his cheek against her head. "Like... it's cool and junk, man." He said. He squeezed her tighter. "I love you so much. Like, more than anything." he said. "I... don't really know what ta say or how ta make it up to ya and junk." He said, feeling a little bad she was doing all this for him.

he watched as she scrambled off tot he passenger side. Johnny stared at the car. His car. He grinned and slipped inside, shutting the doors. He gripped the wheel and sunk into the seat. He looked around and grinned even more. He adjusted the mirror, flashing it towards Taylor and winking at her before turning it to where he can see. He pulled the seat to a proper position, leaning back just a bit. He was already thinking about what he needed to do with it when he pushed the key into the ignition and made it roar to life.

Johnny chuckled in delight as it made a loud rumbling noise. He looked at Taylor and smiled. "Sure ya don't wanna try it out real quick?" He said laughing. Johnny inhaled and put on his seat belt and revved it a few times before putting it into gear and punching it. The car shot off loudly and zoomed extra fast before Johnny stepped hard on the brakes and skidded to a halt. He was laughing hard now and beamed at Taylor before speeding off at a normal pace.
Last edited by 445 on Tue Mar 18, 2014 11:09 pm; edited 1 time in total
Taylor had not ridden shotgun since coming to Japan, outside of a few trips while Johnny was learning to drive. She was the only person she knew who drove on a regular basis, and she probably drove more in Tokyo and now Hamamatsu than she ever did in New York. It was an escape for her, and way to tether herself to home. Riding in the passenger seat with Johnny, the nerve-racking side of it was tempered nicely by the genuine fun and novelty of the car, and nothing could take away Johnny's delight with the gift. That was pretty good.
On the way to Akashi's house, she sent a quick text to Morrigan to let her know they were out of the house.
"Almost done, right? So exciting!!!"
She put her phone away and looked over the ancient, 70's dash. She kicked her feet in the cavernous expanse of leg room the car had, compared to her Fiat. "We're gonna need to put a stereo in this," she said, looking at the old FM radio. "If you want. You can do whatever you want with it." With any luck, the car might even draw some attention away from juicing. Johnny and her were alike in that when they got into something, they got
all the way
in.
"Babe, I'm on the longest winning streak of my life," she remarked, and she wasn't just talking about professionally.
Last edited by 1167 on Wed Mar 19, 2014 6:16 am; edited 1 time in total
it was kind of weird for Johnny to drive on expressways and through downtown Tokyo. Somehow being in the middle of the street and in control of a metal riding beast was a lot different than a taxi or even in Taylor's car. He was a little nervous but he got over that pretty quickly.
He had been fiddling with the radio when he was on the highway, trying to turn the know to whatever Japanese radio station he could find. None of them played music he was into, unfortunately, so he shut it off after a while.
"I'm already thinkin about that. man, i want an awesome stereo." He said. "But I kinda wanna get a tape deck or somethin. How badass would it be to pop in a Misfits cassette? I think that would be pretty awesome. But man, I still want, like a normal stereo too." Johnny tilted his head. "Man, I think I might get two so I can switch em out and junk." Johnny said, grinning at the thought as he pulled into Akashi's driveway. Johnny turned and clasped his leg on Taylor's thigh. "Me too, babe. Me too." He said, grinning. He was talking about life. Johnny then leaned into the horn and gave it two quick blasts. he needed to try that out too!
It didn't take but a moment before Akashi was already out the door, running to the car. "Casssieeeeeeeee!" She squealed and stopped when she saw the broke down car with Johnny driving. She blinked. "Oro?"
***
Morrigan had been down in a cafe waiting for the text. When she got it, she finished up her latte, paid her bill, and pulled out her phone while she hailed a cab.
The room's done. Catering should be around soon. I'll take care of it.
Page 1 of 3 • 1, 2, 3


---
Permissions in this forum:
You
cannot
reply to topics in this forum