Who is online?
In total there are
44
users online :: 10 Registered, 0 Hidden and 34 Guests :: 2 Bots
acuya
,
Daaharu
,
Jaystar
,
Kelsea
,
Mystery Dragon
,
Old_Man_Tai
,
OmegaVan0
,
Person
,
RadiantKarna332
,
SimplyMoon
Most users ever online was
390
on Tue Jan 02, 2018 2:02 pm
Champions & #1 contenders
Kawaii Opportunities
Sun Jun 17, 2018 3:04 pm by Daaharu
Hey, guys!
With the kawaii title match at Avalanche taking on an interesting wrinkle with the interruption by the Brat Pack, we are moving forward with the overall kawaii storyline, and at this point I'd just like to take stock of what kawaiis are out there that are interested in participating in a cohesive storyline.
Can't make any promises about titles or what exactly each girl's given role would be. We can talk a little more about the specifics of where the story is going soon, but I …
[
Full reading
]
Comments: 1
Match or RP?
Wed Jun 13, 2018 3:48 pm by Lotuswarrior
I'm just looking to do something while I wait for match replies. Really want to get some characters cemented a bit with a rival or some interactions with other characters here.
If anyone wants to do something hit me up.
Comments: 0
Match for Takeichi
Tue Jun 12, 2018 6:13 am by GrandAkumaShogun
So with my other two guys having their own matches I figure I should do something with my first character on here, Takeichi Mori. If anyone is interested feel free to post here or get in touch through a pm so we can plan it out. I can either have Takeichi remain a jobber or begin to work him towards being a more serious competitor.
Comments: 0
Page 1 of 8 • 1, 2, 3, 4, 5, 6, 7, 8


Boxing match

Kira had to admit, after hearing about the circumstances regarding this fight he could not help but feel as if he was in some way being tricked into either being a sacrifice or possible a revenge beating. The person that Kira was facing just so happen to be related to the person that Toshiko had recently beaten. Now while Toshiko and Kira were most certainly were not related Kira and Kia were and Toshiko was Kia's new BFF which sorta meant they were friends.

Nevertheless this was a vital chance for Kira to be able to gather some experience and also to try and score a win, recently he had been finding it difficult to score a match, and when he did he was only able to chalk up losses. He had considering possibly leaving the league but that would not achieve anything and would in the end only anger his mother. And that was something he did not fancy doing. Kira would take a moment, making sure that the 16oz black gloves he was wearing were tightly strapped on. He had taken note of the slightly heavier glove weight used for this match, not sure what to truly make of it. He would take another moment to compose himself before he started to walk down the ramp and towards the boxing ring that was laid out infront of him. He would climb between the ropes and take a moment to shadow box to make sure that his body was in fine working order.

Tonight he was wearing just his black knee length shorts, Kia had suggested something tighter and more revealing however Kira just blushed at the concept and kept his normal attire. He would stride over to his corner, awaiting to see who his opponent was going to be, only knowing her name Carmen. He aslo awaited for the ref to explain the rules of the fight.

(I will let you decide the ruleset for this match, make them as brutal as you like :3)
Beatdown Match
Knockout Only
First to score three knockouts, wins. Each fighter will be given one minute to recoup after three minutes of fighting.

[url=http://smg.photobucket.com/user/acuyra/media/Carmen3_zps7358f974.jpg.html:2hp0pqwm]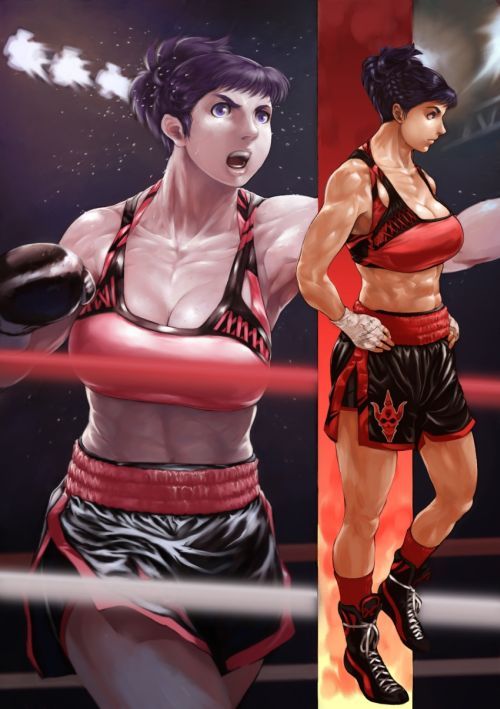 [/url:2hp0pqwm]
Somehow, Carmen couldn't help but feel this wasn't what Dominique had in mind. In fact, she was pretty damn sure of it.
She'd been working on improving her wrestling techniques - was still looking for a chance to use those. But when she heard there was some clamouring for her to take part in something a lot closer to a boxing match, well...she was a Rodriguez, and Rodriguezes didn't turn down matches. Ever. The family pride was at stake. So, for the last time in what she hoped would be a long, she laced up the gloves and came down to the ring.
Only, she wasn't coming alone. "Army, I appreciate the sentiment, really." She looked over her shoulder as [url=http://www.youtube.com/watch?v=vULsGEm4x4s:2hp0pqwm]Tamacun[/url:2hp0pqwm] played over the loudspeakers, heralding their arrival. "But I don't need a cornerman. Really."
Armando followed behind, carrying a bag with a few essential - water bottles, towels, some tap, just what she'd need for the match. "Hey, you ain't got to tell me - I agree." He pulled the bag up on his shoulders. "But Dad was all about it - you know how he is."
"Yes. Yes I do." She sighed. "You're a grown ass man, now, you don't have to do everything he says, you know?"
He shook his head. "Just because you don't respect him doesn't mean I-"
She stopped and gave him a hard glare, staring daggers into him - the sort of look that shut up her normally unshutupable brother every time. The 'don't make me beat you till your legs stop working' look.
"Sorry." He held up his hands. "Sorry. Look. Let's just do this, get it over with, then we claw each other out back home over a bowl of ramen. Deal."
She softened up after a moment, just rubbing her head. "Idiota. Deal."
The pair made it into the ring and started to set up shop, lacing up Carmen's gloves and getting some water in him. She smiled Kira's way and motioned for him to come on over.
Last edited by 12547 on Mon Mar 10, 2014 12:04 am; edited 1 time in total
Kira had to admit, Carmen wasn't that intimidating, he had somewhat expected her to come out screaming obscenity's at him for what happened to her relative, who also looked present due to the state of the face of the man accompanying her. When she smiled and seemed to invite him over he seemed somewhat reluctant to. He would however walk to the centre of the ring, taking a moment to make sure that his gloves were well and truly on tight, before punching them together and waiting for Carmen to arrive in the centre too.
Carmen raised an eyebrow when he didn't come over, but she shrugged it off and finished with the gloves, shoving in her mouthguard for the final piece

"Huh." Army looked at Kira over her shoulder. "Almost as tall as me - test this guy a little first, see what he's working with before you start laying into. We got time, don't rush."

"I know, I know." She rolled her eyes as she pushed off the turnbuckle. "Jesus fuck, you sound like Dad so much sometimes."

She moved to the ring to meet Kira, bouncing on her toes a bit as she went. When she reached him, she got her gloves up, ready for the tap.
Kira would get ready for the tap as well. There was no point in pleasantries as in a few seconds the bell would ring and they would be punching the crap outta one another. After the tap he would take a step back to get into stance. He would be standing in a very tight southpaw stance, hid body hunched and his guard compact to cover most of his face and torso.
Carmen looked his stance over - not bad, he had a little experience. Not much, but a little - he couldn't have been a day over 20, if that much. Dry feet, wet behind the ears - whoever wanted him to get his boxing cherry popped here must not have liked him too much. Still, newbies could be dangerous in their own way - hard to predict. Best to play it smart. For now.

The bell rang and Carmen moved into her stance, favoring a close position, standing perpendicular to him with one hand up and the other lowered - giving him less of a target, and it'd allow her to get out of his range easier. She edged towards him, daring him to strike first.
Carmen was most certainly some sort if expert boxer. Though, he swore he had seen her somewhere before. As she edged closer Kira maintained his guard, there was no way he would try to strike first usually, however this time he felt lucky. He risked throwing a right jab towards her face, followed by a left hook to the lower jawline. His footwork however was shoddy at times and his feet were not spaced apart enough to maximise the power of his punches, nor make it easy for him to escape.
Poor posture. Unsteady feet. Not looking good for Kira - Carmen could spot the amatuers from the pros with ease, and it didn't take much effort at all with him. If this wasn't his first time with the gloves on, she'd be surprised.

Carmen did a quick step back, getting out of his range and avoiding both by a few inches, then jerked back and tried to tag him with a jab in the face. Nothing special, just testing his reflex - Southpaw's were tricky.
Kira's eyes nearly went wide as the female effortlessly made it look like Kira had intended to throw punches at the air to start with. Kira did have reflexes, but due to his footing he was unable to avoid the punch, the most he could do was shift he had further along; reducing the impact of the jab, but still enough to warrant a light grunt and move his head to the side slightly.

He would spread his feet out this time. Trying to make up for keeping them too close together before.
She nodded. A little. Just a sign - better stance. Better fight. She could start to take him a little seriously, now.

Just a little.

She moved in again and threw a fake jab for his head, then jumped back out of range one more. Move. Dodge. Test. Assess. Not actually attacking him, just yet. Trying him out to see how he fit. Her feet stayed fluid, moving effortlessly from one spot to the next, flowing about the ring.
Last edited by 12547 on Thu May 08, 2014 6:12 pm; edited 1 time in total
Page 1 of 8 • 1, 2, 3, 4, 5, 6, 7, 8


---
Permissions in this forum:
You
cannot
reply to topics in this forum