Champions & #1 contenders
Looking for some new matches
Thu Aug 17, 2017 10:20 pm by Cirno
Comments: 0
Cunning Fox looking for prey.
Thu Aug 17, 2017 8:09 am by Lotuswarrior
I'm looking to bring focus to my
Unwanted Ops
members with some stories and backstage events. I want to start with Samantha Fox and like her partners, they are all Heels. So maybe Samantha can just interfere with someone's match and continuously tease/mess with them at random times until her victim calls her out.
Samantha likes to toy/trick her opponents for her own enjoyment, before finishing people off. She is also a secret daredevil and loves to take big gambles with high risk moves. If you …
[
Full reading
]
Comments: 0
Page 1 of 6 • 1, 2, 3, 4, 5, 6

Standard Match
Win by pinfall, submission, or KO.
What if she messes up? What if she whiffs a move and injures her opponent, seriously? What if she forgets the rules and accidentally does something illegal? What if she misses and hits the referee with something? What if the people don't get her costume or think she's weird? What if, what if, what if.
Beatrice - no, Big Barda, right now - was taking deep breathes behind the curtain, trying to push the stage fright away. She'd been training, sure. She was fairly sure she was ready physically - heck, there wasn't much a 7 foot tall woman wasn't ready for, physically? But mentally ? She had never been in front of an audience before, and she was wary of it now. All those faces. All those lights. So much to take in. So many watching.
It was insane. She could the audience murmur outside, waiting for the action. They were here to see her. To see a match. To see a fight. Too late to run away or change her mind - now, she had to commit. Like it or not, this was the right path. The only way was forward.
As her [url=http://www.youtube.com/watch?v=YZiEfpgT95M:1zveheb2]music[/url:1zveheb2] began to play, she squeezed her water bottle and poured the whole thing straight into her throat, letting it quench her - she had a feeling she'd be needing every ounce of hydration she could get.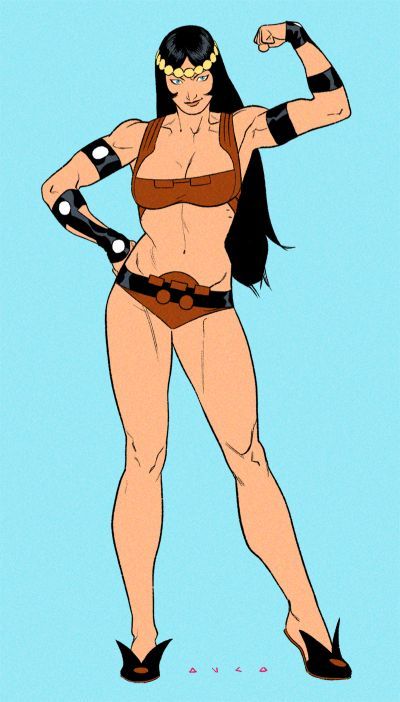 She made her way out, waving to the audience, getting a few mild cheer and more than a few eyebrows - women this tall weren't exactly a usual sight on the island, she gathered, and her outfit was probably raising some eyebrows, as well; she saw more than a few of them scramble ot their smartphones, no doubt looking up 'Big Barda'. They'd get it soon enough - the costume was probably the only real thing that helped her fight the stage fright. As long as she had it on, there was just enough of her that could pretend to be someone greater, someone she'd always wanted to be.
With a sigh, she rolled into the ring and lumbered over to her corner.
"Big Barda? Isn't that name like copyrighted by DC comics?" Adrian asked backstage as she laced up her boots. It was her first official match since Avalanche and the ladder match and apparently they'd set her up for a doozy of a matchup, even if it was against a newcomer. "Whatever, don't distract me, I need to get in the zone." she said as she finished her last minute stretches and headed out to the curtain.
The lights went out in the arena, as Adrian's [url=http://www.youtube.com/watch?v=cKAWlZGe18M:2ekzs47z]new music[/url:2ekzs47z] started up she stepped out to a surprising amount of cheers, her new streak of actually trying to fight fairly and not going out of her way to be a bitch to random audience members seemed to have worked somewhat, even if the crowd was divided between those who didn't trust her and those who believed that one of the most notorious cheater had sincerly turned a new leaf it was progress from being one of the most hated wrestlers in Japan. Still, she stood at the top of the ramp, waiting for the camera crew to subtley nudge a tiny trampoline, just at the edge of the ring, and when they had, she set off running straight for it, jumping once then soaring straight over the top rope and rolling safely into the ring, a small wow from the audience. Even those who saw the small trampoline had to give her some credit, that was pretty hard to pull off and easy to fuck up
Nailed it
she thought to herself, pumping her fist as the lights returned to normal and she finally got a real glimpse of her opposition. "uhhh...." well, her name hadn't lied. She was Barda, and she was
big.
Bigger than Rebecca big, and Rebecca was the biggest, or at least used to be the biggest now. The former cosplayer wasn't exactly short herself, slightly taller than average for the league but her opponent was head, shoulders and boobs above her. She'd have to stand on the 1st rope just to make eye contact without craning her neck. Well, at least no-one could accuse her of getting a softball for her first match back, all of a sudden the rush of confidence she initially had in her entrance was fading fast, she needed to start thinking of a strategy to topple this giant. She had really picked the wrong time to stop cheating.
_________________
Under construction

Adrian Kytes (Face)
Rebecca Tomko (Heel)
Sabine Shanoa (Face)
Tina Armstrong (Face)
Catchy music. Made Barda wish she'd gone with something a little more upbeat, but it was hard to find songs that really seemed to match a giant woman walking down to the ring. She'd take a better look later - maybe Adrian even had some pointers.

Even she was pretty impressed by the opening - again, it put her simple 'Walk Down The Aisle and Wave' routine to shame; Adrian came in with style. The audience seemed kind of mixed about her before, but now they were giving her more than a few applause - and Barda joined in herself, taking note of the agility - getting her hands on the lithe wrestler would probably cause her some trouble, but she could worry about that in a minute.

The girl was brimming with confidence, but she seemed to lose a bit when she saw Barda - needless to say, the gentle giantess was pretty used to that look. "Eh. Hey." She walked forward and extended her hand for a shake - the girl seemed fun enough, no need to start off with bad blood. "I'm Barda - well, Beatrice, but Barda if you want to stick to the stage names. Adrian, right?"
Last edited by 12547 on Mon Mar 03, 2014 11:29 pm; edited 1 time in total
Well at least she seemed friendly despite being the imposing size, offering a friendly handshake. "So... Barda, isn't that name copyrighted by DC?" She asked the giant cosplayer, she looked the part, maybe this was some movie tie-in deal that she hadn't heard of. But checking out the costume wasn't the only reason Adrian kept looking her up and down, she was looking for a weak point.

Going for the head was pretty much a no-no here. Her head was so far up she'd need a Street Fighter Shoryuken to hit it, working the body was probably a better idea and a bigger target but people this size were usually used to taking body shots, and those abs looked like they'd be pretty solid even if she was slimmer than her girlfriend was. Her long legs however, that seemed to be the best target, yeah they looked like they could probably punt the smaller cosplayer into the cheap seats but with how tall she was, striking low would be the best way to go about getting her on her back for a quick pin. Probably the best method, but she had a bad record of sticking to strategy, adrenaline will do that to a cosplayer
_________________
Under construction

Adrian Kytes (Face)
Rebecca Tomko (Heel)
Sabine Shanoa (Face)
Tina Armstrong (Face)
Oh, good, she took the handshake - Adrian didn't seem to be one of those heel types; Barda had worried a little about her first match being against one of them. No need to get her feet wet by jumping in the deep end - a nice, simple match was what she was hoping for.

"Hm?" She perked up a bit at the question and stepped back, spinning around on her hell. They'd really done a good job at it - the thing shined, look downright authentic. As authentic as something that was supposed to be owned by a goddess from another world could look, anyway. "It is, yeah, but I struck a deal with DC - I'm a major, super-huge Barda and New Gods fan, love Jack Kirby's stuff. I really kind of prefer her armored costume, that's what I wear to Cons, but this works better for a wrestling outfit, I think."

She raised an eyebrow, thinking about it for a second - she was a fan, but she knew Barda was actually kind of obscure; most people were only familiar with the big superheroes, like Wonder Woman or Spider-Man or Batman. Barda only had a few appearances outside of the comics - it was a bit weird for someone who wasn't a fan to know about her. "You're, uh...you're into comics?"

One could almost taste the geekiness in her voice.
Last edited by 12547 on Tue Mar 04, 2014 4:28 pm; edited 4 times in total
Adrian felt a pang of regret as Barda gave a little twirl, she had forsaken her cosplaying origins in her pursuit of glory and not being choked by hair extensions, "I know of it, not exactly my thing...more of a gamer girl." she admitted, her knowledge of comics was unfortunately limited to what she learned through the DC animated Universe. And even that didn't do much with the new gods beyond one or two episodes and Darksied.

*DING DING*

And with that the match was on, Adrian quickly snapping out of her geeky-self as she circled the giantess, trying to duck away and work her way behind the amazon, get a good access to the back of her legs so she could start chopping down this big redwood like she was a boss in Dark Souls
_________________
Under construction

Adrian Kytes (Face)
Rebecca Tomko (Heel)
Sabine Shanoa (Face)
Tina Armstrong (Face)
Oh, a gamer girl, then. Barda never really had the thumbs for games, always had trouble with the twitch skills. She did enjoy Gods Among Us, even if she utterly sucked at it.

She was going to ask Adrian if they could meet up after the match and talk more, when the bell sounded, reminding her what they were here for Adrian was already circling, probably looking for openings - Barda would be careful not to give any. The girl was smaller, but experience was on her side.

Taking a big step out, Barda tried to grab her by the shoulder and pull her in for a bear hug to squeeze some of that speed out of her.
One advantage of being 7 feet tall, a humongous range to grab someone from. What should have been a safe distance against most, wasn't against Barda as she was able to get a big hand on the little shoulder of the former cosplayer. "Meep!" She let out as she found herself being pulled in, not something she wanted to be trapped by this early as she tried to get low, use the momentum of Big Barda pulling her in to have a bit of speed as she hit the deck, dropping for a baseball slide between her legs.
_________________
Under construction

Adrian Kytes (Face)
Rebecca Tomko (Heel)
Sabine Shanoa (Face)
Tina Armstrong (Face)
Gah! Dang it, she hated when people ran through her legs. Kids used to do that all the time in school; there was something just so weird about people using your leg as a tunnel. Especially when she wore skirts.

Adrian slid out behind her and Barda almost did the expected thing and just turned out to face her - until she got a better idea. It was quicker to simply fall back like a chopped tree, threatening to come down on Adrian with her full body, using gravity itself as her weapon.

Timber.
Adrian was feeling quite smug with herself, this was the way to go about it, just outmaneuver the giant with her speed and experience and wear her down. Yeah it would take time and energy, but it wasn't as though Adrian had skipped cardio workouts. She could keep up a fast pace for ages, hopefully Barda couldn't. Turns out the big cosplayer didn't need too keep up and turn around, Barda had better ideas. "Ah!" Adrian yelped, scrambling to get away as the big tree fell on her, squishing the former face first into the canvas under 200lbs of Comic book fan.
_________________
Under construction

Adrian Kytes (Face)
Rebecca Tomko (Heel)
Sabine Shanoa (Face)
Tina Armstrong (Face)
Page 1 of 6 • 1, 2, 3, 4, 5, 6


Similar topics
---
Permissions in this forum:
You
cannot
reply to topics in this forum