Champions & #1 contenders
Kawaii Opportunities
Sun Jun 17, 2018 3:04 pm by Daaharu
Hey, guys!
With the kawaii title match at Avalanche taking on an interesting wrinkle with the interruption by the Brat Pack, we are moving forward with the overall kawaii storyline, and at this point I'd just like to take stock of what kawaiis are out there that are interested in participating in a cohesive storyline.
Can't make any promises about titles or what exactly each girl's given role would be. We can talk a little more about the specifics of where the story is going soon, but I …
[
Full reading
]
Comments: 1
Match or RP?
Wed Jun 13, 2018 3:48 pm by Lotuswarrior
I'm just looking to do something while I wait for match replies. Really want to get some characters cemented a bit with a rival or some interactions with other characters here.
If anyone wants to do something hit me up.
Comments: 0
Match for Takeichi
Tue Jun 12, 2018 6:13 am by GrandAkumaShogun
So with my other two guys having their own matches I figure I should do something with my first character on here, Takeichi Mori. If anyone is interested feel free to post here or get in touch through a pm so we can plan it out. I can either have Takeichi remain a jobber or begin to work him towards being a more serious competitor.
Comments: 0

Name:
Big Barda
Real Name:
Beatrice Galland
Sex:
F
Age:
25
Eyes:
Blue
Hair:
Black (natural blonde)
Height:
7"0â€
Weight:
270lbs
Nationality:
Canada
Entrance music:
[url=http://www.youtube.com/watch?v=YZiEfpgT95M:1bhcbif8]Pharoahe Monch - Simon Says (Instrumental)[/url:1bhcbif8]
Wrestling Information
Strategy:
Barda is a tank and she knows it - her strategy is simple. She absorbs damage, letâ€
s her opponent wail away on her. Unless theyâ€
re exceptionally strong, they usually canâ€
t do much damage to her, but she oversells it a bit to give the impression that sheâ€
s more hurt than she really is. Then, when theyâ€
re worn out, she goes on the offensive - by this point, theyâ€
re so tired that her lack of speed isnâ€
t a problem anymore and she can just steamroll them.
Style:
Power Wrestling
Type:
Powerhouse
Preferred Attacks:
Pretty much any move that makes use of her strength - bearhug. piledrives, back breakers. On rare occasions, sheâ€
ll go to the top rope and do a dive bomb.
Preferred Matches: Not interested in hentai matches, but anything else is kosher.
Endurance:★★★★★
Strength:★★★★★
Speed:★
Defense:★★★
Technique:★★★
Favored moves:
As you might guess from a simple look at her, she prefers power moves and heavy strikes, throwing her opponents around the ring and using her superior size to keep them at a distance.
Finishing move/s:
Chokeslam
- A predictable move for her size, but why argue with the classics? Using her massive strength, she lifts her opponents up and slams them back down - hard.
Burning Hammer
- A dangerous and powerful move - she puts her opponent on her shoulder in a firemanâ€
s carry, then flips them over to the side as she drops down, driving them face first into the mat with resonating and crushing impact.
Essence of Bane
- Another move done from the Fireman's Carry, and just as dangerous - Barda gets her opponent in a torture rack and bounces them around a bit, before dropping them down hard on her knee with a devastating backbreaker.
Characteristics
Visual Appearance:
[url=http://smg.photobucket.com/user/acuyra/media/Barda_zpsdc46c626.jpg.html:1bhcbif8]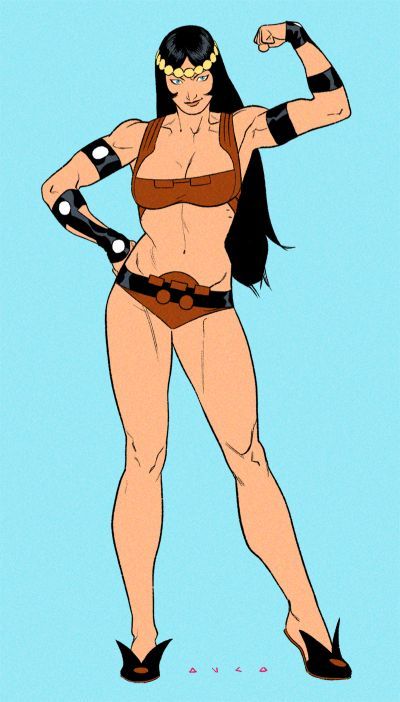 [/url:1bhcbif8]
[url=http://smg.photobucket.com/user/acuyra/media/Barda2_zps0557f0be.jpg.html:1bhcbif8]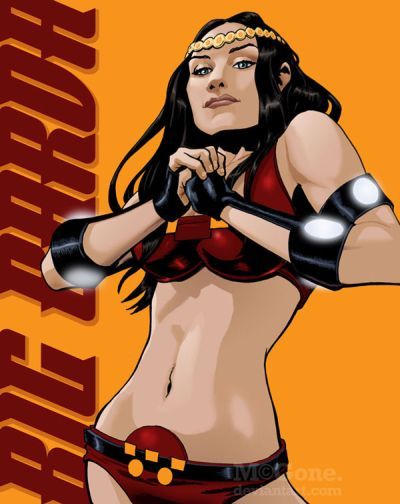 [/url:1bhcbif8]
Personality:
Because of her menacing size, imposing posture, and the way in which she fights, many come to the conclusion that sheâ€
s actually a heel of some kind, but thatâ€
s not strictly true. She never cheats - though sheâ€
s rarely in a position where she would have to, anyway - and fights fair, not out to give her opponents more damage than need be. Sheâ€
s actually a pleasant person, once you get to know her, if a little bit shy when around people.
The quickest way to get her to lighten up is to start talking about comic books - as should be pretty obvious to anyone familiar with where her name and costume come from, sheâ€
s a huge (no pun intended) comic fan, and especially favors the DC character Big Barda, looking to her for a lot of inspiration as a child. Mentioning comic books is the quickest way to open her up, though be warned that itâ€
s hard to shut her up once she gets going.
Beatrice is pretty sensitive about her height - one of the few things that can incense her quickly is people making fun of her for it. Sheâ€
s come to look at it as a point of pride, and sheâ€
s not keen on bullying.
Past/History:
With her size, most people would expect that Beatrice would be the one doing the bullying, not taking it - unfortunately, this was not the case. Taller than most kids from an early age, she was constantly picked on, and it only got worse as she hit her growth spurt and really started taking off. Most girls were too afraid to befriend her, most guys were too afraid to date her.
Most of her solace came from her days spent in her fatherâ€
s comic shop, where she found and fell in love with a character named Big Barda. Barda was the same size as Beatrice, and a fierce warrior, who didnâ€
t take crap from anyone, not even the likes of Superman. Strong. Independent. Brave. She drew a lot of inspiration from her, and reading those comics helped her through a lot of dark times, leading her to see her size and strength as an asset, no matter what others said about it.
She tried out for different sports, finding most of her success in basketball, but she never had any real passion for it, and she really lacked the speed to keep up most of the time. The AFW interested her, though - the federation was full of colorful personalities and interesting matches, and she thought it might be fun to see how she would fare in the mix. After two years of working in the comic shop and saving up enough money, all while building up her natural strength and taking some wrestling training, she traveled to Japan and joined up.
Wrestling Attire:
Typically dresses in her Big Barda outfit, but on special occasions, sheâ€
ll deck out in other costumes - she has an Elektra and a Wonder Woman outfit she made herself, that sheâ€
s particularly proud of.
Fun Facts:
-Has a borderline encyclopedic knowledge of comic books - only her father has ever beaten her in a game of trivia, and sheâ€
s getting better all the time.
-Is a big-time cosplayer, and regular attends comic book conventions as a guest.
-While sheâ€
s good enough to make her own costumes, the Big Barda outfit she wears to the ring was actually specially made by DC. Sheâ€
s got an agreement with them to use the Big Barda name as a wrestler, giving them free publicity.
AFW Information
Record:
Wins:
Losses:
Draws:
Championships/Accomplishments:
Friends:
Allies:
Rivals:
Enemies:
Crushes:
Last edited by 12547 on Thu Mar 27, 2014 5:24 am; edited 6 times in total



Posts

: 14812


Join date

: 2014-02-14


Age

: 31


Location

: Charlotte, North Carolina, WOOOO!



~Big Barda's Timeline~

1. [url=http://afwrpg.informe.com/forum/the-ring-f8/adrian-kytes-vs-big-barda-battle-of-the-cosplayers-t9917.html:369knq5p]Barda vs. Adrian[/url:369knq5p]-LOSS
Barda's first match against the considerably smaller but more agile Adrian Kytes. After a fairly fierce match, Adrian managed to take Barda down with her superior ring experience and clever tactics.
2. [url=http://afwrpg.informe.com/forum/gym-f15/they-might-be-giants-for-kerfubble-t9976.html#p256970:369knq5p]They Might Be Giants...[/url:369knq5p]
Barda hopes to get a few in-ring pointers from Adrian, and asks her for a little training session.
3. [url=http://afwrpg.informe.com/forum/the-ring-f8/phdoom-vs-big-barda-comic-book-women-t10114.html:369knq5p]Barda vs. PhDoom[/url:369knq5p] - ONGOING
Barda's back in action against fellow wrestler and comic book geek, PhDoom!
Last edited by 12547 on Mon Apr 14, 2014 6:25 pm; edited 3 times in total



Posts

: 14812


Join date

: 2014-02-14


Age

: 31


Location

: Charlotte, North Carolina, WOOOO!




---
Permissions in this forum:
You
cannot
reply to topics in this forum